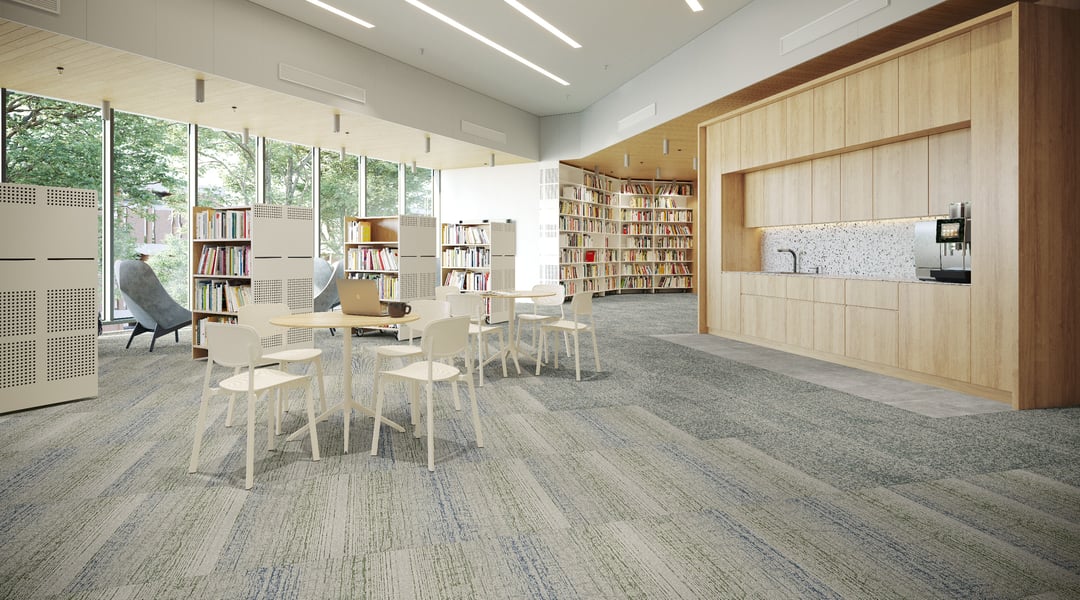 Are you a designer or end-user who specifies building materials for schools and education spaces? As a designer, you know there are requirements for safety and maintenance, and there's always a budget, but there's also room for creativity and innovation.
As a flooring manufacture we understand providing flooring for the Education market represents an opportunity to impact the way people learn by influencing their environment.
Carpet tiles can create a reading nook in a kindergarten classroom or seamless vinyl can help a biology lab be cleaner and safer. Whether it's a library, a gym, an office or an auditorium, Mannington Commercial has experts who understand the challenges and the possibilities of finding the right flooring for each space – and it might not be what you expect with new collections offering more choices than ever.
Just like any good textbook, let's break down the challenges of designers, architects and specifiers and find the best solutions to selecting the right flooring for each unique education space.
---
A school campus is filled with spaces designated for diverse educational purposes, each with a clear purpose and specific requirements. Let's take a look at some of the considerations for choosing flooring options for different areas.
The Classroom
Classrooms are the heart of a school, where students spend the most time and a variety of activities take place each day. To accommodate all the different things happening, there are multiple choices for flooring: carpet,
luxury vinyl tile (LVT)
, sheet and rubber.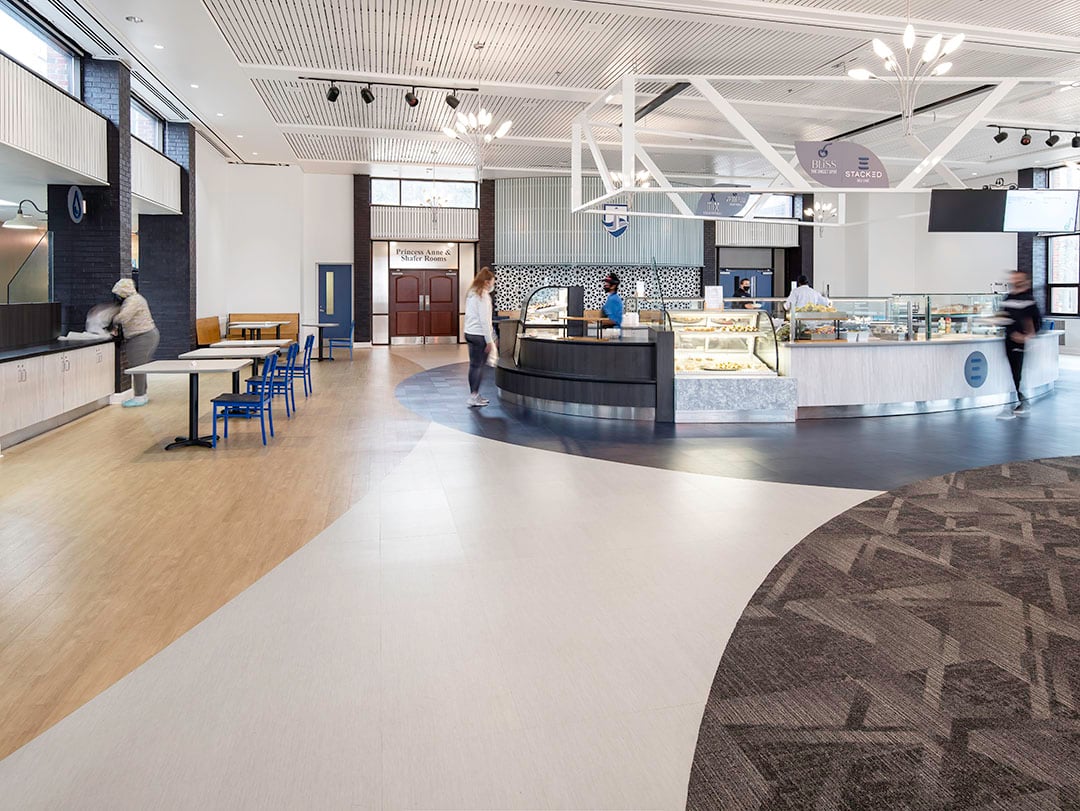 The Cafeteria
Some cafeterias are multi-purpose areas also serving as an auditorium or a gym in some smaller schools. Either way, it's important for the flooring to be easy to clean and stand up to a lot of traffic as well as chairs and tables moving around. Fortunately, there are some flooring options that work especially well.


Rubber sheet or rubber tile provides noise reduction in a crowded, often loud area. Plus, it's slip resistant.


Luxury vinyl tile is a practical choice that's easy to install and is high performing. Often waterproof, LVT is simple and easy to clean, which is important in high-traffic areas.

Hallways and Stairways
Corridors and stairs are some of the most highly trafficked areas on a school. Maintenance is a key consideration but so is durability and slip resistance. But, they are the pathways connecting all the other areas of a space so it's important for them to be inviting, clean, and in many cases offer wayfinding designs.


Rubber can be a quality choice for stairwells, especially products with a pattern that doesn't show scuffs. Because of the higher coefficient of friction, it resists slipping. And with so many colors available, it can brighten an otherwise dreary area. There's rubber sheet and rubber tile, so there are products to conform to any configuration. Rubber is manufactured in three forms: thermoplastic vinyl (TV), thermoset plastic (TP), and thermoset rubber (TS).
There are multiple profiles available for TS stair treads:
Sculpted has the most natural look to complement a space with a lot of natural finishes.
Round works with interiors that feature more flowing, curving design elements.
Square fits angular, geometric interiors.
Smooth is perfect for spaces with a minimalist vibe of clean lines and smooth fixtures.


Related: The Pros and Cons of Rubber Flooring
Related: How To Choose Stairway Materials
LVT is one of the most common products for a cafeteria, with good reason. Different wear layers enable it to withstand foot traffic. For heavy traffic, a 20 mil wear layer or higher is recommended, while areas with less use can use a 12 mil product. Other enhanced properties come from applied urethane to add stain, scratch and scuff resistance. LVT also comes in a wide variety of patterns so it's easy for a designer to find one that will look good between deep cleanings.

If you are worried about scratching for

classrooms and cafeterias we recommend floor protectors manufactured by

Expanded Technologies

which reduce noise of moving chairs and have ,when utilized properly, eliminated scratching issues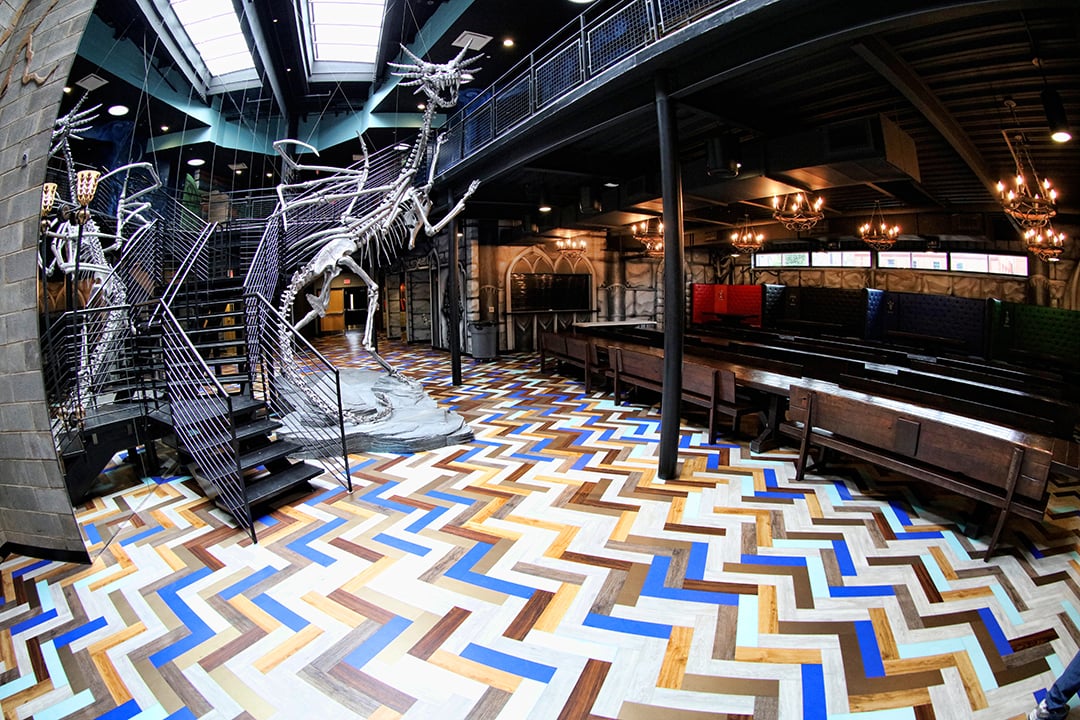 Science Labs and Art Rooms
Areas with the potential for spills require flooring that has a few seams as possible and is moisture and stain resistant. These room also are likely to be cleaned frequently so easy maintenance is important both for a janitorial staff and for those who use the rooms daily.
Sheet vinyl or rubber sheet would be the best option for these spaces because they are water resistant and slip resistant.
Gym/Weight Room
These areas need special flooring to serve specific needs for the athletes and the regular students participating in school activities. A gym in particular can be a gathering place for group activities from sports to pep rallies so it serves a variety of purposes.


Rubber is durable which is why it's the best application for a weight room or fitness center. The floor has to withstand a heavy load. Mannington has two sports flooring rubber products,

Reset®

and Reset® Naturals, that are specifically designed for high impact areas such as gyms and weight rooms. Constructed from post-consumer recycled rubber tires, Reset and Reset Naturals contains up to 91 percent post-consumer recycled content. Keep in mind that basketball gyms are different; they have a specific slip coefficient required to mitigate sports injury. Other characteristics of sports flooring vary widely according to the type and level of sport being practiced. Mannington representative can help recommend vendor that offer highly specialized indoor sports flooring for specific sports.


LVT also offers durability and ease of maintenance. Additionally, LVT offers the capability to create custom elements without outrageous cost. Mannington Commercial experts can help create custom logos that start at a few hundred dollars and increase in price with the intricacy of the design.



Related:

What Is The Best Flooring For a Basketball Court?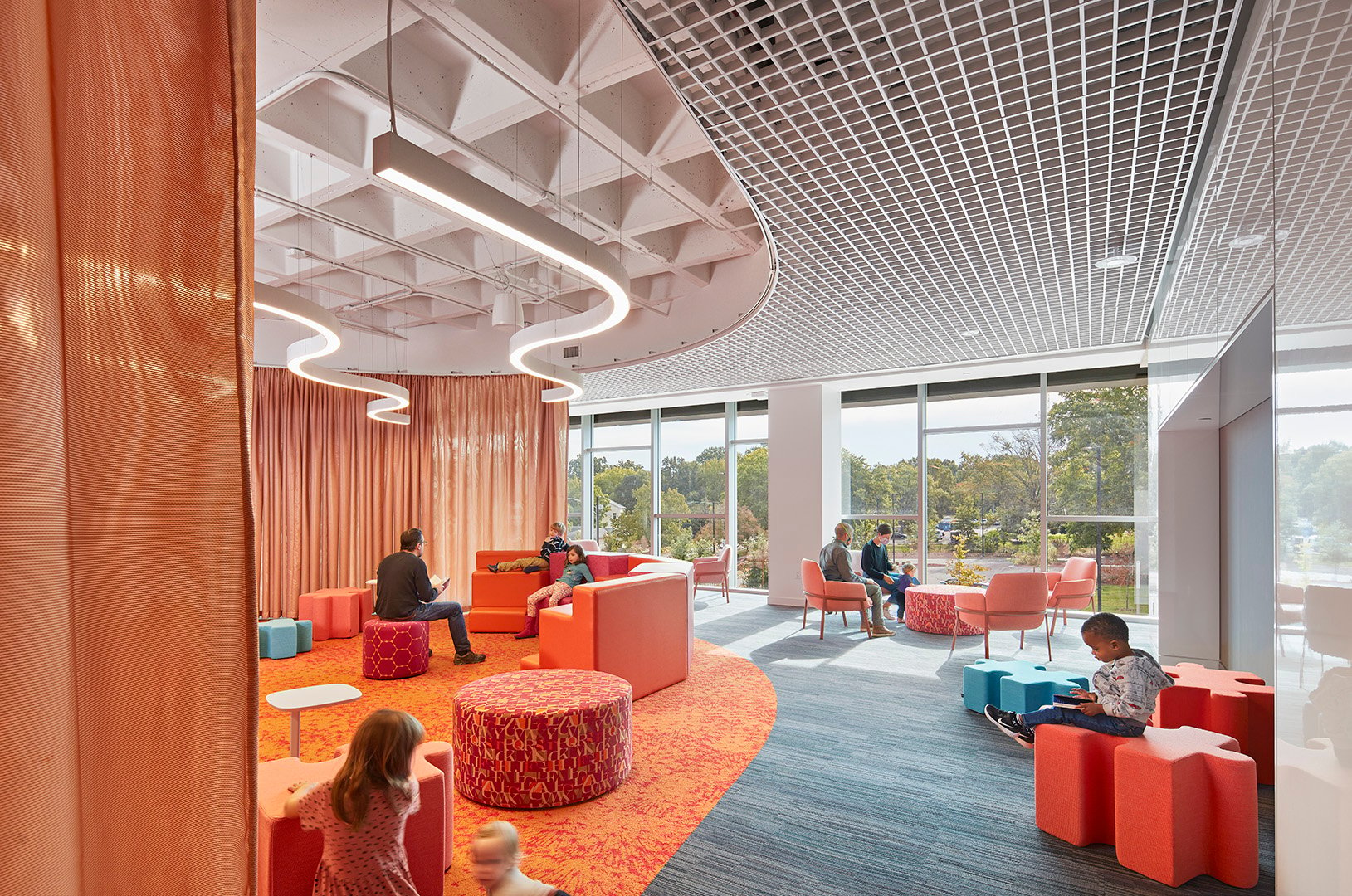 Libraries
Like many spaces on campus, libraries fulfill multiple purposes. There's obviously a need for study spaces, but there's also a need for integrated, inviting areas for students to gather as well as hallways and sometimes stairways. Different surfaces can help a library be anything but boring.
Carpet tiles can be configured in endless arrangements to provide pops of color and design because the configuration of tiles themselves can be used for field and focus areas within a space or for wayfinding. As a soft surface product, carpet is also quieter by nature of it being a soft surface product and we all know how important it is to be quiet in the library. LVT

can be a good choice for areas such as hallways or spaces such a technology and media hubs with heavier equipment.





You Might Like:

Interior Architects Use Flooring to Create an Inspiring Library in North Carolina
---
Designers who specialize in education projects have unique skills and perspective to create spaces that are both functional and inspirational. Looking beyond the necessary performance factors to find products that form the foundation for warm, inviting and exciting environments is no easy task. It helps that there are so many viable flooring products available and Mannington Commercial design specialists to assist with the projects.
Design Solutions
Almost every project presents challenges, but experienced professionals understand where to go for help finding answers. Mannington Commercial has a
Design Solutions team
that can help craft a flooring design to fit specific challenges of any education environment, taking into consideration budget, installation and maintenance as well as any unique requirements. The program helps define aspirations, develop a design concept, and guides you through selecting the right flooring products.
Wayfinding
doesn't have to be difficult. It's simply providing a system to help guide people through a space. Everyone is familiar with signs directing you where to go but something as simple as directional icons or a specific colorway on the floor can be easy to follow.
During the COVID-19 pandemic, it seemed like signs were everywhere for social distancing and directional flow. But, beyond that, school campuses can be big and confusing. Directional elements help create an efficient flow, especially during busy times of the day.
We've all seen floor stickers but those can peel and become useless whereas integrated
LVT wayfinding pieces
work with the overall aesthetic of the floor to fit in while standing out enough to be effective. These customizable elements can be built into new projects or added to existing floors. Directional signage doesn't have to be ugly and bulky anymore.
Social distancing is relatively new concept but one that's especially important in educational spaces. The Design Solutions team can help create a safe environment by presenting flooring options for standards to establish improved distancing, rotating classes, increased space between desks, repurposed spaces, and circulation patterns on campus.

Related: Education Flooring Design in the Age of Social Distancing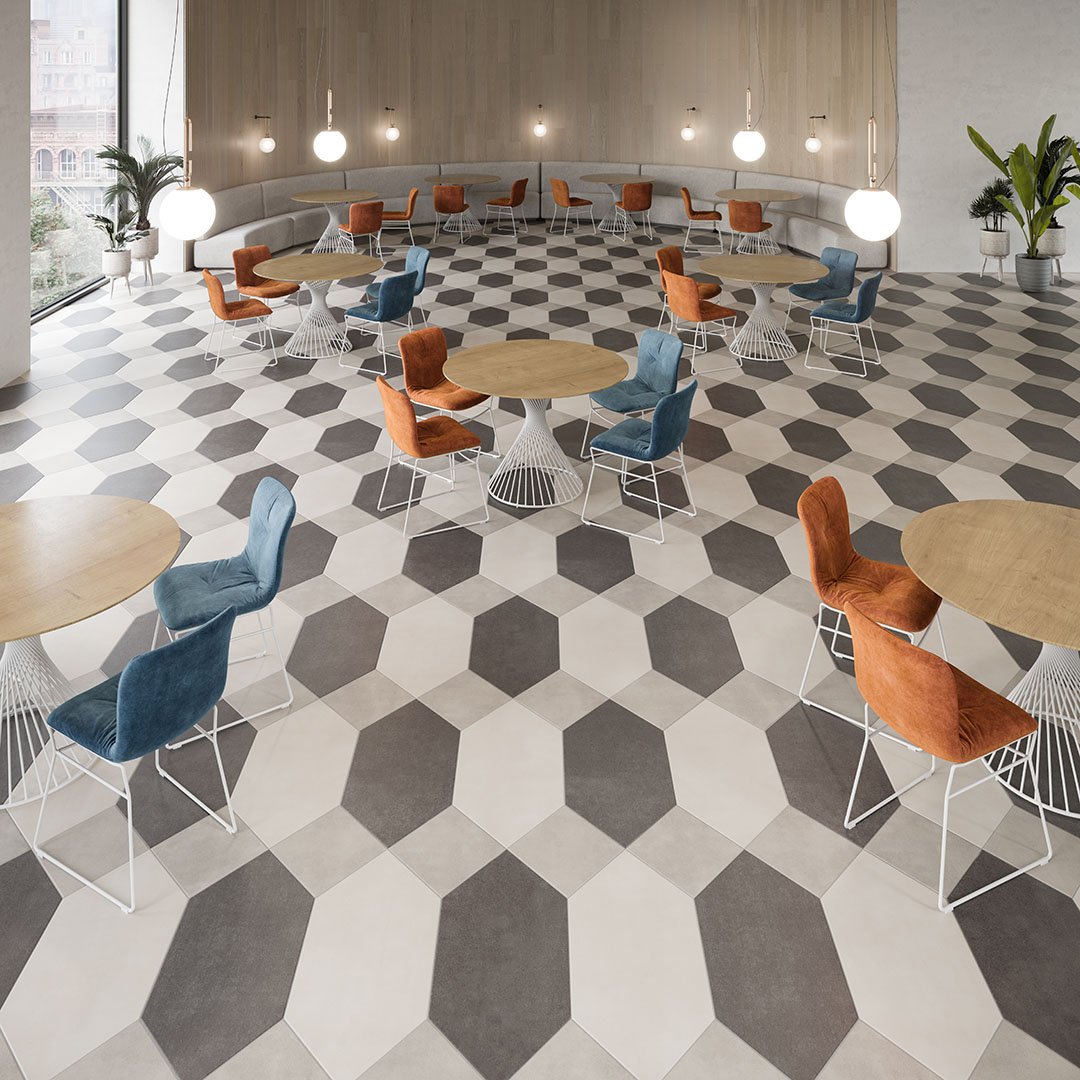 Custom Flooring Options
Full Custom - If there is a specific color and construction you are looking for that we don't make running line, you can contact your Mannington local rep and we'll work collaboratively with you to get the product that you need.
Custom Color Carpet - In many cases, designers will see a carpet and like the style but need it in a specific school's color. Working with your local Mannington rep we can create the carpet in the color you need at no additional cost once a minimum order requirement is met.
Amtico Laying Patterns - Distinct, custom-cut LVT designs exploring non-standard sizes, shapes and color combinations. Choose from our 26 laying patterns combined with 163 product options for endless design possibilities.
Choice Laying Patterns - Impactful designs that are quick to specify and easy to install, created using standard-sized planks and tiles.
Custom Cut LVT Logos - Mannington's advanced cutting capabilities and expansive range of products allow us to custom-cut logos with our LVT flooring. If you want your school's logo to greet students at the front door, we can do it.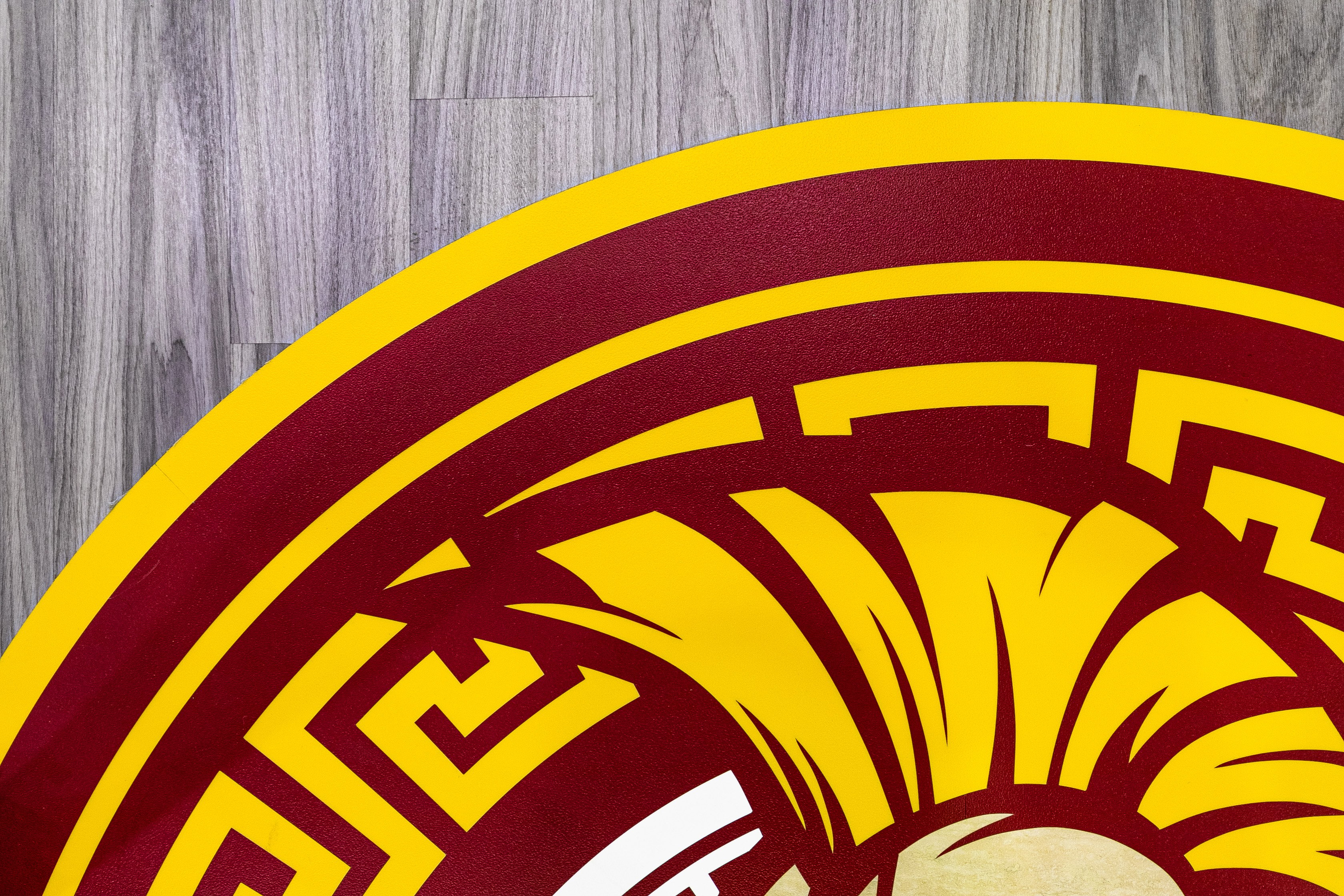 K-12 vs. Higher Education
Different age groups need different features in their environments. A kindergartener, high school junior, college senior and continuing education student all interact with a classroom differently. It's up to architects and designers to understand who will use a space to ensure it's built to meet the right standards of aesthetics, performance, ergonomics, etc. Two great examples of this are listed below, The Ron Clark Academy in Atlanta, GA - a must see! And The Cheng Library at William Patterson University created learning spaces that are noteworthy.


The Ron Clark Academy
serves students from fourth through eighth grades with a priority on inspiration and creativity. There's a mix of soft and hard surface flooring on campus but the constant is bright, bold design with rich colors to coordinate with the building architecture and the spirit of the institution.
Related:
Why Starting With The Floor Supports Learning in Schools
The Cheng Library
at William Paterson University provides a multifaceted environment for more than 10,000 college students to study and spend time in a nurturing environment. Mannington presented a design solution that incorporated a variety of products to fit myriad functions of the space in a cohesive, vibrant space.
Related:
University Library Renovation Uses Single-Source Flooring Solution
---
The average public elementary school in the U.S. has 526 students. Add in faculty and staff, and that's more than a thousand feet traversing the campus every day tracking in dirt, water, snow, and more. And it means the flooring on the campuses has to be especially resilient to withstand all the traffic. It's also important to designers, specifiers and facility managers to source sustainable products whenever it makes sense. That doesn't have to be an overly daunting task when a broad variety of commercial products are available for the education market.

Some school districts have technical specifications for flooring products for consistency and reliability. The guidance helps specifiers and designers know they are selecting products that fulfill expectations across the board. It also helps maintenance create a plan to optimize long-term performance. Denver Public Schools has a successful tech spec guide for carpet and works with Mannington Commercial experts to find the best solutions for each campus.

Sustainability encompasses several factors from manufacturing to environmental impact to recyclability. But how do you know what matters most when selecting flooring products for your education products? As a flooring manufacturer, it's important for us to provide responsible products and to communicate which products meet established standards. Mannington Commercial's "Transparency Documents" are publicly housed on our

website

and other public databases like

Origin/mindful Materials

.



Here are the documents you need to know about:



HPD -

Health Product Declaration

provides a product ingredient list and a disclosure of the chemicals used.


Declare -

A Declare label

is provided by the International Living Future Institute (ILFI) and is designed to be a transparency platform and product database describing where a product comes from, what it is made of, and where it goes at the end of its life.
Performance covers a broad swath when it comes to flooring. With budgets always a consideration in education projects, finding products that will hold up long term is critical. Even though many schools can use breaks for installation, installing flooring that holds up to everyday use remains a priority. While each customer has an expectation of how long they expect their flooring to last, they all demand the products look good while holding up to normal wear.

Color impacts performance as well as looks. A dark color can hide soil but might show dust, while a light color will show stains and dark spots. A completely dark or light color can also make tracks more visible. However, a medium color or a color blend can hide dirt and offer visual contrast. In carpet, high contrast yarns can create a look that's tough to navigate visually, especially in an area like a long hallway.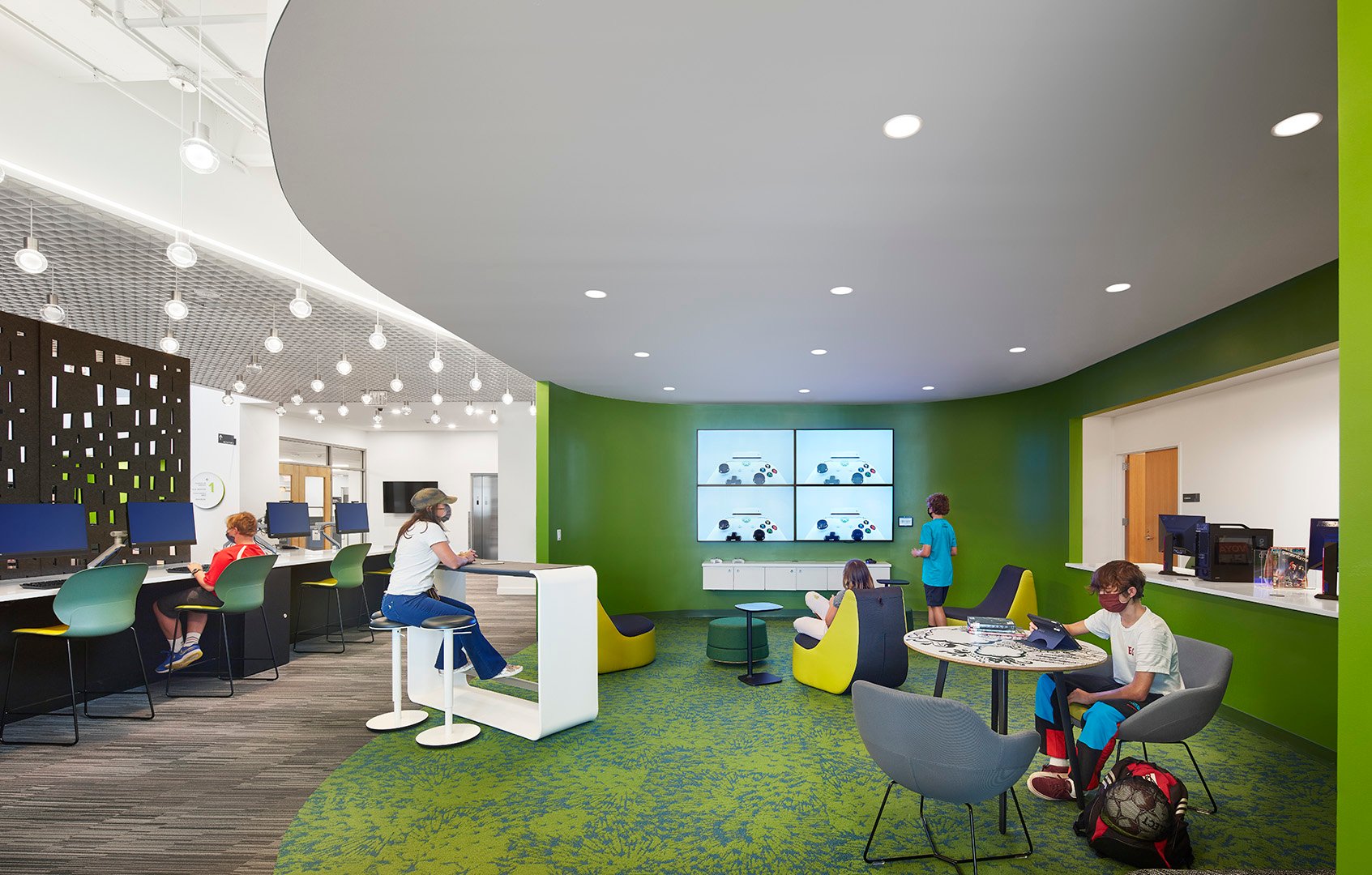 Carpet – With carpet, the TARR rating is one place to start evaluating how well it will hold up to foot traffic in specific conditions.

Moderate: greater than or equal to 2.5
Heavy: greater than or equal to 3.0
Severe: greater than or equal to 3.5
The carpet backing is important for several reasons. It can be a remedy against high moisture in a concrete slab and add substantially to sound absorption and acoustics. That sound absorption helps students and teachers communicate and concentrate better.
Fiber has a significant impact on the overall performance, maintenance, and cost of commercial carpet. Most commercial carpet is made from nylon, which is a highly durable fiber choice. As the hardest of all synthetic fibers, nylon has good resilience and resists abrasion and wear. Additionally, nylon resists stains as well as mold and mildew. But there are different types of nylon fiber, and each has different strengths, so consider the pros and cons of both nylon 6,6 and nylon 6 before choosing a fiber system.
Both nylon 6 and nylon 6,6 can be cationic, which resists most stains. However, nylon 6,6, often the more expensive choice, has long been considered a premium fiber because of its superior strength and durability although the performance gap is closing between the two. While nylon 6,6 is recyclable, the cost and quality loss are sometimes a deterrent to recycling. However, nylon 6 is more cost effective to recycle and can be recycled an infinite number of times without losing any quality of the product.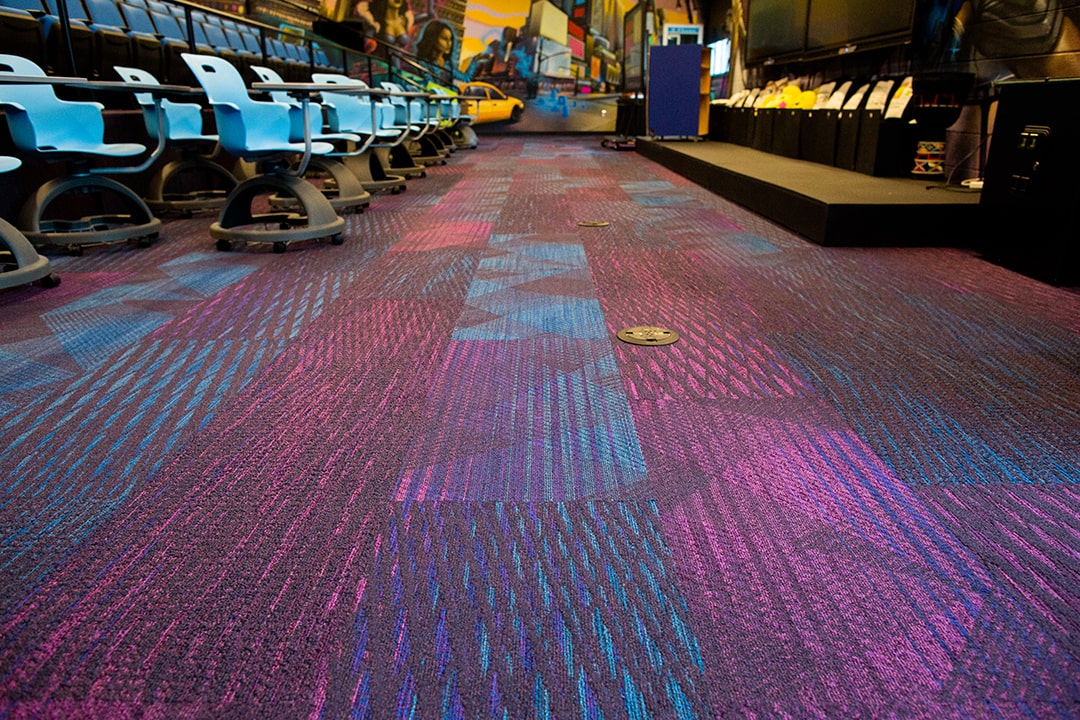 Rubber – In low-traffic settings, Thermoplastic vinyl (TV) is an economical choice that's matte finish helps hide scuff marks, but it can be more susceptible to gouges.
Sheet vinyl – Performance is dependent on the composition, heterogeneous or homogeneous.
Multi-layered

heterogeneous

sheet is engineered to withstand heavy traffic while staying beautiful and easy to clean. It

has an embossed texture

with excellence slip resistance,

and a layer of Quantum Guard Elite® urethane wear surface provides industry-leading abrasion and stain resistance.

Homogeneous sheet's

through-chip color provides excellent wear and durability complimented by a layer of Quantum Guard Elite to aid in stain and fade resistance atop the single layer of product components. The overall thickness, density and wear layer formulation help achieve top performance in both constructions.
Luxury Vinyl Tile – LVT is popular for durability and performance. The backing layer provides excellent stability while inter-core layers add thickness and strength. A clear PVC wear layer of 20 mil or higher over the print layer creates long-lasting performance. We recommend a 30 mil wear layer for areas such as school corridors to make it more scuff, stain and scratch resistant to stand up to heavy traffic.
You Might Like: How To Choose The Right LVT Flooring for Commercial Use
---
Even though schools have regular breaks, and many took advantage of remote learning in 2020 to install new flooring and complete comprehensive maintenance, both those tasks require military precision level planning and execution. There's no denying, kids, teens and adults are messy.
Cleaning up after muddy footprints, spilled juice, dropped paints, sneaker tread scuffs, and basic everyday dirt and grime is a never-ending task. Mannington Commercial's experts can help guide making selections that will both fit installation parameters and maintenance requirements.
Installing The Different Flooring Types
Any flooring installation requires an expert but in education projects, timing is essential. And school systems can't afford mistakes.


Carpet – One of the best ways to avoid mistakes in carpet installation is to start by choosing the right installer for your product – broadloom or tiles – and installation method or adhesive. Next comes progressive sequencing a broadloom roll the seam sealing or chemical welding, depending on the backing. When installing modular carpet, Mannington Commercial's FreLock tab installation system is quick and efficient. You can choose from planks or squares to have options for installation patterns.
Rubber – Proper subfloor prep is critical: flat, clean, smooth, dry, and structurally sound. It's important to dry fit; acclimate the project materials for at least 48 hours to between 65-85 degrees; and choose the right adhesive. An experienced installation crew is critical to a successful rubber installation. When it comes to rubber flooring there are costly installation mistakes that an experienced installation crew will know how to avoid.
Sheet vinyl – Installing the two types of resilient sheet is very similar. One of the common mistakes to avoid is with homogeneous sheet, you must reverse the roll direction to ensure a good color match between side seams. Dry laying the product ensures there are no visual issues before spreading and laying with adhesive. Using an experienced installer who knows how to handle trim-edge removal will save time. Finally, heat welding followed by a surface glaze helps seal the surface.
Luxury vinyl tile – The best way to ensure a successful LVT install is to start with proper subfloor prep followed by using the right adhesive and application technique to prevent indentations or seeping later. Some LVT products use a tongue and groove locking system to connect planks in which case the installer has to understand the proper expansion spacing. Finally, the installer may have to cut bevels on site and will certainly have to handle pre-cut bevels properly when laying adjacent tiles.
Maintaining Your School's Flooring
Knowing how to properly clean and maintain your floors will allow you to extend the lifetime of your commercial flooring. Each flooring type requires different care and attention. We'll break down each flooring type and the recommended cleaning method.
Carpet – Mannington Commercial advocates the T.A.C.T. (Time, Agitation, Chemical, Temperature) approach for carpet maintenance. It starts with spending 80 percent of time and resources on 20 percent of the carpet – basically, keeping small problems from becoming big ones. Create a frequency schedule based on use that includes vacuuming, stain treatment and mild detergents. More intense periodic maintenance with as few chemicals as possible is recommended, especially for educational areas. Stain resistance is a big deal in classrooms. Carpet can be protected by applying a topical solution to the fibers or by building in stain protection. Topicals can be effective, but they're temporary.
Related: How to Clean and Maintain Commercial Carpets
Rubber – Ongoing maintenance for rubber flooring is simple. Sweeping then mopping with a neutral cleaner mixed with warm water followed by scrubbing with a deck brush or automatic scrubber, depending on the size of the installation. When dry, Mannington Commercial rubber flooring should have a good luster.
LVT and sheet vinyl – One reason for the popularity of hard surface products is the ease of maintenance and lower lifetime cost of ownership versus other flooring types that may require stripping and waxing. Basically, water and the right type of equipment are keys to cleaning. Mannington Commercial's Quantum Guard finishes are stain resistant and don't need polishing so the right microfiber pad, water and some agitation should do the trick.
Related: The Best Way To Clean Luxury Vinyl Tile and Sheet Vinyl
---
As a designer, specifier or facilities manager you know the proof is in the pudding when it comes to designing or maintaining a schooling environment. At Mannington Commercial we have had the great opportunity to work with the A&D community along with school districts all over the country. We design full flooring collections with Education spaces in mind and we have the expertise to help schools specify, install and maintain their flooring investment.
Below we've compiled stories from real K-12 schools, universities and libraries across the country to help you see our products in action, and give you insight into what works for others in the hopes of helping you make the most informed choices for your upcoming projects.
William Paterson University – The redesign of the Cheng Library incorporated a full range of flooring products to meet different needs in the facility to serve a large student population.
Ron Clark Academy – Administrators at the Atlanta campus of the prestigious middle school worked with Mannington on multiple occasions to create innovative, creative spaces that inspire learning.
Durham County Main Library – Although it's not technically part of a school campus, the library in Durham, N.C., is a community learning center that used flooring as part of a renovation to create an all-new contemporary space in the city.
Denver Public Schools – A cohesive plan for an entire school system takes into account the requirements of administrators, facility managers, maintenance, along with the needs of staff and students.


St. John's College High School Case Study

–

The Center for Performance and Leadership and the renovated and expanded Gallagher Gymnasium at St. John's College High School are cornerstones of the Washington, D.C. independent school campus.
---
Take a closer look inside of the world-renowned Ron Clark Academy. The 44,000 sq. ft. space houses 14 classrooms, a media center, a two-story slide, a dragon staircase, a dance studio, and a gymnasium. 👇