Resilient sheet vinyl is a popular option in healthcare and education spaces. It's easy to clean, easy to maintain, slip resistant, waterproof, and stain-resistant. What's not to love? All of these performance attributes make sheet vinyl the go-to option for infection control, where bodily fluids, chemicals, or other liquids are at greater risk for contacting the floor.
Sheet vinyl is the safest and most reliable flooring material for these special environments, if installed correctly. If installed incorrectly, unfortunately, the performance attributes can become compromised.
As an apprentice, I worked with a company that installed many different types of flooring. At the time, I didn't fully appreciate what an asset that would prove to be in my career as an installer, but I was able to learn some key characteristics in the installation techniques of different types of flooring.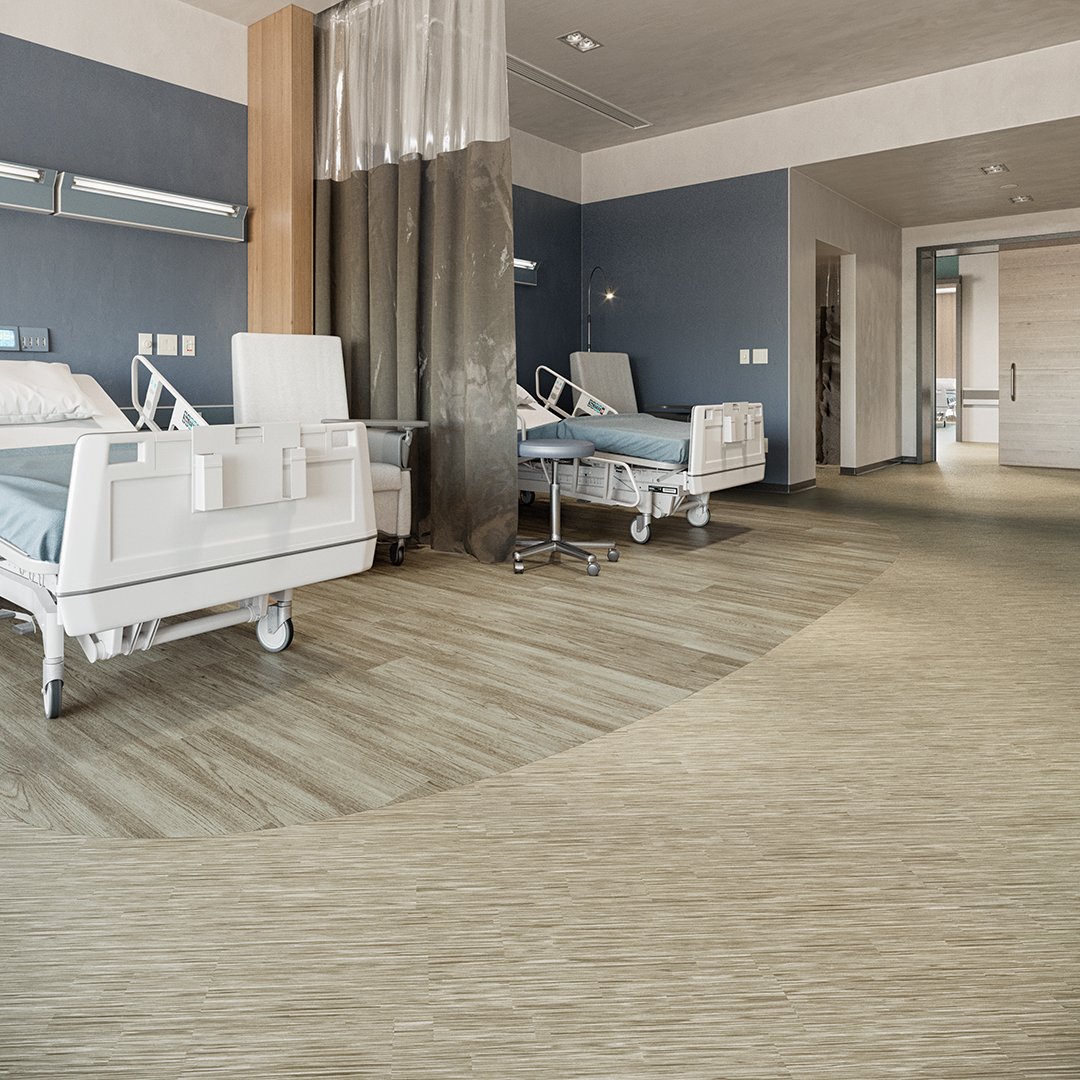 Paradigm II: Flow, Origin;
Mannington Select Wood: Chandler Oak, Tallaluh
Resilient sheet installations are some of the most unforgiving in the flooring industry. Knowing that an installer is very familiar with the craftsmanship, maybe even artisanship, involved with installing sheet vinyl is imperative to a successful and high-performing installation.
In this article we will discuss some common installation mistakes with commercial resilient sheet vinyl installations. No matter your role in the project as designer, installer or end-user, knowing what causes these mistakes can help you prevent them.
Resilient sheet installations, compared to LVT or carpet, are cost-prohibitive and time-consuming to repair with many repair attempts leading to the replacement of entire drops or rooms. Here are some things we can watch for to ensure it's done right in one take.
With any commercial flooring installation, there are five key factors that are a must to a successful install, but with resilient sheet, these become make or break.
---
If you don't have time to read the whole article download this guide to commercial flooring installation to read later.
---
What is Homogeneous and Heterogeneous Resilient Sheet?
Homogeneous sheet flooring is most commonly used in operating rooms or spaces where governing ordinances require its use. Homogenous sheet is one layer all the way through, so if a scalpel or needle were to be dropped and scuff or dent the sheet vinyl, it could be sanitized thoroughly following proper cleaning protocols. It prohibits the spread of infection from bodily fluids like blood from getting trapped between the layers that exist in the construction of heterogeneous material.

Heterogeneous flooring has a layered construction with wood grains or other patterns and is more commonly used in general sheet installations. For instance, the backing layer can sometimes contain pre- and post-consumer recycled content, the visual layer gives you the design or color, and the wear layer aids in performance attributes such as cleanability, stain and slip resistance.
The installation process of the two types of resilient sheet are relatively the same, but there is one key difference. When installing homogeneous sheet you must reverse the roll direction, meaning, if the arrows seen on the bottom of the material are going North on the first run, they must be going South on the run laid next to it. This will ensure there is nice color matching between side seams.
Another difference seen in the two types of sheet construction are the standard width sizes. For example, heterogeneous material from Mannington Commercial is available in 6', 9' and 12' goods, but homogeneous sheet material has an industry standard size of 6'7" or two meters.
Much of this has to do with the weight of the material as it is more dense and heavier than a layered construction sheet. So now that we know the differences, let's focus on the things that must happen regardless of the material you are installing.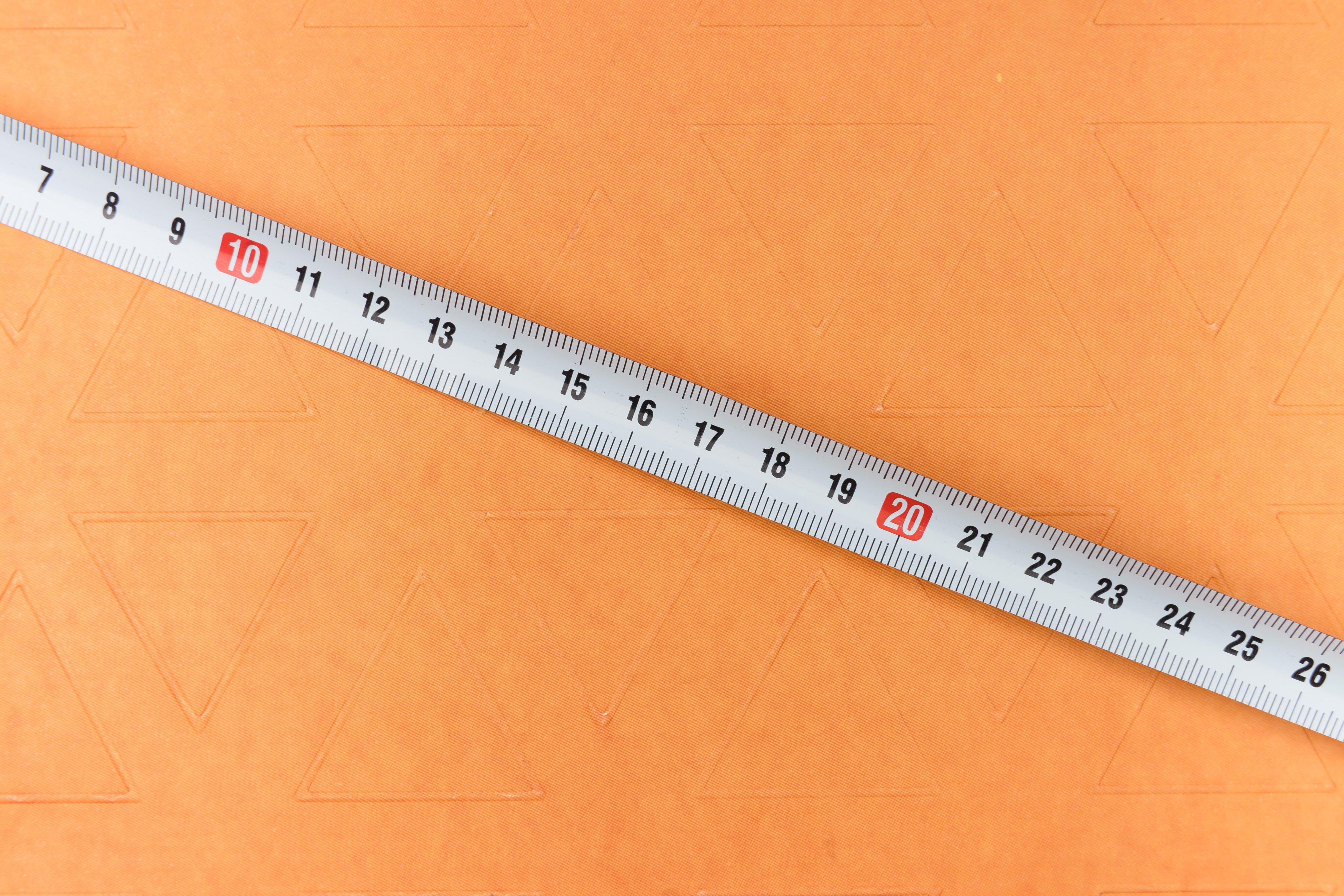 Photo by Markus Winkler on Unsplash
Measure Twice (and other floor prep before that first cut)
As I mentioned earlier, subfloor preparations will always be the first step to a successful sheet installation, but this material also requires special care from storage to dry laying and adhesive application.
Storage of Sheet Vinyl Flooring
Homogeneous resilient sheet vinyl is best stored standing upright rather than on its side to prohibit the material from developing roll memory that causes flat marks and a loss of consistent appearance over the length of the material.
This isn't practical with 12' goods, but being that the material density of heterogeneous material is not as heavy, the material recovers more readily.
Dry Laying Flooring
You want to be sure to maintain the manufacturer's roll sequence throughout any project to ensure a quality color and finish match throughout the project at adjacent drops (visible at seams). After sequencing the rolls, dry lay them out next to one another to ensure there are no visual differences or obvious pattern repeats in the design.
Again, with minimal forgiveness in resilient sheet installation, it is most economical and time saving to check these materials before gluing them down. Many manufacturers, Mannington included, will not process claims on resilient sheet goods that have been installed out of sequence or with visual imperfections that could have been found during a pre-installation check of the material.
Being sure that the material looks to be first quality is always the responsibility of the final set of eyes before installation, the installer.
Flooring Adhesive Application
V88 is Mannington's standard adhesive for resilient sheet installations. This adhesive is spread using a traditional notched troweling method. When spreading bucket adhesive for homogeneous material the installation team should back-roll the freshly spread adhesive with a ⅜" nap paint roller to remove the possibility for adhesive telegraphing and showing trowel adhesive swipe marks.
This may require a two man team for larger projects, but it's well-worth the effort.
Spray adhesives can also be used with resilient sheet, however, the installation team must be diligent to thoroughly vacuum the areas prior to installation to remove micro debris that can cause telegraphing, or raised bumpy areas that become visible only after the material has been installed.
Once the material is laid, it's too late to properly correct such imperfections.
Cut Four Times
Okay, maybe the old saying doesn't work in sheet installation, but if your installer isn't familiar with the trim-edge removal required to install resilient sheet properly, they might be the wrong person for your job. Don't be afraid to ask questions and vet your installer, if you're still not sure, ask your Regional Mannington Technical Services Manager for their recommendation.
What is trim-edge removal?
Resilient sheet requires the removal of at least ⅜" on two factory sides to be installed properly. Experienced installers have special tools that allow them to do this quickly and efficiently to ensure seams are clean and ready for chemical or heat welding.
If installed with factory edges, the materials may not lay flat and seam strength can be compromised. Head seams should also be recut to ensure that the seam edge is pristine. An experienced installer will then use the underscribing method to create a perfectly matching seam edge on the adjacent side.
Welding Sheet Vinyl Seams
Heat welding is a requirement for installing sheet vinyl in most medical areas and is typically done with color-coordinating weld material. This method creates a sealed and unitary surface flooring system that adheres to strict infection control guidelines. To complete the heat welded seam, the installer should glaze the surface of the weld and apply a coat of liquid urethane from a Quantum Guard HP pen.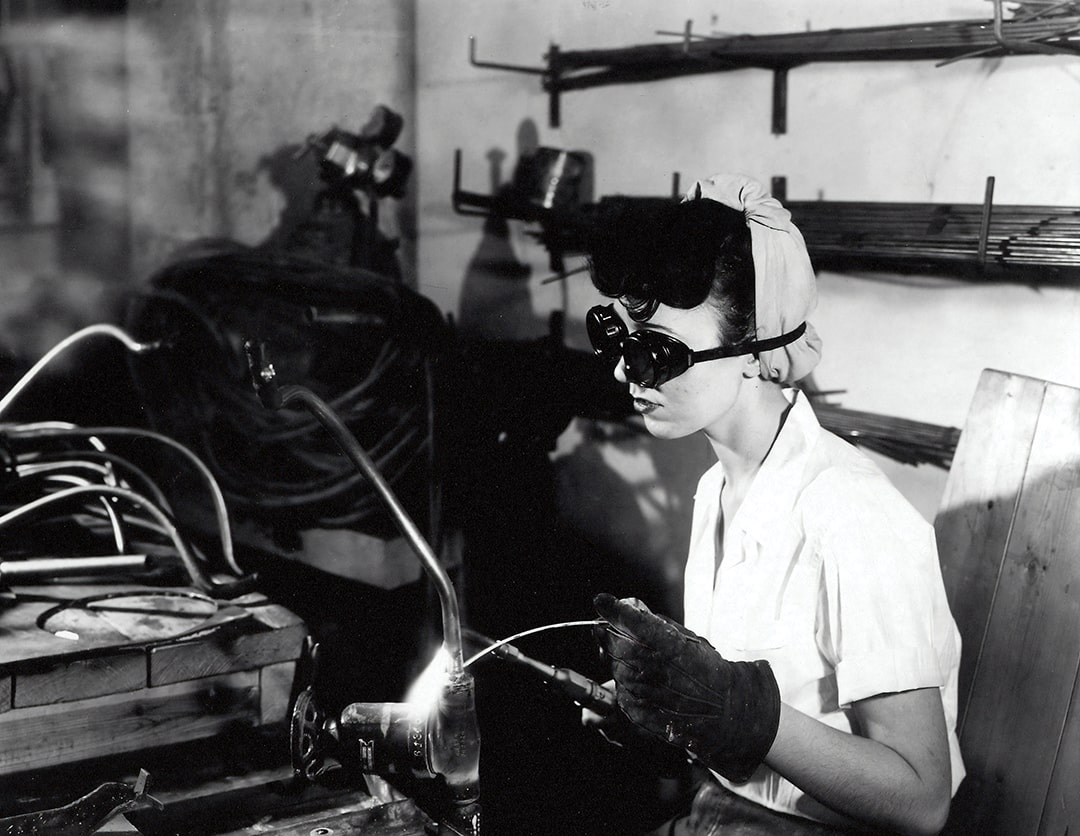 Photo by Science in HD on Unsplash
Heat welds can also be used for design purposes with the use of different colors and unique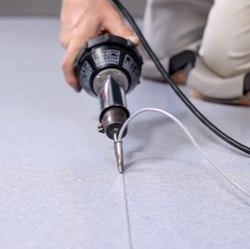 or custom designs. Custom design insets such as seen in pediatric hospitals or room numbers insets for wayfinding, will require the use of an expert installer. Many times, depending on the complexity of the design, creating special shapes in sheet flooring may require the use of computer driven custom waterjet cutting.
Chemical welding involves the application of a liquid chemical to the seam edges to fuse the two edges of vinyl together. Chemical welding is less common today as heat welding has become the standard for infection control requirements, but when applicable and specified, chemical welds can perform well.
All sheet vinyl welding must be done correctly by an experienced installer to ensure intended material performance and infection control.
Infection Control Just Went Viral
A successful installation is just the beginning when considering the great performance attributes and high traffic, high stakes areas it is used in, such as emergency rooms, ORs and urgent care facilities around the world.
Resilient sheet allows for the greatest amount of infection control and cleanability currently offered in commercial flooring. This is especially relevant given that with the COVID-19 pandemic we are more concerned with how our built environments are disinfected than ever before.
Al Boulogne, the VP of Commercial Resilient Products at Mannington Commercial wrote a great article on the topic called Cleaning and Disinfecting Hard Surface Floors in the Age of COVID-19: What You Need to Know that I encourage you to read as you consider the maintenance and long term use of your resilient sheet installation.
I hope that after reading this you feel equipped with the information you need to avoid the common mistakes in commercial resilient sheet installations. It cannot be said enough that resilient sheet is the most unforgiving flooring material to install, but with an experienced installer, you will have a great-looking and high-performing floor for years to come.