The United States is positioned to see a great deal of change in the healthcare system in the coming months and years. Infection control is top of mind as healthcare professionals from dentists to dermatologists to surgeons-on-call look to understand how to stop the spread of infectious disease and mitigate cross-contamination.
As it is today, healthcare facilities do not all serve the same function.
Urgent care facilities have gained in popularity as an alternative to the general practitioner's office. Outpatient surgery suites have grown in number with the advancement of technology and less invasive procedures. Senior care facilities range from single family homes, to apartments, condos and co-op living solutions.
The built environment of our healthcare system is shifting to serve the needs of a wide range of people across socioeconomic and cultural differences. Not only is the diversity amongst healthcare options growing, the overall number of healthcare spaces is increasing steadily to meet demand.
You Might Like: A Guide To Understanding the Fundamentals of Healthcare Flooring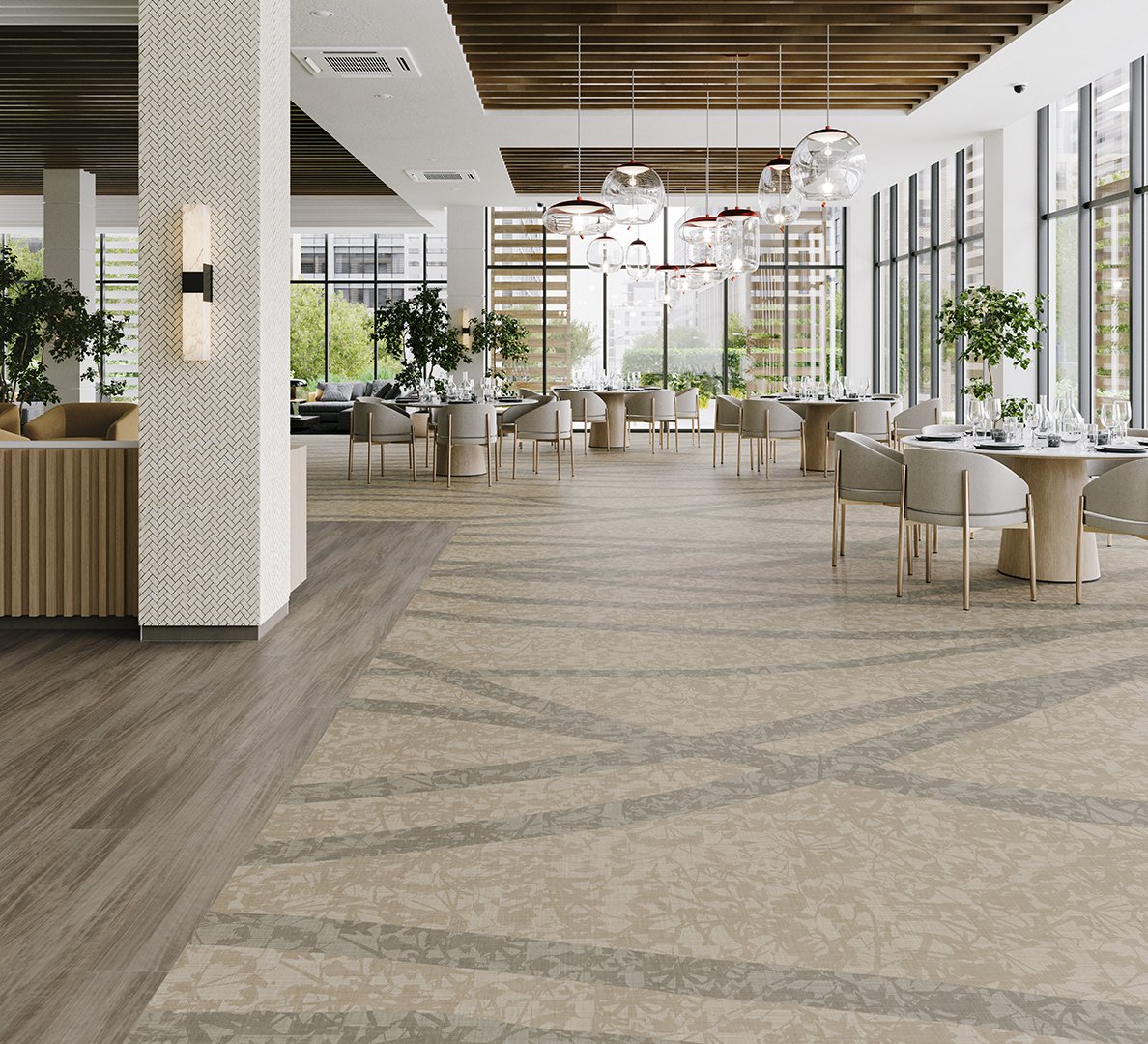 Bloom Sheet Vinyl: Wildflower- Harvest, Shade
Mannington Select LVT: Wood - Vintage Walnut Hawkshaw
Vintage Walnut Hawkshaw MSC11
The greatest change to our healthcare system might be the impact of a growing elder population, with the number of Americans over the age of 65 expected to increase from 52 million to 95 million by 2060.
The Census Bureau reported a healthcare construction spend in the United States in March 2020 of $45.65 billion. Architects and designers are being asked to create beautiful healthcare spaces that promote healing and wellness while remaining functional and high performing under stringent infection control and compliance guidelines.
It is no easy task, but one of the most important surfaces in a healthcare facility is the floor.
Mannington has been installing sheet vinyl for as long as we've been in business, over 100 years. There's a lot of knowledge to be gained after doing something for decades, and we know there are countless design options these days.
But it is important to remember that any healthcare space must meet function before form. A beautiful floor that is safe, long lasting and performs well begins with these three key factors in assuring a successful healthcare flooring installation.
Selecting the Proper Flooring for the Application
Healthcare spaces consist of operating rooms, corridors, waiting rooms, patient rooms, cafeterias, rehabilitation spaces and more. These spaces require different types of flooring to meet not only the specific performance needs of that space but also to meet the requirements for infection control, slip resistance, and ADA compliance.
Choosing the proper flooring materials means understanding what types of other flooring it will be meeting, heavy rolling load applications, if bodily fluids or chemicals will be present in the area and overall foot traffic.
How To Transition Flooring in Healthcare
When joining two types of flooring together, such as carpet to luxury vinyl tile (LVT) or rubber flooring to sheet vinyl, you must consider the gauge specification of that material. That is, you must consider the height of one material to the height of the other.
Carpet in a waiting room might need to meet a heterogeneous sheet vinyl in the adjoining corridor. This can be done by using a transition strip, but that transition can cause tripping hazards for patients using wheelchairs or walkers and create an edge for bacteria growth.
Using a seamless transition like Mannington's Seam+Advantage allows you to chemically weld the seam of the carpet and sheet vinyl together, creating a smooth surface and decreasing the momentum needed to roll a wheelchair over the transition by 20 pounds or more.
Not only is the height variation between two products types important, so is the construction and compound of the materials that join. For instance, a PVC product and rubber cannot be heat welded together and, depending upon the infection control requirements for that area, you would need to utilize a different material all together.
Care must be taken if choosing several flooring manufacturers in one space or project. Research should be done to determine compatibility of products concerning seam performance. It is important to keep in mind where products will meet and how they can be seamed together when designing your overall layout.
Flooring Adhesives for Healthcare Facilities
As mentioned above, healthcare spaces must be designed with function before form. Understanding the application for a space is important when choosing not only the flooring material but also the adhesives used to fasten them.
Hospital beds and tables or equipment will require proper adhesives made to withstand specific PSI rolling and static load abuse. There are different adhesive options provided by flooring manufacturers. The type and level of activity in a specific area will typically dictate fastening system choice.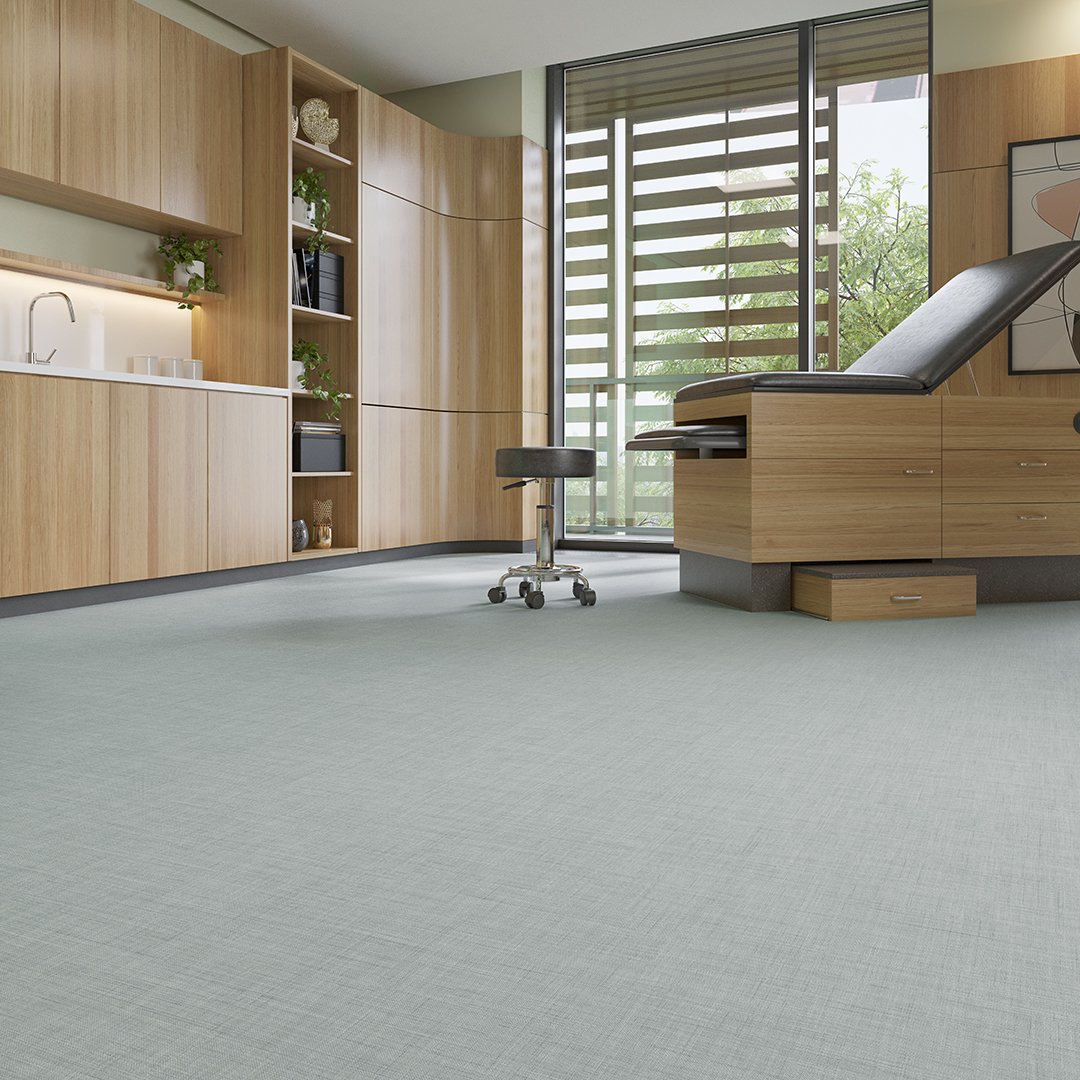 Bloom Sheet Vinyl: Wellspring- Tranquility
Healthcare Flooring Seam Requirements
LVT has become a popular choice by designers in healthcare spaces. With a variety of beautiful and calming visuals in an easy to install and maintain format, it comes as no surprise. However, in recovery, procedure or lab areas where bodily fluids or chemicals are present, a heterogeneous or homogeneous sheet vinyl is required.
These spaces require an integral flooring material where seams can be heat-welded to mitigate the growth of bacteria in hard to clean areas like seams. These areas are typically specified as "flash cove."
When designing with a resilient sheet, it is important to consider your seaming diagram and how your material width options can affect the number and placement of seams. Using a 9' sheet vinyl in a standard 8'6" corridor allows you to decrease the number of seams, helping to create a more aesthetically pleasing design, while also decreasing your material waste and labor costs for installation.
Fewer seams allow for greater performance and better infection control overall. In fact, it might also be worth noting that when developing your seam grid, you want to be sure you leave areas such as doorways free of seams and move them to the back or perimeter areas of a room to ensure areas of heavy foot traffic and action are not directly on seams.
Foot Traffic Considerations for Commercial Floors
Healthcare spaces are busy, simply put, and not all commercial products are created for these high traffic demands. Understanding the overall foot traffic expected in a space can help you decide on the right product that will perform well for years to come.
Talk with your representative about the different wear layer options on hard surface flooring products like LVT and resilient sheet. For some especially high traffic areas, it might be best to choose a 40 mil Luxury Vinyl Tile product like Mannington's Amtico Signature Collection while other lower traffic areas will work well with a 30 mil or even 20 mil LVT.
It is also recommended that you use an entryway system that can mitigate dirt and debris at all external entry points to help prolong the life of the flooring throughout the rest of the space.
Finding The Right Crew For the Job
The second key to a successful healthcare flooring installation is crew selection. It is pivotal that installation crews are properly trained in commercial installations specifically.
Healing environments, especially hospitals, serve many different functions and are often broken up into many different types of flooring.
Further, these flooring types are usually provided by different manufacturers and require an installer that is well versed in how they come together. An experienced crew will have had manufacturer training and access to the proper tools for each flooring type as recommended by that manufacturer.
Some healthcare groups offer lists of specifically trained crews where top tier work and high expectations need to be met. Your flooring representative should also be able to provide you with the information for local installers who are well versed in commercial healthcare installations. Mannington Commercial's Technical Services team can provide in-person training, if necessary, but also offers many video and online training resources for installers.
Healthcare flooring installations often require additional crew members as installations must be turned around quickly, sometimes overnight. Crew members experienced in commercial healthcare installations are familiar with these tight timelines and working conditions.
Healthcare remodels specifically require additional mitigation for fumes, dust, infection and even noise to complete the installation. Healthcare facilities, especially large-scale facilities, demand that an installer be familiar with these requirements, and with the COVID-19 era upon us, restrictions have potential to become even greater moving forward.
A commercial flooring installer will be familiar with handling wide width materials such as 9' or 12' vinyil sheet goods.
A good crew will know how to transport 12' rolls to the installation site, getting them into the hospital or medical office building properly without damage to the material. As mentioned earlier, using these wide width formats will cut down on the number of seams and material waste allowing for greater infection control and lower installation costs.
QuickStix® resilient sheet with pre-applied, low VOC adhesive is ready to be installed, sticks and sets immediately, and lets you start using the floor without any wait time.
Experienced healthcare flooring installers are also familiar with the craft of heat welding and flash coving. It is not an overstatement to consider these an art form that take time and experience to become proficient and timely.
Heat welding and flash coving are required in most healthcare applications to aid in infection control and cleanability. A lack of experience with these methods can prove costly for the overall installation time and how the installed materials look and perform.
Designing For The Expectation of Reality
No two projects will ever be the same, regardless of the project being a new construction or a remodel and you must remain flexible.
Moisture mitigation in a subfloor will always be important when installing commercial flooring and can hinder construction timelines, budgets and even the products that have been chosen. Plumbing and electrical installations can cause issues to the subfloor as well adding time and money to resurface the area to ensure flatness. This is especially important when installing resilient sheet products.
If you want to learn more about subfloor preparation as it relates to resilient sheet installations, I would encourage you to read our blog post 'How to Avoid the Most Common Mistakes in Resilient Sheet Installations'.
When renovating healthcare spaces, such as operating rooms or NICUs, it is not uncommon to be asked to complete work overnight. These areas are critical assets to a healthcare facility and the patients who need them. It remains important to choose the right materials and design based on these tight timelines. Products such as Mannington's XpressStep spray adhesive and Quickstix pre-applied adhesive can withstand heavy rolling loads, have low fume emission and can be heat-welded immediately to cut down on the overall installation time.
Unlocking Your Successful Installation
Due to the increase of requirements for healthcare, we hope this article helps you develop a solid understanding of the unique challenges in designing for healthcare flooring installations. Choosing the right products, the right installation crew and remaining flexible are three key elements to a successful healthcare installation.
We at Mannington Commercial look forward to helping you to continue designing high performing and wellness promoting environments for the growing number and needs of healthcare spaces for years to come.