Roundtable Q&A with Denver Public Schools
The education sector presents unique challenges for flooring when it comes to budgets, installation and maintenance. While each campus is different, an elementary school in the United States averages 470 students. That's a lot of muddy feet running through the hallways.
Mannington Commercial experts work with operations and facilities managers for K-12 school systems across the country to find the best solutions to meet the needs for each campus.
Julie Meseck, sales representative, and Stacy L. Dobbs, senior Antron® business development manager, North America Strategic Accounts, for Mannington Commercial recently spoke with Christopher Lilly, quality assurance and control specialist for flooring for Denver Public Schools (DPS) and Larry Bullen, business development manager with Gary Leimer, Inc., one of the top flooring contractors in Colorado, to gain insight into the challenges and solutions they face in selecting long-term flooring products. Their collective experience can be beneficial to others working in the same environment.
Julie Meseck:
What is the biggest challenge you see in K-12 facilities for the facilities departments?
Christopher Lilly:
It's difficult right now to get good quality contractors. It seems there's more work than qualified contractors, so the challenge is getting good contractors to put in a good product and to do it correctly. We've hired a few contractors in a pinch. The installations just go south, and you end up spending the money twice trying to get it corrected.
Larry Bullen:
I think the biggest challenge that we see on a regular basis is architects putting in something that might look pretty, but it's not easily maintained. If it's an inappropriate product and it's not constructed correctly, the district's lost. This goes for resilient as well as carpet. They want to get 10 years of use, but the maintenance budgets keep shrinking. If we put in something that an architect likes that's hard to maintain, everybody loses.
JM:
A lot of districts including Denver public schools have a technical specification that is written for different finishes, including carpet. The current carpet specification for Denver Public Schools (DPS) and many others in Colorado calls for the yarn Antron nylon 6,6.
Why is this important with Denver public schools and for Larry, why do you think it's important to the districts you work with that have this tech spec?
CL:
Antron is a proven yarn system for performance. We've got Antron carpet in some of our facilities that has probably been in place for more than 30 years, and it still looks great as long as we maintain it correctly and clean it correctly. In many of these schools, the carpet still looks fabulous. It just wears like iron. We're definitely sold on it.
LB:
I go into a lot of different districts in the course of a week, not just DPS, but all the Metro districts in the Denver area, and invariably I see that if a product has been on the floor for more than about 15 years, it's roll goods with an enhanced back or an upgraded back with welded seams on this Antron yarn. Other yarns don't hold up as well, and they're not as easy to clean.
Related: 3 Common Commercial Carpet Backing Types
Related: Antron vs. ECONYL Carpet Fiber Comparison
Googie Collection: Telejector - Dynasphere, Phenomena - Cybernetic, Mannington Assurance II - Marl Made with Antron Nylon 6,6
Stacy Dobbs:
Can you share your standard specification for soft surface or for a carpet? I'm asking because I see a lot of different standards and specifications across the country. Some include only nylon 6,6 or the Antron four-hole hollow filament fiber shape or simply the Antron brand.
How tight are your fiber specifications to get your targeted 20 years out of the product?
CL:
We ask for 100 percent Antron, and we identify minimum face weights. For the type of weave, we ask for tufted level loop, tufted multi-level loop, textured loop and then we talk about gauge. We are very specific all the way down to the backing.
JM:
What's the expectation for lifecycle in carpeting? I've heard different things and had to write warranties for different terms, but in Denver public schools and other K-12 facilities what really is that expectation?
CL:
We hope to get a minimum of 20 years out of a piece of carpet. That's our goal.
LB:
I believe most of the districts are rewriting their warranties or asking for rewritten warranties. We have some schools that still have the same product down in excess of 50 years. It's orange and lime green so it's not an up-to-date design, but it hasn't worn out and isn't dirty.
JM:
A lot of the districts that I've talked to tell me their expectation is to have their flooring down as long as they can. They will replace it when money becomes available or if it becomes a safety hazard or it's falling apart. If it just goes out of style, sometimes they will live with it.
JM:
How is the maintenance handled for carpeting versus hard surface? What do maintenance employees in the district think about carpet areas versus hard surface areas, and are they aware that this flooring should last that long?
CL:
We're transitioning to putting more carpet in our corridors. In the past, most carpeted areas were in our offices but times have changed; we want softer environments. We want the school's look to be enhanced, so we're adding more carpet throughout the district. The facility managers really like it because it's so much easier to maintain. You just vacuum at the end of the day or a couple of times a week rather than having to constantly mop and wax, and that they're really excited about our approach to the schools in the future.
LB:
I think the pendulum is swinging back [to carpet]. About three or four years ago the trend was to try different flooring products, but I think almost universally the districts are going back to more carpet. They're dissatisfied with the hard surface they were using. Vinyl composite tile is still the least expensive to put down, but over 10 years it's the most expensive. Lifecycle costs go through the roof. So carpet is a good happy medium as long as it's decent construction and a decent yarn.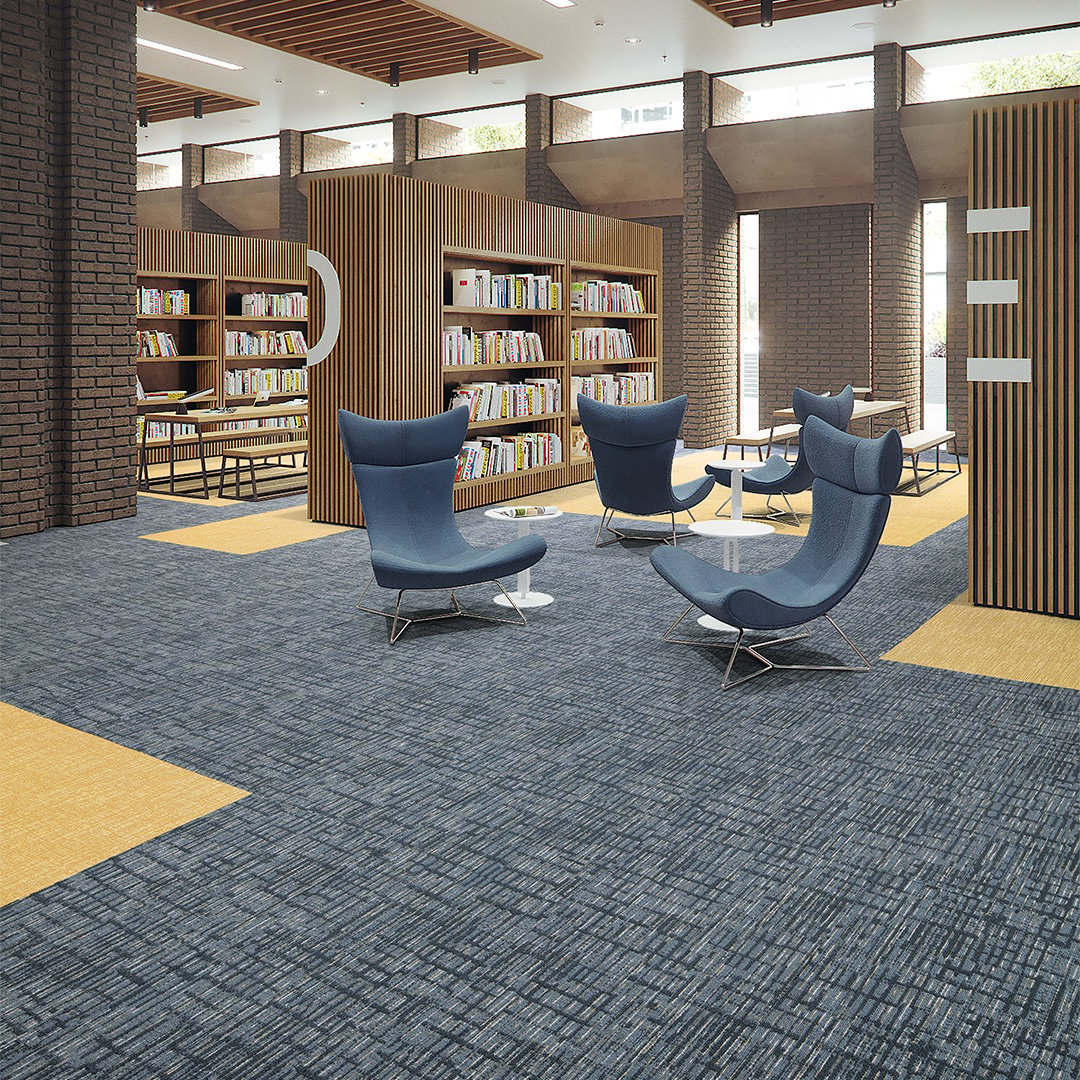 Quadrant Collection: Precision (Broadloom)- Acute, Groove - Cottontail, Align (Modular) - Acute, Color Anchor (Modular)- Abuzz Made with Antron Nylon 6,6
JM:
What advice would you give to a school district that doesn't have a technical specification for carpet?
CL:
They have to write one. There has to be a minimum standard established; otherwise, you're going to buy junk. Over the years working with Mannington Commercial has totally changed the flooring for the Denver Public Schools (DPS). I mean, we've got a perfect program. We've got exactly what we once spelled out, which makes it so much easier. It has taken a while to get all of our architects and others on board to understand our specs, but in the long run there is definitely a return on our dollar.
LB:
I suggest they talk to districts that have tech specs. Find out how long the carpet has been down, is it still functioning and if so, what are the district's main requirements? Maintenance from district to district is basically the same. There aren't a lot of dollars to spend, so you have to make those dollars go further and still have a product that's attractive to the end user and be able to easily be cleaned.
JM:
Will you leave us with some final words of wisdom about yarn, maintenance or life cycle?
CL:
I would say the Antron yarns used in the carpets we use at DPS are great. We have the challenges of weather in Colorado, so you've got thousands of kids going through the school with sand and salt and everything you can imagine on their feet. The carpet holds up. It cleans well, and it looks brand new for the next year. We're very satisfied with it.
LB:
One thing we've incorporated with the specs for almost all districts including DPS is a specific entryway system that goes in front of any outside doors; otherwise, there's no way to maintain regular carpet with all the salt and sand and gravel that we see. Having a specific entryway system has made maintenance much easier.
Bringing customers, contractors and industry experts together to regularly discuss issues and best practices helps ensure Mannington Commercial can continually offer the most viable product solutions to the sectors it serves, including education. The DPS is one example of a school system with long-term experience using carpet with great success by using detailed technical specifications when budgeting for, selecting, installing and maintaining the products.
You Might Like: The Designers Ultimate Guide to Specifying School Flooring
---
Take a closer look inside of the world-renowned Ron Clark Academy. The 44,000 sq. ft. space houses 14 classrooms, a media center, a two-story slide, a dragon staircase, a dance studio, and a gymnasium. 👇