Luxury Vinyl Tile, or LVT, has been one of the fastest-growing categories in flooring over the last few years. Maybe you're an architect or designer who's never heard of LVT or maybe you've heard the acronym tossed around casually and were too afraid to ask what those letters stand for. This is probably more common than we as a flooring manufacturer might think.

LVT is actually a product you might be more familiar with than you think. LVT stands for Luxury Vinyl Tile, but this is vinyl flooring like you've never seen before.
Its popularity is attributed to its durability, performance, low maintenance, ease of installation, design flexibility and lower lifecycle cost. Additionally, emerging technologies have allowed the endless possibility for design to closely mirror many natural flooring choices such as wood, stone and ceramic tile.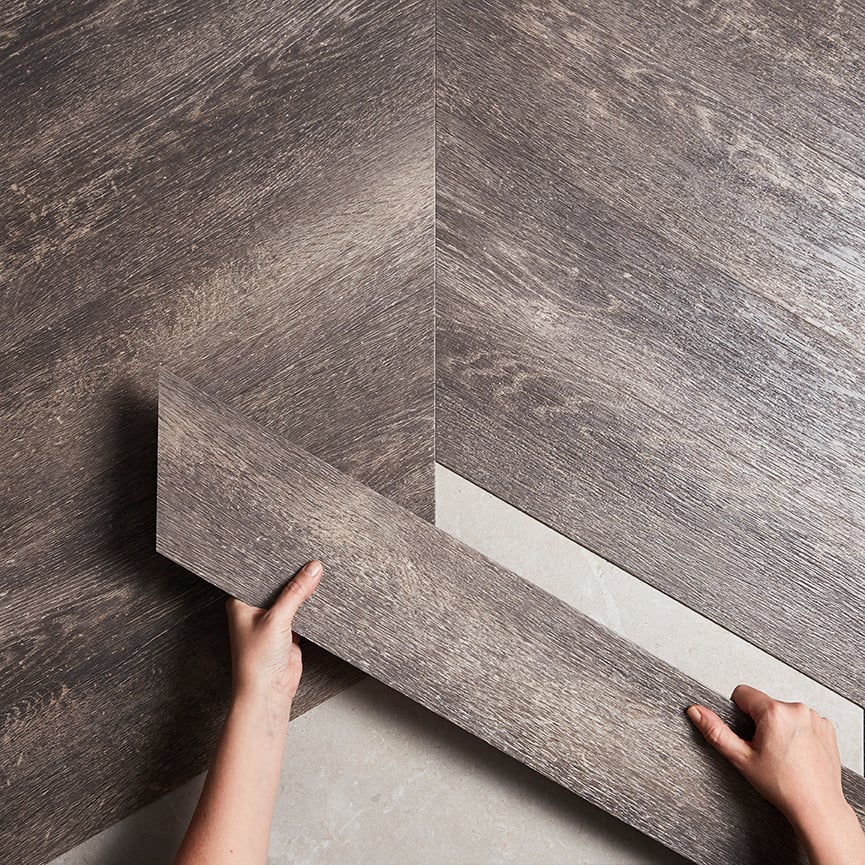 Amtico Signature Wood, Halcyon Pleat
In March 2012 Mannington Commercial acquired Amtico International, a manufacturer of high-quality luxury vinyl flooring products. Amtico has consistently led the development of the growing LVT flooring category, with leading design, quality, and customer service. Before you can decide if you want to use this product and ditch traditional hardwood let's go over what LVT is, how it is made and how and where best to use it.
What Is LVT?
LVT is a high-performance semi-flexible floor covering composed of several laminated layers giving the product its installed durability and realistic look. The wide variety of size formats and patterns to choose from offers excellent design flexibility in both commercial and residential environments.
LVT construction typically consists of a stabilizing backing layer, inter-core layers supporting a decorative film layer, giving LVT its range of unique and realistic visuals, and finally a durable clear layer that provides superior design clarity and wear resistance.
Backing Layer
The first layer on the bottom of a typical LVT construction is a stabilizing PVC backing layer specifically formulated and manufactured to provide excellent flatness characteristics as well as dimensional stability. The textured surface of the backing layer enhances adhesion bond in glue down applications.
Inter-core Layers
The inter-core layers are the body of the product that provide installed durability and the bulk of LVT's overall thickness. These layers typically consist of PVC and precision ground inorganic fillers. Depending on the product design some LVT constructions also utilize a decorative face layer on top of the inter-core layers.
Some LVT constructions use a face layer, which is a specifically colored PVC layer that will add depth and a complementary hue to the visual of the product. These are used only with special skeletal print films as explained below. .
Print Layer
The print layer is the visual layer for the product. It can be made with different printing techniques to create very realistic natural visuals or intriguing abstract looks.
One common printing technique is rotogravure printing, which is a printing system that uses a rotary press with intaglio cylinders, typically running at high speed and used for long print runs. The process transfers fluid ink from depressions in a printing cylinder to the printing surface.
Another technique is digital printing, which allows for longer pattern repeats and wider color ranges. No matter which printing technique is used, the possibilities for style and design are endless with printed surfaces.
Most LVT uses opaque print film that has the visual on one side and is blank on the other. Some premium LVTs on the market, such as Amtico Signature, use a special skeletal print film that is printed with a pattern but is also translucent allowing the face layer beneath to show through as well giving the product dimensional depth of color and pattern.
Clear Wear Layer
The final layer in LVT construction is the clear wear layer. It is a durable clear layer that provides superior clarity, color stability, and depth of design to the product pattern. The wear layer is a PVC layer that is manufactured to give LVT long lasting wear performance and superior cleanability.
Typically a liquid urethane layer is applied to this clear wear layer in the final phases of manufacturing to enhance the wear layer properties, including resistance to stains, scuff and scratch.
This layer is measured in mils, a unit of thickness equal to one thousandth of an inch, and is a key element on many LVT specifications. Varying wear layer thicknesses and urethane combinations will give you different performance results. The ASTM standard for commercial use LVT is 20mil wear layers or higher.
In order to complete the manufacturing process, the LVT layers must be laminated together. In order to do that it needs heat, time and pressure.
Think of it like making a grilled cheese sandwich. You are trying to laminate the layers of LVT together to get a final product, just like you are trying to melt the cheese to the bread in a grilled cheese sandwich.
If you use a thick piece of cheese, then your bread will burn before the cheese melts. The same applies to LVT. All the layers must be carefully balanced so that they adhere to one another during the process. Once you apply even heat and pressure over time, you will have a finished LVT product.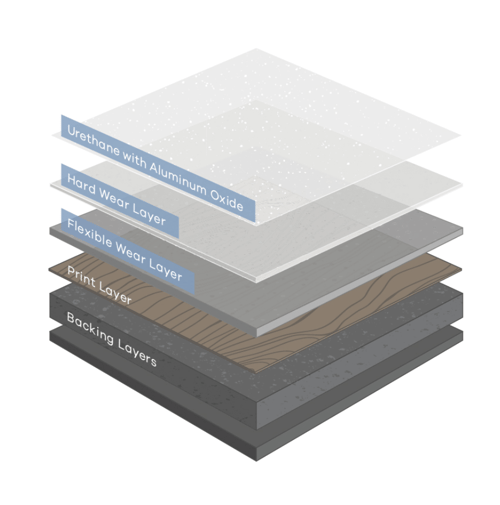 Standard LVT Resilient Structure
What is LVT made from?
LVT is composed of both inorganic (fillers) and organic (PVC and oils) materials compounded together in precision machinery to make layers of ply that are bound together through continuous heat and compression resulting in a very durable and aesthetic floor covering. Pre and post-consumer LVT flooring can typically be recycled back into the base compounds used to make it.
How Should I Use LVT?
LVT is available in many sizes and formats and can be used for numerous flooring projects. Depending on the type of space and what the space will be used for, it's important to consider wear layer thickness, wear layer performance characteristics, total product thickness, and what the LVT product is recommended for; as all LVT products are not the same.
LVT comes in different thickness options. You can choose one to fit the needs of any space, including thicker profiles designed for an easy transition to carpet. Depending on the other flooring types in the space, transition strips may be the best choice as well.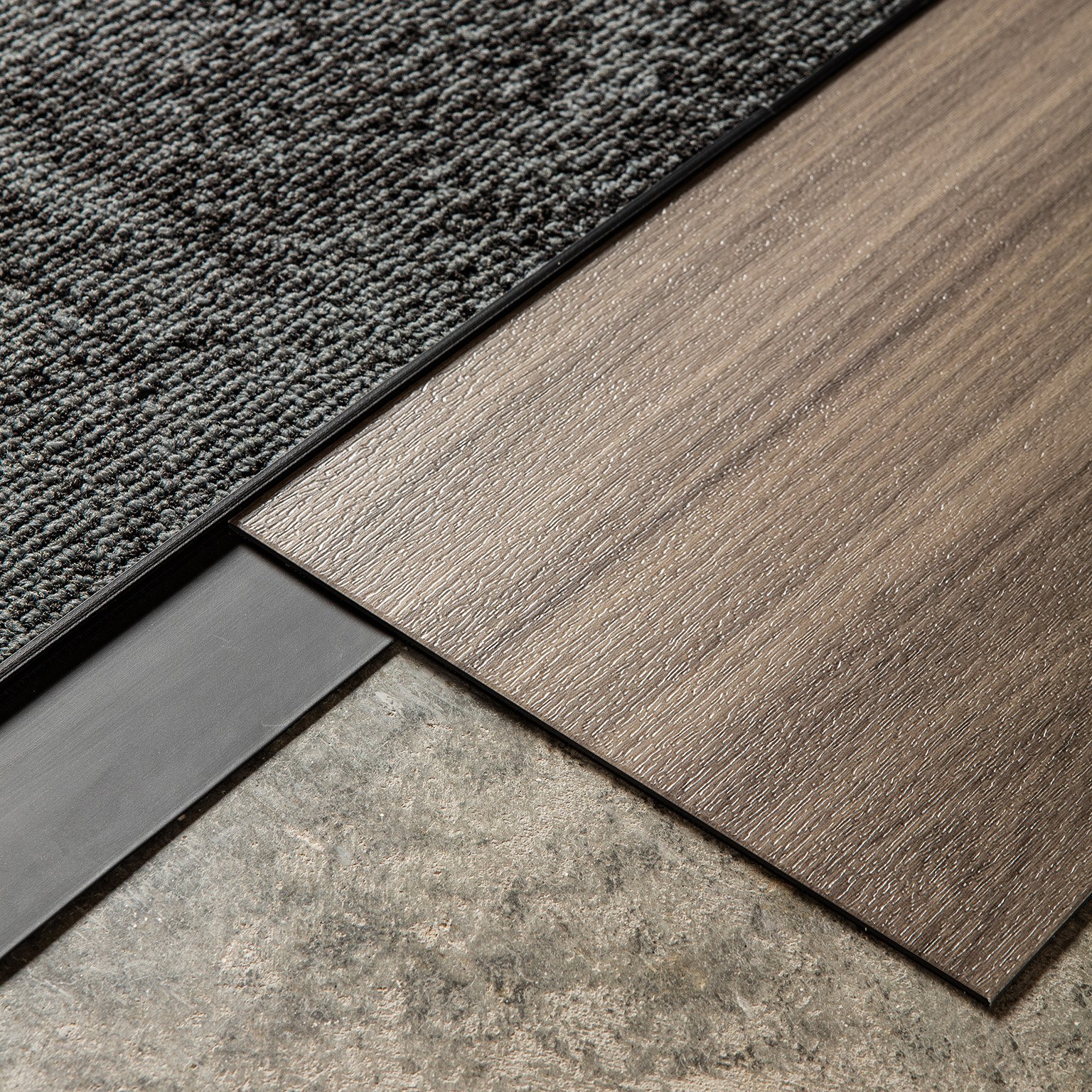 Rubber Fusion Transition Strip
Wear layers in 12, 20, 30 and 40 mil offer you options to choose the right performance level for your commercial flooring project. The higher the mil, the more suitable the product is for heavy traffic.
For example, a 12-mil product is suitable for residential and light commercial use, so you do not want to put it in an area with heavy foot or rolling traffic. Below is a chart that will help identify what wear layer you should choose for your specific end-use application.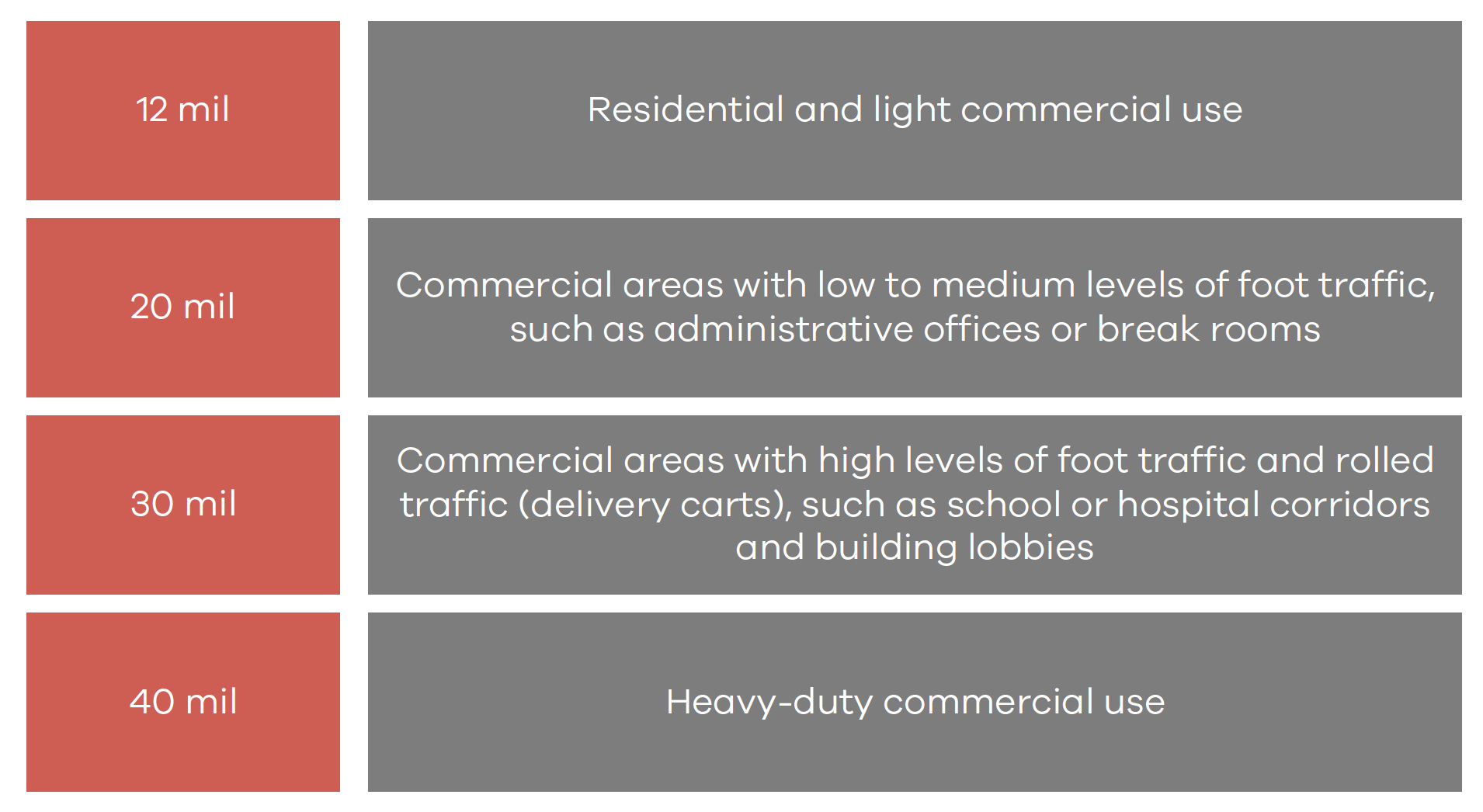 Where Are the Best Spaces to Use LVT?
LVT is a versatile product that can be used across many segments, including retail, hospitality, workplace, healthcare, and education spaces. LVT offers premium-quality finishes with durable surfaces at a reduced cost from traditional materials, such as stone or wood. While it is water-resistant, LVT is not recommended for indoor pool or spa areas.
Some LVT products can be treated with infection control substances, but using it in operating rooms, intensive care units, and spaces that must be sterile is not recommended. However, LVT can be a smart choice for most commercial applications.
You can view our Recommended Usage Chart for a more detailed look at recommended applications for hard surface flooring.
How Does LVT Stand Out from Other Flooring?
Durability
LVT is strong and able to withstand heavy foot traffic. Additionally, it is water-resistant, making it an excellent choice for many areas that are prone to moisture issues, but adhesive must also be taken into consideration in those environments. Depending on the type of wear layer, most LVT is scuff, stain, and scratch-resistant, improving its wear and performance.
Realism
With advances in technology over the past few decades, LVT has become incredibly realistic in its attempt to replicate natural surfaces of wood, stone and tile. The design opportunities are endless.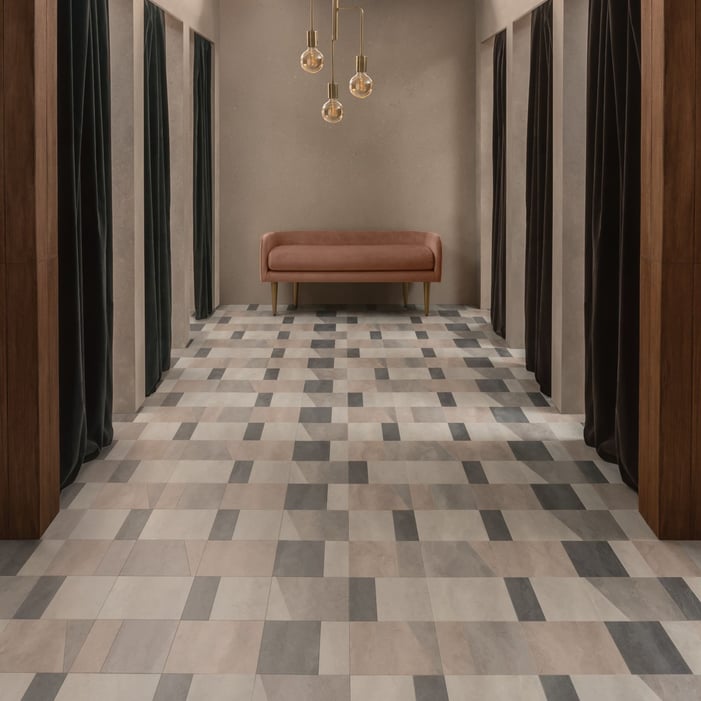 Amtico Signature Stone: Edge
Ease of installation
Commercial LVT is typically glued down to a concrete subfloor using a recommended adhesive, but select constructions can be installed as a floating floor, or some LVT products offer an interlocking system, most often used in residential applications. LVT is also easily replaced if a repair needs to be made and doesn't require full floor replacement.
Value of LVT flooring
LVT often costs less than flooring materials such as stone and wood, but still giving you a similar look. While LVT might cost more than VCT or vinyl sheet flooring in initial cost per square foot, it's durability and minimal maintenance requirements makes it a low-cost choice over the life of the product.
Cross segment appeal/Breadth of application
Because LVT offers premium-quality finishes with durable surfaces at a reduced cost as well as realistic and endless design possibilities, it appeals to nearly every segment. LVT is a beautiful and practical choice for most commercial spaces.
Cleanability
As a water-resistant floor with a hard surface, LVT has excellent cleanability. Spills and dirt clean up easily, unlike soft surface flooring.
Comfort
LVT is softer and can tolerate conditions that some natural materials cannot. Its construction layers add advantages in sound absorption, heat insulation and comfort underfoot. For added comfort under foot, many manufacturers offer different underlayment options that absorb sound and provide an additional cushion.
Is LVT The Best Commercial Flooring Choice?
LVT has become the most popular choice in flooring for commercial applications across many different segments. Whether you need a functional floor with beautiful aesthetics for an office setting or a water-resistant floor to withstand high traffic in a restaurant, LVT can provide you with endless design possibilities and long-term durability, LVT can definitely be the best bang for your buck.
Check out our LVT collections and find the right fit for any of your commercial needs and learn more about our LVT on our performance pages.
You Might Like: The Specifiers Ultimate Guide to Luxury Vinyl Tile (LVT)
---