If you are a facility or operations director in education, you know that COVID-19 has turned up the volume on challenges you face — the least of which is finding ways to make your space feel safer for everyone.
Creating optimal learning spaces while maintaining the recommended social distancing guidelines has been an important factor in whether or not it's safe to allow students back in school. Mannington Commercial's education solutions program was created to implement flooring design options as a tool to guide students to keep a safe distance.
The education solutions program offered at Mannington provides ideal flooring layouts from initial concept to installation plan, from one room or an entire facility. Special consideration is given to ensure that even the complex installation configurations can be installed seamlessly by an authorized dealer partner.
With experience in interior, graphic and textile design, the Design Solutions team can help craft a flooring design that fits the specific needs, budget restraints and challenges the educational world is facing due to the pandemic. Design Solutions is available for any market segment including healthcare, workplace, hospitality etc.

What's Included in the Education Solutions Program?
We first tested this program with a dealer partner and a small, rural school district in Colorado.
The concept of creating a streamlined design and installation process tailored specifically to the education market was very well received and it became obvious to us that we should expand the program with all facilities and operations directors in the education space.
At its heart, the program addresses the need for average K-12 facilities in all school districts to receive design assistance to improve their buildings and enhance their learning environments.
The intent is to reach facility and operations managers who already are involved in flooring
projects and can actively engage and influence decision makers, including teachers, principals and superintendents. Here's a key – because the design process is significantly expedited while being completely custom, the decision-making timeline is drastically reduced.
This program offers any of the following deliverables available with a 2-3 day turnaround time depending on the scope of work.
Room Scenes:
Visual of a room with requested product installed.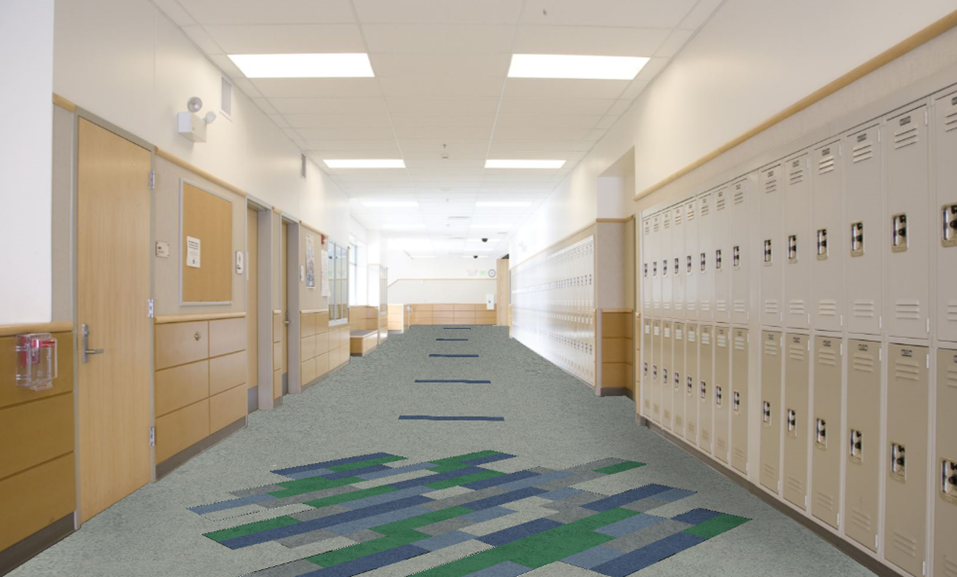 Rendered Plan:
Scaled rendered floor plan with jpeg images of the actual product to provide a birds-eye-view of the install products.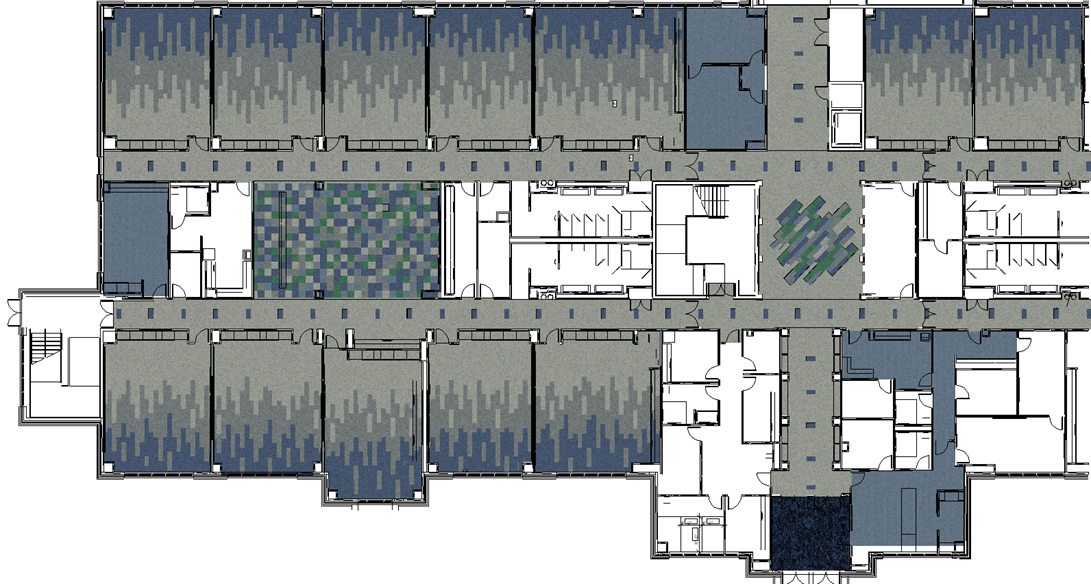 Finish Plans:
Scaled, 2D floor plan layout in which product names, sizes and installed methods are shared. Specific locations are color coded to represent the assignment of specific products.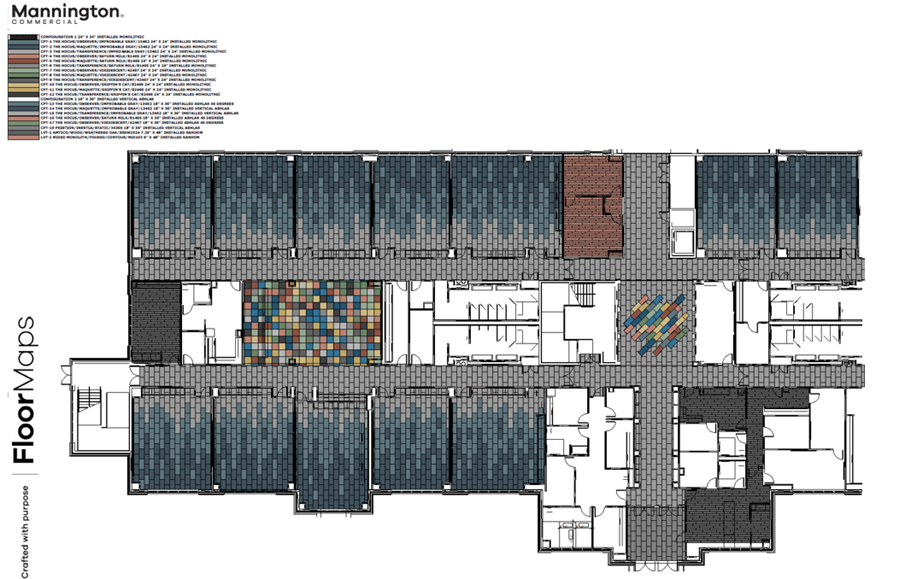 Estimates
Contains quantities regarding the requested products and waste percentages.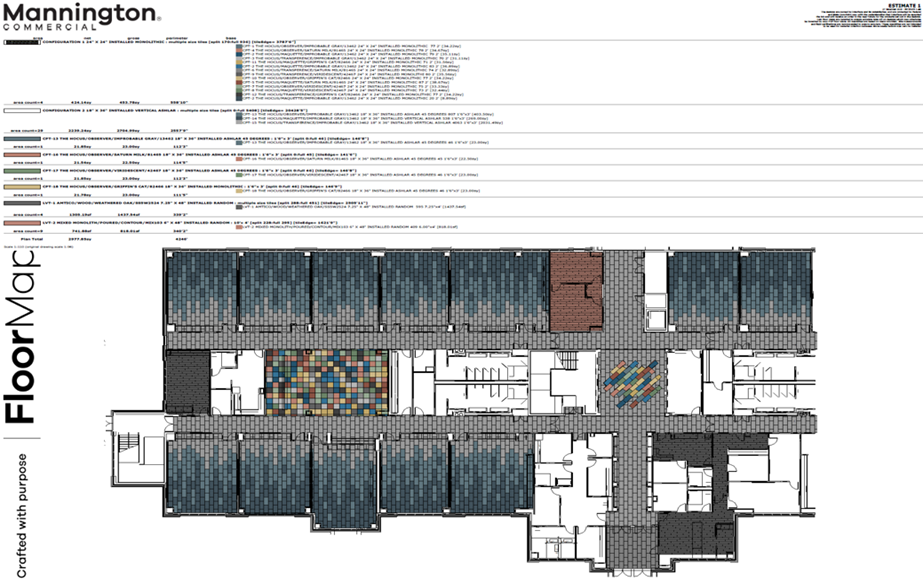 Installation Diagrams:
A color coded drawing of the floor design in high contrast colors so it's easier for the installer to understand what products will be installed in each room.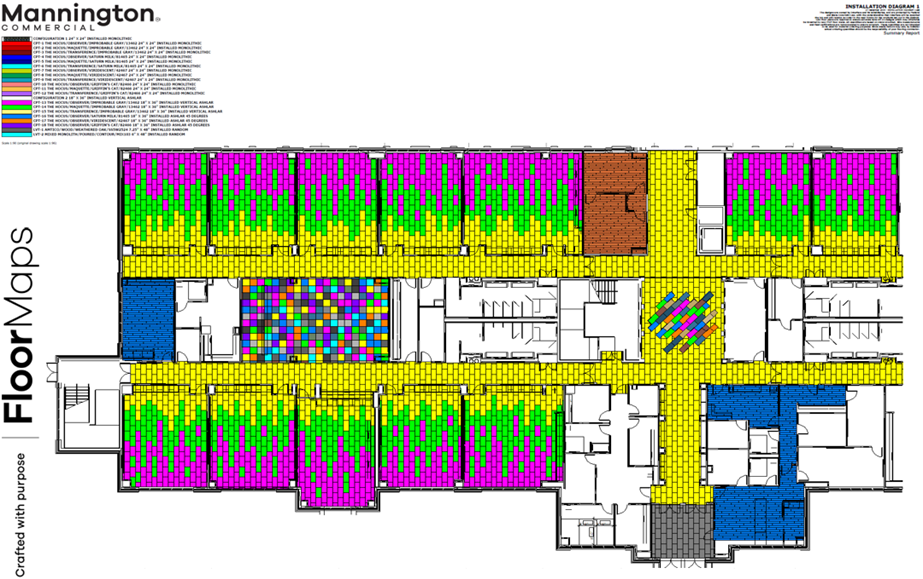 Phasing Diagrams:
A color coded drawing that lists what area of the building the installer will begin the installation. Notes will also be added to the drawing that state Phase 1, 2, 3 etc. Dates and time can also be applied for further clarification as to when the installation will begin.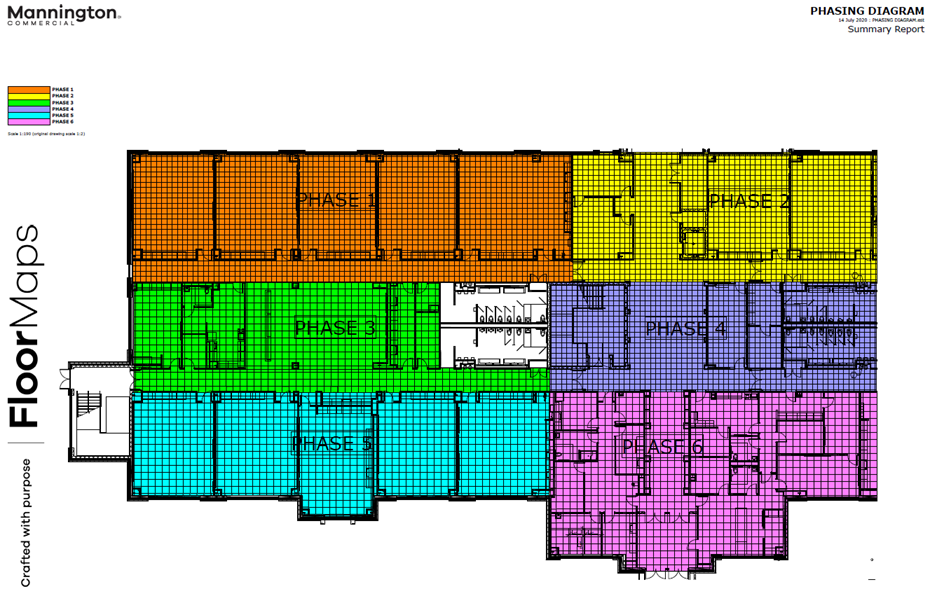 From the initial plan through to installation, each step of the project requires expertise in all aspects of commercial flooring products, transitions and installation methods.
Input from the district manager, Design Solutions and facility directors ensures the ability to provide different solutions and options, as well as technical knowledge, to help through the design process and bring the whole vision to life.
Design Solution on the Job
Almost everything in the education space is being re-evaluated to help keep everyone safer as students transition to in-person classes. This includes way-finding and area planning for classrooms and corridors with special attention to spacing and traffic flow. Administrative offices, auditoriums, cafeterias and media centers all require unique consideration.
As an example from one school, accent tiles were placed every six feet in hallways with
a circulation path to promote walking in one direction. In this case, an LVT product was used with some wood plank, but the design could be rendered using any mix of Mannington Commercial products best suited to the intended use of the space.
Once the design is created, it can be shown using whatever product works best, whether that's carpet, LVT, rubber tile, etc. It's simple for the designer to change out the products in the floor plan or room scene to show different options.
An important aspect of the program is the subtlety of the overall design aesthetic. While the components are in place to promote safer social distancing behaviors while COVID is a priority, the look will remain viable long after the situation improves. Unlike placing arrows on the floor or sticky decals, this solution will still be functional and look good in the long-term.
How Does the Design Solutions Program Work?
A key reason for the success of the program is the ability to move quickly from concept to design to project approval to installation. That's all possible through a streamlined process of specific tasks performed by experts in each phase and discipline.
Because the customer sees exactly what the finished product will look like, there's no going back and forth with samples and trying to envision the final result. It's all laid out in a simple visual package.
The customer knows exactly what they are getting and what the final space will look like. Here's the fundamental process flow once there's been an initial pitch to the customer representative:
Project manager contacts the Mannington design manager (DM).
CAD of PDF drawings are submitted to the DM. If those aren't available, the project manager can provide photos and measurements of the space.
The job is assigned to a Mannington designer who usually provides outputs within 48 hours. Of course, if it's a bigger or more complex job, it could take a bit longer – closer to 72 hours.
The client approves the layout.
The DM submits estimates based on the renderings, if needed.
Installation and phasing diagrams are provided, if needed.
One of the many reasons the program works so well is the decision-makers have the opportunity to see a two-dimensional or three-dimensional room scene, in a variety of color options.
For example, one facilities manager requested four different geometric-type patterns. They signed off on one that included Mannington's color anchor product line, LVT with each classroom using the same design.
The DM created one pattern repeat so the installation team would know exactly the tile placement for a fading color palette and specific pops of accent color. Random Ashlar was used in the hallways, then the design for the media center was a herringbone pattern with pops of color to transition into each area.
An additional service Mannington can provide is custom school logos. Because there's an in-house designer specializing in LVT logos and the work is done in the Madison, Ga., plant, it's a perfect single-source advantage to help complete the look of a school project.
Creating a Safe Environment in Your Educational Space
Once the design has been created, it's simple to estimate for different commercial flooring products within the plan to address multiple use scenarios. So, if the initial plan called for rubber in the corridors but the client is also considering LVT, it's easy to provide a different estimate and discuss multiple product possibilities to find the one that best suits the space.
Offering such a quick, custom process keeps the decision-makers engaged, and it offers the
opportunity to explore new flooring options to help create an overall better and safer environment.
With the flexibility of the program, the facilities managers can set up standards to establish:
Improved distancing guidelines to accommodate smaller class sizes
Rotating classes
Delayed and staggered classes
Increased space between desks
Repurposed gyms, auditoriums and cafeterias
One-way circulation patterns throughout the campus.
Mannington's Design Solutions team aims to define inspirational spaces and provide design options to adapt to the recommended social distance guidelines for education. Design Solutions goal is to inspire, create, drive innovation, and foster collaboration.
If you're interested in this program, the first step is to identify your local mannington representative to coordinate with them to see if Design Solutions is right for you and your project needs.
From there we work closely with you and your rep to develop a design concept and we will guide you through the process of choosing the right products. We have a variety of deliverables we will provide you with: room scenes, finished plans, rendered plans, installation plans, estimates, phasing diagrams, CAD and Revit files. Whether it's one room or an entire project we have a design solution for you.
For additional information, contact your Mannington Commercial sales representative.
---
You Might Like: The Designers Ultimate Guide to Specifying School Flooring