Let's face it. Flooring isn't going to be the reason students flock to a college dining hall. That requires convenient hours, comfortable chairs and a decent menu. But, flooring plays an essential role in creating an inviting atmosphere, conducive to gathering and hanging out to eat rather than grabbing food to go.
The 1,600 students at Virginia Wesleyan University (VWU) are spending more time at Boyd Dining Center on campus following a recent update that included an expansion and renovation of the space by the full-service design and installation firm, Atlantic Culinary Environments. The project entailed combining the existing dining hall with an underused banquet space to create a more functional, and comfortable space that the students are excited to use. WC Carpenter was an amazing flooring contractor on this project.
COVID-19 precautions required the designers to think innovatively and offer two options for seating layouts – one for immediate use and one for post-pandemic socialization. The initial layout included less seating than what will be available when the space can be enjoyed at full capacity. The full picture includes beautiful yet practical multi-use areas coordinated by uniting color schemes and flooring.
"Prior to the renovation, the space was traditional with a warm, dark color palette, but we knew the client was looking for something modern and bright that felt totally brand new, as if it was a new building," says Sarah Kurosky, interior designer with Atlantic. "So we added a ton of white to brighten the whole space and big splashes of a saturated blue which ties into the school colors. With such an expansive space to work with we could really have fun with the floor and make that one of the main design elements of the whole space."
The client wanted something whimsical and nautical to play off the school's location near Virginia Beach. Using a mix of products and patterns with arcs and circles helped to both designate distinct use areas and create a unifying flow through the vast space. The expanded dining center offered such an open space that the designers utilized flooring to differentiate areas for food service, dining and hanging out.
Related: Why Starting With The Floor Supports Learning in Education Spaces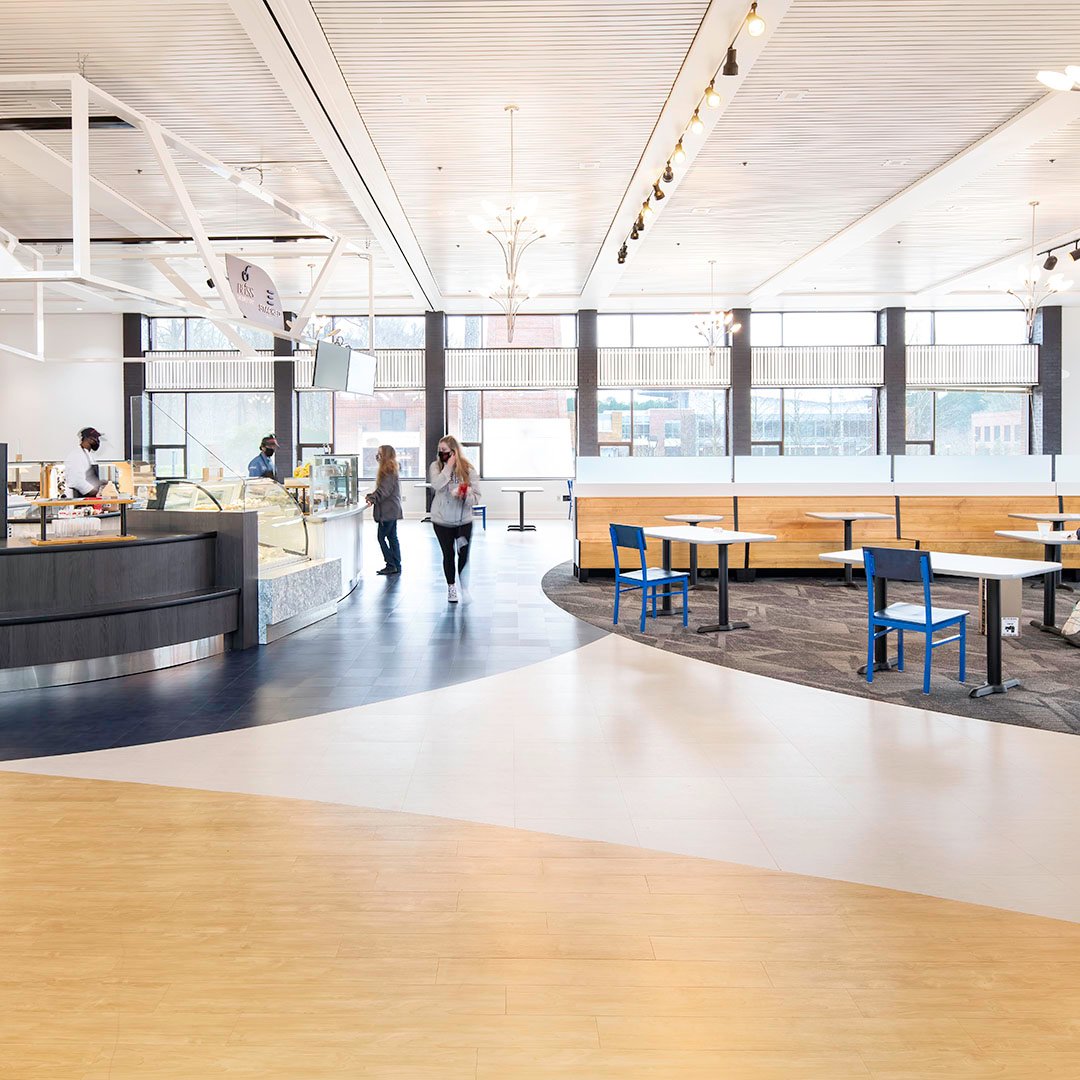 Mannington Select LVT, Color Anchor Stride LVT & Googie Telejector
Top Flooring Performers
The designers chose a mix of hard surface and soft surface products: luxury vinyl tile (LVT) and carpet tiles. The carpet helps create conversation and lounge spaces, while the LVT is more practical in food service and high traffic areas. "You can really dream up anything, because of the patterns and the textures and the sizes available," says Kurosky. "If you can dream it, it can happen."
The carpet tiles are perfect for improving acoustics in a large, potentially noisy space while also providing easy maintenance if a small area must be replaced due to stain damage. Using the Googie Collection constructed with Antron Legacy Type 6,6 Nylon fiber provides optimum performance for a dining area ensuring the entire space continues to look like new despite heavy use. LVT is an optimum solution for high-traffic areas as it does not fade and is easy to install in both new construction and over existing flooring. And, importantly, it is simple and rapid to clean after being heavily traversed by many students.
"Performance was a driving force behind selecting the products that had to be used in high traffic areas, food service areas, dining areas and lounges," says Kurosky "The bonus was being able to create the fluid lines that we wanted to create the look and the flow."

Related: How Does Your Carpet's Fiber Impact Total Cost of Ownership?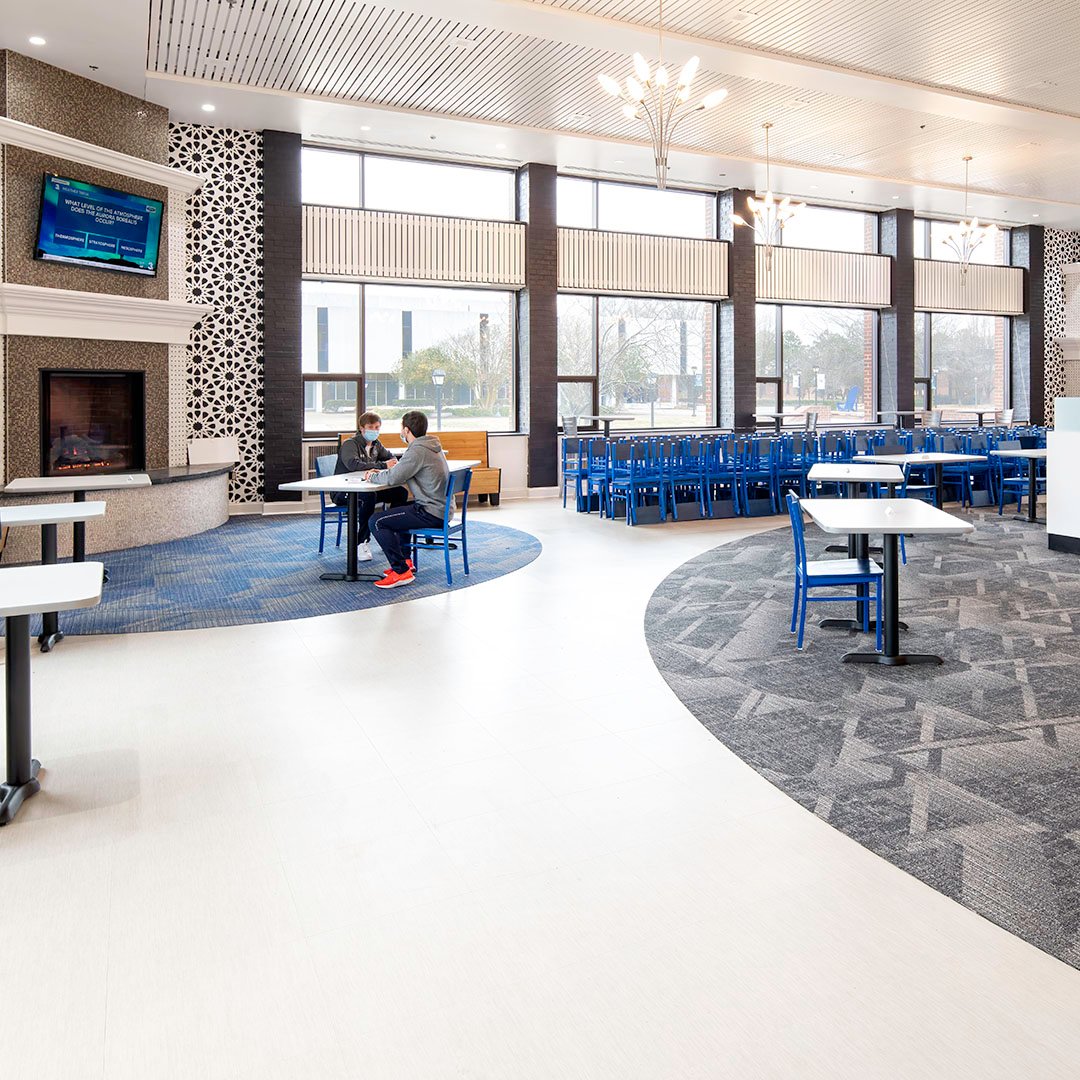 Color Anchor Stride & Googie Telejector
The Bigger Picture
Atlantic successfully orchestrates commercial food service projects throughout the country and fully understands the importance of adhering to tight schedules. Projects on college campuses generally require aggressive timelines, and Virginia Wesleyan was no different with a very short window in which to accomplish a vast amount of work. They understood the incredible importance of clear communication with their suppliers to specify products that were both perfectly suited and readily available to avoid lengthy delays in delivery.
"The product is always number one, but the people who represent the products matter as well," says Kathy Sweeney, Business Development director for Atlantic. "Mannington went out of their way because they knew this project was important. They knew we were running out of time, so they kept us in the loop on what was available which is just as important as the product itself."
The finished project resulted in a beautiful and functional space that is both more inviting to students and more efficient for the staff. Students are no longer just stopping by to pick up meals and fleeing back to their rooms. They are now staying onsite to eat, to study and to hang out, making the new facility a favorite gathering place on campus.
You can view all of the different options Mannington Commercial has to offer here.
---