In the past ten to fifteen years Luxury Vinyl Tile (LVT) has made a name for itself in the flooring world. It is not by coincidence that LVT flooring has grown into the product of choice for many interior commercial spaces.
If you work in the built environment you've probably heard of LVT, but if you're not used to specifying it on your projects you might be wondering why LVT has emerged in the marketplace with such force.
Mannington has its own domestic LVT plant in Madison, GA, where we produce over 90% of our commercial LVT offering. Having a domestic plant allows us to vertically integrate our manufacturing process and continually push development and drive improvements.
With one of the largest LVT offerings in the world, Mannington has been on the forefront of the LVT growth trend over the last decade. In partnership with end-users, designers and flooring contractors, we are always seeking out voice of customer feedback to better understand the challenges of commercial spaces. We have seen how LVT has grown into a product that crosses so many market segments and fits the needs of so many projects.
The cross-segment appeal is widely due to six main things we're going to cover in this article:
Durability
What makes LVT durable? It consists of laminated layers, one of which is the clear wear layer.
A liquid urethane is typically added to the clear wear layer and can be enhanced with other additives such as ceramic beads or aluminum oxide. This is the key component for the product's durability and enhances the wear layer properties providing resistance to stains, scuffs, and scratches.
Most of Mannington Commercial LVT products include Quantum Guard Technology, The Quantum Guard family of technologies sets Mannington Commercial LVT apart from the rest. All feature aluminum oxide technology. This offers complete multi-layer protection and outperforms the competitor's products against scratch resistance and impact resistance.
It allows the product to cut cleanly for high-quality installation. It is engineered for best-in-class dimensional stability. Depending on the wear layer's thickness and urethane combination, the performance of LVT products will be different. Durability should be top-of-mind when specifying a product for a high traffic area such as schools, restaurants, and hospitals.
The wear layer must be 20 mil or higher to be rated for commercial use. Mannington Commercial offers one of the industry's largest selections of performance level groupings of LVT. We have everything from a 40 mil wear layer with a 25-year warranty, to a more budget friendly 12 mil wear layer with a 10-year light commercial warranty, with a multitude of styles in between.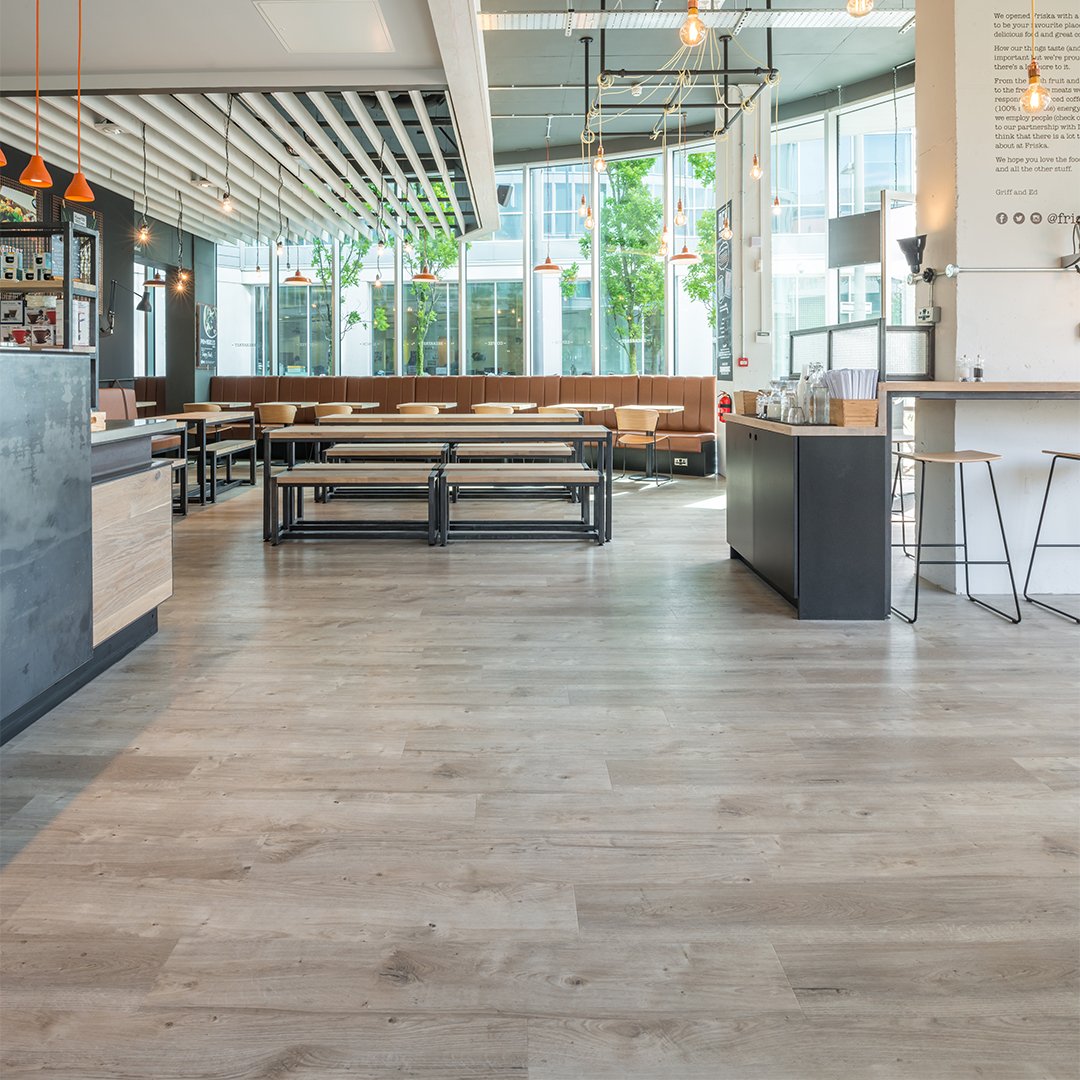 Cleanability
LVT is known for its ease of maintenance. Just as the wear layer provides durability, it also reduces maintenance costs. With the wear layer applied during the manufacturing process, there is no need to polish the floor, which reduces the overall life cycle cost over time when compared to other vinyl flooring types like vinyl composition tile (VCT).
Cleaning LVT should consist of daily dry mopping to remove dirt and grit from the surface. Wet cleaning should be done with a neutral pH cleaner. Visit our website for complete maintenance guidelines or check out our maintenance video to keep your LVT looking its best and protect your investment.
Realism
Technology advancements have allowed LVT designs to mimic other hard surface products that tend to be more expensive.
LVT is a cost-effective way to elevate your space without the premium price tag of traditional, natural materials. This ranges from realistic wood grains to ceramic and concrete looks. Abstract designs also provide another aesthetic option when designing your space.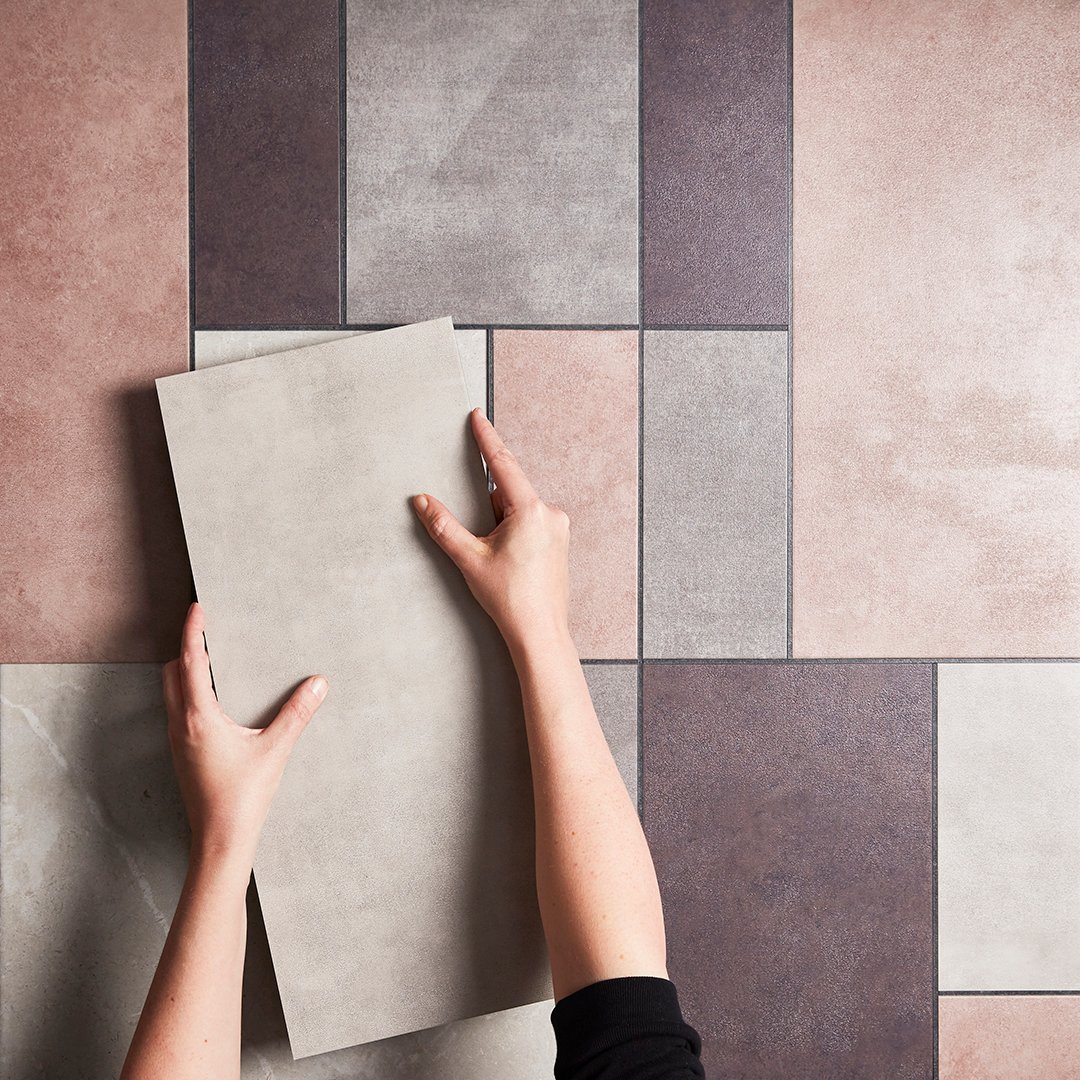 Ease of Installation
Installation for commercial LVT typically offers two options, glue-down or a floating option. When choosing a floor for your space, take into consideration what type of foot traffic is expected for the area. While a floating floor installation may be quicker (and therefore cheaper to install), a glue-down product is best for high-traffic spaces.
The adhesive will help bond the floor to the subfloor, making it more stable and keeping it in place. Another area of concern would be heavy rolling loads. In this setting, such as healthcare, where hospital beds and wheelchairs are common, a glue-down option is best.
Glue down LVT products can be installed using spreadable adhesive or a pressure-sensitive, peel & stick option. For example, Mannington Commercial offers QuickStix® on most of our LVT products. QuickStix water-based adhesive technology does away with the need for adhesive pails, trowels, and hours of labor. Simply prime, peel, position, and roll. QuickStix also has incredible moisture resistance properties, making it ideal for renovation applications in healthcare, education, retail, and other segments where downtime has significant cost implications.
Mannington Commercial's broad portfolio of LVT product offering allows you to make the best product choice when designing your space. Besides traditional 2.5mm glue-down LVT products, we have other options available, 4 mm – No Reservations Xpress, Drift Collection, Spacia 4 mm, 5 mm – Access and Mixed Monolith, and 6 mm – Mannington Crown Collection and City Park. With options in either glue down, floating, click and even loose lay, we have a product that will fit your needs. Visit our website to help guide you for the best installation choice.
Value
LVT is a cheaper flooring option when compared to other materials such as ceramic tile or wood. This is especially important where cost may be one of your driving factors when designing your space.
With a large variety of products available at just about every price point and design, LVT is one of the most versatile options out there to suit your project. LVT may bring a higher initial cost per square foot, but its durability and minimal maintenance requirements provide a lower cost option over the lifespan of the product.
Breadth of Application
LVT is a perfect product of choice whether in workplace, healthcare, education, retail, or hospitality segments. Its great versatility can be contributed to its durability, stability, and resistance to water when compared to other flooring options.
Mannington Commercial's wide range of colors, sizes, and styles offers endless possibilities to help you achieve original designs for your project. We make it easy to add customization to any project. We have done the work for you creating a less time-consuming process for any designer, no matter what your design expertise may be.
Why You Should Spec LVT
If you didn't know before, you now know six reasons that LVT has grown in popularity in the last 10-15 years, and judging by these reasons you can conclude that LVT is here to stay. Durability, Cleanability, Realism, Ease of installation, Value, and Breadth of application. What more could you ask for?
If you're an interior designer who's never used LVT on a spec and would like to give it a try, you now know the benefits of this type of flooring and why it's growing in popularity amongst other designers.
The choices you have to make regarding materials will have a huge impact on the facilities you are designing for and we want to help you make the best choice when it comes to flooring selection.
---
If you're interested in learning more about LVT and the different types and uses we made this ebook for you.
---