An Installation gone wrong can cost a lot of money. Commercial real estate accounts for 9.2 million American jobs and a contribution of more than one trillion dollars to the economy overall. Building and rehabbing these commercial spaces is a massive undertaking and goods built for the high traffic commercial environment come at a premium.
The installation of fixtures, furniture and flooring are not left out. As with most things, it is a pay-for-what-you-get' scenario, and there are some key factors to watch out for that can help you avoid costly mistakes in commercial installations.
Having provided high-grade commercial flooring for 80 years, Mannington Commercial has seen it's fair share of commercial carpet installation mistakes, as we work with our clients to fix past mishaps.
The one commonality in every successful install is that it all begins with good preparation, not only on the part of the installer, but you as a designer, engineer, or architect who determines the types of material to be used in a space. After reading this, you'll be more educated on what questions to ask when hiring an installer and what to look for when your job is complete.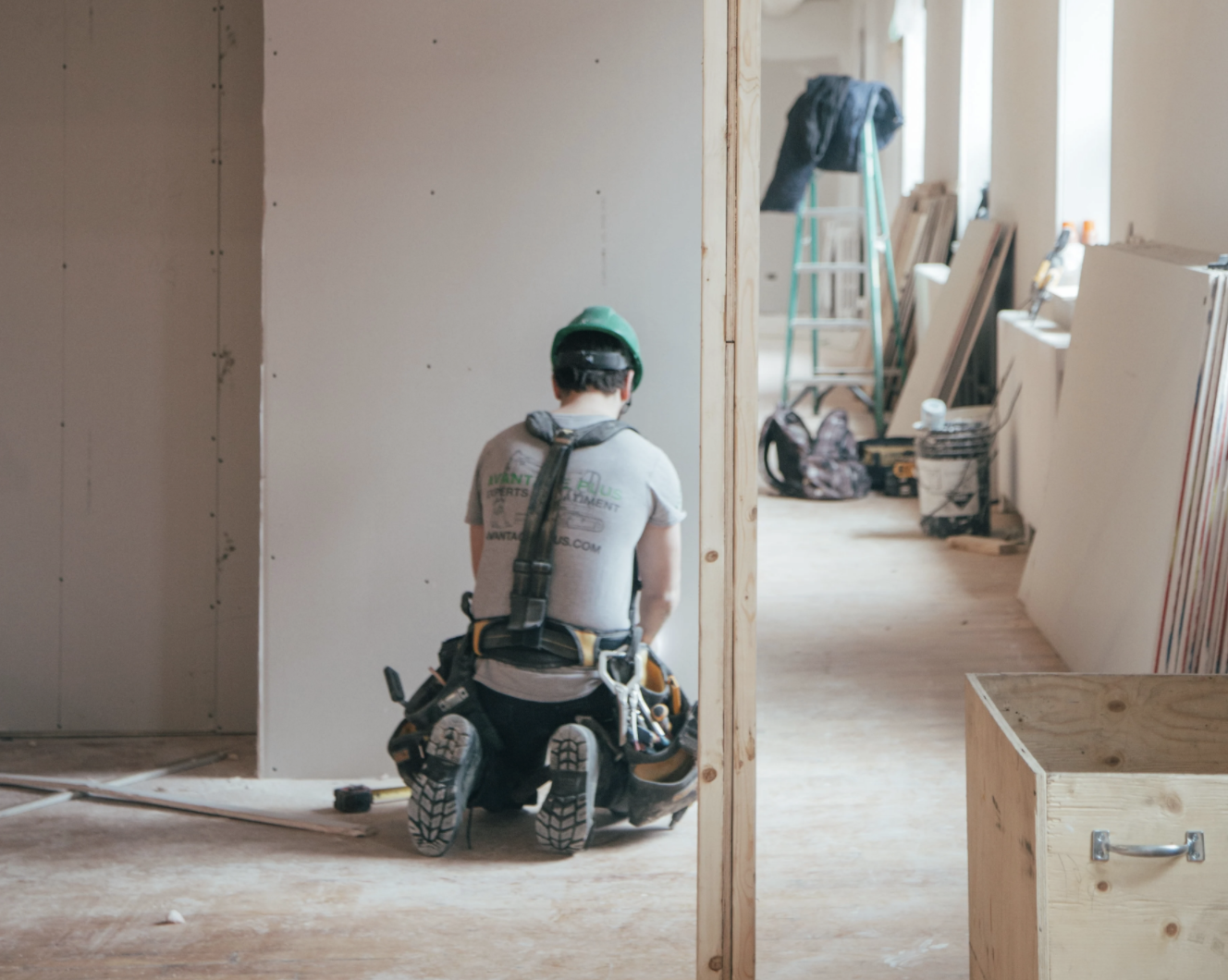 Photo by Charles Deluvio on Unsplash
The Role of Your Flooring Installer
With any commercial flooring installation, not just carpet, there are five key factors that are a must to a successful install. Having a conscientious and experienced flooring installer is extremely important and this is where your responsibility as a specifier comes into play. You should ask your installer if they have installed this exact material before, and if so, when and where.
Ask them if they have read the manufacturer's installation documents or spoken with their technical services team for information and best practices on installing that specific product. The best way to know if your installer has taken the time to become familiar with the product and scope of the project is to ask.
Another thing to consider when hiring your installer is whether they offer installation warranties on their work. The industry standard is only about one to two years, but it is not uncommon for larger installation contractors to agree to longer terms based on the variables in a given project.
Mannington Commercial offers a Limited Lifetime Warranty on most soft surface flooring products, some intended to perform for decades with proper care and maintenance, so a shorter term installation warranty may not give enough time for improper installation issues to surface.
This may not matter if you're working on a short-term lease office space, but when you're rehabbing a middle school for the first time in 15 years it may be more important to use an installer willing to offer a longer warranty.
Choosing the right installation method, or adhesive, for your project is as important as the skill of those who will be installing the material. Mannington Commercial, like other carpet manufacturers, offer several installation systems and adhesives based on the use of the space or subfloor issues like moisture. Read the technical documents for your chosen installation system or adhesive for this information or give the technical services team a call to discuss the best and most economical option.
For instance, our FreLoc tab installation system is great for installing modular carpet quickly and efficiently, but if you plan to have large heavy furniture pieces rolled-in to be set after the installation you may find this system may not perform well under such heavy rolling loads.
Calling the Mannington Technical Services team for a review of your installation in detail.
This is always a good idea, as our team of certified, and more importantly, experienced installation professionals can assist by offering helpful suggestions toward a successful outcome that will perform as intended.
From Sequencing and Sealing to Unraveling and Rolling
You've gotten over the hurdle of hiring someone, the next thing you want to be sure that your installer is familiar with roll-sequencing or lot-numbers for the manufacturer's broadloom or modular carpet tile respectively.
Roll sequencing is where a broadloom roll will be seamed with the next roll in the production order. This will help to maintain a uniform and consistent appearance throughout a large format project ie. long corridors, function rooms, etc.
A discerning eye may be able to see small differences in yarn color, tip shear or patterning that are minor but inevitable in carpet manufacturing. When carpet rolls are installed in sequential order throughout an installation, these differences are wholly unnoticeable.
You might say a finished installation is as good as the seams. Not only do we want to ensure progressive sequencing, we also want to be sure that all seams were specified to be sealed or welded, and that all adjoining edges have been properly treated. Seam sealing or chemical welding is the joint between two pieces of broadloom depending on the backing type you've chosen.
This important material joint can mean the difference in your carpet looking beautiful and performing well or failing to perform as intended as unraveling of seam edges can occur over time. Unfortunately, unraveling at the seams is a common installation mistake and can be easily avoided by taking the time to read and understand the manufacturer's installation requirements. No one likes things coming apart at the seams, your carpets are no exception.
Revisiting the topic of furniture, we discussed earlier, there are a few simple ways you can protect your new carpet installation and ensure it performs well for years to come.
It is certainly recommended to use chair mats for rolling chairs at desks. When moving furniture it is best to use a furniture slide, or better yet, put down Masonite boards to roll furniture using hand trucks. Use carpet protection tape or lay down plastic when working or painting in a given area.
The most important thing you can do to ensure long term performance of your flooring after installation is to practice proper maintenance techniques.
A Great Carpet Installation Is Only the Beginning
Understand that no matter how great your installer, some may know little to nothing about the required cleaning and maintenance for your new carpet installation. It will be up to you to ensure that information is shared with the facility manager, end-user or whoever will be responsible for the long-term performance of the carpet.
You can learn more about Mannington Commercial's suggested carpet maintenance by reading our blog article How to Clean & Maintain Commercial Commercial Carpets written by our Manager of Commercial Maintenance, Jim Toth Jr.
I hope that after reading this article you feel confident that you are able to ask the right questions, find the right installer and avoid the common mistakes in commercial carpet installation.
If you have questions about any Mannington Commercial carpets, installation requirements or adhesives, our technical services team is here to help.
Contact Technicalservice.commercial@mannington.com Or Calhoun.technical@mannington.com.