Rubber can be an excellent choice for many applications in interior design applications. It's slip-resistant, provides comfort underfoot, and has excellent wear resistance. For wall base applications, rubber offers durability to stand up to the abuse of contact from vacuum cleaners, carts, shoes and more. Rubber conforms well to the shape of walls and floors and offers great color stability and chemical resistance.
But which type of rubber should you choose: Thermoplastic Vinyl (TV), Thermoplastic Rubber (TP), or Thermoset Vulcanized Rubber (TS)? That's a question we get asked quite a bit! We'll guide you through the process of choosing the right type for your project.
Your Guide to Type TV, Type TP and Type TS Rubber
When Mannington aquired Burke Flooring, we inherited more than 65 years of TV, TP, and TS manufacturing experience. If you are confused about the difference between these types, don't worry — you've come to the right place. In this article, we will tackle the differences in the types of rubber and discuss the best applications for each so that you can be confident in your choice for flooring, stairs or wall base!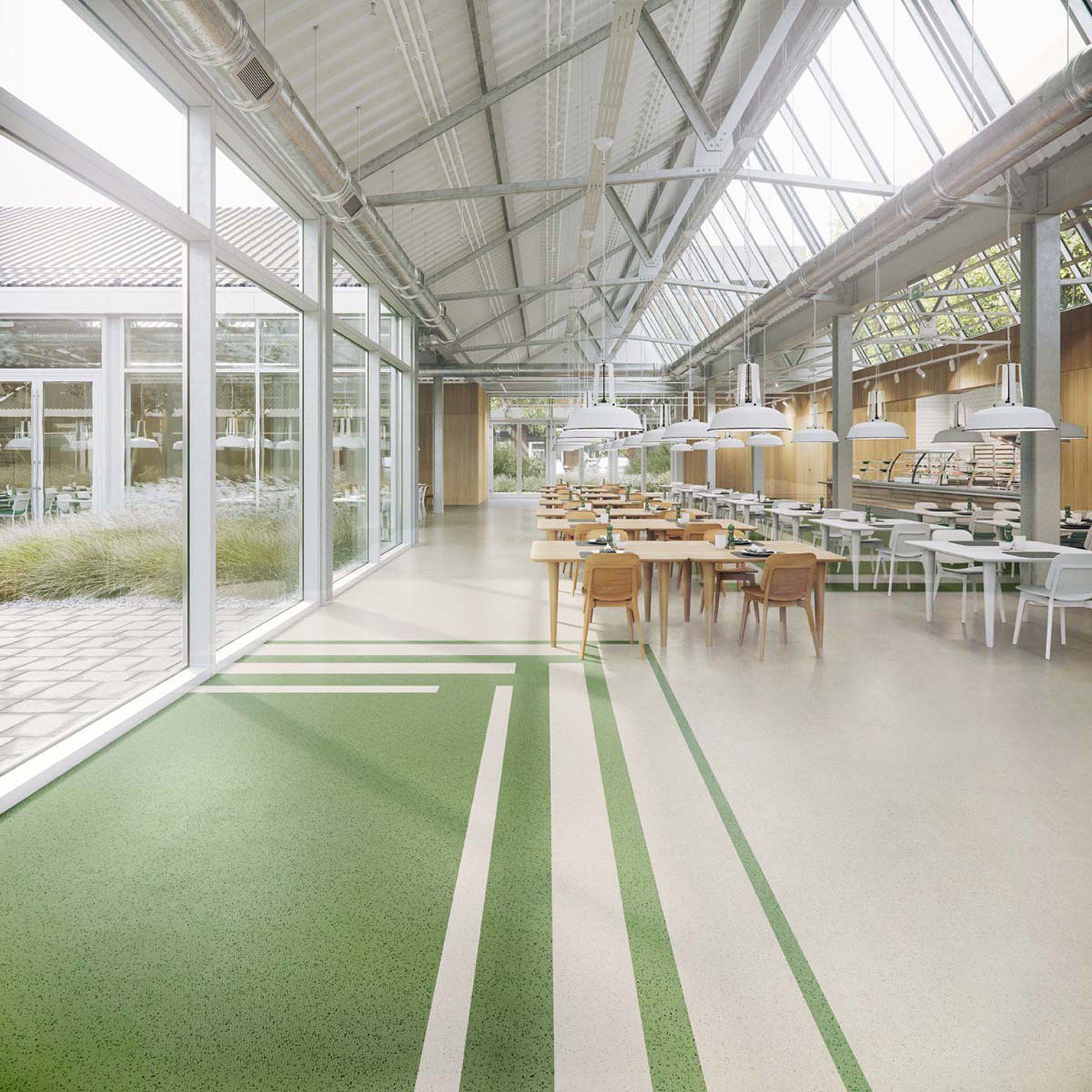 Mannington Color Anchor Rubber
What Is Thermoplastic Vinyl (TV)?
While thermoplastic vinyl (TV) is considered rubber, it is actually a composite material made almost entirely out of polyvinyl chloride (PVC). It is thermoplastic, which means it is a polymer that becomes pliable at high temperatures. TV is made by heating and then extruding PVC (much like how Play-Doh can be squeezed into tube-like shapes). Once extruded, it is shaped into the final product.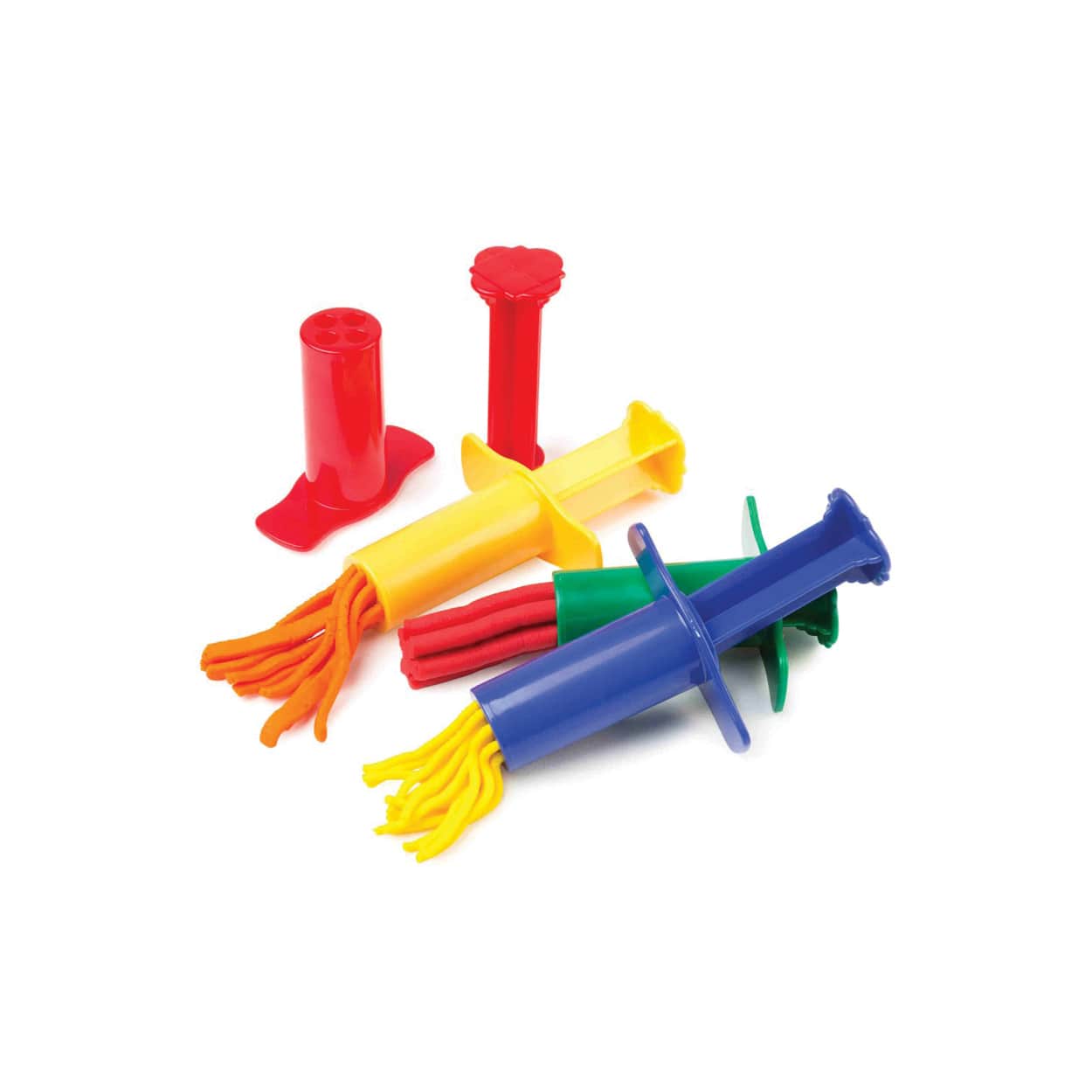 Photo courtesy of Dough Tools
TV can be heated and cooled many times with little loss of quality of the material, which means it can be recycled. But that also means that the shape can change under extreme heat. Out of the three types of rubber, TV is the least expensive. Because its construction consists of a colored wear-resistant top lighter core, gouges and nicks are more visible than the other types of rubber.
TV is also prone to shrinkage and is more difficult to handle than other types of rubber flooring. When installing TV, more effort is required in cutting, and visible white stress lines or discoloration can appear when forming corners. For stair treads, TV typically does not come as a stair/riser combo, making installation again more difficult than type TS.
Type TV is a good economical choice for wall base, accessories, flooring and stair systems. It can show visible wear, and it is much tougher to install compared to other types, but still has the benefits of rubber. Use Type TV when budget is a concern and in low traffic settings, such as emergency exit stairways, secondary stairwells, and light commercial applications.
What Is Thermoplastic Rubber (TP)?
Thermoplastic rubber (TP) is a synthetic rubber compound that is mostly vinyl and rubber blend. It does not require chemical vulcanization to improve its elasticity and strength. Like TV, TP can be heated and cooled many times without losing much of its original qualities, making it recyclable as well as vulnerable to losing shape under extreme temperatures.
Also like TP, TV is extruded and shaped into its final form. TP wall base requires at least a 24-hour acclimation period on-site, uncoiled, and, like TV, is more difficult to cut and install. Stress lines or discoloration can appear when forming corners.
Type TP is a middle ground between TV and TS, providing a better economical choice for rubber applications. TP hides imperfections better than TV and costs more than TV because of the rubber content. However, because its base color is often lighter than its wear-layer color, imperfections in installation such as gouges or nicks can be seen more in TP than in TS installations.
For stair treads, TP is like TV in that it typically does not come as a stair/riser combo, making installation again more difficult than type TS. Use Type TP when budget is still a concern and in medium and medium-heavy traffic settings.
What Is Thermoset Vulcanized Rubber (TS)?
Thermoset vulcanized rubber begins with synthetic or natural rubber, virgin fillers and additives for other color attributes and then mixed to achieve a homogeneous blend. This is then either extruded or molded to the desired shape, size, and length.
Once the desired form is made, it is vulcanized under heat and pressure. Vulcanization is a chemical process that heats rubber with sulphur and accelerator and activator at 140-160 degrees Celsius. The process achieves improved elasticity, resilience, tensile strength, viscosity, hardness and weather resistance. Vulcanization is the key to the difference between the three types of rubber. TS does not contain PVC and might offer advantages for LEED credits.
TS is the best choice for durable rubber applications. Because TS is homogeneous, nicks and gouges have little effect on the installation, and its satin finish helps resist scuffing. TS is the most expensive type of rubber and is also the most durable.
TS is also not prone to shrinkage. Installation is easier than TV and TP, especially with molded TS, making cutting easier and being immune to stress marks when corners are formed. For stair treads, TS often offers stair tread/riser combos, making installation easier and quicker than TV/TP. Choose TS when you need the best option for heavy traffic and long-lasting durability.
At Mannington Commercial, we are the only manufacturer of commercial rubber that molds our TS rubber wall base (think waffle iron versus Play-doh) rather than extruding it. This creates an advantage in our premium molded TS wall base in that the molded process adds dimensional stability to the product.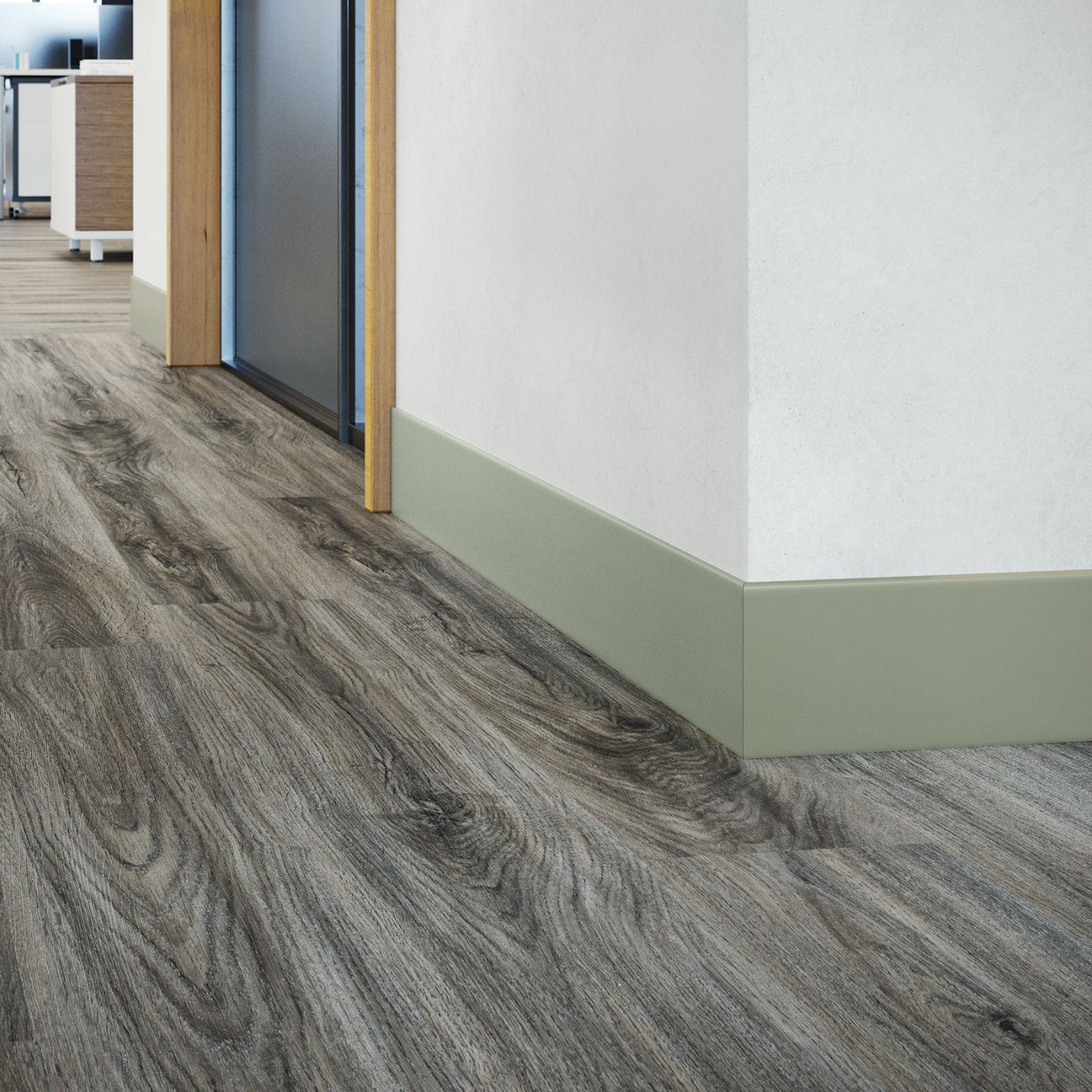 Mannington Edge Effects
The Benefits of Using Rubber in Commercial Spaces
Rubber offers great durability, flexibility and price points with options to meet every budget and need. TV is a good choice for light commercial applications at the least expense, while TP offers a better option for medium to medium-heavy commercial applications. For heavy applications and the best option for durability, choose type TS.
At Mannington Commercial, we offer Type TP and Type TV in wall base, stair treads and accessories. Check out our selection of rubber accessories.
Explore our rubber sheet and tile collection pages to learn more about our product offerings in rubber.
Interested in a CEU on Stairway Systems and Compliance?
Contact a Mannington representative near you!
---
Download a free guide to Rubber Stairways and Wall Base 👇
In this guide you'll learn about the 3 main types of rubber and where to use them best as well as how to design stairways to be in compliance with IBC regulations. We'll also look at how to specify rubber wall base to finish out your space with style and performance.