When designing a commercial stairway there are many options to consider when choosing the right materials. In this article, we're going to look at the different types of stairway materials, the specific types of rubber for stairway options and the opportunities for customization.
When choosing stairway materials there are many things to consider, but the top factors include safety, aesthetics, subfloor conditions, the fact that some stairs aren't a perfect 90-degree angle, volume of foot traffic and, of course, cost. Blending these considerations together will help you narrow down the proper selection of what stairway materials are appropriate.
Beyond just the aesthetic, choosing flooring material for your space should take into account performance, maintenance and life cycle cost considerations.
Types of staircase materials
Some common materials used in stairways:
Concrete
Concrete is sometimes used in areas that are out of view such as fire-rated stairwells. Concrete is growing in popularity in spaces going for an industrial chic vibe. However, there are considerations to keep in mind.
Concrete is economical, but it can be slippery when it becomes damp. Also, there is little to no sound attenuation benefit, meaning the material doesn't do anything to reduce noise pollution.
Carpet
Carpet also has pros and cons. It can easily be replaced when other décor changes, and cushioning makes it quiet underfoot. However, carpet can wear quickly on steps and requires heavier maintenance for upkeep. It is commonly used in offices and institutions such as libraries.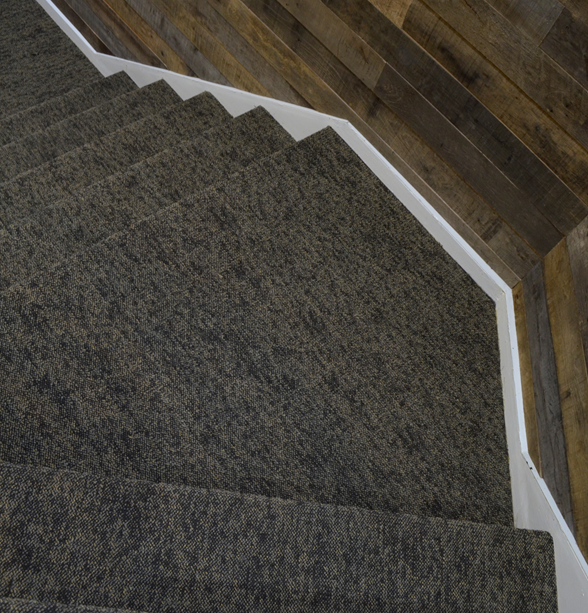 Metal
Metal is typically only used in industrial areas or fire-rated stairwells. Metal stairs are usually loud and require substantial maintenance to prevent corrosion. Even interior metal stairs are prone to corrosion. Metal can be difficult to install because of the lack of flexibility in the material.
Wood
Wood is certainly a traditional choice and offers a warm luxury, but is easily damaged and can be tough to maintain, like any hardwood floor. It can also be costly to install and isn't typically used in commercial settings.
Rubber
Rubber or resilient stairs have multiple benefits. They are easy to clean, quiet, comfortable underfoot and can last for 10-15years. Because of the higher coefficient of friction that resists slipping, it's a popular choice for schools and medical facilities.
Specific types of rubber for stairways
As a commercial flooring expert, Mannington has multiple rubber/resilient stairway product options. Let's delve into the different kinds of resilient and rubber stairways and the advantages of each type.
Thermoplastic vinyl
Thermoplastic vinyl which is also called type TV, is made entirely of vinyl and is a quality, cost-conscious product for a resilient stairway system. It is an extruded product and can be manufactured as treads, risers and nosings.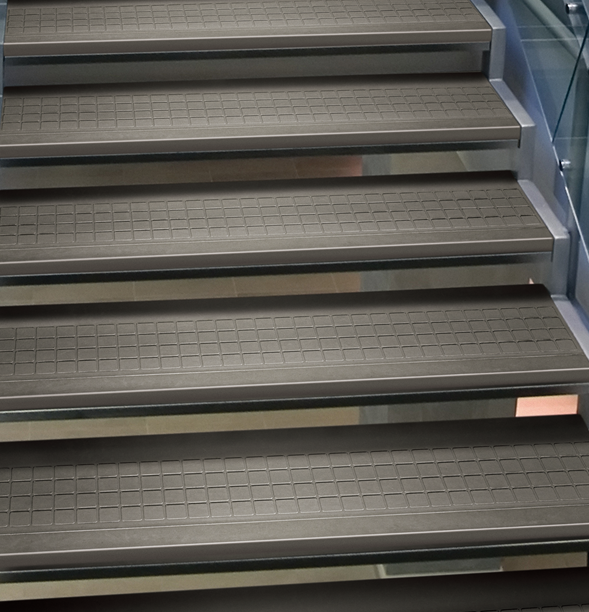 But, keep in mind that it isn't the heaviest of the different construction types. There are usually options to add visually impaired abrasive strip inserts for color and slip resistance. And, type TV nosings can be added to stairs made of other materials to add visual contrast, quietness and slip protection.
Risers and treads must be installed separately, and you have to fill the nose of each tread with epoxy to prevent it from flexing and breaking. The extra work makes TV more difficult and expensive to install, but overall it's a less expensive resilient stairway system that offers good overall performance.
Thermoset plastic
Thermoset Plastic is a blend of vinyl and rubber which is classified as rubber and called type TP. Like type TV, you normally don't find a tread and riser combination.
Instead, TP is available as treads, matching risers and nosings. And, it can be made with visually impaired abrasive strip inserts for color contrast and slip resistance. Type TP nosings can be used on stairs made from other materials to make them more durable and less slippery, which helps with some compliance requirements.
Like type TV, type TP is also an extruded material and requires the use of epoxy to fill the nose of each tread to prevent flexing and breaking. Because type TP includes rubber, it's typically more expensive than type TV. This product is more durable and stands up better to foot traffic than type TV, so there are definite upsides.
Thermoset Rubber -Type TS
A third category is called thermoset rubber, or type TS, which is made of vulcanized rubber. Instead of being extruded, it's heat set and molded, which makes it more durable and better for high traffic areas than other options.
Heat molding enables type TS to be available as treads and tread/riser combinations, which require less labor to install. This product is the most durable of the three different types. While the installation cost is less, the product costs more. However, it has superior durability to handle more traffic long term than type TV or TP. It also requires no waxing or stripping to reduce long-term maintenance.
Explore options for staircase customization
While TS is typically more expensive than the other rubber product types, there are several benefits that come with that premium. A wider variety of profile styles and visuals are possible with a TS product created through heat molding.
There are five primary profiles available for Type TS stair treads:
Sculpted has the most natural look to complement a space with a lot of natural finishes.
Round works with interiors that feature more flowing, curving design elements.
Square fits angular, geometric interiors.
Smooth is perfect for spaces with a minimalist vibe of clean lines and smooth fixtures.
All the profiles blend form and function for slip-resistant surfaces that help meet compliance for the visually impaired. Within the Mannington Commercial portfolio, we offer rubber flooring that matches the tread to ensure a consistent look throughout the installation.
The varieties of rubber flooring available in myriad colors and finishes ensure there are functional, durable and stylish choices for commercial spaces ranging from industrial to healthcare and office spaces to consumer environments.
You Might Like: How To Select Rubber Wall Base
---
Download a free guide to Rubber Stairways and Wall Base 👇
In this guide you'll learn about the 3 main types of rubber and where to use them best as well as how to design stairways to be in compliance with IBC regulations. We'll also look at how to specify rubber wall base to finish out your space with style and performance.