Rubber tile and sheet flooring has gained great popularity in recent years. There are so many benefits that come along with rubber products such as durability and resilience that have prompted this momentum and make it a great product for a myriad of different commercial settings.
If you're a contractor, architect, or interior designer specifying rubber on a project, there are some costly mistakes that can be avoided easily.
As a rubber installation expert for Mannington Commercial, I've seen a lot of rubber installations in my career – some good, some bad. Making sure to have the right installer is critical to any flooring project, rubber included. While rubber flooring is a great option for different spaces, there are also places where it might not be the best flooring choice.
In this article, we'll review the following: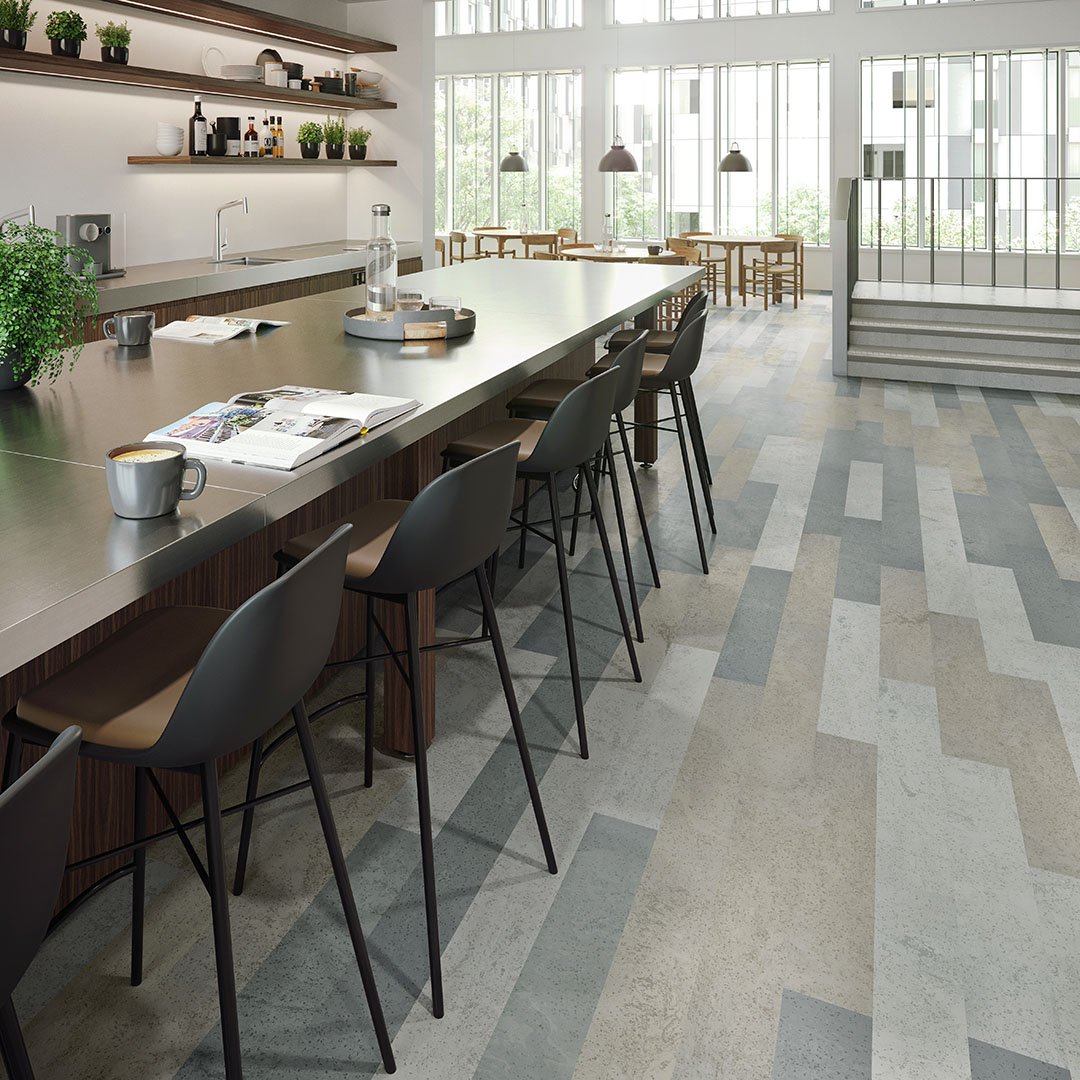 Teles Rubber Tile, Beach Stone, Coastal Fog & Dew Drop
The Best Places to Install Rubber 
Rubber tile or sheet flooring is known for its sound abatement qualities and cushion underfoot. It also has a slip coefficient, which means it is fairly non-slip. It is important to note that rubber has an advantage over other resilient sheet products such as standard PVC resilient flooring in terms of slip coefficient and sound abatement. Therefore, some good places for rubber flooring are nurses' stations, rehabilitation spaces, procedure rooms, fitness areas, patient rooms, common spaces, cafeterias, corridors - anywhere that a quiet environment and a cushioned floor can be of benefit.
Rubber sheet can be a fantastic choice for an operating room because it is heat welded for a "seamless" floor and has all the wonderful benefits that come along with rubber flooring. However, when specifying rubber for an operating room, choose rubber sheet and steer clear of rubber tile because the seams of a modular product such as rubber tile do not lend themselves well to the sanitary needs of an operating room.
Related: The Best Flooring Choices For Operating Rooms
Places to Avoid Using Rubber Flooring
While rubber is a versatile product, there are some places to avoid when specifying rubber. For example, rubber is not the best choice for computer labs where it's not conductive. Rubber tile is not the greatest choice for places with bodily fluids that spend a lot of time on the floor, such as a dialysis unit.
Do not plan to put rubber where there has been a history of moisture problems in the subfloor. Rubber by nature is impenetrable, meaning it will close areas and trap moisture below the surface. Be sure not to specify rubber in areas where moisture has not been properly mitigated, or where excessive topical moisture might be of concern.
Related: How Does Slab Moisture Affect Flooring?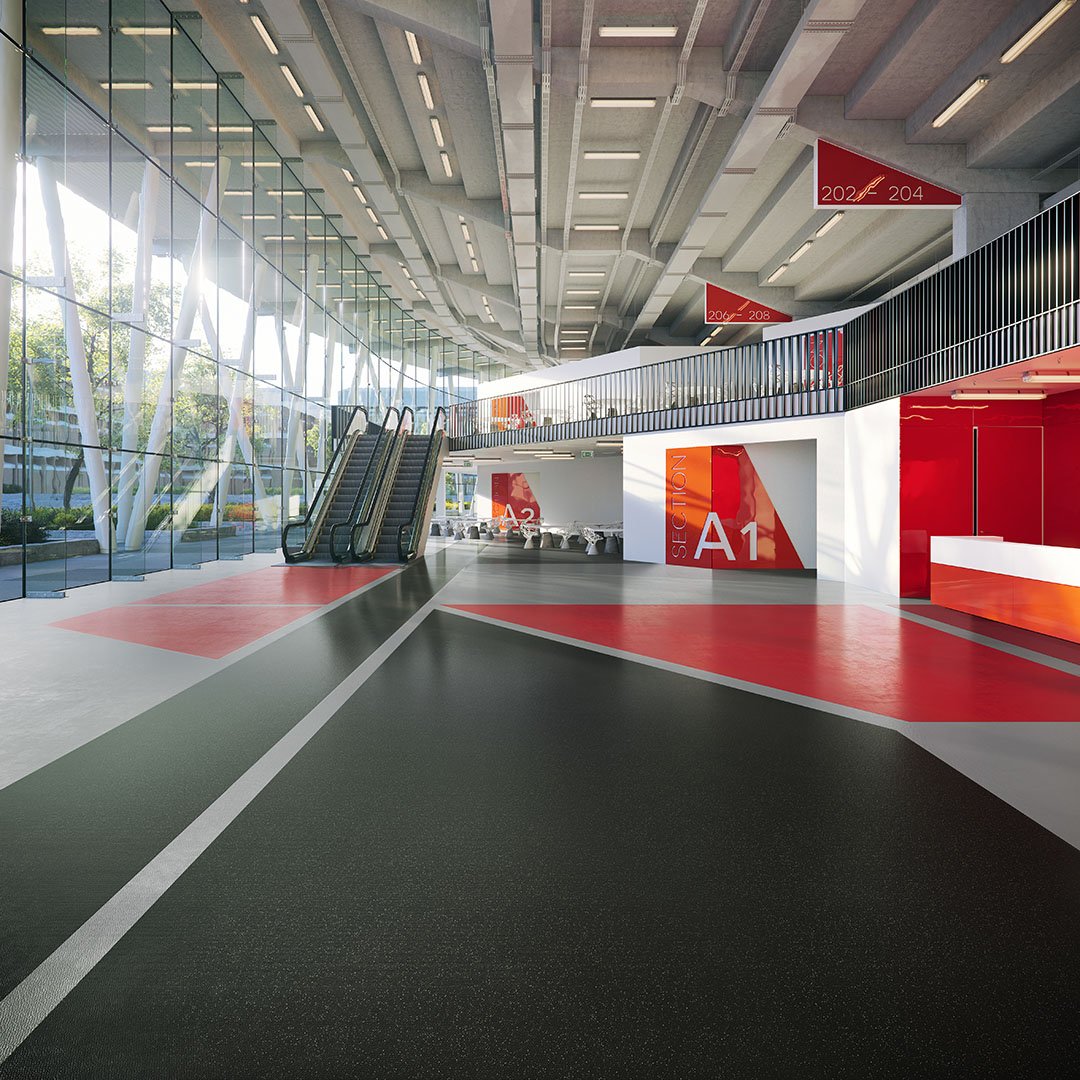 Color Anchor, ColorScape Ash, Geranium & ColorSpec Abyss
Subfloor Prep 
As a flooring installer or contractor would know, a subfloor must be five things: flat, clean, smooth, dry, and structurally sound. These five things are the goal, but not all subfloors are created equally. Subfloors are famous for being problematic, which is why the crew you pick for the job is essential to the success of the final product. Any crew installing rubber flooring must understand the importance of the floor being prepped properly and attention paid to all five of these attributes.
Some flooring products hide subfloor irregularities better than others, like a 4mm or above LVT, so mediocre subfloor prep might hide imperfections with these types of products. However, rubber flooring is not one of those products and needs serious subfloor preparation for the best outcome.
Rubber flooring typically has a very smooth finish. Therefore, you want to be careful to make sure the subfloor is nice and smooth as well as clean and free of debris, so nothing shows through the floor. For rubber, make sure the floor has 3/16" or less variance in 10 feet. Why? Because when you put the rubber tile down, if the subfloor is not flat, you could end up with tile gapping or ridging, and the material will not perform as it should if you have an uneven subfloor. 
Related: 5 Key Factors of A Successful Subfloor Prep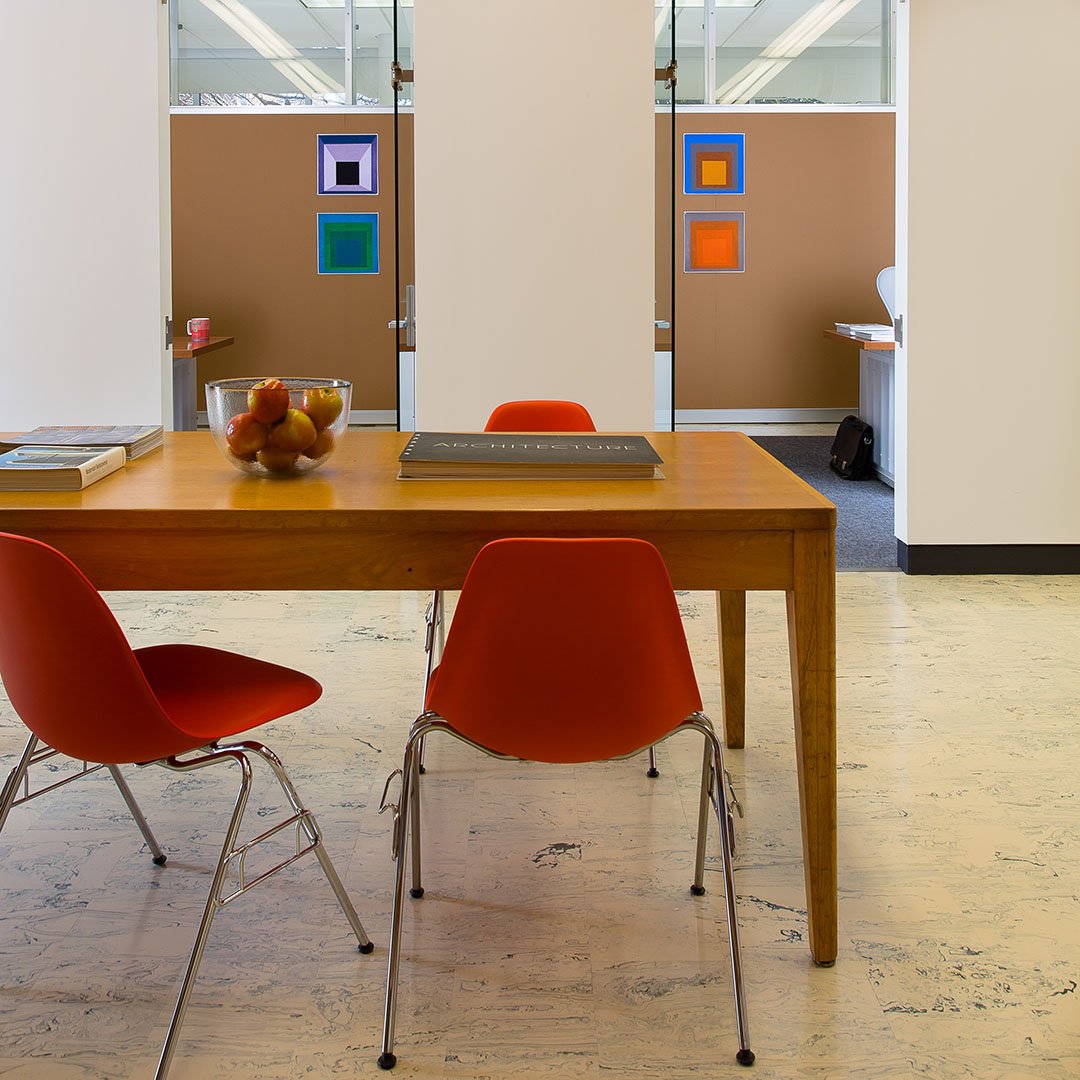 Custom Teles Rubber, Georgia Tech Architecture Library, Atlanta, GA.
Costly Mistakes to Avoid
Don't Forget to Dry Fit
When you look at any rubber flooring manufactures installation instructions, you're going to see a recommendation to dry fit. Why? Rubber is not made like PVC; the manufacturing process allows for blemishes on the edges and on the surface. Some flooring installers will want to pull the flooring out of the box and put it in the glue immediately, but that's a costly mistake! The blemishes need to be isolated and identified before you put it down so that the unsightly and porous imperfections from these blemishes are avoided during installation.
Acclimation Time/Temp
Mannington Commercial recommends the rubber, the site and the adhesive all be acclimated 48 hours before, during and after installation, to 65 and 85 degrees. That way, the adhesive, the rubber flooring and the site will all "behave", making the bond optimal. If you install rubber when it's cold, the adhesive won't act like it should, and it won't bond as quickly, which can lead to issues later. Additionally, due to the nature of the product, rubber is not easy to work when it's cold because it is not as flexible as it is when it is room temperature.
Choosing the Right Adhesive
At Mannington Commercial we have a selection of wet adhesives that work with our rubber tile. We have a standard acrylic, which is an installer-friendly one-part adhesive. We also have a two-part epoxy that is more difficult to apply but is recommended for use in areas with high rolling traffic or loading areas.

Choosing the right adhesive also means knowing how to work with it. You must be knowledgeable of how to work with wet adhesive while installing the flooring. For example, if you use a wet adhesive with rubber flooring and then kneel on the flooring you've installed while the adhesive is still wet, you will leave an indention in that spot that will stay there once the adhesive is dry. So, the use of kneeling boards and staying off the flooring as much as possible during installation is crucial.
Select Your Crew Carefully
An experienced crew of flooring installers is paramount. Choose a crew that has installed rubber flooring in a variety of spaces. They will know to acclimate and dry fit the material, carefully prep the subfloor and how to choose and work with the right adhesive for the traffic load in the space. I don't see many jobs that failed because they were just cut wrong or sloppy. I see jobs of rubber flooring that fail because of improper bond, and the reason for that is inexperienced installers.
When considering proper bond of rubber flooring, there are different moisture mitigation adhesives that an experienced rubber installer will know to consider. There is also a different technique to all the different adhesives that are used that comes with experience. And so, number one, make sure that your installer knows to choose the right adhesive to get the right bond to the subfloor and for the traffic load of the space, and number two, that the installer is experienced enough to know the proper technique to use on the adhesive that is chosen.
The adhesive piece of rubber installation will really separate a crew that knows what they're doing with rubber flooring from a crew that just may be a carpet tile, or a PVC plank crew. Rubber is a whole different league of flooring installation and warrants a professional crew with experience.
The Bottom Line
If you're a contractor, architect, or interior designer specifying rubber on a project, there are some costly mistakes that can be avoided easily by choosing an experienced crew of installers who know how to dry fit the product, pick the right adhesive for the project and allow time for the product and adhesive to acclimate so that you do not end up with a rubber installation failure.
Also, there are places where rubber flooring is a better fit than others. For more information about rubber, wall base, and stairway systems download our Guide.
---
A Guide to Rubber Stairways and Wall Base
In this guide you'll learn about the 3 main types of rubber and where to use them. You'll also learn how to design stairways to be in compliance with IBC regulations. Then we'll look at how to specify rubber wall base to finish out your space with style and performance.