Q&A: with Ron Clark of The Ron Clark Academy
In 2007, Ron Clark and Kim Bearden opened The Ron Clark Academy with 60 fifth and sixth-grade students and a vision to challenge, motivate, discipline, and inspire. Since then, they achieved a 100 percent graduation rate and trained 80,000 educators.
The school has become a world-renowned model for promoting creative academic excellence and developing global leaders and citizens, and it all happened in a 44,000 sq.-ft. Campus with 14 classrooms, a media center, a two-story slide, a dragon staircase, a dance studio, and a gymnasium in southeast Atlanta, Ga.
The Ron Clark Academy recently unveiled a new building on their school campus. I had the opportunity to tour the new facility with Ron Clark, co-founder of the school.
We toured the space and afterward sat down with Ron to discuss his thoughts on school design and why he feels flooring concepts could positively impact education facilities. We want to share an excerpt from the conversation with you.
Amanda Darley:
Thanks for the tour, Ron. I'm blown away, as always, by all the details throughout the school. You take such care with everything, and I'm proud to see our flooring throughout the space. I love that flooring drives the design choices to help tell stories to support learning.
We worked closely together to help you achieve your vision. When you were selecting flooring for the new building, you had the opportunity to see the design layout. We utilized our Design Solutions team to help you visualize the flooring, and that is a resource we didn't have in place when we worked with you on your first building.
You Might Like: The Designers Ultimate Guide to Specifying School Flooring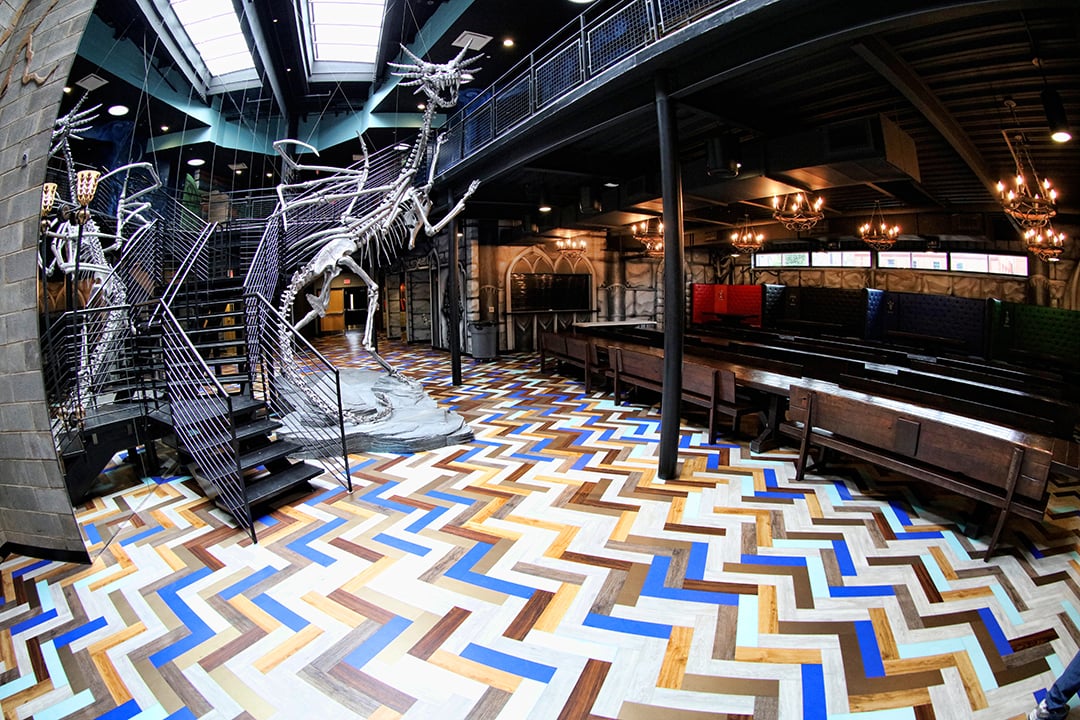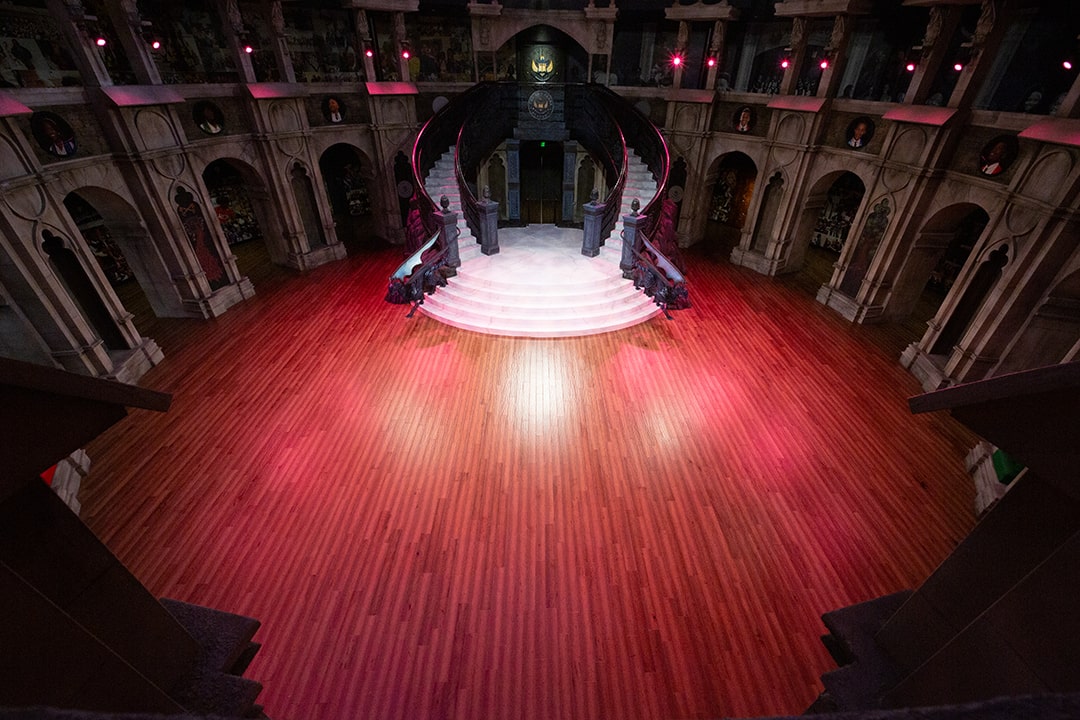 Hometown Collection - Lexington Hickory, Palomino
This time, we were able to see how the floor would be laid out beforehand. Did that allow you to be more confident in your choices and how they work with all the other finishes?
Ron Clark:
It was helpful to have it all laid out to look at all the different colors and match it with the color palette, especially with the auditorium flooring. We took the seat fabrics and put them beside the carpets to feel how they would work together. As you see, we're huge on attention to detail and want to ensure every little thing is excellent and works with the whole intent.
Every place tells a story: a corner tells a story; a light tells a story; the floor tells a story. We love that Mannington Commercial puts the same thought into their products because there's so much depth, and the colors are so rich. We wanted it to match the architecture and the art and magic of the building, and we felt like it was an excellent pairing from the design and performance of your flooring.
We have Mannington Commercial's flooring in our first building, and it has held up so well, so we wanted to make sure to work with Mannington Commercial again. We generally have 600 educators come through here every Friday plus all our students, and we have lots of events, so the floor had to hold up. It had to be sturdy and beautiful and luxurious and vibrant all at the same time. The flooring we picked fit the bill perfectly.
AD:
So, Mannington Commercial manufactured the flooring for your first building, correct?
RC:
Yes. That was six years ago. And it's held up exceptionally well. Everything looks great. Did you notice the flooring in the lobby? It had some marks on it, but hundreds of people ride down our slide and use their feet to stop their fall. As soon as we clean the floor, it looks brand new.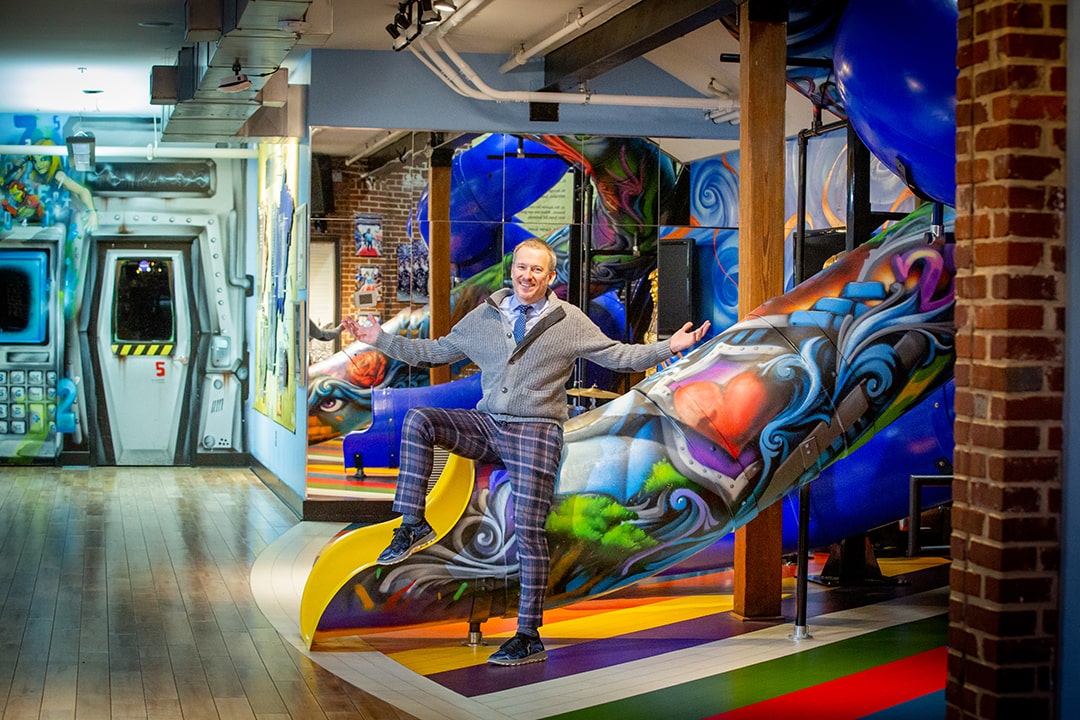 Ron Clark in front of the giant slides at the entrance to The Ron Clark Academy.
AD:
The slide is super cool, and we love the colorful LVT around it. Would you recommend this type of bright, vibrant flooring for other schools? Do you think it has an impact on your students and how they learn?
RC:
Yes. Many schools can't have dragons and slides and do a lot of things that we do. The one thing you can do that is easy is select flooring that comes to life. You want it to be vibrant. You want kids to see the colors. You want the floor to have this energy because students will feed off of that, and they want to be in that type of environment.
We've been to all 50 states. We visited 300 school systems to see what was going on in education in America, and schools have dull floors, white walls.
A lot of students we interviewed said, "My school feels like a prison." School shouldn't feel like a prison. School should feel like a rainbow. It should be colorful, beautiful, filled with life and energy, and your flooring can tell a story; so that when the students walk in, they'll say, "I love this space," just because of the flooring choice.
AD:
I love that you say while not every school can have dragons, you can at least have colorful flooring. In the design center, we say, "Every product tells a story" because we believe that the products we make can tell a beautiful story. For them to be in a beautiful space like this is incredible.
In this project design, you pair your purple flooring with your purple and blue walls, and everything is very bold.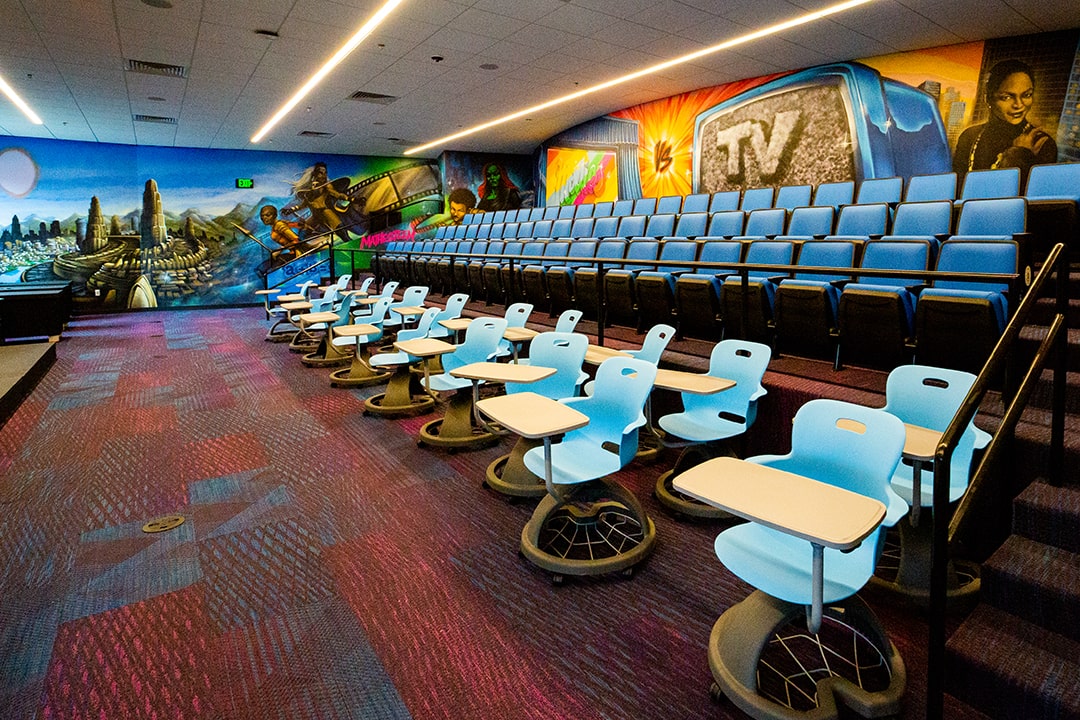 Moiré Collection - Pure Wavelength & Ray Tracing
Do you ever feel like, "Maybe we should tone it down," or you feel like this is the perfect type of learning environment? Have you researched that? How did you decide to do a blue room or do a purple room? How did you determine this will be the best learning environment?
RC:
Well, I think a lot of it was sometimes we find a carpet that is just beautiful. I like to find flooring with depth where it feels like there's more to it than only the floor and there's texture. When we start to design the walls, we try to pull in the colors from the carpet to make sure it all works.
Sometimes we have a particular mission. For example, we knew we had to have a red room for Amistad (the "Red House" in the school's unique four community system of black, red, green, and blue). I never want to be tacky, so I don't just say, "Hey, just go with the brightest thing you can find."
We painted the walls red in one of the offices, and then the carpet was red, too. I walked in and thought, "Oh my gosh! This is too much." So we painted the walls gray, and then it was beautiful; it was a perfect blend. Sometimes you don't hit the mark on the first try, so you have to adjust to get it just right.
AD:
Do you start with the floor when you're making the decisions? Where do you focus first?
RC:
For the design of all of the rooms, we started with the carpet. We let the carpet tell the story because Mannington Commercial's carpets all have unique stories like the gorgeous Moiré that we have in our auditorium and The Hocus that we have in our offices. We have the carpet, and we love the carpet, so we allow the carpet to pull in the walls and the rest of the room. It works with the design stories we are trying to tell.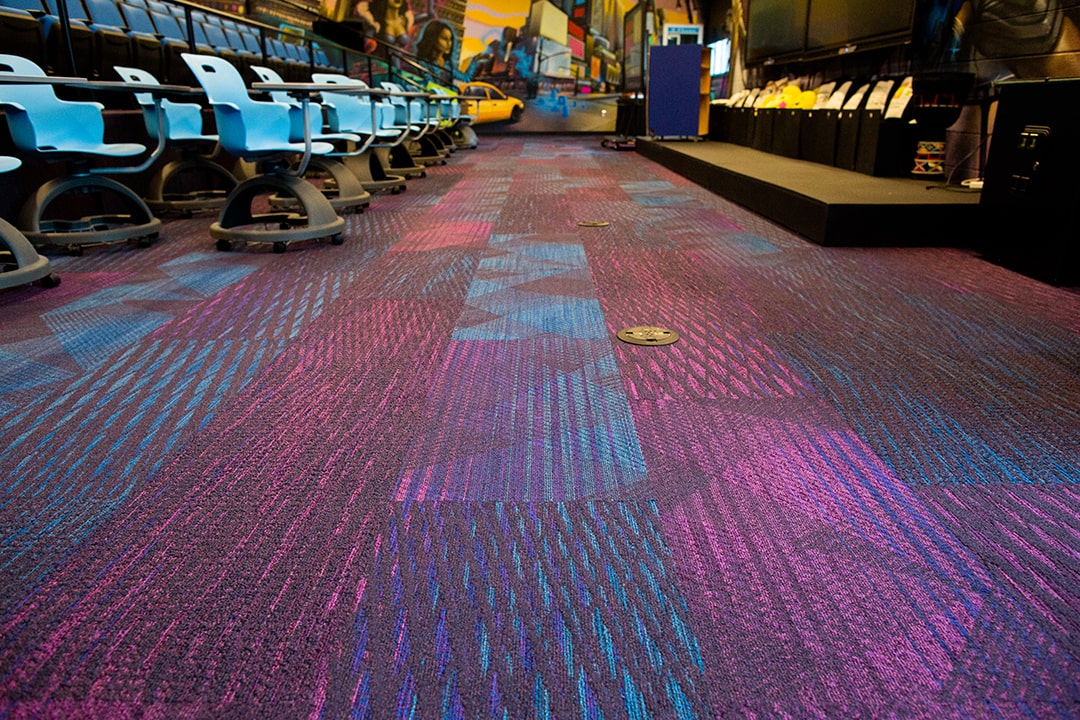 Moiré Collection - Pure Wavelength & Ray Tracing
AD:
So you had a theme and came in with a clear vision for this space?
RC:
We did have themes. I knew my room would be a "Star Wars," theme, so I could have gone many ways with that. But when I found the blue carpet, I said, "This just really feels like it would lend itself well to this room."
AD:
And it was a fun interaction because you came in with ideas for colors for each of your houses. For specific themes, we pulled as many different products that we could that fit together.
RC:
And then, for the room that has a lot of themed things from Wakanda in it, we knew, "Okay, Wakanda: purples, greens, deep golds." And we tried to find a carpet that would lend itself to that. Once we found the carpet, our artist did the walls to match those colors.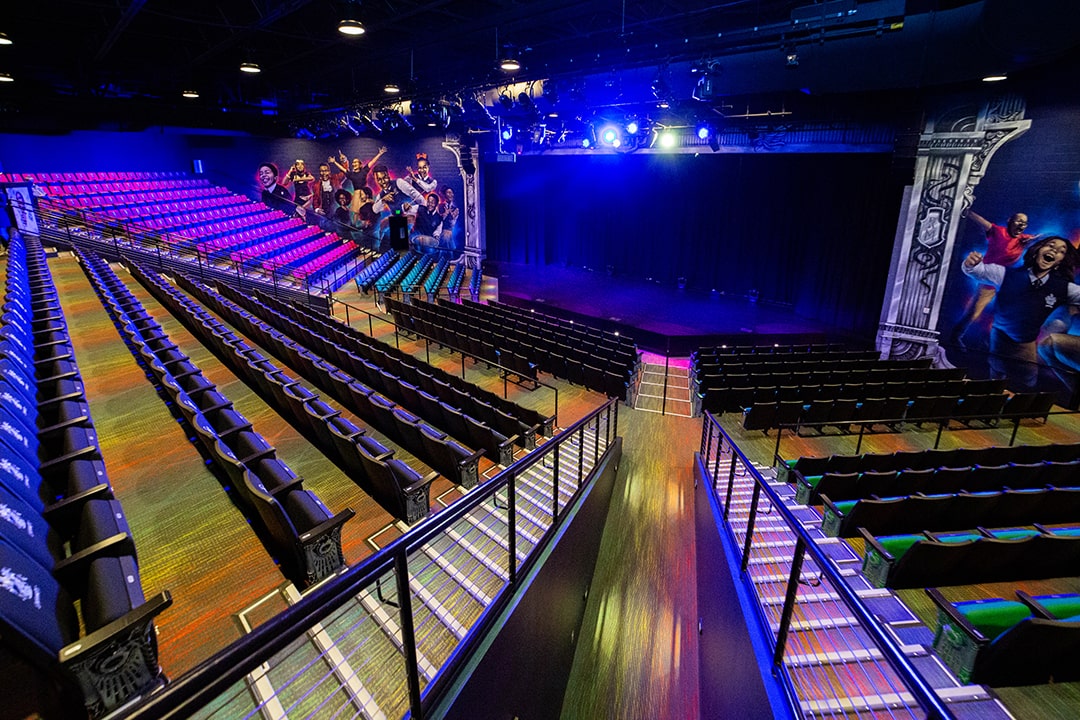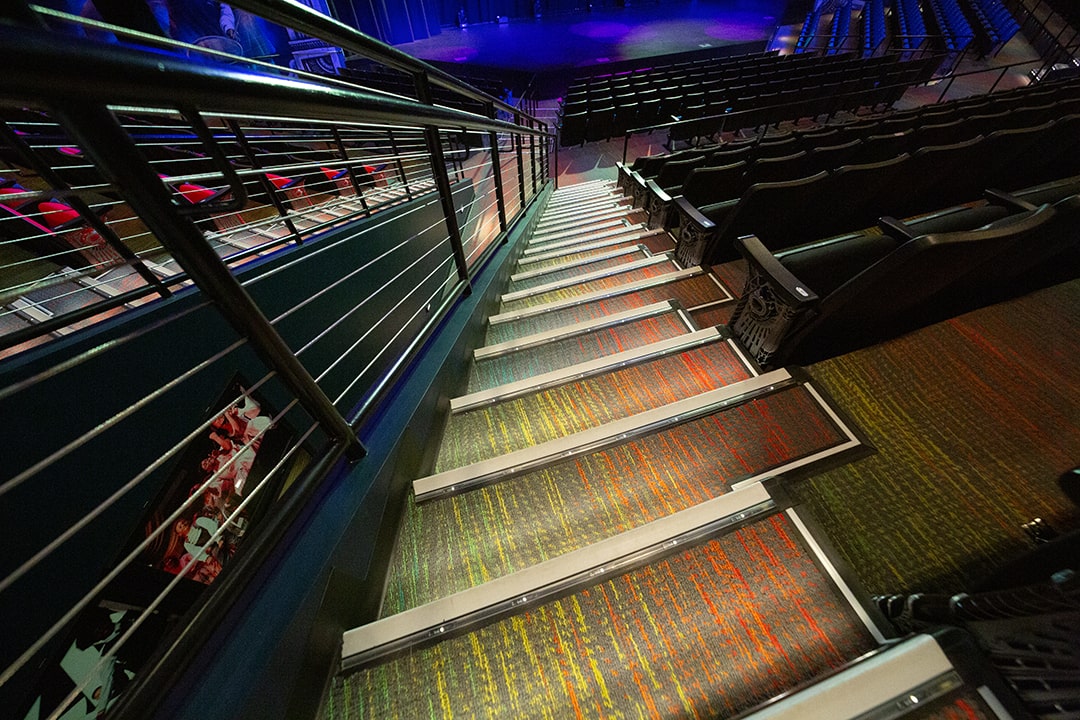 Moiré Collection - Visible Light, Full Spectrum
AD:
When it came to the auditorium, did you have any thoughts about going bold with that?
RC:
I did. I was concerned about the carpet in the auditorium. If you remember, I was considering doing a plain black because we have blue chairs, red chairs, green chairs, and black chairs. You don't want to do too much, and I knew we would have very colorful walls. But then, when I saw the Full Spectrum, I said, "This could be beautiful because it's bright, but in a way, it's also neutral. It blends so well, and it fades into the room beautifully.
I thought it could work, but I was still very nervous about it. So, I took lots of getting fabric from the chairs, getting the carpet, putting it together, standing back, putting light on it, shining lights to see what it would do, etc. And when you put light on Moiré, it just moves almost and tells a story. I thought we could be taking a risk here, but let's go for it. I think it'll be bright but also subdued at the same time. And it was perfect.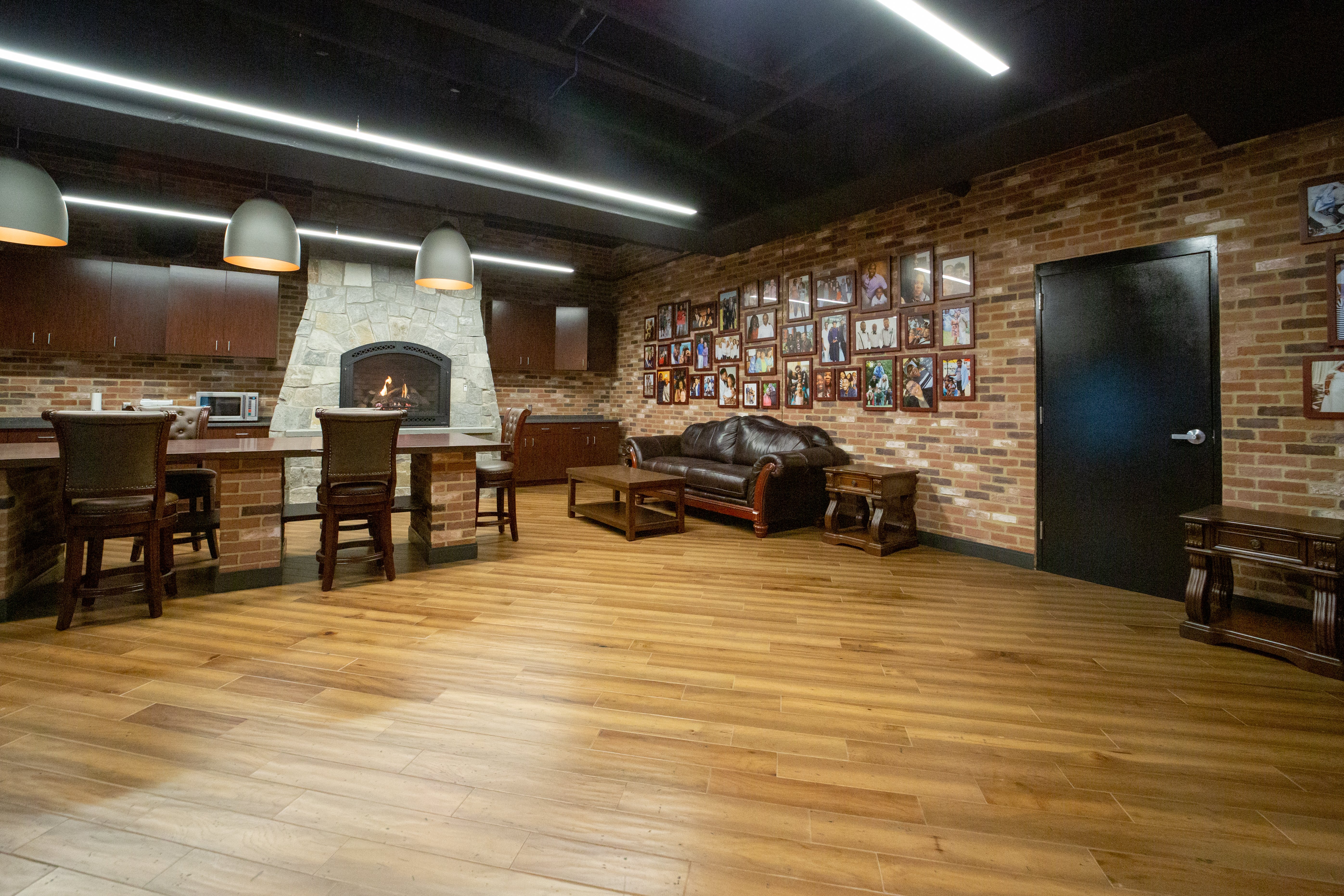 Hometown Collection - Lexington Hickory, Palomino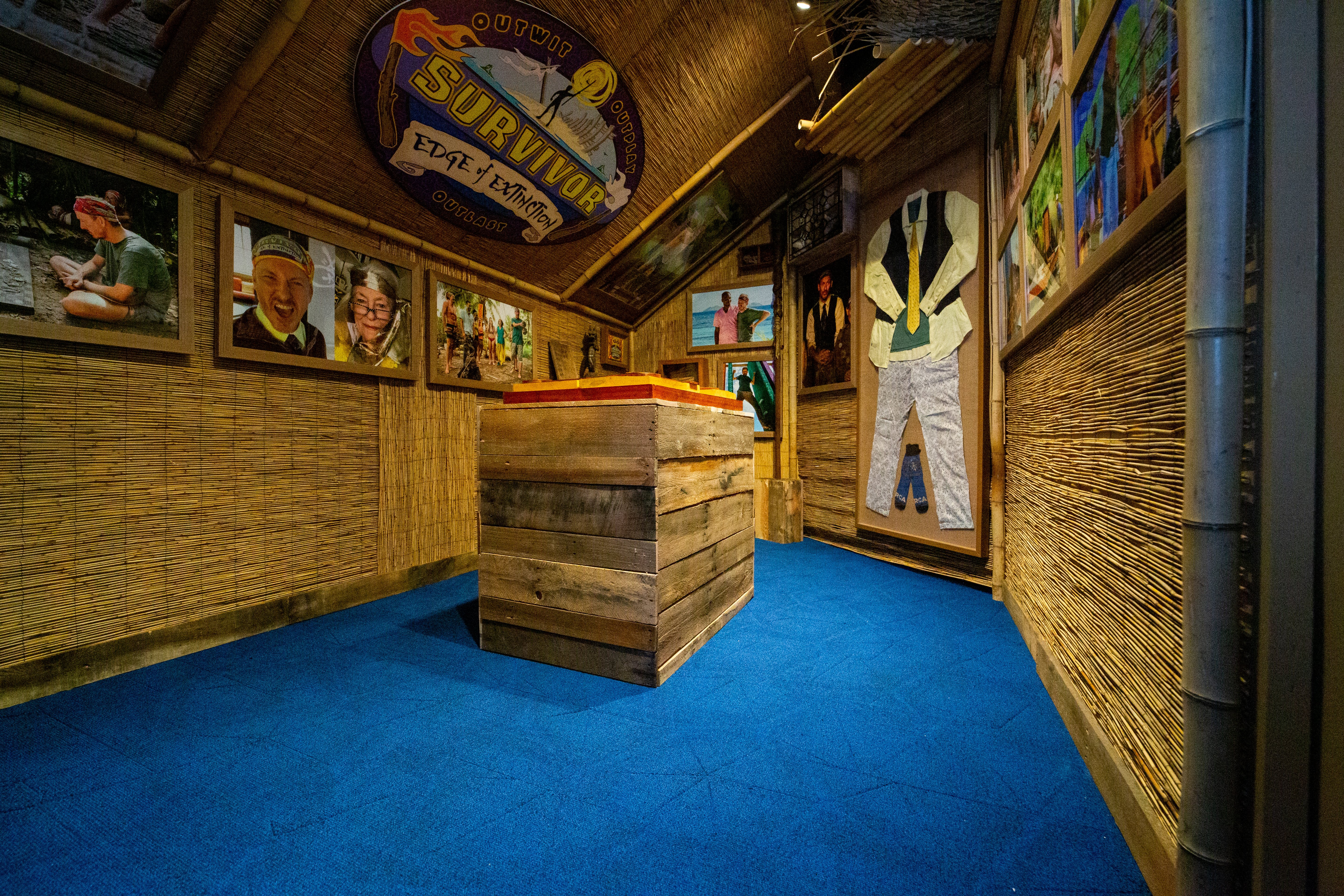 Traction Avenue - Tread Hex, Cobalt
AD:
How did you choose a flooring type? Do you prefer your carpet in your classroom and your auditorium? Or do you ever think about doing hardwood or LVT?
RC:
For our classrooms, all of our teachers wanted carpet. Every teacher said carpet because it's a very active environment. We're on the floor or moving around, but the carpet feels like you're at your home, and you're in your living room, and there's a sense of warmth and comfort. We kept the hardwood and LVT in our common spaces.
AD:
And it helps with acoustics a lot.
RC:
Yeah. We sing, we dance, and we stomp on our desks. We're all over the place. We play drums, and the carpet absorbs a lot of that sound. So if you're a teacher who's next door to another teacher, if it had been a hardwood floor or LVT, you'd cause a distraction for the classroom next door. When you have carpet, it's going to absorb a lot of that.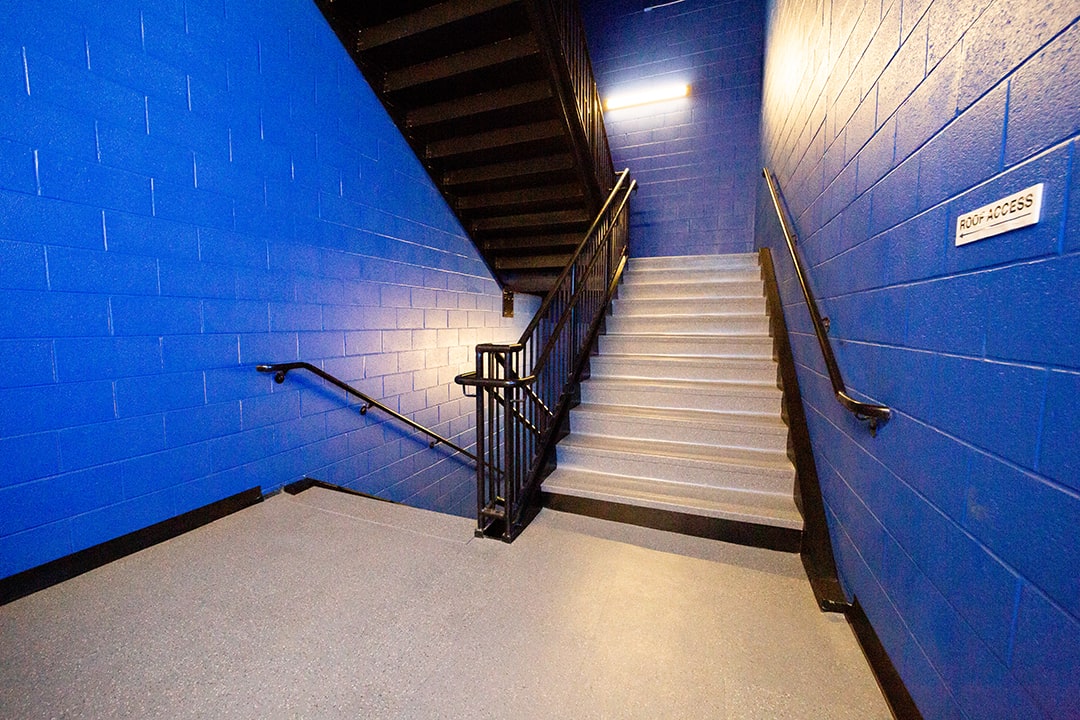 AD:
What about rubber in your stairwells? Have you found that to be the right product?
RC:
Yes. Because we've made lots of mistakes. When our school first opened in 2007, we had a different type of flooring. We ended up changing it. When it was a solid color, that wasn't very good. Then we did paint. And then finally, when we went with the rubber, we thought, "Oh, thank goodness." You've got to get the ones with the specks in it because it doesn't show anything like scuffs. The stairwells were always ugly until we found rubber, and then we realized it could be consistently beautiful.
AD:
Your stairwell looks excellent. And you're right; it can be hard to make a stairwell look beautiful or be inspiring, but you've managed to do it.
Along with your suggestion about fun pops of color with the floor, what are some suggestions you share when you visit other facilities?
RC:
I encourage personalization. If you visit a lot of schools, you see it's the same in every room. In terms of design, you want to allow each room to have its character, have its personality, and allow teachers to decorate around a particular floor. It makes the students feel like, "Okay, I'm not just going to the same thing all day. I'm traveling to a different environment." That can help a lot when you're trying to bring a school to life.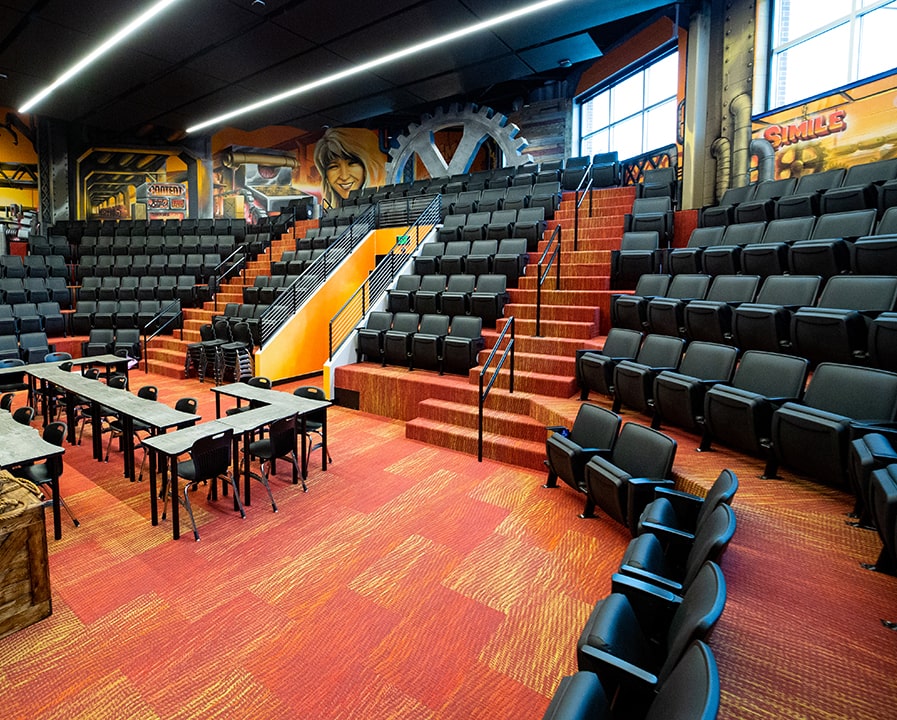 Moiré Collection - Visible Light, Flux
AD:
I know you have a lot of teachers who come through your campus. Have you had school administrators or operations people come through and see how you manage all of this?
RC:
Yes, about 30 percent of those who come through are administrators such as a superintendent, principal, curriculum, specialist, something like that. We have a wall of pictures of what schools have done to replicate our school. There are now schools that have slides in them and schools that have the dragon staircase. They don't even have the dragon mascot. It's like schools replicate what we do regardless of what it is.
AD:
I would wake up in the morning and want to come to school if this was my school. I think most people go to an environment that's white and stale, and it doesn't foster learning.
One thing you brought up about dealing with COVID-19 and even being remote is that 94 percent of your students still really like school despite it being remote.
RC:
They've rated remote learning at super-high levels. They've enjoyed the experience though everyone would prefer in person.
AD:
You are about to welcome students back on campus, and I know they will be thrilled to see this new building. The environment you have created must help your teachers enjoy being here, and the kids feel that which must increase student engagement.
RC:
Yes. For example, our teacher lounge has pictures of everyone and their families. You want people to feel like this isn't a school, it's a home. By using different flooring in the different rooms, you allow teachers to feel like they have their own space: "My room isn't like everyone else's."
When you allow teachers to select their carpet, then they feel invested. Some principals have said to me, "Well, I'm afraid of letting my teachers pick the carpet, then they quit." And I said, "Well if they've picked their carpet and you've made them feel like that's their home, they probably won't quit." - Ron Clark
As we go through this whole process, I love working with Mannington Commercial and you so much because we believe every little thing has a story and a detail and a purpose behind it, and Mannington Commercial puts that much effort into designing every product that you have. I like companies and people who are thoughtful and intentional about making something to be the best, and so that's why we knew this was the carpet and the flooring that we had used for our school.
AD:
As a family-owned business, Mannington is over 105 years old, and U.S. manufacturing is important. When we see the work that local artists do for you, it's exemplary that you can employ people who can create a stone wall or a door or all the different things that you were able to find in this school and can bring it all together. It is so inspiring to see our locally produced flooring alongside other local artists and what you could envision. Thank you for your time and for showing us around the beautiful space.
As a leader in the realm of flooring for education spaces we've been honored to work with, the Ron Clark Academy, an innovator in education philosophy to design and create a unique atmosphere for learning and growing and training that's helped thousands of students and educators over 14 years, with more to come.
To learn more about creative flooring options for the education sector, contact your Mannington Commercial representative.
You Might Like: The Designers Ultimate Guide to Specifying School Flooring
---
Download the full Ron Clark Case Study. 👇