As a designer, architect or end-user creating a space for college students is no small undertaking. Education environments have to meet tough demands. Striking the perfect balance between a welcoming place and an environment that supports academic success is key.
William Paterson University's Dean of the Library wanted to reinvent their learning space and make as vibrant, creative and hard-working as the students. Coordinating a variety of our hard and soft surface flooring products and personalized solutions helped make his goals reality. Let's see how!

William Pattern University, Mannington Crown Collection & Intrinsic Collection - Magnify
The Design Challenge
When Dr. Edward Owusu-Ansah, Dean of the Library at William Paterson University (WPU), sought to redesign the campus's Cheng Library, he knew that he wanted the facility to become an engaging, exciting place—a place where students would want to spend more time, thereby supporting their academic success.
"We are a majority minority institution, and a lot of our students are first-generation college students," says Owusu-Ansah. "The role of the library is not only to help them with curricular preparation, but to empower them to be lifelong learners. We're here to give our students extra support."
His vision for the library was to have a place that extended and enhanced that support. "We wanted to give students an environment that is nurturing, that they like to be in—that supports them in their learning and shows them that we're invested in them." The library needed to be a vibrant, open, collaborative environment where students could fulfill multiple needs, with different kinds of study areas and a variety of resources.
The stipulations for the redesign were just as multifaceted. As Owusu-Ansah shares, "We wanted vibrant color, comfort, endurance and to have everything work together—and fit our budget."
The flooring contractor for the entire project notes that creating this kind of environment meant orchestrating a range of flooring products. "Multiple finishes were going to be needed," says the flooring contractor . "Soft surface, hard surface, wall base, stair systems, transitions—this is a three-story library with a wide range of spaces and functions, and it all needed to be seamless.
A single flooring manufacturer was the ideal solution to help WPU accomplish its myriad goals in this turnkey library renovation.
Related: Why Using a Single-Source Flooring Solution Saves Time and Money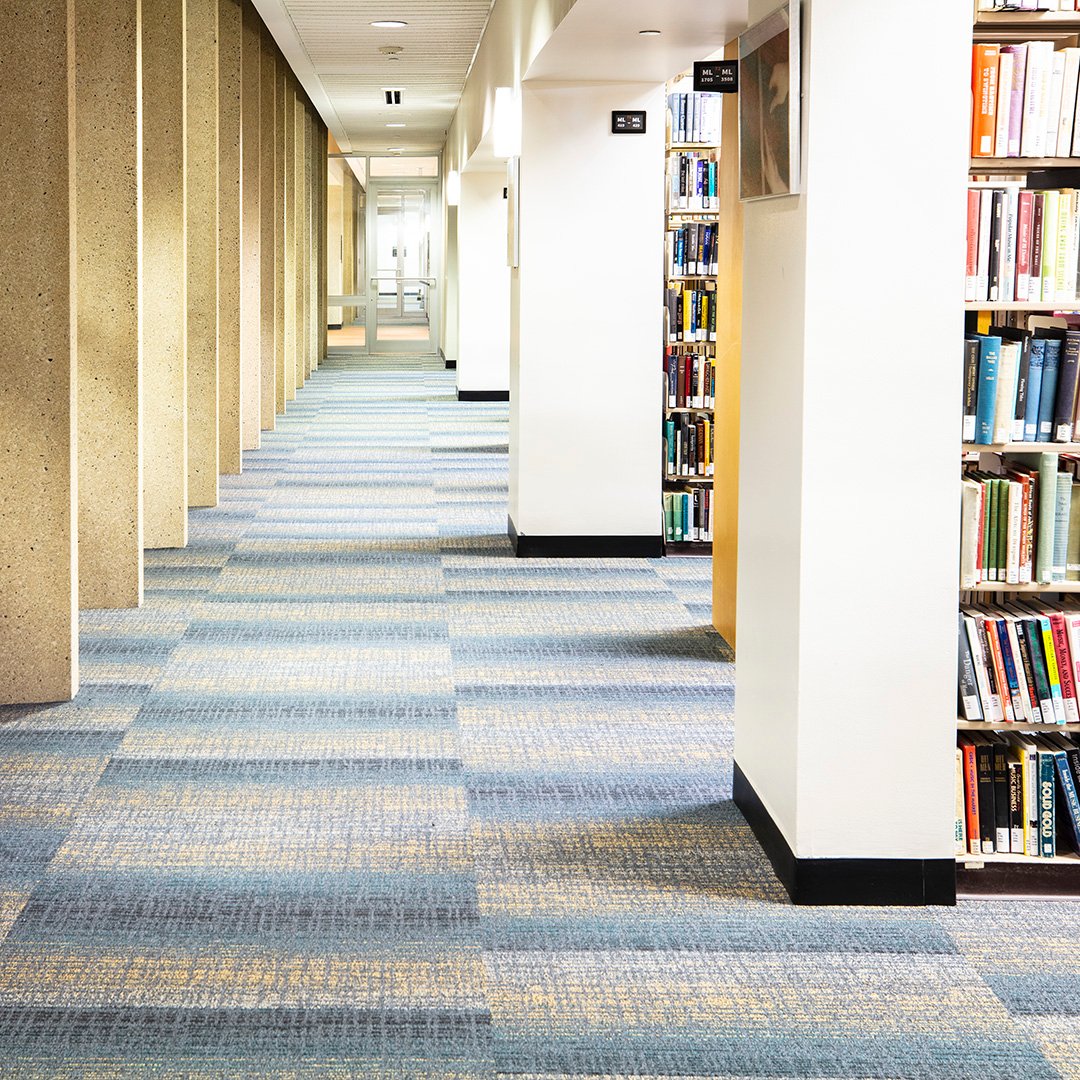 William Patterson University, Design Local Collection - Nashville, Custom Color
The Flooring Solution
The flooring contractor conducted the renovation during the university's summer break, with the library remaining open throughout the entire process. The flooring contractor notes that to ensure a successful outcome as well as streamline logistics and control costs, "We needed to pick a quality vendor that we could work with for all of the library's flooring needs. Mannington Commercial was the right choice."
LVT from the Mannington Crown Collection was chosen for the main corridors, where it provides a warm, hospitality-like feel while helping direct students through the library. The LVT's Quantum Guard® Elite construction provides incredible ease of care and durability for heavy traffic areas.
Each level of the library features a different modular carpet style with pops of color that lend creative energy without being distracting. Throughout the stacks, collaboration areas and study spaces, the carpet enhances comfort and acoustics while providing the low maintenance and exceptional longevity of Antron® fiber.
With more than 10,000 students at the university, the heavy-duty rubber stairway system from the Color Anchor Collection was the right choice to deliver years of easy-care use. Durable Burkebase wall base provides the finishing touch for every space.
Says Owusu-Ansah, "Mannington Commercial brought us a variety of products that suited a variety of needs. With all of the flooring, we got a vibrant color scheme in products that mixed together perfectly."
The results of the renovation were immediate. "Now students come to the library to socialize and to work," Owusu-Ansah shares. "We're giving them diverse spaces where they can feel comfortable and their learning is supported."
Related: How to Choose Stairway Materials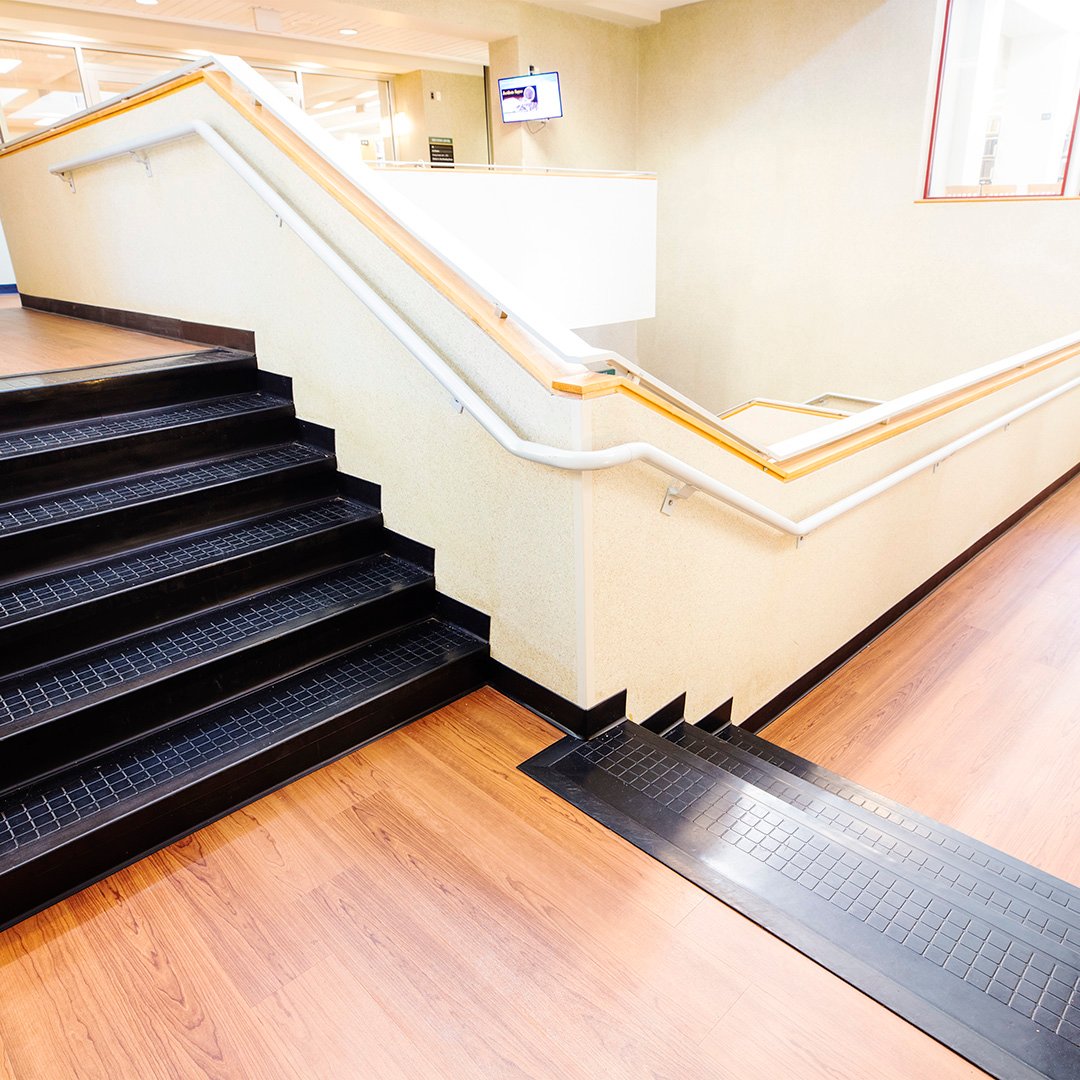 William Patterson University, Mannington Crown Collection & ColorScape Stair Treads
End Results
A self-described "pretty tough customer," Owusu-Ansah explains that Mannington Commercial and the flooring contractor helped the library achieve the right mix of aesthetics and performance to create a new hub for the university's culture and academics.
"Mannington Commercial dreamed with us on this project, and it came together beautifully," he notes. "All of the students love the new library. It's creative, nurturing and inviting—a place that supports their pursuits. When you see it, you feel like staying longer.
You Might Like: Interior Architects Use Flooring to Create an Inspiring Library in North Carolina
---
Did you enjoy this case study on the Cheng Library? Take it with you! Click below for your free download. 👇