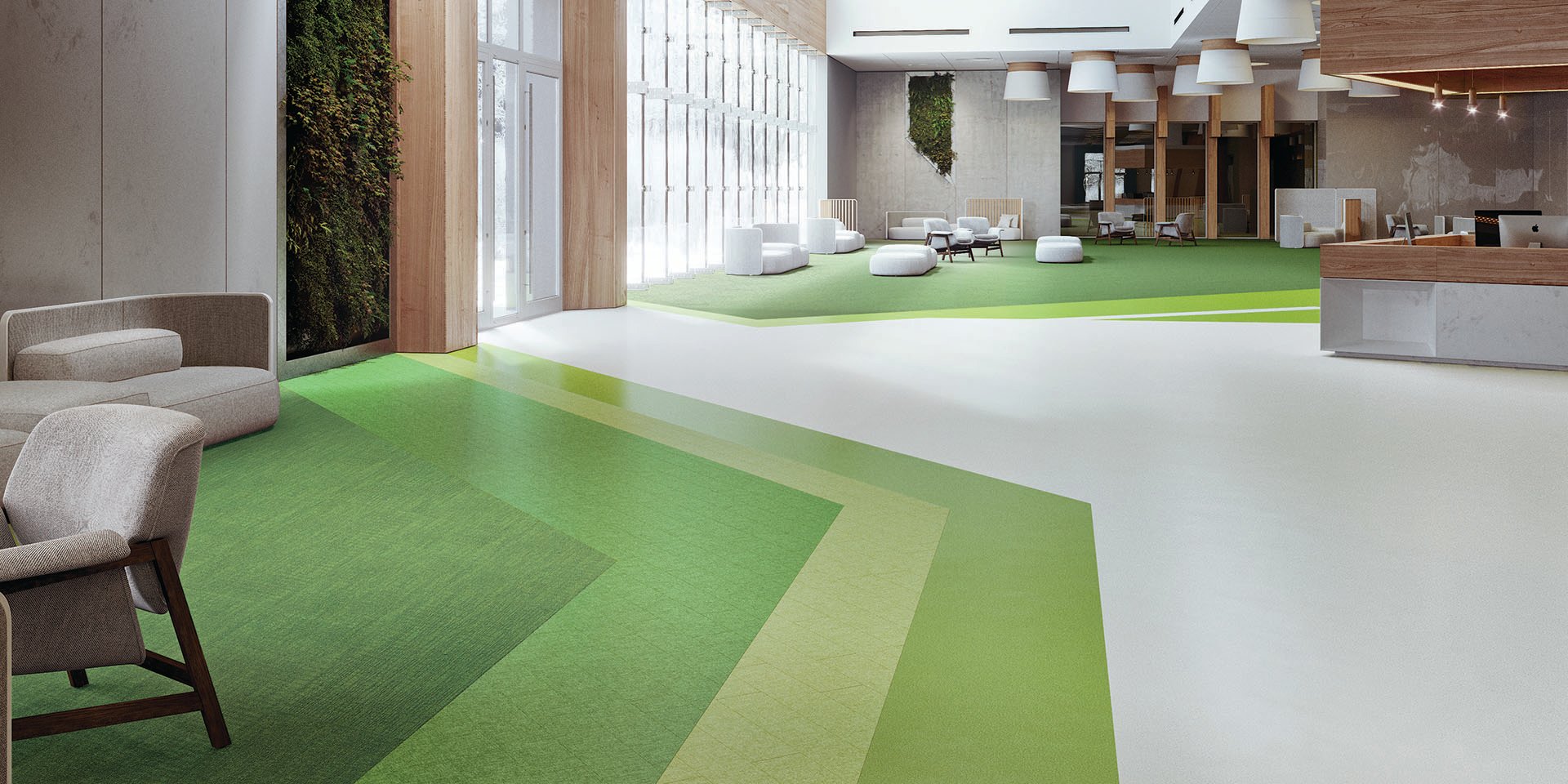 Are you a designer or architect specifying products for Healthcare? Are you distinctly aware of the challenges hospital beds present to a floor? Maybe you're an interior design student looking to learn more about the role of the floor in an operating room. You're in the right place!
Healthcare facilities represent one of the most innovative sectors in the flooring market. While there are certain set parameters in place for safety, the segment also offers broad opportunities for thoughtful design.
Whether it's a doctor's office, a lab unit, a private hospital suite, a rehab center, a common room in a senior living center or any of dozens of other spaces dedicated to serving healthcare professionals, patients and guests, the flooring helps establish the foundation of the environment.
Mannington Commercial has worked in these spaces for decades and has a team dedicated to learning and understanding the unique challenges. There are a lot of rules – for good reason – but there's also tremendous satisfaction in being part of healing facilities that impact people's lives.
For example, operating rooms present specific challenges. On average, they can represent up to 70 percent of a hospital's overall revenue so they can't afford to be shut down. OR facilities require enhanced rip, tear, and gouge prevention performance. The flooring must stand up to stringent cleaning and infection control requirements. And comfort, slip resistance, and lifecycle are top customer considerations. These spaces are generally required to use monolithic, otherwise known as seamless, flooring.
In this guide we are going to review the products commonly used in healthcare projects, as well as how to specify, install and maintain them. We'll also look at the role of sustainability in the segment and explore some of the design trends unique to this market.
---
There are a few terms to know and basic types of flooring to understand when discussing the healthcare market.
Monolithic flooring is seamless and best enables a sterile environment. This includes either a poured-in-place product or a sheet product with heat-welded seams where the sheets are thermally fused. There can be no joints to potentially harbor bacteria.
Resilient flooring types include products such as:
LVT
Sheet vinyl
Vinyl-composition products, such as VCT
Rubber, cork and linoleum
Resilient sheet flooring is anything where the wear surface is non-textile, non-wood and non-stone – so anything that is not carpet, hardwood or laminate, stone, ceramic or concrete. The two most popular types are sheet vinyl and rubber sheet. Both products can be heat-welded (thermally fusing seams together) and flash-coved (installing the product 6" up the wall) to create a more sterile environment.
Benefits of sheet vinyl include:
Available in a variety of visuals
Manufactured in multiple widths to help eliminate/minimize seams
Meets monolithic criteria for infection control spaces
Cost-effective sheet flooring solution
Solution that is easier to maintain compared to other flooring alternatives.
Legacy of performance in rigorous healthcare settings

There are two manufacturing processes related to sheet products. Homogeneous means it is basically one substance – it's a single layer, top to bottom. Heterogeneous is a product that's layered, typically with separate chemistries for each layer of the product. Resilient products that have printed visuals (like LVT or sheet wood plank or tiles) are heterogeneous.
Rubber
Rubber sheet is in high demand for medical use, especially operating rooms. It's a non-vinyl, cost-effective solution including low-contrast color options that work well in the operating theater. The non-vinyl material is manufactured in a 4-ft. wide roll with multiple adhesives. Material is 0.118 inches thick or three millimeters. Static load is 1200 PSI, very high for this product category. Typically, because of the raw materials, rubber has better compression and rebound attributes that lead to a floor that provides better comfort under foot.
LVT is a resilient product traditionally made up of backing layers, a print layer, and wear layer(s). It's then cut into various size formats, the most common being plank (sometimes called LVP) or tile. For healthcare applications, the wear layer is typically at least 20 mils or greater of vinyl with a protective coating such as UV-cured urethane with a hard particulate to enhance stain and wear performance. The consensus in healthcare is to go with a square edge rather than a bevel, because it's easier to clean with less buildup in the seams. Many Environmental Service (EVS) professionals feel that a square-edge product reduces the potential for fluids/germs to collect, therefore making their cleaning procedures more effective.
The virtually limitless array of visuals and sizes allow for unique design solutions that can accommodate common healthcare concerns such as performance, wayfinding, branding, and social distancing. Also, the variety of design visuals allows for subtle patterns to easily be incorporated into healthcare spaces and areas that need to be mindful of patients with memory care or mobility concerns where bold, high-contrast patterns may not be appropriate.
Benefits of LVT include:
Limitless array of visuals
Wide variety of sizes from tile to plank to unusual shapes
Modular format for ease of replacement
Variety of wear layer performance options
Cost-effective solution for a wide variety of spaces
Related: The Specifiers Ultimate Guide to Luxury Vinyl Tile (LVT)
Liquid linoleum
Liquid Linoleum is a seamless, poured liquid flooring made of six basic ingredients: cork, linseed oil, vegetable oil, limestone and a naturally pigmented coloring agent. In Mannington's new product, Legato, a Quantum Guard Elite urethane is applied to create a topical performance layer. Liquid linoleum is mixed, poured, trowled and coated onsite. This affords multiple benefits, including a seamless finished floor. And because it's seamless, if there is damage done to an area, the repairs can be seamless as well.
Benefits of liquid linoleum include:
A more sustainable solution. Our EPD and HPD are available on our website, the product is Declare Red List Free and may contribute to LEED credits.
PVC free and VOC free, with no plasticizers, no formaldehydes, no chlorine, and no heavy metals. This can be a major upside, especially for customers that want to install in occupied spaces. .
The product has a "memory," so residual indentation in the presence of heavy rolling and static loads aren't a problem.
No adhesives required.
Seamless repair that doesn't require heat welding.
Related: The Pros and Cons of A Liquid Linoleum Floor
Sheet linoleum
Sheet Linoleum is manufactured much like vinyl flooring on a press then cut into rolls. Sheet linoleum is made with many of the same ingredients as the liquid alternative above. For sheet, those ingredients are pressed into a jute backing and then the wear layer is applied using a high energy process. Sheet linoleum is a solution for customers that don't mind seams in the installed space and that are looking for products that are naturally based content. Adhesives and higher cost of raw materials make this a higher cost option than other hard surface finishes.
Vinyl Composition Tile (VCT)
VCT is a mixture of natural limestone, filler materials, thermoplastic binder and color pigments. Made by fusing chips into solid sheets and cutting them into tiles, VCT requires layers of polish to protect its surface. It requires more regular maintenance than most other resilient options. Because of the tile sizes (typicall 12"x12") VCT installations result in a lot of seams, which can be a liability in a healthcare setting.
Cork
Cork is a natural flooring product that can be installed as planks or tiles. It can be solid cork or laminated around a fiberboard core. It's resistant to mildew, microorganisms, and mold, which makes it good for those with allergies. It's also fire and insect resistant, holds warmth and is a sound insulator. However, it requires glue-down installation, can absorb liquid and must be sealed regularly which entails additional maintenance.
Carpet
Carpet Industry associations, like the Carpet and Rug Institute (CRI), have created some guidelines to follow, but there are key factors regarding both the space you're working with and the products you're selecting that can help you specify the right carpet for the right space.
---
Paradigm II Collection, Intersect & Streamline
As a designer, specifier, end-user when it comes to sustainability and product development you might find yourself asking, how do I know what's really important and which components matter most?
As a flooring manufacturer it's important for us to provide responsible products and to communicate which products meet established standards and let you decide from there.
One of the ways we communicate that to you is with transparency documents, think of it like a food label or ingredient list.
In the context of Green Building, the term Transparency often refers to the open disclosure of materials, ingredients or environmental impacts within specific products. Mannington "Transparency Documents" are publicly housed on our website and other public databases like Origin/mindful Materials.
The Documents You Need to Know:
EPD - An Environmental Product Declaration is a transparent, objective life cycle assessment (LCA) based report that communicates what a product is made of and how it impacts the environment across its entire life cycle.
HPD - A Health Product Declaration provides a product ingredient list and a disclosure of the chemicals used. The format is provided by the non-profit Health Product Declaration Collaborative (HPDC) and is designed to compare ingredients to a set of priority "hazard" lists based on the "GreenScreen for Safer Chemicals" and additional lists from other government agencies.
Declare - A Declare label is provided by the International Living Future Institute (ILFI) and is designed to be a transparency platform and product database describing where a product comes from, what it is made of, and where it goes at the end of its life.
These documents support rating systems like LEED, WELL, LBC, Green Globes, etc.
Related: What Are Product Transparency Documents? – A Materials Disclosure
---
The goal for this chapter is to help you recognize specification guidelines, evaluate the most critical aspects of installation, and understand the basic processes involved in healthcare flooring maintenance. Let's get started!
Specifying
Acute healthcare spaces consist of operating rooms, corridors, waiting rooms, patient rooms, cafeterias, rehabilitation spaces and more. These spaces require different types of flooring to meet not only the specific performance needs of that space but also to meet the requirements for infection control, slip resistance, and ADA compliance.
Selecting flooring materials means understanding what types of other flooring it will be meeting, heavy rolling load applications, if bodily fluids or chemicals will be present in the area and overall foot traffic. Finally, the flooring needs to have the design attributes to meet the intended aesthetic of the space.
Related: Top Ten Decisions to Make When Selecting Healthcare Flooring
Facility Guidelines Institute
The FGI guidelines state that operating rooms shall have a floor and wall base assembly that's monolithic with an integral coved base that goes up at least six inches and is tightly sealed to the wall.
A monolithic floor is a seamless continuous floor that includes integral coves to specifications. So, products such as sheet rubber and sheet vinyl with welded seams are used. Poured flooring such as liquid linoleum, epoxy, and terrazzo also are commonly used.
The FGI guidelines dictate where these monolithic floors must be used. So, beyond the operating room, areas such as imaging rooms, delivery rooms, some labs, etc. may require monolithic floors be used.
Often, monolithic flooring extends beyond these minimally required areas into spaces such as the sink and scrub area, which is a great application for a slip-resistant product. Spaces sometimes referred to as perioperative areas such as corridors leading to the operating room, recovery areas, and all such ancillary spaces commonly use a monolithic floor as well.
Related: Why The FGI Guidelines Are Important
Related: How To Use The FGI Guidelines
Installation
Selecting the right product is only the first step. There are multiple parts of the installation process to keep in mind to ensure the floor performs well for a long time. Always ensure the right crew with proven experience is lined up for the project. If different products are going to be used, it's likely different skills will be required. And, they'll need to be trained in dealing with factors ranging from fumes, dust and even noise that are specific to healthcare projects.
Transitions
In a setting where it's especially important to consider safety when moving from one type of flooring to another, the height of each type of product is important. Transition strips can be problematic for rolling beds or for people using walkers or wheelchairs and also, the edges can harbor harmful bacteria. Seamless transitions chemically weld the seam of the carpet and sheet vinyl together, creating a smooth surface and decreasing the momentum needed to roll a wheelchair over the transition by 20 pounds or more.
Moisture and Adhesives
In any commercial installation, moisture is a major consideration. Moisture under or in the slab is important to understand as it will necessarily impact how the flooring product performs.
Sub-floor moisture can penetrate through the surface of the product or it can sit underneath the surface of the floor and build mold and mildew. That trapped moisture can also interfere with the performance of the adhesive systems as well. In healthcare, it's important to understand how a space will be used to choose the right type of adhesive. For example, hospital beds and tables or equipment require adhesives made to withstand specific PSI rolling and static load abuse.
Depending on the type of flooring, healthcare facilities have specific requirements about seams. Generally, the fewer seams the better for both performance and infection control. When seams are necessary, they should be strategically placed to ensure areas of heavy foot traffic and action are not directly on seams. Some sheet products are available in multiple width options to allow for optimal seam placement. Review of a seaming diagram provided by the flooring contractor prior to materials being ordered is critical.
Subfloor Preparation
Any flooring installation depends on five key factors related to subfloors. The surface should be flat, clean, smooth, dry and structurally sound. In healthcare facilities, installation often has to be completed overnight both because of the cost and the need for continuity of patient care. An issue with the subfloor can throw a successful installation completely off schedule. All resilient products require a properly prepared subfloor for optimum long-term performance.
Maintenance
Commercial hard surface flooring offers a wealth of performance benefits, including ease of maintenance. However, as with any type of flooring product in a healthcare environment, proper cleaning is required to ensure long life. Maintenance doesn't have to be complicated, but it does require establishing basic protocols and using the right products and equipment. Cleaning hard surface flooring is only the first part of the overall process. In broad terms, cleaning means to remove dirt, sanitizing means to remove microbes/pathogens and disinfecting means to disinfect. Understanding and following manufacturer's recommendation instructions specifically are critical to the long term performance of any resilient floor.
Related: Cleaning and Disinfecting Hard Surface Floors In The Age of COVID-19: What You Need to Know
The Carpet & Rug Institute (CRI) has a vetted list of chemicals to use for carpeting under the Seal of Approval program. The CRI recommends following the CDC's cleaning and sanitizing recommendations. Centers for Disease Control and Prevention (CDC) specifically recommends the following process for cleaning soft (porous) surfaces such as carpeted floors, rugs, and drapes:
Start by removing soil by vacuuming. The vacuum should be equipped with a quality HEPA filter. Always change vacuum bags when they become half full to ensure maximum lift.
Carpet must be cleaned with a product appropriate for the surface before it can be sanitized. Hot water extraction guidelines are detailed in

Mannington's Carpet Maintenance Guidelines.

To adequately sanitize, follow the chemical manufacturers' guidelines on the labels for application, dwell times and dilution rates.
---
Amtico Signature Collection, Arrow Laying Pattern
OR Design Considerations
The Facility Guidelines Institute (FGI) in the 2018 Guidelines for the Design and Construction of Hospitals recommends that the minimum size for an operating room be at least 400 square feet, and specialty operating rooms be at least 600 square feet. These are just minimum standards and some specialty ORs, like Orthopedic or Transplant, can get up as high as 800 square feet. A minimum of a 48 square foot area is required for the anesthesia area for standard ORs, hybrid or specialty ORs.
Flooring requirements are also standardized by FGI, and state the room types listed "shall have floor and wall bases assemblies that are monolithic and have an integral coved wall base that is carried up the wall at least 6" (150mm) and is tightly sealed to the wall."
The areas that require a monolithic floor are:
(i) Operating Rooms
(ii) Class 2 and Class 3 imaging rooms
(iii) Cesarean delivery room
(iv) Procedure rooms where cystoscopy, urology, and endoscopy procedures are performed
(v) Endoscope processing room
(vi) IV and chemotherapy preparation room
(vii) Ariborne infection isolation (AII) room
(viii) Protective environment (PE) room
(ix) Anteroom to AII or PE rooms, where provided
(x) Sterile processing facility
These rooms usually require homogeneous flooring at a minimum. Because a homogeneous floor, with heat welded seams (or seamless floors) provide a monolithic surface that helps create a more sterile environment. Slip resistant specialty flooring products are often used in the sink or scrub areas because of the high likelihood of water on the surface. Homogeneous sheet flooring is also often used in the corridors leading up to the operating room and other pre-operative spaces.
Homogeneous flooring can provide other solutions for these stringent environments. For example if a sharp instrument, like a scalpel, l were to drop on the floor and penetrate the surface, a homogeneous product does not have any layers for bacteria to hide and grow. And, damage to the surface reveals more of the same material underneath. A Heterogeneous sheet on the other hand, would show backing layers instead. The damage would be more visible and the layers of the product might be exposed.
A "Red Line" area typically designates an area of infection control so special protocol has to be followed such as cleaning protocol, requirements for staff to wear certain garments, etc. This is designated by a red line at the entrance to the space or within a space such as an operating room, which is literally a red line installed in the floor. This allows employees to take notice of when they're entering a space where certain protocol must be followed. This red line is usually created by installing a heat welded, red colored band of the flooring material.
Another design tip is to have a designated OR table area within the operating room. The area underneath the OR table gets a ton of abuse, and it's the most damaged area of the operating room. Sharp surgical instruments drop on the floor, causing rips or tears.
Suture needles may be dropped to the floor as well. So it is important that the design be low contrast, so anything that is lost can easily be found. A way to pre-plan for potential replacement of the abused area is to install a different color floor underneath the bed table, usually extending about one to two feet in all directions. This also provides a "parking space" so that staff knows when they're cleaning, specialty equipment can be moved back to it's appropriate space within the room.
Using a low contrast color underneath the table area helps nurses account for every instrument to ensure an accurate count if anything is dropped since it's easier to see. Green and blue are often used in operating rooms to help prevent afterimage, by calming the eye.
Related: Best Flooring Choices for Operating Rooms
Senior Living Trends
The U.S. Census Bureau projects one in five Americans will be age 65 or older by 2030. That's a lot of people who will need special consideration living spaces. Inclusive design is a process that enables and empowers a diverse population by improving human performance, health & wellness, and social participation. Seven social trends are impacting senior living:
Aging in Place

– Most seniors prefer to stay in their own homes. When that isn't possible, the next best scenario is Continuing Care Retirement Communities (CCRCs) or similar communities so people can transition through necessary stages of care in the same place.
Holistic Spaces

-- A holistic approach to senior living incorporates a wide range of wellness functions ranging from physical fitness to social activities. A natural environment can be healing and counteract any sense of a clinical feel.
Grandparenting

-- According to 2010 U.S. Census data, 4.9 million American children are being raised solely by their grandparents. Economic factors play into one of the living options that's developed from this trend – multi-family housing communities where all the residents benefit from shared amenities and services.
Millennials

-- Of the 40 million caregivers for seniors in the U.S., one in four is a millennial. As the number of professional senior caregivers continues to decline, millennials caring for seniors is helping to make up the deficit.
Renters

– A growing number of seniors are either choosing a more carefree lifestyle or economically can't afford to own a home. Both situations are adding millions of renters to the market, and for older people, it means a need for appropriate flooring.
Communal Living

-- There's a percentage of the aging population who doesn't want to live alone but doesn't need the services of assisted living. This group is choosing communal living. Residents have their own bed and sometimes a bath while enjoying the benefits of living with other people who aren't family members.
There are myriad options for senior living including independent apartments/condos, assisted living, skilled nursing and rehab facilities, memory care facilities and Continuing Care Retirement Communities. Each offers benefits and each has specific design considerations.
Two measures can help determine the best type of environment for a senior. ADL is Activities of Daily Living, meaning basic actions to live such as bathing, dressing, using the bathroom, eating, etc. IADL is Instrumental Activities of Daily Living and includes the cognitive and social abilities that help a person function independently such as using a telephone and following safety procedures.
Preventing injuries is just one consideration when designing these spaces. Ideas to keep in mind include avoiding bold, contrasting patterns; paying attention to transitions; along with providing slip resistance and some level of cushioning or resistance to help with falls.
Related: Designing Senior Living Facilities to Support the Aging Population
Biophilic Design
Biophilic design is defined by Dr. Stephen R. Kellert as "an innovative approach that emphasizes the necessity of maintaining, enhancing and restoring the beneficial experience of nature in the built environment." In healthcare, it includes incorporating:
In Conclusion: Healthcare Floors
Do you want to take this guide to understanding the fundamentals of Healthcare flooring with you? Click below for your free copy.👇
---