Commercial hard surface flooring offers a wealth of performance benefits, including ease of maintenance. However, as with any type of flooring product, proper cleaning is required to ensure long life.
As a flooring specialist since 1915, Mannington Commercial has helped thousands of customers keep their hard surface flooring performing at the optimum level.
Maintenance doesn't have to be complicated. It's a matter of establishing basic protocols and using the right products and equipment. Let's work through some general information for treating newly installed floors, establishing a daily maintenance routine and conducting ongoing corrective cleaning.
We've Outlined 7 Steps For Cleaning and Maintaining Hard-Surface Floors:
Getting Started with New Commercial Flooring
Prior to starting on your floors, check the coasters and glides on the furniture that will be placed in the space. Install, replace or repair them as needed to prevent scrapes and ensure the load is evenly distributed.
Provide adequate walk-off mats at entrances that are at least as wide as doorways, 10-14 feet long depending on the amount of traffic and type of soil outside, and have a backing that won't stain the flooring. Proper entryways help reduce the overall amount of soil spread throughout the space.
Before doing anything else, make sure you have proper signage in place. Warning people about potential work areas should be a standard procedure to keep everyone in the area safe.
After your flooring is installed, check carefully for any excess adhesive residue and remove with mineral spirits and a clean rag. Follow up with water and a neutral pH cleaner. It is advisable to wait a minimum of five days before using a wet mop or any type of scrubbing device to ensure adhesives have enough time to bond and cure.
Cover all newly installed floors with protective coverings, such as ram board or similar if there will be trades working on top of the newly installed floor covering. This will help eliminate damage such as scratches and gouges to the newly installed floor.
Establishing a Multi-Step Maintenance Routine
Start by removing dust and grit by dry mopping. For tougher soil removal, use a microfiber dust mop such as a Rubbermaid Hygen. Make sure to remove the dust mop heads as needed when they become too dirty.
Next, it's time to move on to wet cleaning options. There are several neutral cleaners that have proven effective (Procter & Gamble #32, 3M-3H, Rochester Midland Perfecto 7, National Chemical Laboratories Earth Sense pH Neutral All Purpose Cleaner, EnvirOx) but it's critical that the product is properly mixed with 1 oz. gallon dilution or less.
For greasy or oily areas, use an alkaline cleaner with a pH between 8 and 10; for areas with hard water or high mineral concentration, use an acidic cleaner with a pH between 4.5 and 6.5. Never mix acidic and neutral or high pH cleaners together.
For smaller installations or light soil
Wet mop using a diluted neutral cleaner. Rubbermaid Hygen Microfiber Damp Mops or Rubbermaid Microfiber String Mops work well on hard surface flooring products. Change the water often and periodically wring out the mop.
For medium installations, heavy soil or corrective cleaning
Use a single disc/square orbital machine by first applying the water or cleaning solution then scrubbing in a north-south or east-west motion. Then, mop or wet/dry vacuum.
For larger spaces or heavily soiled areas
Opt for an auto scrubber and water or a properly diluted cleaner. Corrective cleaning or especially dirty areas could benefit from using an astroturf or microfiber pad.
For disinfecting commercial spaces
If you opt to use a quaternary disinfectant in a concentration that's greater than 2 ounces per gallon, make sure to wet mop with clean water afterward. And again, never mix acidic and neutral or high pH cleaning products.
In each case, inspect the floor after it dries, repeat if needed and adjust the cleaning products and equipment accordingly. Aside from the right cleaning solution, it's essential to always use the right pressure and pad for your equipment to adequately distribute the cleaning solutions and avoid damaging the flooring.
Related: Swiffer Wet Mop Vs. Contec Premira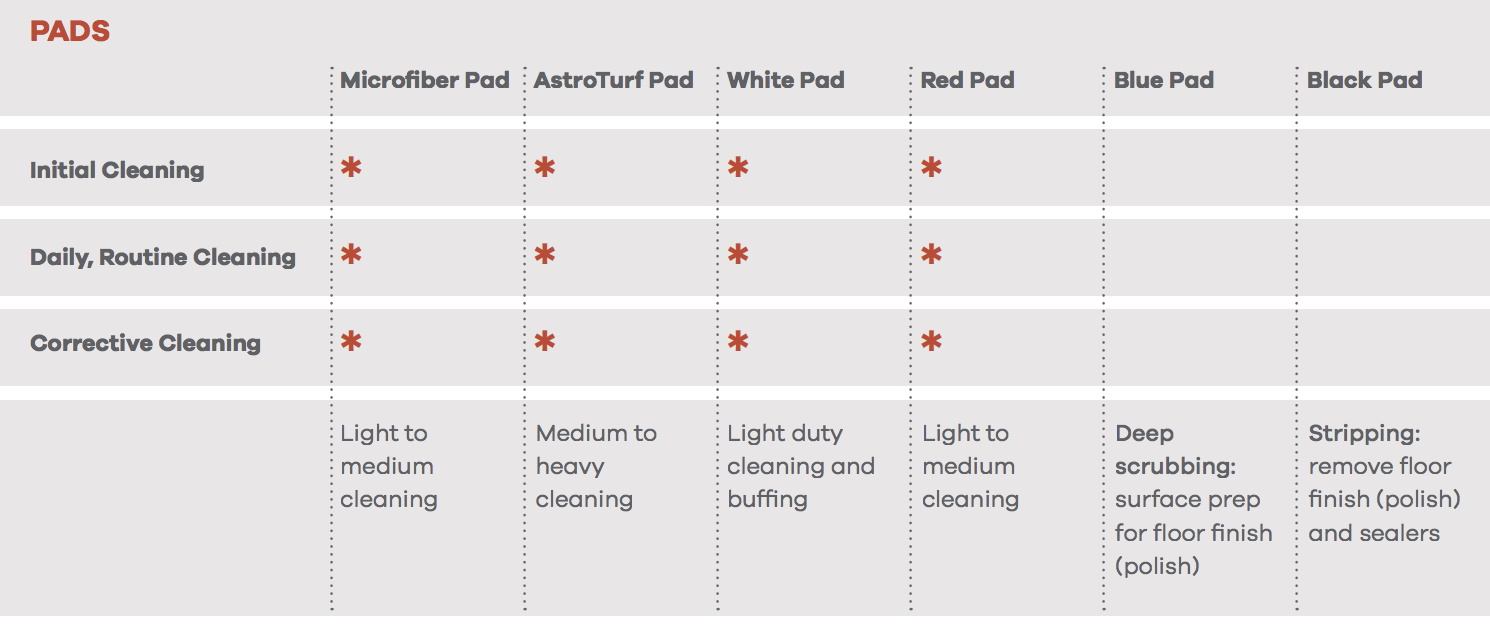 As an integral part of preventative maintenance and routine cleaning, keep heat-welded seams in high-traffic areas at optimal performance with a thin, even application of the seam coater pen. Periodic inspections and applications are a best practice in high traffic areas or areas with frequent high maintenance cleanings.
Choosing the Right Hard-Surface Flooring Cleaner
Several reputable companies make cleaning solutions that will work for your hard-surface commercial flooring. To select the proper one for your space, there are multiple factors to consider.
A site survey can help determine the amount of foot traffic, the type of soil typically found in the area, the equipment available, the time allotted for maintenance and the budget for cleaning.
Here's a general guideline for cleaning products: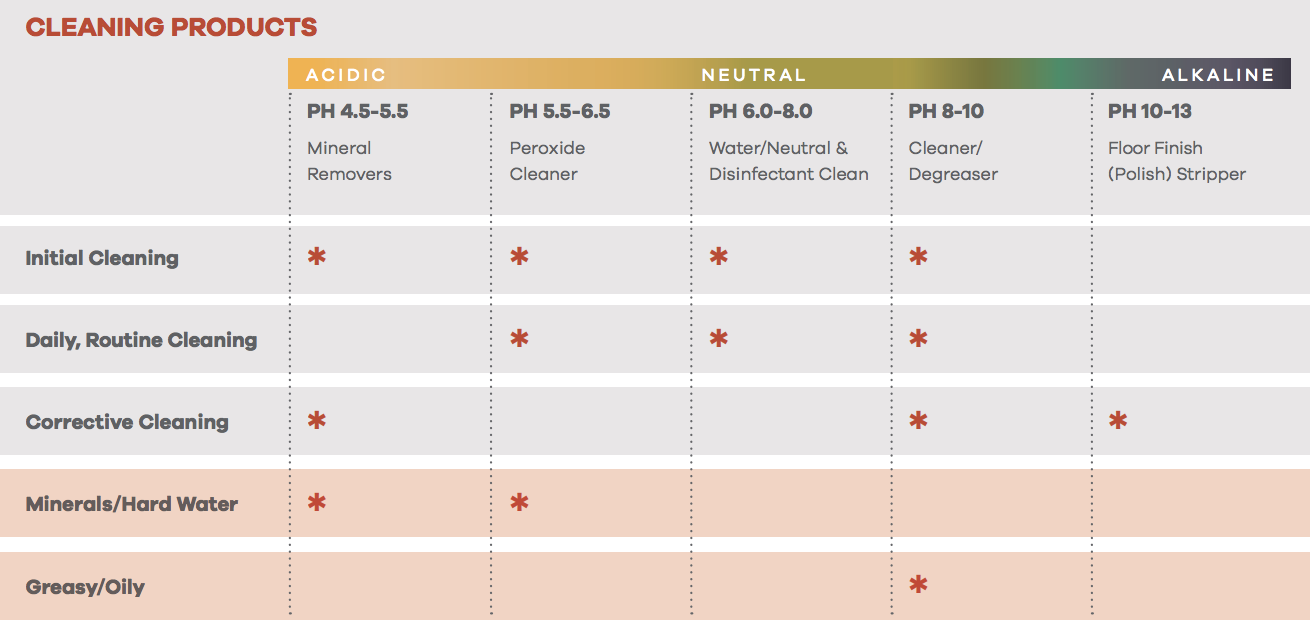 Opting for Polish
If you decide to use floor finish (polish) on the floors in your facility, here are the basic steps to do the job properly.
Begin with a basic cleaning as outlined above, just as you would with any hard-surface flooring moving from dry mopping to wet cleaning, drying and inspection.
The first time you apply floor finish (polish) to the floor, it's essential to do a proper job of preparing the surface.
Start with a blue pad on a swing machine. Pads from Americo, Square Scrub and Tuway along with swing machines such as those from Square Scrub, Clarke FM 40 Square Scrub, Windsor Bolt and Körcher BDS 43/Duo C have proven effective on Mannington Commercial flooring.
Apply water to the floor being careful not to flood the surface, then agitate the water moving up and down or left and right. Remove the water with a mop, vacuum or auto scrubber equipped with a vacuum. Repeat if needed.
Make sure the floor is completely dry, then apply three to four coats of floor finish (polish) depending on the foot traffic in the space. Make sure to read and follow the product manufacturer's instructions regarding application, temperature, humidity, dry time, etc. for best results. Each product will have specific recommendations.
Mannington Commercial hard surface flooring offers Quantum Guard· Elite Quantum Guard·HP, which are high-performance urethane wear layers, a proprietary technology that provides superior appearance and durability. While you can choose to apply floor finish (polish) to your floors, it isn't required.
Removing Polish and Reworking Finish
After application, continue with your routine cleaning processes as standard procedure. When it comes time to remove the floor finish (polish), follow the manufacturer's instructions regarding diluting the stripping chemicals.
Apply the solution with a black pad by agitating it up and down then right and left. Thoroughly remove the solution from the floor, then carefully inspect the floor after it dries to ensure polish is gone.
When the floor is completely dry and after thorough inspection, follow the previous instructions to apply floor finish (polish) according to manufacturer instructions. Always keep in mind the traffic volume and the typical amount of soiling when selecting your products.
Selecting Proper Tools
Choosing the right equipment for care and maintenance of your hard-surface flooring is one of the key decisions in ensuring long wear and optimum appearance. Let's face it, there are a lot of viable options.
Equipment that's proven to work well on Mannington Commercial products* includes these options:
Dry Mop: Rubbermaid Hygen Microfiber Dust Mop
Wet Mop: Rubbermaid Hygen Microber Damp Mop; Rubbermaid Microfiber String Mop
Cleaning Systems: Rubbermaid Wavebreak Mopping System; Filmop Equodose Mobile Microfiber Charging System
Swing Machines & Rectangular Machines: Square Scrub; Clarke FM 40 Square Scrub; Windsor Bolt; Körcher BDS 43/Duo C
Pads: Americo; Square Scrub; Tuway
Compact/Micro Size Auto Scrubbers: Clarke MA 10 12E; Körcher BR 30/4 Bp; Körcher BD 30/4 Bp; Hillyard Trident B16SC
Medium Auto Scrubbers: Clarke Vantage 14, CA 30; Körcher BR 35/12 C Bp with microfiber roller; Tennant T1; Hillyard Trident T26SC
Large Auto Scrubbers: Clarke Focus II; Körcher B 40 C/W; Tennant T300, T500; Hillyard Trident T26SC
Stand-On Auto Scrubbers: Clarke SA40; Windsor Chariot 2; Taski swingo XP-M; Hillyard Trident R22SC
The success is in following the process
As with any equipment purchase, please make sure to follow the manufacturer's guidelines for proper use. Inclusion in the above list is not an endorsement by Mannington Commercial of a specific product.
We stated in the beginning that maintenance doesn't have to be complicated, but it is a detailed multi-step process that requires your obedience. Establish your basic protocols, use the right products and equipment as listed for you here and you've got the keys to maintaining your hard-surface flooring.