We often think of words like sterile, hygienic and anti-microbial when we think of commercial healthcare.
Not too welcoming, right?
In contrast, the idea of living walls, water features & sun-drenched spaces offer a more welcoming feeling.
While every population demographic can benefit from biophilic design, healthcare patients in hospital settings have substantial healing benefits when they are exposed to environments that incorporate principles of biophilia into the architecture and interior design.
As a leader in commercial healthcare flooring, we make high performing products that support healing environments. Knowing that the trend of biophilic design is here to stay, we incorporate related design principles into our development process.
In this article we're going to look at biophilic design principles and how they are used in healthcare settings.
What is Biophilic Design?
Based on the term biophilia (the human tendency to interact or be closely associated with other forms of life in nature), Dr. Stephen R. Kellert defined biophilic design as, "an innovative approach that emphasizes the necessity of maintaining, enhancing and restoring the beneficial experience of nature in the built environment."
At Mannington Commercial, we are mindful that healthcare spaces need to be inviting and comfortable for patients, families and staff. Our goal is to provide interior designers with the proper products to create these spaces.
In addition to the extensive amount of market research our product team conducts, they also meet with customers and design firms for product feedback. This type of interaction informs of us of opportunities for the market. Bloom is an example of addressing the need for a large-scale pattern in a resilient sheet. This particular group of patterns incorporates biophilic design principles by using natural forms and motifs inspired by the natural world.
You Might Like: A Guide To Understanding the Fundamentals of Healthcare Flooring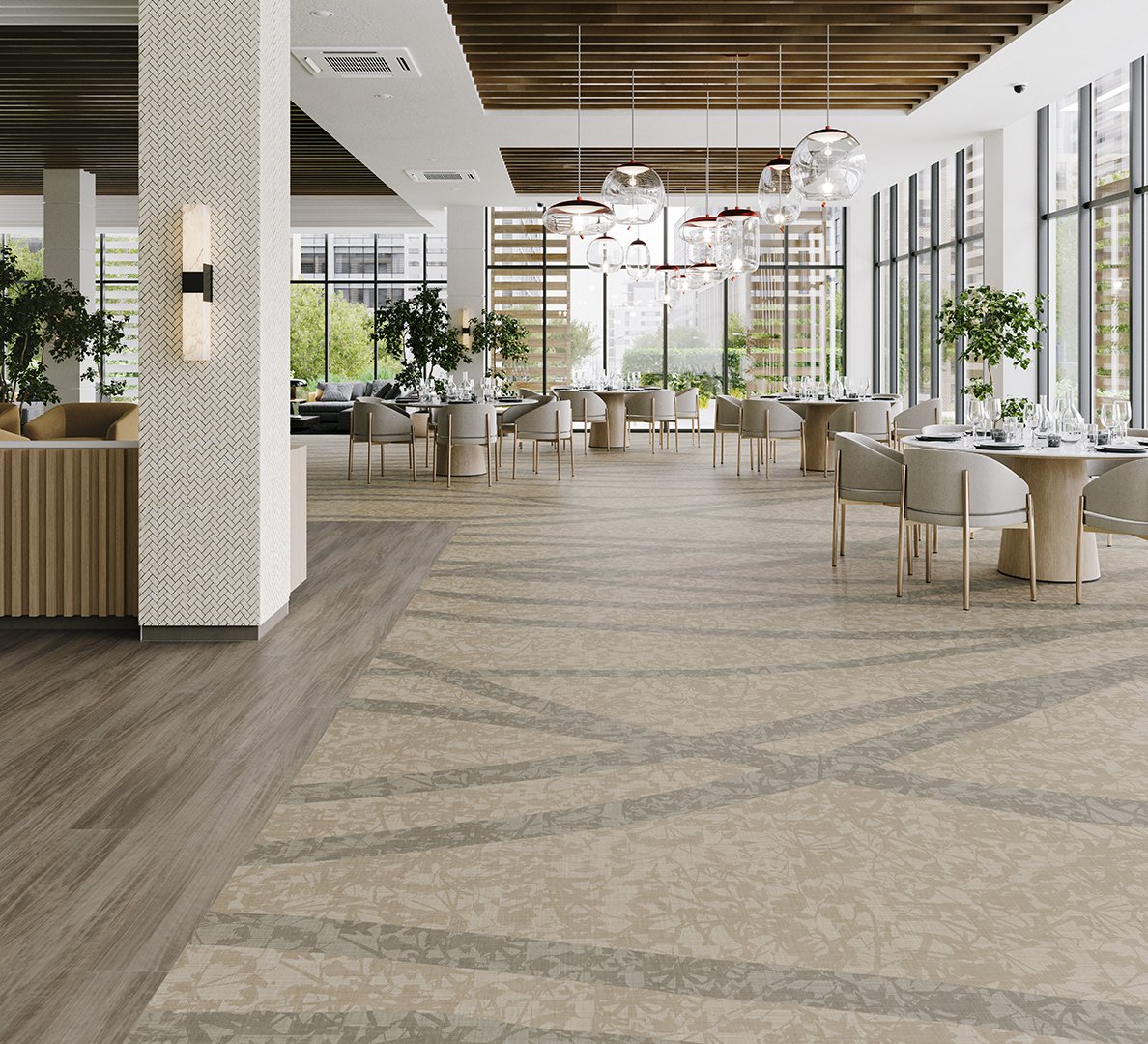 Natural Views Aid Patient Healing
Exposure to natural elements, whether they are directly from nature or interpretations of it, aid in the patient healing process. In fact, research supports that when patient rooms have views of nature, postoperative stays are generally shorter, less pain medication is dispensed, and overall condition improves.
While large windows with views of nature are optimal, every hospital can be in the ideal settings like in the middle of a forest preserve or near the ocean waves. However, we can support the elements of biophilia in other ways.
Evidence shows that representational images of natural features such as landscapes, gardens, and waterscapes can reduce stress and improve results like pain relief. One study by researchers Katcher, Segal, and Beck found that patients waiting to undergo dental surgery exhibited lower anxiety levels when an aquarium of fish was present in the waiting area as opposed to when the aquarium was absent.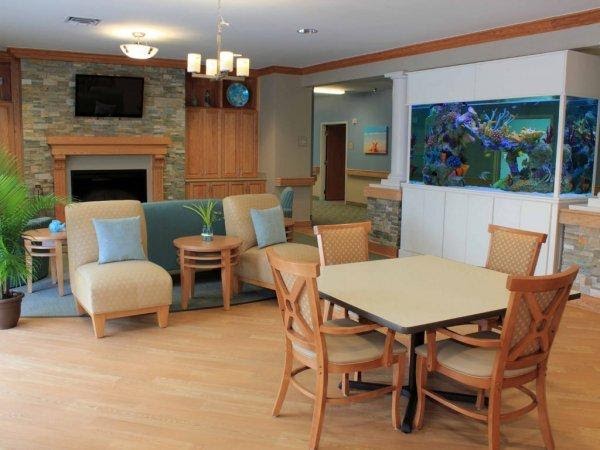 A similar study by Heerwagon, written about by Roger Ulrich in Heath Benefits of Gardens in Hospitals, looked at dental patients sitting in waiting rooms. The study found that on days when a large nature mural was displayed in the waiting room, patients showed decreased stress levels as compared to days when the mural was not present.
Another experiment conducted with blood donors found that those who viewed a wall-mounted television showing videos of nature had lower blood pressure and pulse rates than those donors who watched videos with urban settings or even talk and game shows.
Simply put, we crave nature more than we may even know. So, how do we get more of it?
The Benefits of Nature in Hospital Design
Consider the Fred & Pamela Buffett Cancer Center in Omaha, Nebraska, for inspiration. This cancer center was designed as a place of holistic healing, providing cancer care and treatment. Healing often requires more than just treating patients medically. As a result, the facility's healing arts program was launched to coincide with Leslie's Healing Garden. The garden's heated pathways are wide enough to accommodate hospital beds where patients can view art and nature in the same outing.
The program's cornerstone, however, is the 3,667-square-foot Chihuly Sanctuary, which boasts more than 3,000 handblown glass elements by world-renowned glass artist Dale Chihuly. Chihuly's installation encourages patients to move outside of their rooms by offering a destination of large-scale art to enjoy.
The benefits of introducing nature to healthcare environments don't stop there. The performance of healthcare staff, as well as their job satisfaction, are positively impacted when features like outdoor gardens are incorporated into the space.
And if the staff is performing better, it isn't much of a leap to think that outdoor amenities could be beneficial to patients and their families as well. Perhaps, even, as a space to decompress and reduce stress.
Use of Color
We all crave for healthcare spaces to feel comfortable and tranquil. Soft, botanical colors (think: English garden) influence today's 'spa-like' palettes to help create peaceful interiors. Most often, this color story groups quiet, muted tones that pair well with any number of neutrals. When combined well, these colors can be used in many different spaces; ranging from patient rooms to surgical areas as well as intensive care corridors.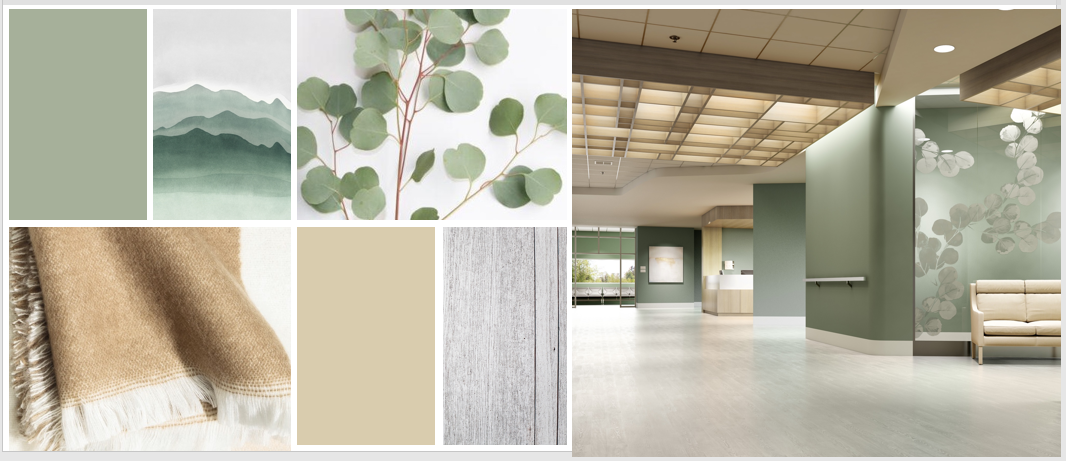 Historically, color schemes in healthcare relate back to biophilia because of nature-inspired elements that are foundational in many hospital and clinical interiors. Wood visuals and color provide warmth to balance other, more "cool" natural elements like granite, marble and water elements.
Use of Light
In addition to views of nature, another element of biophilia – light – also plays a large role in healing spaces. We seek natural light, preferably from different angles so that shadows do not diminish our stereoscopic vision, which are necessary to form three-dimensional imagery and depth perception.
Natural light is not just needed to see. Our bodies also crave its vitamin D. And our sleep patterns are linked to, and regulated by, sunlight. In fact, our circadian rhythms (our instinctual perception of time, our "internal clocks"), depends on light to function.
Numerous studies have illustrated that reinforcing circadian patterns to correlate with local time can result in improved sleep, improved mood, and increased pharmaceutical efficacy—all highly relevant to behavioral health patients.
We're designed to be exposed to high amounts of light during the day; not the constant dim lighting found in most hospitals 24 hours a day. By using special circadian lighting, we can help patients get a good night's sleep and actually aid in the speed of healing and recovery.
Use of Curves
Curved forms are found everywhere in nature, where it's actually difficult to find a straight line. Curves are seen in the biological structure of animals and plants, as well as in inanimate environments where matter is shaped by tectonic forces.
Since our neurological-response mechanisms are hard-wired, we obtain emotional pleasure from curves that possess a natural balance through symmetry. Hard-edged, angular elements are not often seen in nature; and therefore not preferred for spaces that are intended to feel soft & inviting. When incorporated in a thoughtful way, though, right angles paired with curves can create a well-balanced, well-designed space.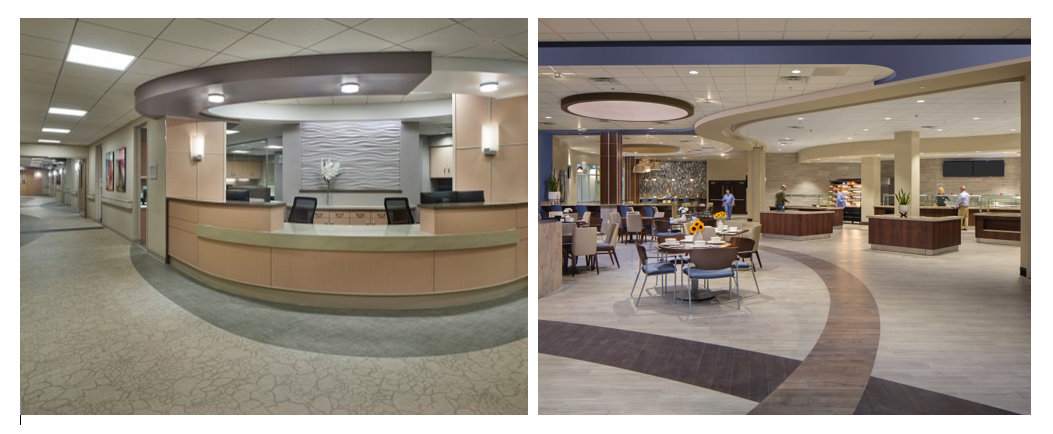 Left: SIBLEY MEMORIAL HOSPITAL Washington D.C.
PRODUCTS: Blockprint, Perennial
Right: NORTH ALABAMA MEDICAL CENTER Florence, AL
Photography: Creative Sources Photography / Rion Rizzo LVT Custom run in 20 mil construction.
PRODUCTS: Amtico - Wood: Fumed Oak, Nature's Paths - Wood: Northern Maple Espresso, Spacia - Stone: Linear Stone Shale
It's not critical to use a specific method to create the curves. You can see an architectural curve above, as well as a space that has created curves with just the flooring. Even if you are working on a remodel and won't be able to change any existing architecture, it is still possible to introduce curves to your finished design and provide a refreshed look.
Use of Water
The presence of water is another biophilic element that can be considered. Human beings love to see water, and even better, hear it and feel it. Without water, we cannot survive. Perhaps the need to be close to water is a reassurance that we can access it if necessary. Or maybe it's the influence of water and waterways in the environments (and stories) that shaped centuries of history.
Perhaps it's the sense of freedom that comes from being on top of, or in, water. In today's world, we use water as an opportunity to relax on vacations or explore on voyages in sailboats and cruise ships. If we don't have the chance to set up a location that has a lake or ocean view, placing water features in the space, or adding beautiful visuals of water, can allow us to imagine being close to them.
Use of Life
Actual and intimate contact with living forms nourishes us. This is the most obvious meaning of biophilia. We crave the companionship of plants, animals, and other humans. This is not among the features of a building design, per se, but serves to encourage the building user to interact with the natural environment. For example, enclosing a courtyard garden, or introducing indoor trees, like they did at the Lurie Children's Hospital in Chicago, provides immediate access to nature.
These elements are best when they overlap and support each other. Just as an aquarium provides water, it also provides natural colors, proper lighting, curvature in design, and the life within to build the best environment for the animals and the viewers.
In a similar way, many of these biophilic elements can be combined to help make spaces holistically better for the patients that are healing, the families that are supporting and the staff who are caring for everyone.
Thoughtful Connections between Healthcare and Nature
The best biophilic design—design that effectively eliminates stress and anxiety from the built environment—is achieved by maintaining thoughtful connections with nature. The surge of interest in creating spaces and places that support health and wellbeing is a sort of renaissance in design thinking for how and why we build buildings and cities.
In healthcare, the latest technological advances in medicine are often the innovations that receive the greatest amount of attention. However, the incorporation of much more basic human needs carry valuable weight as well.
An excellent example of a hospital that combined all these elements for a seamless experience is Singapore's Khoo Teck Puat Hospital. According to Professor Lam Khee Poh, Dean of the National University of Singapore's School of Architecture, the ultimate goal of this design is aimed to influence patient and staff's psychological and physiological response to their own space, further creating a more helpful healing environment and reducing the length of patient stay.
Driven by the Ex-CEO's request that the hospital be designed so that "one's blood pressure lowers when they enter the hospital grounds," the hospital seamlessly integrates with the building with nature, to and from every entrance to the building. Patients and staff can view nature from every window.
Providing every patient-floor bed with a view and natural ventilation was of utmost importance to them as well. It's a great example of the hospital seeking the best benefits for the patient.
The overwhelming amount of biophilic design research in healthcare settings makes it clear that connection to nature during treatment and recovery is a massive benefit to patients.
As a leader in healthcare flooring we are deeply interested in the benefits of biophillic design. Sheet vinyl is the preferred healthcare flooring for many reasons and performance has always been the key attribute.
At Mannington, our design intent is to marry high performance and aesthetic beauty into our products. Our latest resilient sheet product, Bloom, is a great example of that. The three patterns in the collection are made up of familiar organic forms, combined with comforting textures. The result is three coordinating flooring designs that support healing.
As advancements continue to take place in medical technology, we must champion the evolution of holistic healing environments through the benefits of biophilic design.
To learn more about the Bloom Collection and our partnership with Mercy Medical Angels watch the video below.