The aging population is certainly not a new topic. But as the U.S. population lives longer, it's more essential than ever to create building systems specifically to serve the health, safety and wellness of the older generation. Understanding the demographics as well as relevant design options makes it possible to develop environments that make people healthier and happier in their golden years.
As a director of Healthcare for almost 10 years at Mannington Commercial and over 35 years worth of experience in building product sales, the majority of which has been focused in healthcare, you could say I have a passion for healthcare and improving the built environment.
I have also learned a lot as a "consumer" of senior living. My 94-year-old father has lived in a Continuing Care Retirement Community (CCRC) for over a decade, and his views on aging and good design for the aging environment have really helped broaden my understanding.
Let's look at the design, materials and trends that benefit communities, buildings, even furniture intended for an aging population.
You Might Like: A Guide To Understanding the Fundamentals of Healthcare Flooring
Is Age the Primary Factor in Choosing a Senior Care Facility?
Let's start by examining how we view aging. In his book, New Aging, Matthias Hollwich, an architect who has studied how the built environment can support seniors, advocates looking at aging as a fulfilling process. Using that foundation, solution providers can explore how to create innovative ways to support our growing senior population.
What does "old" really mean? Today's aging population is often divided into three sub-categories: Young-Old is 65-74; Middle-Old is 75-84; and Oldest-Old is over 85. Yet, some active senior communities allow residents at age 55, and AARP membership is open to anyone over age 50. So does the number really define age?
There are several ways we age, which when taken together, create a complete view of aging. These include:
Legal Age-how old you are in years. For society, this tends to be the most important measure of aging, but for our purposes, the other four are just as important.
Biological Age-your physical condition, the state of your body and how it affects your physical abilities. For example, a person may have cataracts, a bad knee, or a chronic condition that causes their abilities to be compromised.
Functional Age-what you are able to do compared to other people of a similar age. We all know seniors who still work out daily and are very active beyond their legal age.
Psychological Age-how adaptive you are. The skills you have learned which enable you to function in everyday life and maintain a certain level of emotional wellbeing.
Social Age-how you behave. For examples, regardless of being older in their legal age, a person may still love to go out dancing or go to concerts with friends.
All these ideas factor into the complex concept of aging if we want to create holistic environments to meet a full range of physical, social and emotional needs to help people lead fulfilling lives at any age.
Two concepts related to the unique needs of seniors come into play-Geriatrics and Gerontology. Geriatrics addresses the medical aspects of aging and the health of seniors. Gerontology encompasses all aspects of aging including the physical, social and psychological. Both are critical to understanding the full spectrum of support needed to create viable environments.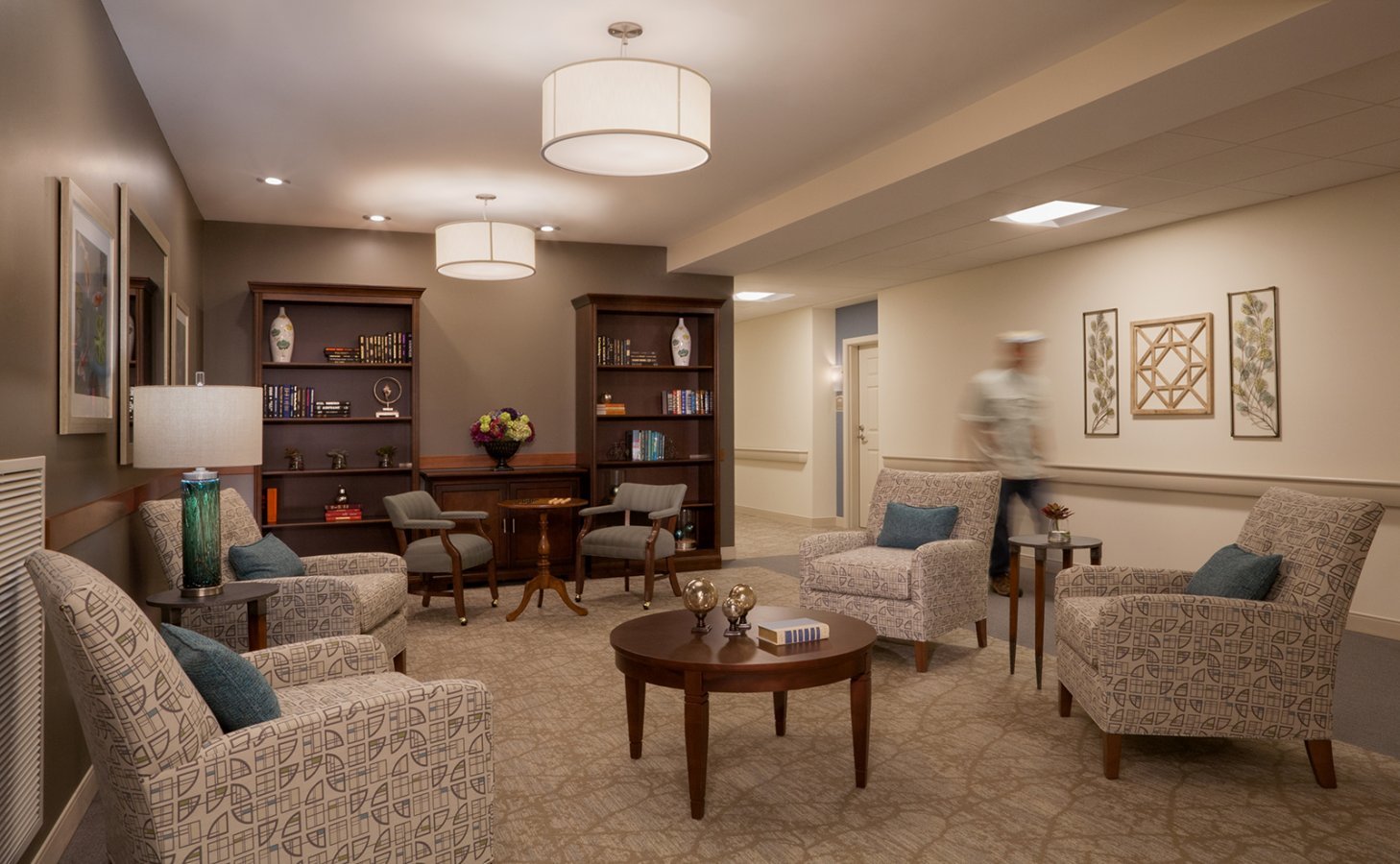 CLARENDALE OF SCHERERVILLE
Architect/Interior Design: PFB Architects, LLC. Chicago, IL Owner: Ryan Companies USA, Naperville, IL Photographer: Barry Rustin Photography, Wilmette, IL
Designing for Different Types of Senior Housing
Once upon a time, people lived their entire lives in their home, often the same family home. Today, that's rarely the case. Evolving lifestyles and family structures precipitated development of a range of specialized living environments for seniors. Each serves a specific population as people need different levels of support, which means each requires different design parameters to meet those needs. Let's examine each one.
Senior Apartments/Condos
It can be comforting to live independently, yet close to people in the same phase of life and with similar interests. These communities offer programming, infrastructure and services appropriate to the age guidelines.
Assisted Living
These are staffed facilities for those who need more help with everyday activities, such as bathing, dressing and eating.
Skilled Nursing and Rehab Facilities
If a senior needs help after hospitalization or a serious health event, these short-term facilities provide that support to help them recover before transitioning back home or to an assisted living facility.
Memory Care Facilities
Senior with memory-related conditions such as Alzheimer's or Dementia need long-term care in a specialized environment.
CCRC (Continuing Care Retirement Communities)
These are multi-level environments that allow those living there to transition to increased levels of care as needed. They typically include a mix of independent housing, an assisted living component, a memory care area and often a skilled nursing/medical rehab facility. Remaining within one community can provide a sense of stability for both the senior resident and the family as seniors can begin by living independently and then transition to other environments in the facility when needed.
To learn more about design trends in senior living housing, check out 7 Trends Shaping the Future of Senior Housing.
All these options are beneficial, what design aspects should be considered to accommodate the residents of each space? Like so many other aspects of life, government organizations factor in. Federal programs such as HUD section 202, Supportive Housing for the Elderly address both affordability and supportive services. The World Health Organization (WHO) also comes into play with its Age-Friendly Environment Program.
Nearly 20 percent of the population is expected to be at least age 60 by 2050. That means senior citizens will make up almost a quarter of the world, making it vital for infrastructure to be in place to help them continue being happy and contributing to society.
There are two measures that help determine the best type of environment for a senior. We have to look at health as well as something called ADL and IADL capabilities.

What Are the Activities of Daily Living (ADL)?
ADL is Activities of Daily Living, meaning basic actions to live such as bathing, dressing, using the bathroom, eating, etc. Even those who can live independently can use some help.


Thoughtful design elements should focus on some basic concepts such as preventing falls, limitations of sight and hearing, eliminating stairs, transitions between flooring surfaces and wheelchair accessibility.
Bold patterns can cause issues with depth perception.
Bathrooms need special attention with items such as higher toilets, grab bars and non-slip surfaces. For example, "comfort height" toilets and cabinetry allow for safer transitions within the bathroom environment.
What Is Instrumental Activities of Daily Living (IADL)?
IADL is Instrumental Activities of Daily Living and includes the cognitive and social abilities that help a person function independently such as using a telephone and following safety procedures.
If these abilities are diminished enough to warrant living in a Memory Care space, the person is usually distracted and relies on established environmental tools to help remind them where things are and what to do. For example, when my mother-in-law was in memory care, she had a "Memory Box" outside her door that was filled with pictures and mementos of her life.
This served as a visual cue for her to identify her own room but also allowed caregivers to talk about her personal life with her. It's also valuable to have a soothing design that inspires relaxation to help alleviate excess stress.
Deliberate use of calming colors and subtle floor patterns can be especially helpful.
Considerations in Developing Senior Living Spaces
Each generation gets a moniker, whether it's a persona created by marketers or economists. We've established that seniors will constitute a significant portion of the global population by 2050 – nearly 22 percent.
By 2030, one in five Americans will be 65 or older, outnumbering those 18 and under for the first time in U.S. history. All these statistics mean it's imperative to plan for this group. A key takeaway is that we need to design all spaces, such as retail and hospitality, that support the process of aging.
In looking at housing, we have to take economics into consideration. How will people pay for a place to live? According to the Center on Budget and Policy Priorities, the average person received about $1,400 per month as retirement benefit from Social Security in 2019, which is about 38 percent of past earnings.
This rate will slip even more as the full retirement age increases to 67. Affordability is a major concern when creating senior living spaces as a majority of people are going to have trouble affording a place to live.
Along with finances, accident prevention is another major concern when developing housing options. Injuries are one of the top 10 causes of death among seniors with more than half of those injuries caused by falls.
Helping prevent accidental injuries is a major consideration when designing these spaces. There are so many factors in play when designing an environment to promote a healthy lifestyle but for now, let's just look at flooring since that's our area of expertise. Here are just a few things to keep in mind:
· Avoid bold, contrasting patterns. They can disrupt depth perception with older eyes.
Be mindful of very dark colors, such as black, that may be perceived as a void or "hole" to the aging eye.
Transitions from one flooring type to another are critical to everyone's safety, but particularly seniors. For example, moving from carpet to hard surface products can be difficult to maneuver with walkers/wheelchairs or for those with uncertain stability. Many flooring manufacturers have thoughtful design solutions to accommodate this need.
· Slip resistance has to be a primary consideration when selecting flooring for all parts of a senior living space. Keep in mind that flooring that provides too much grip may also be a hazard as seniors tend to "shuffle" when walking and can easily trip if a flooring material grabs their footing.
· Consider some level of cushioning or resilience when choosing flooring to potentially reduce the severity of a fall. Manufacturers have new technologies available that can help reduce the injury outcome when a fall occurs.
Related: 7 Trends Shaping the Future of Senior Housing
There are so many other factors as well such as adequate lighting, grippable hardware, accessible shelving, multi-level counters and more. And there are continual innovations for new alternatives.
Feeling "Safe" in a Post-Pandemic World
Covid 19 and future pandemics represent unique considerations for seniors. Will they feel safe living in an environment where disease is likely to spread among a weakened population? Or will they realize that living alone during social and physical isolation is not practical?
The vast majority of deaths due to Covid 19 have occurred in skilled nursing facilities, which are typically where individuals with pre-existing conditions are seeking care.
Will other types of senior housing try to distinguish themselves as separate from skilled nursing? And how will design and product selection be influenced by the need for "cleanliness" and safety? There will be many interesting outcomes as we continue to live and learn in these new conditions.
There are a wealth of considerations that factor into creating environments for happy, healthy senior citizens. Before embarking on a project, start by taking a step back and looking at the basics. Learn who the people are and the factors influencing their lives from challenges with physical conditions to economic considerations to relevant family relationships.
All these considerations affect the design and architecture required to create an environment essential for health, safety and overall wellness. Always keep in mind that while there are certainly specific circumstances, good design spans generations.
Don't Miss: A Guide To Understanding the Fundamentals of Healthcare Flooring
---