If you specify for Healthcare spaces you know there are a lot of things to consider when selecting materials. The floor plays a crucial role in the overall health and safety of a space, especially a senior living facility.
When it comes to designing senior care facilities it's important to create these designs with the residents in mind. Understanding how the space will function and how the flooring can possible aid in healing and enhance daily activities is important.
I sat down with Steve Hadrych, director of Healthcare for Mannington Commercial, to talk about the top opportunities and challenges specific to flooring choices for senior living. We've come up with 10 decisions you need to make to ensure the floor aids in creating a safe environment. He's become an expert in the flooring industry, especially in helping create safe performance healthcare environments.
Let's talk a bit about the healthcare community. I know you have some deep relationships within the industry.
Steve Hadrych:
The relationships I share most are with the end users that we call our clients. I also support our local teams that work with focused design firms.
It's so interesting visiting and interacting with that community where the caring takes place. Early on in my career, I created what's called an audit where you could identify what flooring worked and what flooring did not work within a facility. It allowed for anyone to walk a facility, whether it's healthcare, acute medical office, or even senior care and you could checklist and prioritize the challenges within that space.
I have spent a significant amount of time within senior care environments...and I continue to do this. During one of my interactions, I was present when someone fell. They fell at a transition point from carpet to a slate tile floor. It was a terrible...the resident injured their head. Caregivers came to residents' aid to lend an assist...an ambulance was called. It was an incredible moment, and it just set the tone.
I realized at that moment that we move through life at different stages. And when those stages hit us, are we ready? Are we ambulatory? Are we ambulatory with assistance... do we need a walker or wheelchair?
I think that what makes you and Kathy Griffel, (director of healthcare) so great is that you have empathy. The fact that you saw somebody fall, you instantly want to asses the situation and think of ways to improve so this doesn't happen to someone else.
SH:
It is rewarding when we can bring life lessons to our work and make an improvement. In my family, we are experiencing personal moments...family members admitted to a hospital for critical care and also considering if once independent loved ones would have a better quality of life with focused senior care.
It's a reality and empathy is certainly there, but I can't help but think, can I improve this? Can I improve the process? Our life lessons add so much relevance and priority to a conversation. Kathy and I sometimes get away from product discussion because if the client understands that we're vested in their pursuit of providing the best environment for either their patients or the residents, then they get what we're saying.
Tip #1 Be mindful of transitions where different flooring types meet as this can cause a trip hazard
You started with the idea that we need to be mindful of transitions. When different flooring types meet, they can sometimes cause a trip hazard. All residents are in different stages... whether using walkers or using wheelchairs, can you talk about that?
SH:
Let's start with acute care. Designers often select a palette of products from different manufacturers. What you'll notice is a varying height of product which impacts costs. It can all work out, creating a transition-less floor to help eliminate trip and fall hazards is possible, but it will come at an additional cost. We believe we can achieve the same thing at a better cost.
When you're in an acute care facility and you're recuperating from an operation, there's that moment you take your first steps out of the bed. Using the example of a hip surgery, because they get you up and out of the bed very quickly. They're going to ask you to get out of your room, and walk the corridor. You'll be walking along with an IV rack for stability, and you're going to be tentative in your steps.
Any type of transition can be almost an insurmountable obstacle. Those are the things that we want to eliminate. Care should be care. Rehabilitation should be rehabilitation - without any additional obstacles.
And then as you transition into senior care, these obstacles are incredibly dangerous. They pose a completely different risk. Any type of transition that is on that floor from carpet to resilient can be a stumbling block. And I truly mean where people fall and hurt themselves. Mannington has led the industry to reduce/eliminate these transition challenges.
In post-pandemic; clean, safe environments are number one. Whether it's healthcare, corporate, retail, or hospitality; clean and safe is going to be a major indicator in years to come.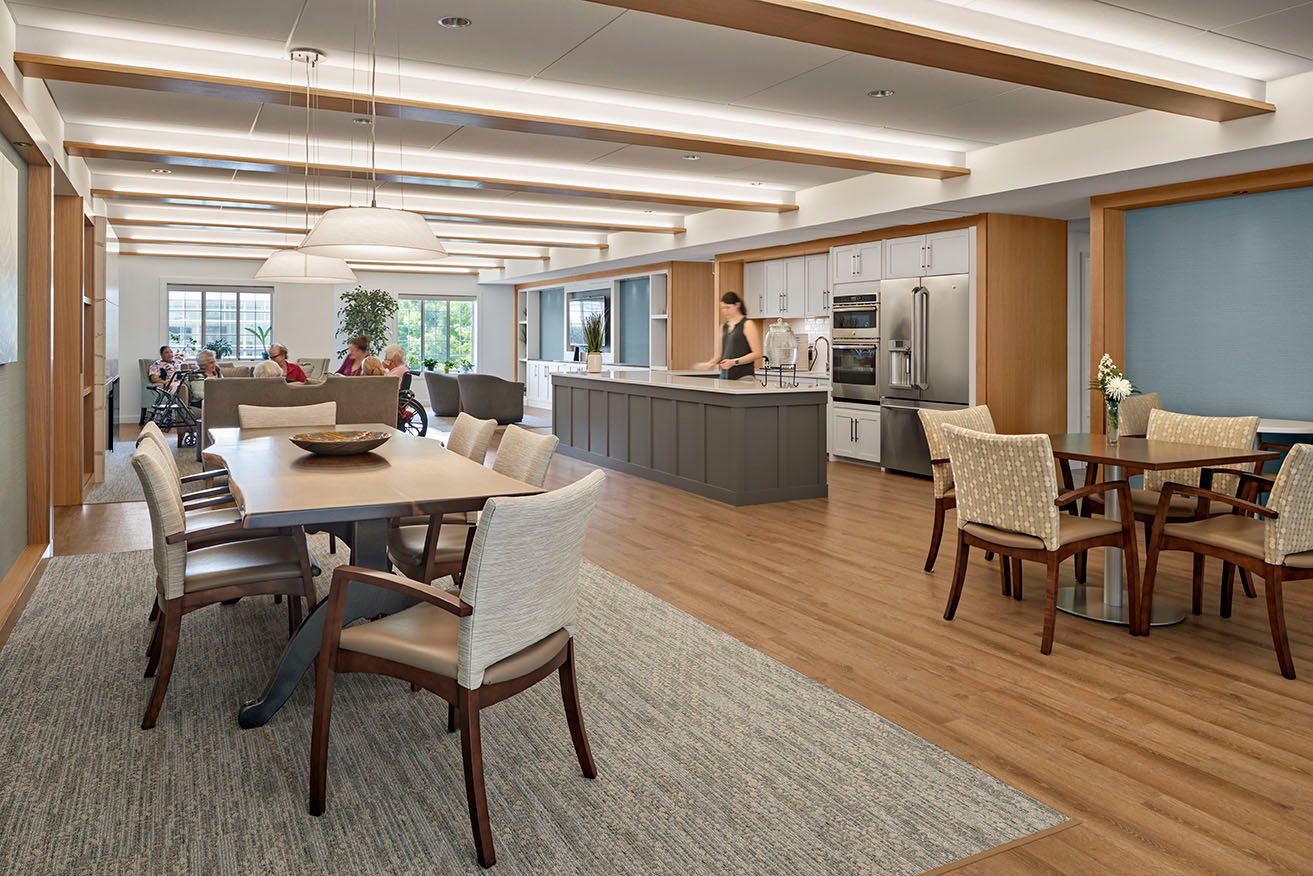 Avery Heights Assisted Living Community- Amtico Signature Wood, Manor Oak & Montage, Stone
Tip #2 Avoid strongly-patterned finishes to eliminate spatial disorientation and keep safety as a priority for residents.
Can you explain the role of pattern scale and what guidelines are in place to prevent falls? I've heard that flooring should have no pattern or a small pattern less than one inch? Is that correct?
SH:
Let's imagine what a resident in a senior care facility may encounter...let's say assisted care. Our resident has a bevy of different types of prescriptions that they have to manage, and each prescription may alter their mind or mechanics. This is no longer just an ambulatory skill set that is impeded.
Everything for these people may be impeded. As you age, your senses degrade. Physicians may introduce a variety of different prescriptions to counteract or delay the degrade. These prescriptions often alter your mind and your motor skills in other ways. It's just not fair, is it?
You can see how a pattern shift in a floor can become that obstacle, can become a ditch or shadow. And it's all brought on by the onset of age, aging eyes, and the introduction of prescriptions. And we often forget about the impact of prescriptions. This is a good item for young designers to consider.
I've been in the really high end senior living facilities like the Willow Valleys of the world, where they are hospitality-focused. And then I've spent time in more moderate facilities where it's a VCT or sheet vinyl flooring with a very simple pattern. Can you follow the guidelines and still maintain the desired aesthetic?
SH:
A good design can interact and play very well within a variety of budgets. Sophisticated hospitality design can be achieved for a responsible cost. I just want to identify with the expectations of the owner and the space being considered. Is it assisted care? Is it independent living? Is it independent living with a shared dining hall with assisted living residents?
Many of the facilities that are being built today, have a wider range of services provided. On the perimeter, they have independent living, but they offer communal dining services.
Some very specific facilities like memory care require good fundamental design - simpler, clean, less contrast and pattern. This can be achieved within a wide array of materials that meet budget demands.
And is there anything different for memory care?
SH:
There are certain design considerations for the memory care environment. Strong linear lines can wreak havoc with residents. Within this environment there is an increased potential for confusion and falling.
Often carpet is a good choice for the public spaces within the memory care space. Carpet improves acoustics within the space...this can reduce confusion and carpet can be more forgiving with falls. We must be aware of body fluids, so a hybrid performance broadloom carpet is a good specification. So it's that balance point. And it kind of plays into the next talking point with color and contrast as well.
Tip #3 Make sure light-reflective values (LRV) between flooring and walls have a difference of at least 30 degrees to allow seniors to safely navigate their environment.
SH:
Contrast allows an inherent wayfinding, imagine if the color values of a floor, wall, door casing and doors were all very similar. For the aging eye, this color similarity could create an environment that would invite accidents. Walking into a wall at the end of a corridor could happen. We want to prevent that and good inherent design that holistically creates a safe environment is what we are after.
Anything we can do to help people navigate without any concern, without any confusion, a clear path can help. Light reflection has a lot to do with that. It can be easily measured. We understand how to deliver that type of scale and that type of pattern. It all plays into that holistic delivery of an environment that's safe. And that environment can be high end or luxurious, but it's just clear and crisp for them. It's kind of refreshing in their eyes.
Our eyes...no matter what age, naturally discerns contrast. Our eyes transmit the difference between contrast. That variance in color has a lot to do with grabbing someone's attention and making them look up along that line. I hope that this addresses your question and if additional information is warranted our footnote on this topic is quite useful.
Tip #4 Specify carpet with moisture proof backing so all types of spills can be safely cleaned without migrating to subfloor or wicking back.
SH:
On so many levels, carpet has a place in senior care. For many, it reminds people of where they came from...their home. That can be very reassuring for residents. Carpet can create a welcoming environment. It provides sound, acoustic value better than any other floor type. It would probably challenge or equate to the best type of acoustic enhancement you can add to a space. So carpet is a very beneficial product / substrate to use in senior care.
The demands placed on interiors for seniors can be extreme. Biofluids, meals, hot and cold beverages and my favorite - Jell-O, are destined for the floor. Carpet tile is a good solution but the best carpet solution is a product like our Integra HP - a high performance broadloom that acts as a barrier. It is a monolithic carpet structure that does not allow these accidents to get through the backing or in between the carpet tile.
The accident stays on the carpet ready to be completely removed. Specifying a carpet with a high-performance broadloom backing that also contains an impermeable moisture barrier is key.
Carpet makes an impact and can easily assist in creating an environment that identifies with hospitality. Beautiful graphics for those special interiors that create moments; dining halls, welcoming lobbies, great rooms or gathering rooms where people can congregate, watch TV, and be social...carpet can enhance the environment.
For the family member that is tasked with selecting the right environment for their loved one, the interior design and maintenance of that facility often elicits a feeling of, "Oh, this is a place where I would feel comfortable having my mom stay."
Carpet has a great role. And if we're going to use it, let's make sure we use a carpet that can interact well. The spills will happen. Body fluids will be a challenge. Let's just make sure that we go back to that rule of safe and clean as a priority.
---
Don't have time to read? No problem.
Download the full list here.

---
Tip #5 Avoid highly reflective flooring to reduce/minimize glare (40-60 LRV)
Can you explain why it's important to avoid reflective flooring?
SH:
When you look at floors within senior care facilities, you'll notice that there are a variety of different light sources. You have rooms with large windows...natural light sources. Morning light and the setting sun often create scenarios that are hard to address in the design stage.
Often doors are open...allowing natural light to spill into hallways. There are corridors with overhead lighting, atriums...well you get the picture. These environments are designed to be inviting spaces but they come with challenges.
With all of these artificial and natural lighting influences, you want a floor that does not harbor reflective properties.
LRV stands for light reflective value?
SH:
Correct, light reflective value. So how does the light play on that floor? And how does that floor reflect light? We want to make sure that we don't have a highly reflective surface because of all the same challenges we spoke about before with the ability to be stable and to balance.
The aging eye can be impacted by a highly reflective floor in many ways. Does it look like an open space? Does it look like water on the floor? And can you determine a liquid in a highly reflective form? Often, you can't.
Does everybody know that you need to have a low light reflective value?
SH:
"Shiny is clean"...still has advocates. I would say most of the advocates are on the facility side...most designers understand the importance of glare reduction. Often the challenge will be where facility maintenance will apply a finish to create the shiny/clean surface without considering the design element. So speaking about it here is important - don't do it...refrain from applying a finish that will increase the gloss level. Holistic - maintain the floor for the residents safety, not dated ideas of what a clean floor should be.
One more point...you know you can measure clean? Facility managers can definitely measure how clean their floors are...eliminating all doubt. ATP Hygiene Meter tests for the presence of Adenosine Triphosphate. ATP is present in every living organism...we can measure clean!
Tip #6 Specify flooring colors with the aging eye in mind.
Seniors typically see 20 percent less color saturation and skew color to the yellow spectrum. So is it best to avoid using black and dark colors because that can look like voids?
SH:
Yes...that is the simple message. Avoid dark color patches within flooring! We've been discussing the aging eye, identifying dark colors within a floor is just one challenge. You often hear of shades of grey. This is shades of the aging eye. And the aging eye challenges design in so many different ways; whether it's color saturation, color definition, or separation of reflective values.
There has been great research to confirm that the aging eye loses the ability to define pale colors - yellows and other pastels appear white. Blue, green & purple can read gray light colors
But it is not only color it is how our eyes perceive shapes as well. For instance, bold stripes may appear to be moving...can you imagine that? Light colored dots on a dark surface can appear as items that need to be cleaned up.

Poetica Collection, Kipling 3 - Debussy
Tip #7 Thoughtful use of color and pattern can be especially helpful to seniors as methods of wayfinding and orientation.
This is similar to tip #6 but you being subtle and doing things that are monochromatic, is what this tip is really about.
SH:
I also spoke about it in Tip #3. Just remember we need to ensure there is a fair amount of contrast within the tones. Let's look outside of the floor...how about the light switch? A light switch that does not blend into the wall is much easier for the resident to find and work. Hand railing - the same, gently highlight the color and the handrail is visible and used more often by the residents.
With flooring colors, we want to make sure that we don't impede the way people traffic through a space. In many ways flooring is a foundation for residents within a senior care facility. Creating different color palettes for corridors will make transitioning these spaces easier for the residents. Here, these subtle differences register and remind them which way to go.
But if you can help so they don't even get to a place of fear or feeling disoriented, that's important.
SH:
We have a family member who has a little bit of a memory issue. When they find themselves struggling to remember, they become anxious and easily startled. I can't imagine a life where you could find yourself confused at any given time...It's a challenge. One way we help our family members is by never asking them, "Don't you remember?" Again reduce or eliminate the anxiety.
Design for senior care is similar to not asking a question that will induce anxiety...it's a holistic approach. What can we do to assist the resident in their journey? Their journey is often varied; they may require a varied level of assistance to get through the day, they may have very advanced memory challenges, they may be recuperating from a hip surgery or undergoing extended rehab.
Mannington has products that eliminate anxiety within spaces. The use of our Integra HP broadloom carpet creates a safe stable or wheel over. It allows for a chemically bonded transition to a resilient floor (Seam + Advantage), all of our products are easy to care for and we even manufacture handrails...like I said, a holistic approach that simplifies the designer's task.
Tip #8: Fluid spills are common in the senior living space, so consider floors that provide safe footing when wet
And then the fluid spills so that there's safe footing when it gets wet.
There are flooring products that contain performance technologies like our Quantum Guard, that you're able to have a spill and still maintain.
SH:
We want to go back to some strengths here. I hate to say it - spills happen, especially around children & seniors. Children are developing their motor skills, experimenting with what they can do and seniors are experiencing a decline in motor skills...it is life's cycle.
Knowing that your floors still offer safe footing when wet is critical. That extra level of coefficient of friction that provides a stable surface to walk on is critical.
For our resilient floors, Quantum Guard Technologies delivers this safe environment. Our Quantum Guard story is important. When we meet with either a designer or an end user, it's always a main talking point.
Our floors are tested both wet and dry. That's something that is a testament to how we approach the coefficient of friction. Does specifying provide a level of safety when you're walking on either dry surface or wet surface?
Tip #9: Because senior residents shuffle their feet and too much slip resistance may cause a trip/fall hazard, consider slip resistance extremes
SH:
There are products on the market that are anti-slip. Holistic design for senior care is cognizant of the fact that you don't want a senior stopping or altering their gate all of a sudden...it doesn't end well. That balance of coefficient of friction, something that is comfortable to walk on that provides that simple non-grab but still a nice safe platform is an important issue.
Maybe in some cafeteria type of dining areas, a designer may want to incorporate a different floor...just be careful. Even considering walk off style carpet, could be a solution as long as the transition is seamless. Finally, we would rather see proper maintenance techniques around those areas than an anti-slip floor.
Tip #10 Consider the use of resilient sheet over plank or tile to allow spaces to flex into a higher level of infection control during times of pandemic.
Our last tip to wrap this up is the use of resilient sheet over plank or tile which allows spaces to flex into a higher level of infection control, especially now.
SH:
I think what we're doing is designing for the future. The COVID-19 pandemic has altered our reality. Can designed spaces offer multiple uses? COVID-19 related deaths have rocked the senior population and unsuspecting senior care facilities.
Whatever can be done to provide an interior that does not harbor dirt and be cleaned easily is desirable. For future senior care facilities, will they offer different levels of care for those that may be infected with a communicable disease? Flooring is not the complete answer...the answer is holistic solutions. More sophisticated air handling systems, easily cleaned fabrics, active germ killing technology... responsible design - it is that simple.
For existing facilities - they may be asking, what could we do with our current space? Example - 10 of the rooms in a 60-bed facility may have to flex into some type of acute care in the time of a pandemic again. Could they do that safely? Good interior design selections will allow that option...we just want people to consider that a space that flexes makes sense.
For those reasons, I see the increased use of resilient sheet flooring as a tip and a trend.
There's a litany of considerations when choosing the right flooring product for a senior facility, but with the expertise and guidance of an qualified, invested specialist who understands both the industry and the healthcare space, the decision can be both clear and grounded in research.
If you'd like more information about the flooring options available for the healthcare sector, request more information from your Mannington Commercial specialist.
---
Get your downloadable PDF version of the tips you can reference later.
---