We are all navigating unforeseen challenges with the SARS-CoV-2 virus that require even more diligent cleaning protocols for your work environment.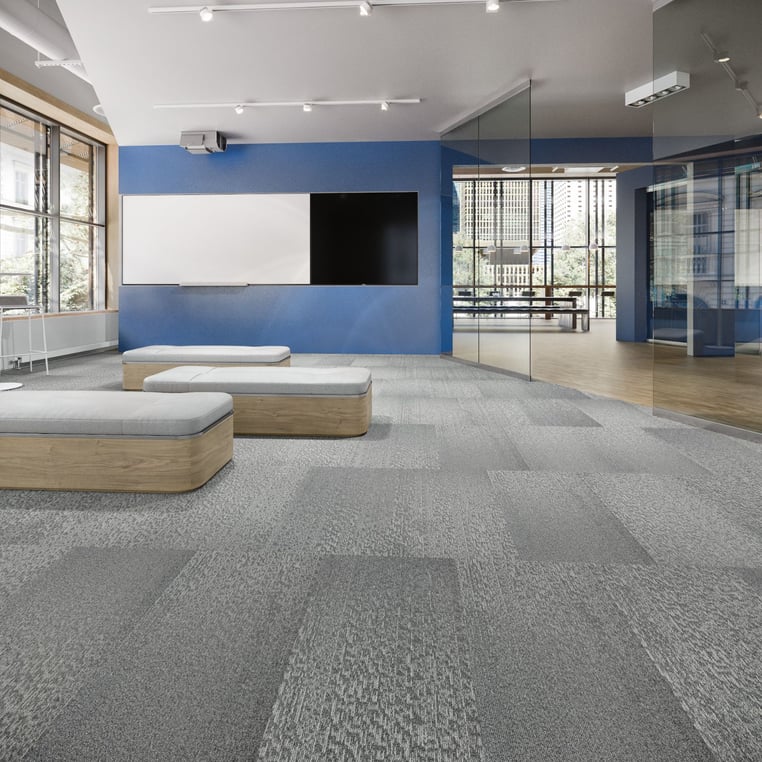 To date, there are no specific studies regarding flooring and transmission of the virus. While we certainly don't know everything about this situation and new information seems to emerge daily, we can do our best with the information we have.
Mannington Commercial doesn't purport to have all the answers – no one really does – but we can provide some guidelines to help you put basic protocols in place and provide some additional resources if you need more information. Choosing carpet for your facility was a carefully executed endeavor based on multiple factors.
Many of those same factors are part of the consideration set when determining the best protocol for keeping your space clean and safe. Regional climate, facility type, staff capabilities, type and age of the carpet, as well as the type of soil outside your facility and the traffic volume inside are all factors to consider when creating your cleaning and sanitizing processes.
Knowing the Terms
Understand that cleaning and sanitizing are different processes. Cleaning involves removing dirt while sanitizing is intended to remove microbes and pathogens. Each requires specific protocols, equipment and products.
Here are some basics terms to know before proceeding:
Cleaning - can remove but not necessarily kill viruses.
Sanitizing - to make sanitary (as by cleaning or sterilizing); to reduce the occurrence of bacteria, viruses, and fungi.
Disinfecting - to free from infection especially by destroying harmful microorganisms.
Please note soft surfaces (including carpet) can be sanitized, not disinfected like many hard surface flooring.
Personal Protective Equipment (PPE) - includes devices worn to protect against hazards in the environment. PPE prevents contact with a hazardous agent or equipment by creating a barrier between the potentially hazardous material and a person, offering substantial protection from risks of injury or illness. Examples are gloves, masks, coveralls and goggles.
Cleaning and Sanitizing Commercial Carpets
Because Mannington floors are in places across a broad spectrum of commercial spaces, including healthcare, we are familiar with most of the major brands of commercial cleaners and sanitizers used on commercial flooring.
While Mannington does not specifically endorse particular commercial cleaners or sanitizers, over time we've found most perform adequately when used specifically in accordance with the manufacturer's directions.
But, it must be noted that due to the sheer quantity of products in the marketplace, many others have not been evaluated. Please rely on the specific recommendations from the manufacturer for each flooring product when creating your process and choosing the products you use.
Mannington turns to expert resources for guidance, and you should as well when selecting the products to use in your facility. The EPA has a list of chemicals that meet their criteria for use against SARS-CoV-2, the virus that causes COVID- 19.
The CRI (Carpet & Rug Institute) has a vetted list of chemicals to use for carpeting under the Seal of Approval program. The CRI recommends following the CDC's cleaning and sanitizing recommendations for households or facilities with suspected or confirmed cases of COVID-19.
Begin by thoroughly examining your space and realistically evaluating the cleaning processes you already have in place. Many of those such as available manpower and equipment will become part of a more intensive protocol.
Always consider safety first when developing a plan.
Make sure to use Personal Protection Equipment (PPE) that is suitable and approved for the task.
Carefully read and follow the instructions provided by the manufacturers when using any chemicals.
Make sure you have proper signage in place. Warning people about potential work areas should be a standard procedure.
Next, the Centers for Disease Control and Prevention (CDC) specifically recommends the following process for cleaning soft (porous) surfaces such as carpeted floors, rugs, and drapes:

Start by removing soil by vacuuming. The vacuum should be equipped with a quality HEPA filter. Always change vacuum bags when they become half full to ensure maximum lift.
Carpet must be cleaned with a product appropriate for the surface before it can be sanitized. Hot water extraction guidelines are detailed in Mannington's Carpet Maintenance Guidelines.
To adequately sanitize, follow the chemical manufacturers' guidelines on the labels for application, dwell times and dilution rates.
The Takeaway
Like everyone else, we've never dealt with handling a pandemic. We're continually monitoring a variety of validated resources to help you determine the best processes for different situations. For your education and reference, here are some of the resources we're using:
Mannington Commercial Maintenance Instructions
Personal Protective Equipment (PPE) for Infection Control
Please remember that we appreciate your business and want the best for everyone. If you have questions, our Technical Services Department (800.241.2262) will do its best to help.