The Challenges of Operating Rooms
As a designer for healthcare environments, choosing materials for any room is a difficult task.
Add to that the demands that have been placed on operating room flooring — harsh cleaning/disinfection processes, OR tables with movable parts falling on the floor, fluids staining the floor, infection control requirements — and there is no space more difficult in the hospital environment than an operating room.
ORs present a unique set of flooring challenges in hospitals. As a primary area of revenue generation for hospitals, having a flooring product that performs consistently well over time is critical.
Choosing flooring for the inside of an OR requires a specific set of design skills, and we're here to help you get started.
As a flooring manufacturer who started it's business manufacturing sheet vinyl, a product primarily used in healthcare, we are often asked what the best flooring is for operating rooms and, while there are several options, we've narrowed it down to the 3 most popular solutions.
We're going to talk about three different types of monolithic flooring:
We'll cover how these three types perform best and go over what the requirements are for an operating room.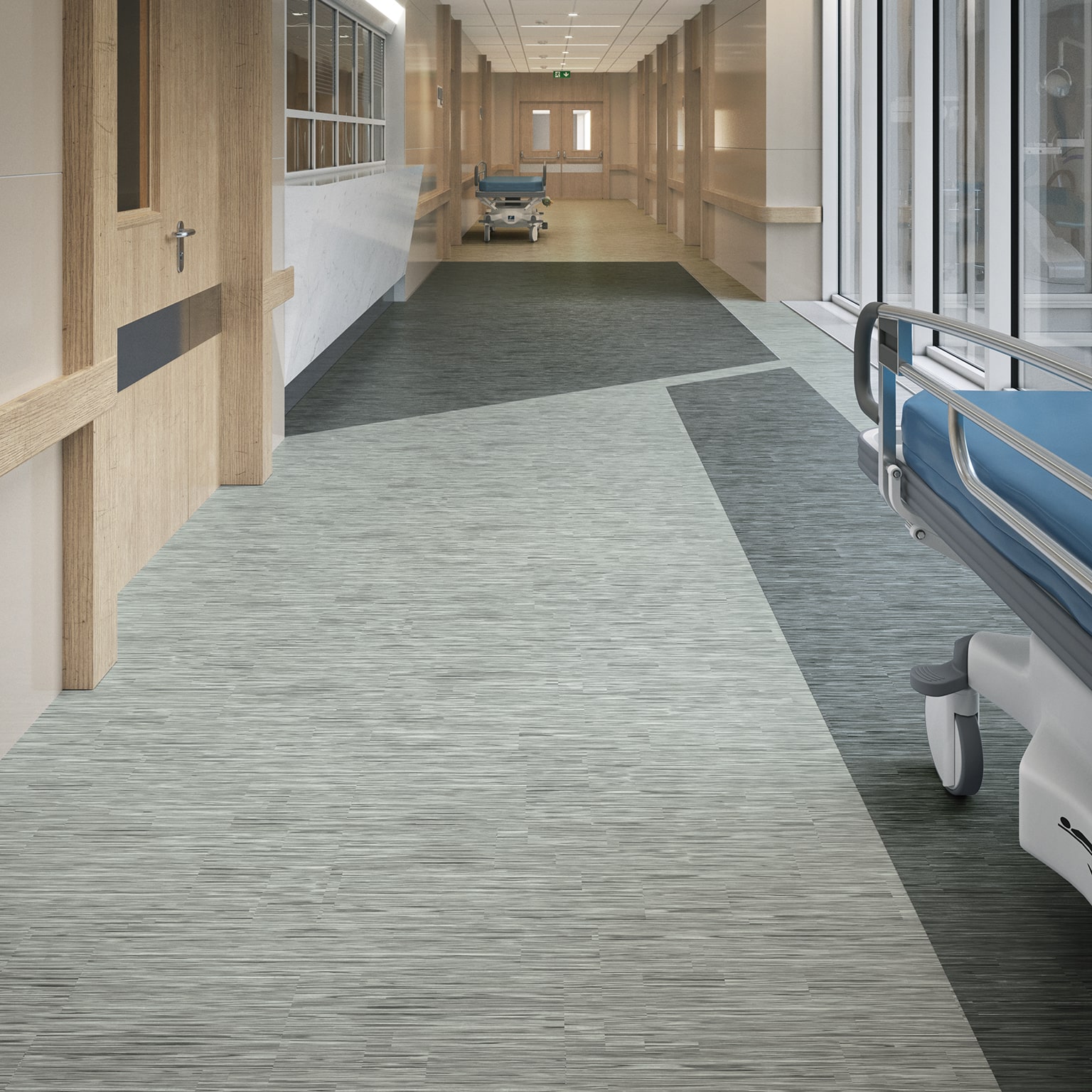 Paradigm II - Flow, Vanguard & Purpose
What Is a Monolithic Floor?
OK, let's get to the technical stuff out of the way first! Since this is a unique place in the hospital, there are unique requirements for the type of floors that can be used.
Flooring for an operating room should be "monolithic" (a less technical way to describe this is "seamless") to best enable a sterile environment to be maintained as any seams in the floor could harbor bacteria.
According to the Facility Guidelines Institute (2018) Guidelines For Design And Construction Of Hospitals, operating rooms "shall have floor and wall base assemblies that are monolithic and have an integral coved wall base that is carried up the wall a minimum of 6 inches (150mm) and is tightly sealed to the wall."
There are two main ways to achieve a monolithic floor: sheet product or poured-in-place product applications. Sheet format products must have heat-welded seams where the sheets are thermally fused via the use of a vinyl or rubber heat weld applied with a heat weld gun. This is how the sheet becomes monolithic or seamless.
Any type of joint in flooring is not allowed as this could be an area to potentially harbor bacteria, which is a huge concern for a healthcare facility. Poured-in-place products are typically applied as a liquid which then hardens without any seams.
Both types of flooring, sheet vinyl and poured floors should extend 6" up the vertical wall either by flash coving sheet material (bending and gluing the sheet so that it continues up the wall elevation) or the use of a sanitary wall base product, thus creating an integral installation at the wall area.
So, now we need to discuss which are the 3 main types of flooring solutions that meet these specific criteria.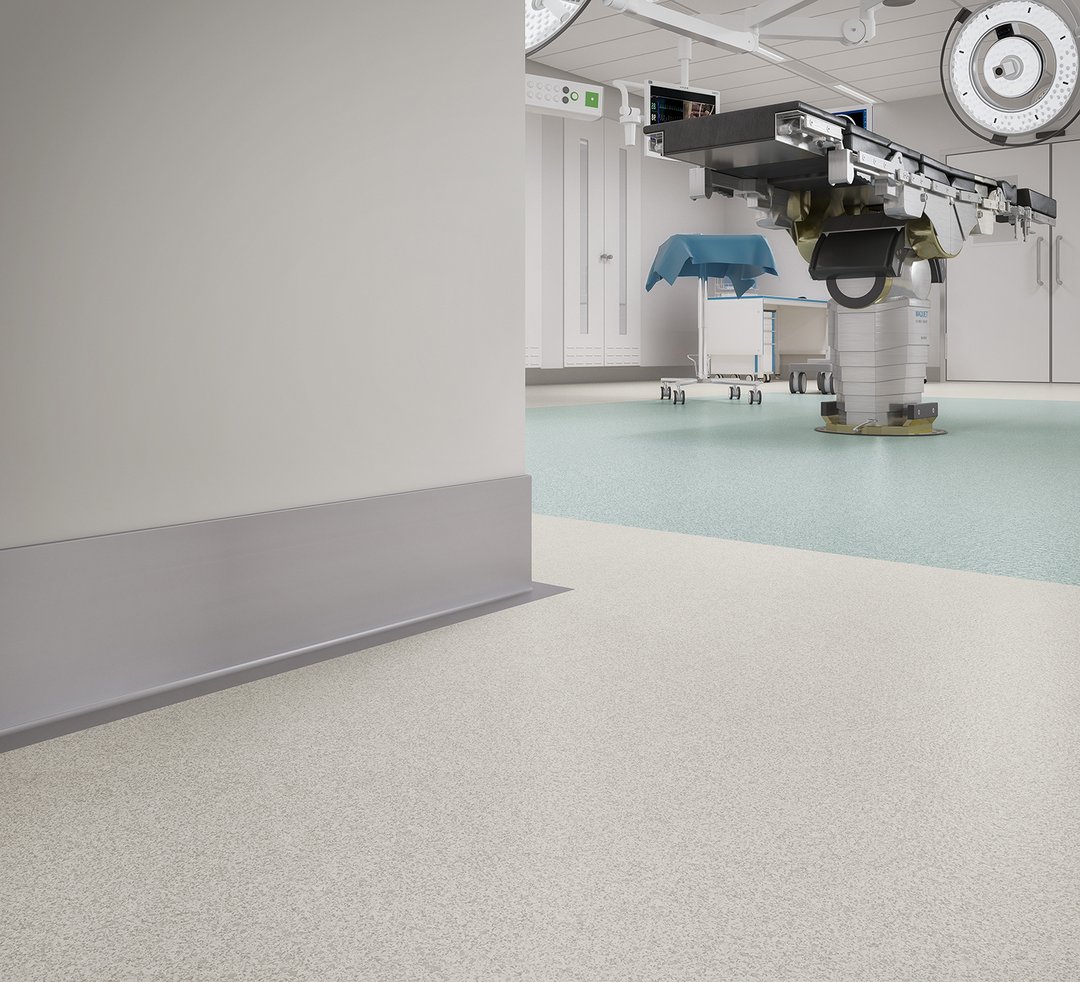 The Three Best Options for Operating Room Floors:
1. Homogeneous Sheet Vinyl
2. Homogeneous Sheet Rubber
3. Poured Flooring
Let's take a look at each of these types of flooring in more detail.
Homogeneous Sheet Flooring
Homogeneous Sheet gets its name from the fact that the product construction is actually one solid, or homogeneous, "layer" of flooring. To use a food analogy (because I love food!), homogeneous sheet flooring would be similar to pound cake in that there are no separate layers — it is the same construction from top to bottom. Just one solid hunk of yumminess (the pound cake, not the floor!).
Homogeneous floors (pound cake) are different than heterogeneous floors which have a layered construction (like an Oreo cookie). If you're looking to raise your resilient flooring IQ, check out What Is Resilient Flooring? to do a deep dive into resilient flooring structures.
One of the ways to visually identify homogeneous sheet flooring is to flip it over…it should look the same on the top as on the bottom. As previously mentioned, it is required that this product be seamless so heat welds are used to fuse the seams together.
It is important that seams are installed properly as seams that pull apart over time can lead to infection control concerns. Additionally, homogeneous sheet should be flash coved, or bent up the wall, to create a fully integral base. By fusing the seams and installing the product 6" up the wall, the operating room is now covered in a continuous floor material-that's how it qualifies as monolithic.
Due to the manufacturing process (which is basically like making a dough and pressing it into progressively thinner sheets), homogeneous sheet products traditionally have a chip, or speckled, visual and come in a wide variety of colors.
The use of stronger adhesives, such as epoxy, pre-applied or spray adhesives are often recommended under the bed area as this provides additional adhesion for heavy rolling loads like hospital beds which can exert tremendous pressure on flooring potentially causing it to pull away from the concrete slab below. It's really important that floors in the OR stay stuck!
Homogeneous Sheet Vinyl vs Homogeneous Rubber Sheet
Homogeneous Sheet Vinyl Flooring
Homogeneous sheet vinyl typically has a topcoat added for extra wear/stain protection (think of this like a glaze on the pound cake). Manufacturers use a variety of topcoats such as urethane, UV-cured urethane, or UV-cured urethane with additives (e.g., aluminum oxide, diamond particles, or ceramic beads) to enhance slip resistance, scuff performance, and stainability.
Sheet Vinyl typically comes in 6'6" (2 Meter) wide sheets and the approximate installed cost is $5-7/sf.
Homogeneous Rubber Sheet Flooring
Rubber sheet has the same "pound cake" construction as sheet vinyl, except the raw ingredients change. Instead of a wear layer (glaze on the pound cake) rubber sheet typically has a top coating or self-migrating wax which can be buffed to a desired level of sheen. Rubber sheet comes in 4' widths so will require 50% more heat-welded seams than sheet vinyl, which can lead to additional installed cost and possible added infection control concerns if seams are not properly installed.
If the project has sustainability oriented objectives, rubber sheet may contribute to sustainable credits such as LEED. Rubber floors can also provide extra comfort underfoot, which may be important to hospital staff standing for long periods of time.
The approximate installed cost is $9-12/sf for 3mm thickness which is preferred in this application.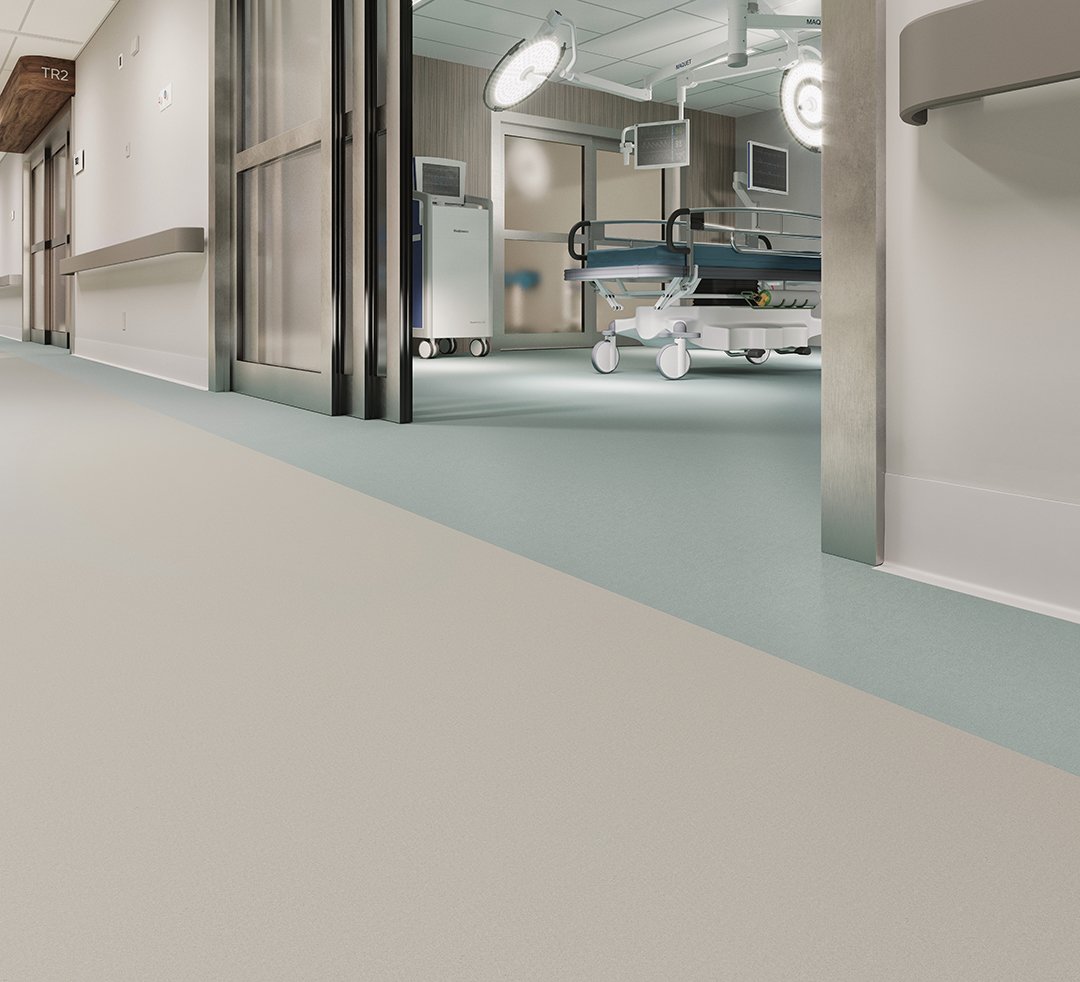 Poured Flooring
Poured floors are a bit different in that they are poured-in-place site applied floors as opposed to homogeneous sheet products that are pre-made in a manufacturing facility and later installed on site. Think of it like a big vat of caramel that is poured on the floor and then hardens.
The most common types of poured floors are epoxy or liquid linoleum, both having lots of color options. Since these floors are applied on the job site, some of the biggest advantages are that they are truly seamless and can conform to irregular-sized rooms or uneven flooring surfaces with ease.
Topcoats of urethane are often added for increased stain performance.
Comfort underfoot and acoustic performance can also be enhanced with poured flooring. One of the limitations is that if the subfloor expands or contracts, some poured flooring (i.e. epoxy) can crack, which would result in areas for bacteria to grow- a big no-no in operating rooms.
The cost of poured flooring ranges from $10-20+/sf installed.
Related: The Pros and Cons of A Liquid Linoleum Floor
Operating Room Flooring Applications
Picking the right type of flooring for your OR project can be confusing, so it's important to investigate which monolithic flooring is right for the area you're designing. No matter which type of floor is ultimately chosen, whether it be homogeneous sheet vinyl, homogeneous rubber sheet, or poured flooring, it is important to check with the manufacturer to inquire as to any special recommendations for operating room applications.
Keep in mind an experienced product representative can assist in guiding you through the various product and installation options to ensure a successful long-term installation.
You Might Like: A Guide To Understanding the Fundamentals of Healthcare Flooring
---
Do you specify for healthcare spaces? We have a helpful guide for you!
The Guide to Understanding the Fundamentals of Healthcare Flooring.
Click below for your free copy.👇