With the current attention in the world on COVID-19 and the possibility of similar future events, designers are being challenged to identify the best commercial flooring in healthcare environments.
Resilient sheet and LVT are both go-to options, and many designers are wondering if resilient sheet flooring is a better option than products such as Luxury Vinyl Tile (LVT) in healthcare. If you're asking yourself that question, you certainly aren't alone.
There are many factors to consider when choosing a flooring material in a healing environment. Among the top attributes for selection are product application, visual/aesthetics, performance, maintenance and total cost. Considering recent events, perhaps one of the most important attributes moving forward will be a product's ability to promote infection control. Infection control is on everyone's minds these days, but infection control isn't new to the healthcare scene.
At Mannington, we've been making flooring for healthcare for over half a century and have seen how infection control — and infection control requirements — have changed over the years.
We are going to discuss two popular flooring products:
Let's look at each products ability to contribute to a clean, safe healing environment as well as address product selection impacts on the design of flex/surge space to meet healthcare demands.

How Carpet Lo
st Its Place In Patient Areas
Twenty years ago, the carpet industry made a persuasive case for carpet use in hospital corridors and, as a result, many resilient products were transitioned to carpet. Every three to five years after that, the healthcare and design influencers would reconsider the challenges of cleanability and mobility of patient beds in carpeted corridors and opt for resilient flooring options.
This circle of influence continued up until the mutated MERS virus outbreak in 2012. Due to the continued focus on infection control, carpet lost its place as a flooring choice in patient areas within healthcare.
Today, we see that sheet vinyl and LVT both have beneficial attributes in healthcare settings, so which one is best for infection control purposes?
Resilient Sheet Vinyl Flooring in Hospitals
While resilient sheet products are used in many segments such as education and senior living, the most common market segment for these products is healthcare, specifically acute care spaces such as hospitals.
Resilient sheet comes in several forms, the two most popular being sheet vinyl and rubber sheet. Both products can be heat-welded (thermally fusing seams together) and flash-coved (installing the product 6" up the wall) to create a more sterile environment.
According to the US Floor Report, 2020, sheet vinyl is more widely specified so it will be the focus of our discussion today.
Some of the benefits of sheet vinyl include:
Availability in a variety of visuals
Manufactured in multiple widths to help eliminate/minimize seams
Meets monolithic criteria for infection control spaces
Cost-effective sheet flooring solution
Legacy of performance in rigorous healthcare settings
You Might Like: A Guide To Understanding the Fundamentals of Healthcare Flooring
Luxury Vinyl Tile Flooring in Healthcare
Luxury Vinyl Tile is also widely used in healthcare and has the largest offering of size formats, visuals and shapes.
LVT is a resilient product traditionally made up of backing layers, a print layer, and wear layer(s). It is then cut into various size formats, the most common being plank (sometimes called LVP) or tile.
For commercial applications, the wear layer is typically at least 20 mils or greater of vinyl with a protective coating such as UV-cured urethane with a hard particulate to enhance stain and wear performance.
Some benefits of Luxury Vinyl Tile include:
Limitless array of visuals
Wide variety of size from tile to plank to unusual shapes
Modular format for ease of replacement
Variety of wear layer performance options
Cost-effective solution for a wide variety of spaces
Related: The Specifiers Ultimate Guide to Luxury Vinyl Tile (LVT)
Related: What is Resilient Flooring?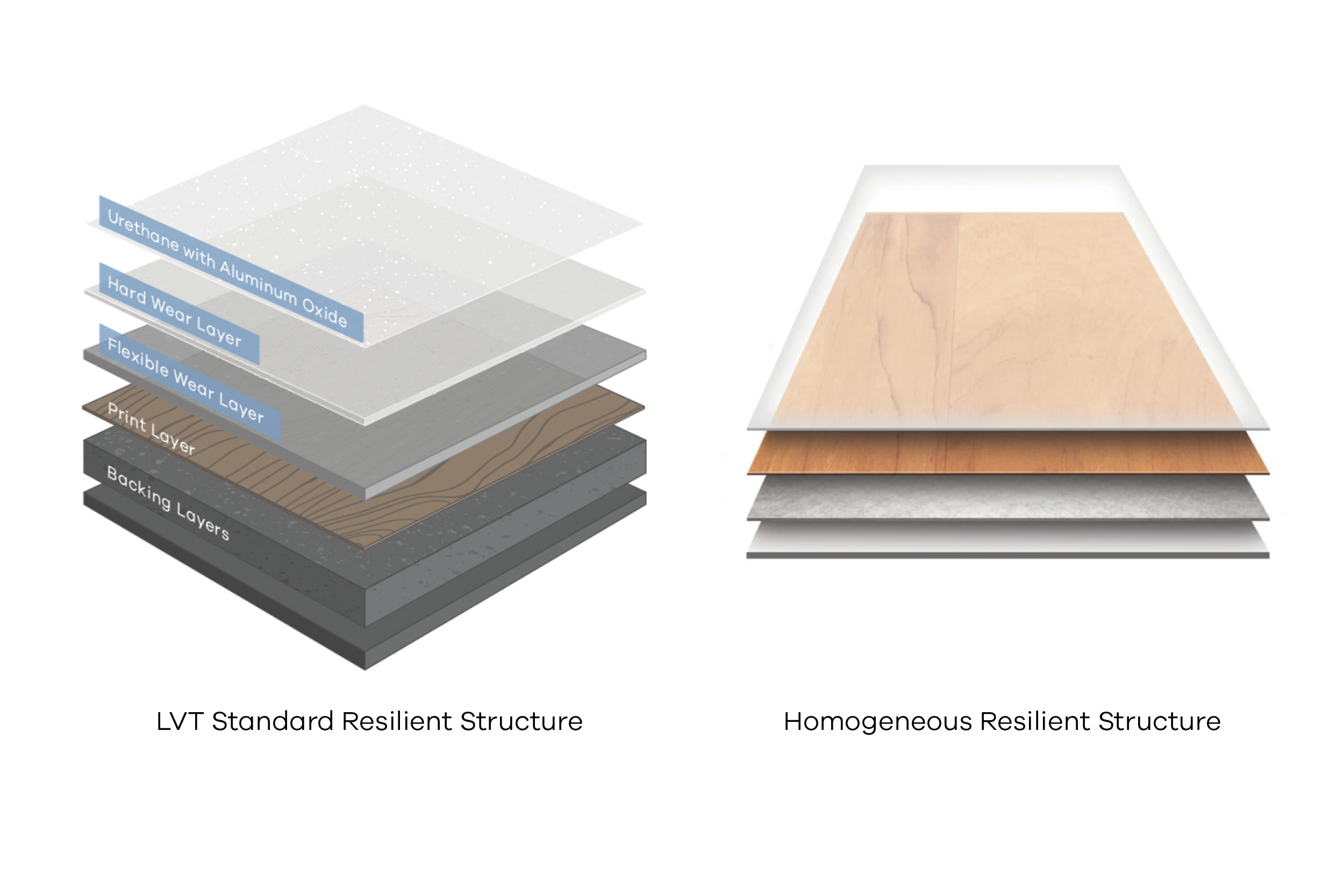 Infection Control Guidelines for Healthcare Flooring
Increased scrutiny around infection control, especially with infectious respiratory diseases, such as MERS, SARS and COVID19, in the healing environment has become more critical. The Center for Disease Control (CDC) has determined that infectious diseases such as COVID19 can be transferred via foot traffic.
This happens when a person sneezes or coughs and the airborne pathogens are spread to a variety of surfaces, including the floor. These pathogens can then be tracked through the healthcare setting. This added plane of infection could contribute to staff and caregivers becoming contaminated or further spreading the disease.
Furthermore, certain spaces are designated by Facility Guidelines Institute (2018) Guidelines For Design And Construction Of Hospitals as requiring a monolithic / seamless floor. Those guidelines require:
(a) The room types listed in this section shall have floor and wall base assemblies that are monolithic and have an integral coved wall base that is carried up the wall a minimum of 6 inches (150 mm) and is tightly sealed to the wall.
(i) Operating room
(ii) Class 2 and Class 3 imaging rooms
(iii) Cesarean delivery room
(iv) Procedure rooms where cystoscopy, urology, and endoscopy procedures are performed
(v) Endoscope processing room
(vi) N and chemotherapy preparation room
(vii) Airborne infection isolation (All) room
(viii) Protective environment (PE) room
(ix) Anteroom to All and PE rooms, where provided
(x) Sterile processing facility
*(b) Equipment shall be permitted to penetrate these monolithic floors provided joints are sealed and do not represent a tripping hazard.
The truth is, LVT doesn't meet the seamless / monolithic requirements of the Facility Guidelines Institute and sheet vinyl does meet those requirements.
What About Healthcare Spaces That Are Not Required To Have A Monolithic Floor?
Given recent circumstances, should we look for infection control in areas beyond what are mandated?
Because Luxury Vinyl Tile is manufactured into tiles or planks, one of the characteristics of an LVT installation is the number of added seams it introduces into the healing space. The reality is that these seams exist regardless of the edge profile - square or beveled.
What is left behind is a non-seamless floor. In a sheet vinyl installation, the joints are heat-welded (thermally fused) or chemically welded together to create a monolithic/seamless floor.
Below represents an installation of 4"x 48" LVT plank in a typical size 12' x 20' patient room:
This configuration results in 766 LF of micro-beveled seams when using LVT
When using a 6'6" wide commercial sheet, 20 LF of heat welded seams are required
When using a 12' wide commercial sheet, seams are eliminated altogether!
Related: How To Use The FGI Guidelines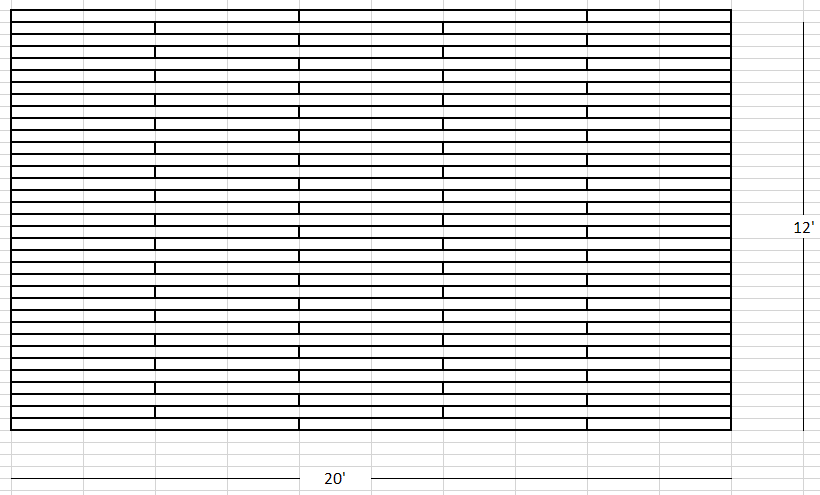 Additional Applications For Sheet Vinyl Flooring
Now let's look at flex/surge space and the need for mindful product selection in these areas. Looking into the future of interior design and flooring specifications, it would seem rational to consider sheet vinyl in healthcare areas beyond what are required by FGI Guidelines, such as patient rooms and corridors.
With the national reaction to COVID19, it is compelling to see how important it was to have adequate space designated for the various care levels. Within the epicenters of the pandemic, hospitals' standard patient rooms needed to quickly be converted to critical care rooms.
The addition of sheet vinyl in patient rooms and corridors aids in the ability of a space to flex into a variety of care levels. At the highest levels of care, monolithic floors provide the infection control that clients demand.
It is critical for spaces to have the ability to surge up and down very quickly. Mindful design for healing environments should include seamless floors that allow for ultimate flexibility in patient care.
The healing space is constantly evolving, and we must prepare for challenges that were not anticipated. By selecting flooring products that provide superior infection control protection and ultimate design/space flexibility, healthcare designers will deliver a superior patient experience.
You Might Like: A Guide To Understanding the Fundamentals of Healthcare Flooring
---
Do you specify for healthcare spaces? We have a helpful guide for you!
The Guide to Understanding the Fundamentals of Healthcare Flooring.
Click below for your free copy.👇
This article was written by Steve Hadrych and Kathy Griffel, Directors of Healthcare at Mannington Commercial.