Rubber is an excellent choice for many flooring applications. It's a natural product that provides exceptional durability, comfort under foot, and slip resistance. Installing rubber flooring is a big investment, but when taken care of properly, it will last a long time.
Understanding how to clean and maintain your rubber flooring may seem like a small task, but it's a very important one. If you spend time on the frontend learning about the unique properties of rubber and making custom care procedures, you will avoid damaging the rubber, and you will make the whole process easier as well as cost effective in the long run.
As the Manager of Commercial Maintenance for Mannington Commercial, I've spent a lot of time helping clients achieve expectations to maximize the longevity of the product within the facility. In this article, I'll share some of our tips with you to maintain your rubber floors.

ColorSpec Abyss, ColorScape Ash & Geranium
Creating a Cleaning Protocol
Before rubber flooring is installed, we recommend thinking through and creating a custom care and maintenance plan. There are several factors to consider: the type of rubber, the amount of traffic, the season/weather, and the maintenance budget. The protocol should change according to these factors, and even change season to season.
For example, wintertime is usually the worst in terms of soil level. Folks in the Northeast get snow and ice in winter, as well as the aggregate used to break down the ice (sand, rock salt, etc.). This not only compounds the soil level, but it can break down the rubber if care is not taken. Cleaning procedures should be adjusted to account for changing variables.
We provide our clients with detailed maintenance guidelines for various situations to help them create a cleaning protocol. The guidelines provide tips for purchasing the correct cleaning solutions and accessories, conducting initial cleanings, creating ongoing maintenance protocols, and navigating stains or damage to the floor.
If there are any questions, clients can contact a local Mannington Commercial representative to aid in this process. We often schedule team meetings for clients where experts like myself are included and can advise in creating custom procedures for every environment and season. We find that customers who are proactive and take this step seriously do a much better job maintaining their new floor and avoid damaging it by using abrasive cleaning pads or strong cleansers.
Related: How To Maintain Commercial Flooring In Winter Weather
While cleaning plans vary and involve multiple factors, here is an example of basic steps for ongoing maintenance:
Dust mop with a microfiber to remove dirt and soil.

Clean the flooring with an auto scrubber and a microfiber pad

Follow the manufactures' recommended dilution ratio of a pH neutral floor cleaner. Less chemical is better.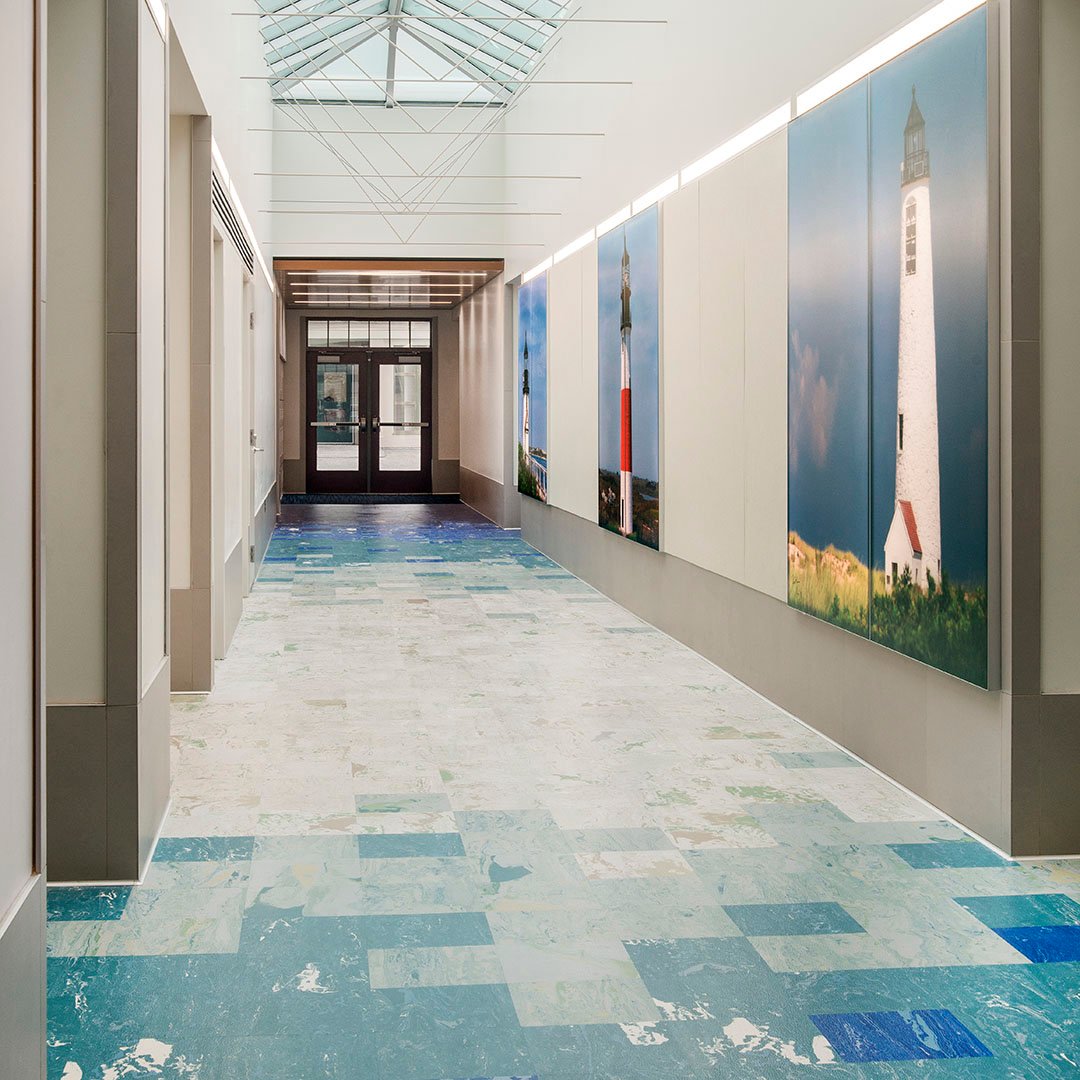 Custom Rubber Tile ©Megan Booth, Architectural Photographer
Things To Consider
1. Entryway
One of the first things to think about when installing rubber flooring is soil and debris that will be tracked inside the facility creating an unsightly looking floor. We recommend custom made entry way systems that reduce the amount of soil and debris tracked onto the floor. The best option is Mannington Commercial's custom entry way system, which is made of fiber that scrapes off debris from shoes, wheels, or other surfaces.
Each system depends on the type and amount of soil anticipated along with the type and amount of traffic. For example, if the client is in the Midwest where there is typically less soil and debris tracked indoors, we recommend an entry way system that is 20-25 feet long. On the other hand, if the customer is in Southern Florida, where salt and sand are common, we create an entry way that is more like 30 or 40 feet long.
Some customers choose to buy or rent their own entry way mats or "walk-off mats," but these can be problematic for several reasons. There is the potential for tripping, the mats may move from their intended position, the traffic pattern is not walking on the mats, and they may cause discoloration on the floor beneath them.
Over the years, I have seen beautiful floors permanently damaged because of entry way mats. The fibers typically have a lighter basis weight making them less effective in removing debris, so the debris is carried onto the flooring and further into the facility making the floor more difficult to maintain. If our customers choose to use their own mats, we advise them to be very careful and avoid economy mats with questionable backing.
2. Rubber Has its Own Natural Wax
One of rubber's many benefits is its self migrating wax. It slowly and continuously goes to the surface of the rubber over time. This means you don't have to add wax to rubber floors rather with proper care, maintain the look of the floor throughout its service in your facility.
We have seen the use of microfiber pads on an auto scrubber keep the rubber, whether smooth, textured or raised profile, clean as well as maintain the migrating wax. The use of some cleaners may break down the natural wax. For example, if your facility uses grease or oil, and you must use a degreaser to clean, the degreaser may break down and compromise the rubber's natural wax. Procedures put in place to maintain the floor as well as keep the desired appearance can established. It's important to choose your cleaning agent wisely and ask for guidance.
3. Cleaning Agents
First, let's address disinfectants. Disinfectants are commonly used on rubber floors, especially in recent years due to COVID-19. Disinfectants are made to leave a residue on the floor so that bacteria and microorganisms continue to die when they come in contact with the substance. These residues, while useful in keeping people healthy, can leave a haze on the floor and compromise its look and feel over time. It is important to routinely clean off disinfectant residue. This can be done with water alone or with a neutral cleaner.
You don't need strong chemistry to keep the rubber clean. We recommend periodic cleaning with a neutral cleaner. A pH of around 7 or 8 diluted with warm water is preferred, or just warm water by itself. In some cases, it is more about simply wetting the surface to reactivate any residue on the floor and suspend soil in the water so that it can be easily removed.
Related: Cleaning and Disinfecting Hard Surface Floors In The Age of COVID-19: What You Need to Know
4. Cleaning Pads
Cleaning pads are used on auto scrubbers, mops, and other cleaning tools. They come into direct contact with the floor. The type of cleaning pad we recommend depends on the type of rubber flooring and degree of cleaning needed. There are alternative pads that are occasionally recommended for corrective or deep cleaning. But in general, microfiber pads work best. A flat traditional pad may work well on a smooth surface but does not work well on embossed or textured rubber or flooring with prominent seams and transitions.
Microfiber cleaning pads work much better in these situations, and we have seen them used as part of a holistic solution to maintain all types of flooring within a facility. The fibers clean smooth surfaces with ease as well as textured and raised profile tops on the floor while reaching into the valleys of the embossing or seams. Different types of microfiber cleaning pads are recommended for different types of cleaning, more details on that here.
5. Feltpads and Chair Glides
Lastly, we recommend felt pads to cover any surface that meets the rubber flooring. Using felt pads on the feet of tables and chairs avoids unsightly marking or tears that can occur when furniture is moved on the rubber. These are always a part of successful care and maintenance programs. Be sure to order and apply these felt pads before your rubber floor is installed.
The Bottom Line
In summary, rubber is a high-quality product, it's an investment to purchase and install and with proper care, it can service your facility for a long time. Take the time, prior to purchasing, to evaluate the area, consider the proper entryway system for soil removal and have in place a holistic plan for maintaining the rubber as well as surrounding areas that will achieve expectations.
Customers fare much better when they take the time to review our maintenance guidelines and get our help in creating the right cleaning procedures and protocols. If you are planning to install rubber flooring, or if you already have it installed, be proactive in reaching out. We are here to help!
You Might Like: How to Clean and Maintain Commercial Hard-Surface Flooring
---
A Guide to Rubber Stairways and Wall Base
In this guide you'll learn about the 3 main types of rubber and where to use them. You'll also learn how to design stairways to be in compliance with IBC regulations. Then we'll look at how to specify rubber wall base to finish out your space with style and performance.