Need some help choosing flooring for an education space?
Look no further. If you've been tasked with choosing material for a university, K-12 school, or any kind of learning environment, it's a daunting task.
While there are many different surfaces and materials to choose, flooring is a big surface that expands into each individual room and common area, it leads you in and out of the building, and transitions you to and from each space.
In the 100 years Mannington Commercial has been making flooring, we've worked side by side with designers, contractors and educators to help implement the right flooring solutions and the products we've created are performing in hundreds of schools around the country.
In this article we'll look at the main education environments, and discuss the best options and products to fit each space.
Best Flooring Options for Education Spaces: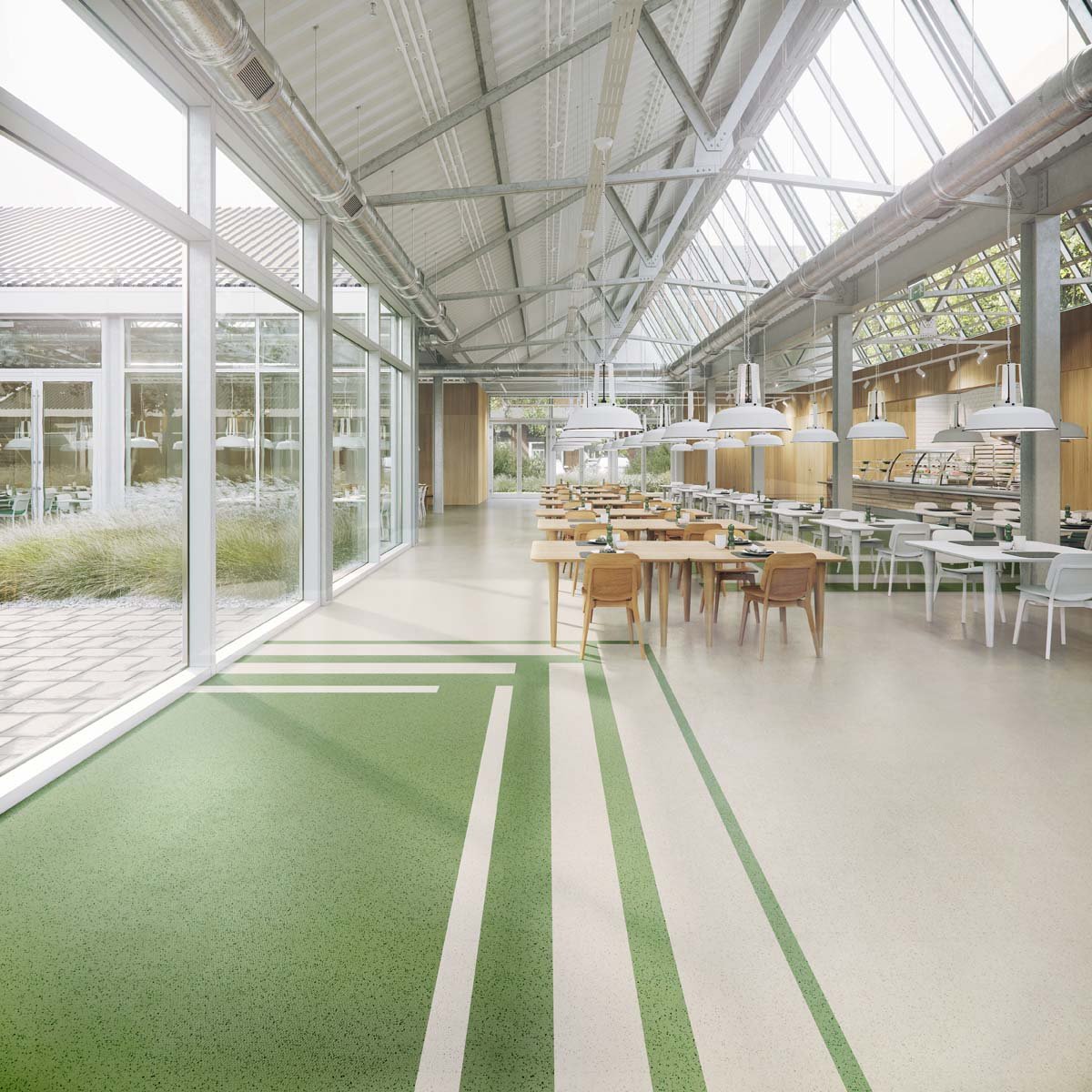 Top choice for cafeterias: Rubber Sheet or Rubber Tile Flooring
There's a lot to take into consideration in a cafeteria, but there are 2 things that matter most: noise and slip-resistance.
Rubber is a soft surface that is self-healing in nature and sound absorbent. Rubber absorbs noise and has the best slip coefficient, for a wet and dry floor over many other hard surface flooring types.
What is slip coefficient? It is the coefficient of friction of a material and the relation of the forces between the material surfaces, basically, it's the measure of a surface's ability to resist slipping. A fall can cost a school district big time.
According to a fact sheet from the National Floor Safety Institute (NFSI), slip and fall injuries result in about one million emergency room visits every year, and they account for close to 12 percent of all fall-related injuries. Slip-resistance must be taken into consideration in this high-traffic area.
ColorScape and ColorSpec tile, for example, are made with superior thermoset rubber so they retain their color, resist indentations and cracking, and are quiet underfoot.
Related: Best Commercial Rubber Flooring Options
Second place for cafeterias: Luxury Vinyl Tile
Unlike rubber, Luxury Vinyl Tile or LVT has more potential for scratching over time with heavy, regularly moving furniture like cafeteria tables and it has less sound abatement properties for a large and potentially crowded space full of excited students.
While you will get a much broader range of design aesthetics to choose from with LVT, make sure you opt for a commercial wear layer, 20mil or higher is standard.
If you're concerned about sound, but still want the visuals of LVT, it's recommended that you explore specialized underlayment that can mitigate that concern.
Mannington recommends:
ColorScape and ColorSpec for superior rubber options.
Silent Solution for LVT underlayment.
Top choice for hallways: Rubber
Slip resistance, slip resistance, slip resistance. That's the driving issue when it comes to school hallways.
Rubber is easy to clean and maintain but most importantly you can't risk a student, parent, or staff member slipping and falling in your hallway.
Mannington rubber flooring has self migrating waxes that come to the surface when the floor is cleaned and/or buffed over the life of the product, so there is never a need to wax the floor, thus a lower maintenance cost.
Second place for hallways: LVT
Luxury Vinyl Tile is a wonderful alternative that we would recommend if a rubber floor is out of your budget. LVT is a much more cost effective option over Rubber. We recommend you spend on rubber in the cafeteria if the budget is restricting. The embossing on most LVT is granular in nature, allowing it to have a good slip coefficient next to rubber.
Mannington recommends:
Quantum Guard Elite technology for LVT urethane finish.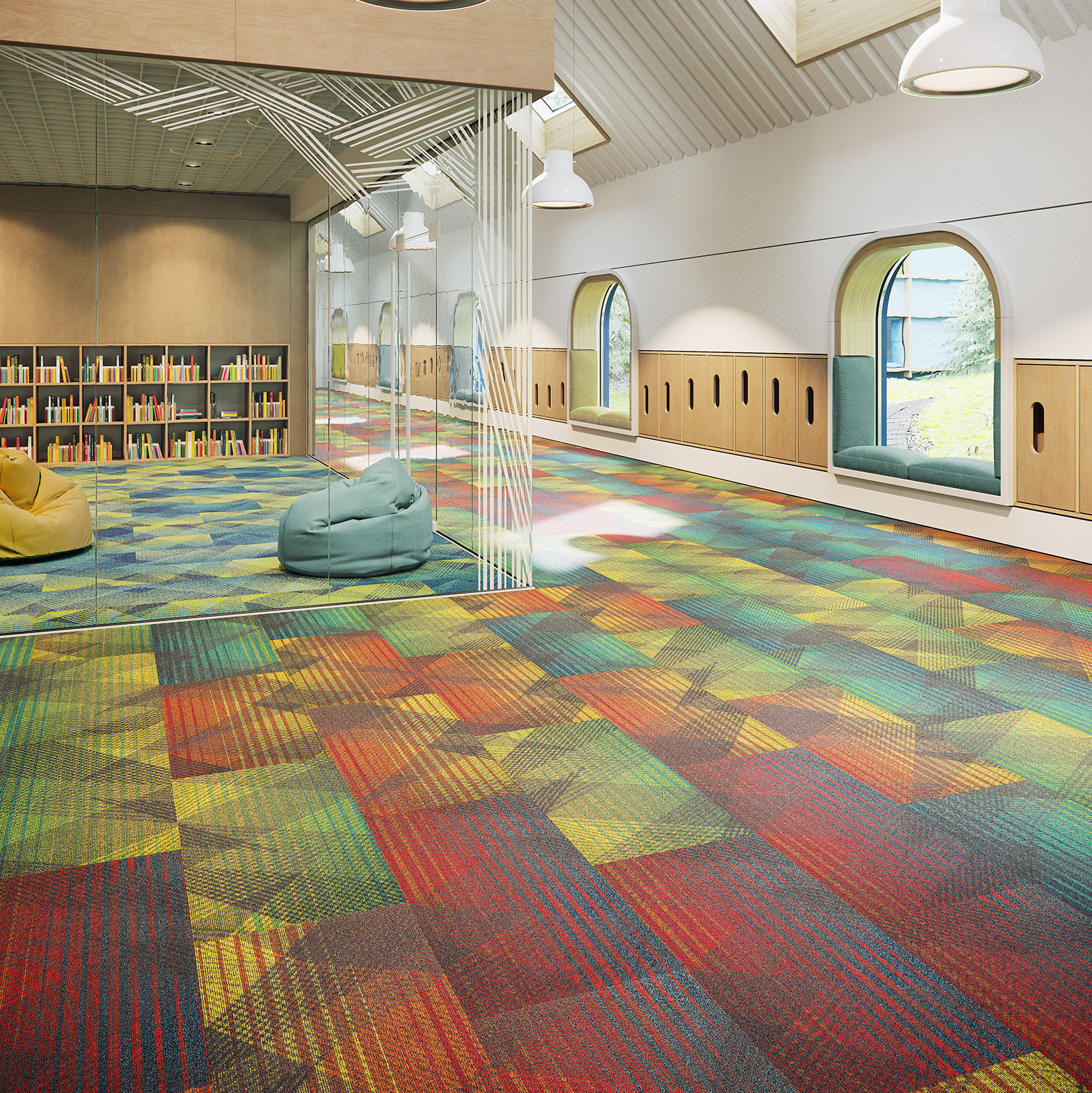 Top choice for classrooms (tie): Broadloom Carpet
Why carpet? Carpet is quieter than a hard surface product, it's softer under foot, and it's better at trapping dust and allergens than a hard surface product. When shopping for commercial carpet, modular or broadloom, you need to first decide between modular tiles or a broadloom roll goods. Broadloom comes in a large roll - usually 12 ft wide.
The installer will align the large pieces together and cut them to fit the room and glue the carpet to the floor with a permanent adhesive. Broadloom provides wall to wall carpeting with very few seams, which also leads to excess waste that you don't get in modular installations.
However, broadloom may be less expensive than modular on the initial install. Mannington recommends a moisture barrier broadloom backing for educational institutions.
The advantage of a moisture barrier broadloom installation is the ability to chemically weld the carpet seams together resulting in a wall to wall moisture barrier - which provides the ultimate protection from stains and in some cases eliminates "wick back" staining.
Modular carpet is generally easier to install and allows for repair/replacement of individual tiles. Although typically marketed that individual tiles can be seamlessly replaced, it is our opinion that usually new tiles laid around older tiles do look different for a while after being replaced.
Modular tiles or planks are laid one at a time directly onto the substrate according to the manufacturers suggested installation formats. One of the drawbacks to modular tile is that the tiles create more seams - which is important if the carpet is going to be exposed to spills.
Regardless of whether you choose modular carpet or broadloom carpet there are a few things to look at when talking about carpet performance.
1. Impermeable moisture barrier broadloom - eliminating wick back stains.
Many schools are concerned about spills. If spills are of concern, we highly recommend using an impermeable moisture barrier broadloom.
By chemically welding the broadloom seams together during installation, a moisture barrier broadloom allows for wall to wall protection from spills leaking through the carpet to the subfloor. Additionally, some moisture barrier broadloom backings will not allow a stain to even penetrate the backing layer, thereby preventing recurring stains (known as wick back staining).
2. Soiling and Texture Retention
The primary factors that determine the life-span of a commercial carpet are 1. Soiling (carpet gets dirty and cannot be cleaned), 2. Texture Retention (i.e. not crush) and 3. Staining (can't get stain out of the carpet).
Commercial carpets are traditionally made from either nylon 6 or 6,6. The performance characteristics between nylon 6 and 6,6 are hotly debated - we believe that nylon 6,6 polymer results in a fiber that is harder to crush and more resilient (resulting in better texture retention over long periods of time).
Commercial carpet fibers are typically either tri-lobal in shape or have a square shape with empty channels running continuously throughout the fiber - this shape is exclusive to Antron and typically call 4-hole hollow filament.
The primary advantage of Antron 4-hole hollow filament is the structural strength of the fiber (measure by the distance between the inner and outer core - typically referred to as modification ratio) which prevents the filament from "folding over" onto itself - which is typical for a tri-lobal fiber.
To determine how well the carpet you are considering will retain its texture, we recommend you ask your representative for its TARR (Texture Appearance Retention Rating).
TARR rating is determined by subjecting carpet to simulated foot traffic then assessing how the texture has changed - a TARR rating of 3.5 means the texture changed very little and the carpet can be used for severe traffic areas. Mannington recommends a 3.5 TARR for all areas in an education facility.
Another critical advantage of the 4-hole hollow filament is its unparalleled ability to resist soiling, the square shape of the fiber provides no seams for dirt to settle in - as compared to a tri-lobal where the "legs" provide areas for dirt to settle and get trapped into.
We believe carpets made with Antron 4-hole hollow filament will release soil during periodic vacuuming and deep cleanings which will greatly increase the lifespan of the carpet.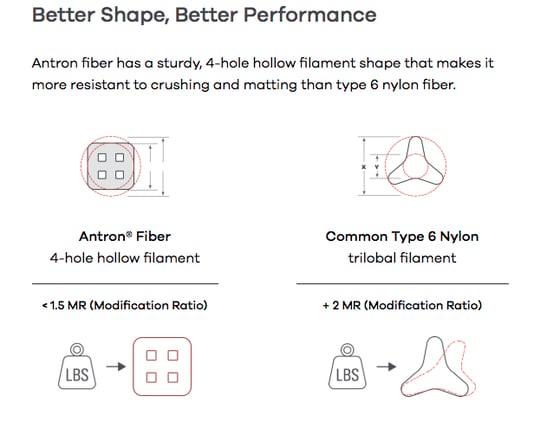 3. Stain resistance.
There are two ways to make fibers resist a stain. The first way is to apply a topical to the fibers and the second way is to build the stain resistance into the fibers.
Many manufacturers now build permanent stain resistance into their fibers. We highly recommend you ask your manufacturing representative whether the fiber is permanently stain resistant.
If the fiber is not permanently stain resistant, the primary protection your carpet will have to staining are topicals, which are temporary and not a solution for long-term stain prevention. Carpets made with Antron® LumenaTM fiber are permanently stain resistant.
Related: Antron vs. ECONYL Carpet Fiber Comparison
Mannington Recommends:
First Choice
Antron Legacy with XGUARD® and ColorSafe®
Second Choice
Any fiber that is permanently stain resistant
Top Choice for classrooms (tie): LVT
If you're looking to move away from a soft surface, LVT is your go-to. It has myriad benefits, one of them being how easy it is to maintain. The slight drawback to be aware of is in an environment with lots of moving furniture, LVT will inevitably scratch.
But have no fear, this can easily be resolved with chair pads.
We recommend using Expanded Technologies if you're going with LVT in the classroom to mitigate scratching the floor and to help keep the noise level down.
Related: The Specifiers Ultimate Guide to Luxury Vinyl Tile (LVT)
Top Choice for Classrooms (tie): Sheet
Homogeneous sheet is a softer and more scratch-resistant product that is soft underfoot. It's especially helpful around a sink area. In lower education environments spills and leaks in the classrooms happen and for upper education, well... adults spill things too.
Sheet vinyl is the ideal place to put in a sink area because it's easy to wipe up moisture on the floor and it's a welded seam product so you can have the peace of mind that you'll be avoiding any moisture problems beneath the surface.
This same recommendation goes for art rooms, science labs, and anywhere liquids could commonly make their way to the floor.

Top Choice for classrooms (tie): Rubber
As you're probably realizing at this point, rubber is a great product for an education environment for all of the reasons we mentioned for cafeterias. It's comfortable under foot, durable because it won't scratch like LVT will, quiet because it absorbs sound, and it's very hard to slip and fall. Why do you think they make most tennis shoes with a rubber sole?
The Best Flooring for Fitness Centers/Weight Rooms
Top choice: Rubber
Rubber is durable and above all of its other benefits that's why it's the best application in a weight room or fitness center. You're going to need a floor that can withstand a heavy load. Our sports flooring rubber product, Reset®, is specifically designed for high impact areas like fitness complexes and recreation centers Constructed from post-consumer recycled rubber tires, Reset® contains up to 91% post-consumer recycled content.
We're not talking about basketball gyms here. Basketball gyms have a specific slip coefficient that is required to mitigate sports injury. Other characteristics of sports flooring vary widely according to the type and level of sport being practiced. For a basketball gym floor that needs specific or niche requirements, we recommend contacting Gerflor, a company with a more highly specialized offering in indoor sports flooring.
Related: What Is The Best Flooring For a Basketball Court?
Mannington Fitness Floor/Weight Room Recommendation:
Reset® Rubber
Mannington Basketball Gym Floor Recommendation:
Best Flooring for Bathrooms
Top Choice: Tile
Porcelain tile is the best of all worlds for bathroom flooring, as it is waterproof, stylish, and cost-effective. Like stone, porcelain tile can achieve a rich, textured, solid feeling. Though some LVT is marketed as waterproof, it is just not made to perform in a high-traffic commercial bathroom the way tile is. We don't recommend carpet for obvious cleanability reasons. Porcelain tile is your best bet for this space.
Note: Sheet Vinyl is a slip resistant product that is used in some commercial bathroom applications as shown below.
Mannington Recommends:
Homogeneous sheet, BioSpec SR & Assurance III
Best Flooring for Libraries
Top Choice: Modular Carpet
Modular carpet tiles can be configured in endless arrangements to provide specific floor coverings for any sized space. Oftentimes, this is the place where designers get the freedom to add pops of color and play with the design because the configuration of tiles themselves can be used for field and focus areas within a space or way-finding.
In conjunction with its looks, carpet tile is also quieter by nature of it being a soft surface product and we all know how important it is to be quiet in the library. SHHHHH.
Related: Interior Architects Use Flooring to Create an Inspiring Library in North Carolina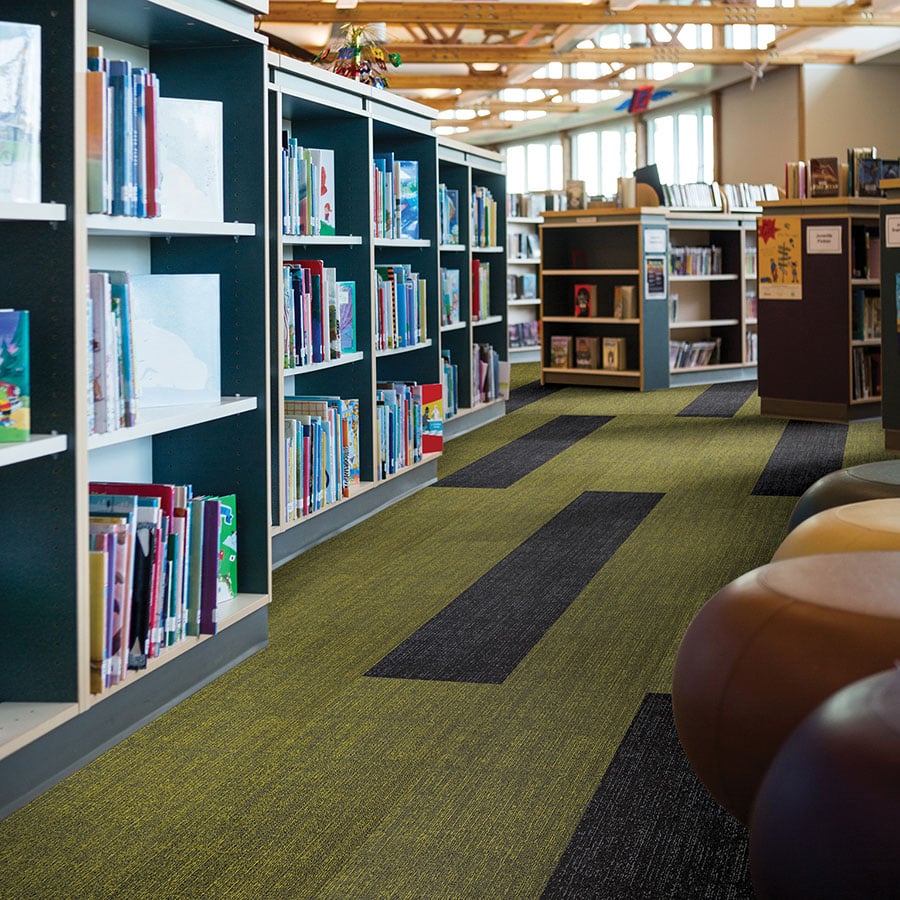 Best Flooring for Entryways
Top Choice: Carpet
But, not just any carpet, Entryway carpet. Those first few steps into any building are critical to the performance of the flooring throughout a facility. By adding an entryway carpet, you're trapping excess dirt and moisture at the door. Entryway carpet reduces maintenance costs, extends flooring life, and enhances safety.
Performance Benefits of Entryway Systems
Scraper fibers remove soil and debris, while reinforced nylon fibers remove moisture. The combination of these two types of fibers provides optimum soil and moisture removal.

A non-aqueous polymer precoat creates an impermeable moisture barrier, so that water cannot penetrate and damage the backing.

Can capture 3 times more moisture than its normal weight: 7-8 lbs of water at one time.

Can hold 2.5 times more sandy debris than its normal weight: up to 6 lbs. of sand in every square yard.
Right vs. Wrong Flooring Choice?
Flooring can make or break an school environment. In some areas the answer may be obvious and in others the choice requires a designer to know the performance drawbacks and benefits.
The right type of flooring can be the difference between a safe place and an unsafe one, but each different problem can be met with a flooring solution.
Flooring manufacturers are making products with the performance factors built into their flooring options. With the knowledge you now have about what to look for and what could potentially be a pitfall, you can choose the best flooring for your specific needs.
Explore our performance pages to learn more about our product offerings, and find a Mannington representative near you.
You Might Like: The Designers Ultimate Guide to Specifying School Flooring
---
Download our Ron Clark Academy Case Study to learn more about
how our products perform in Education spaces.