In Partnership with Antron®
Are you having a difficult time justifying the cost of new carpet to key decision makers who control facilities operation budgets?
Often, decision makers only want to consider the initial cost for carpet and approve expenditures for the lowest cost option. This makes it difficult to recommend a carpet that you know might cost more initially but will exceed performance expectations over time, and last longer, ultimately lowering the total cost of ownership.
Instead of getting frustrated with cost justifications and living with a carpet that does not perform over the long-term, why not consider using the Antron® Total Cost of Ownership Calculator (TCO) to calculate purchase and maintenance costs of your carpet over time?
At first thought, life expectancy seems difficult to predict. Differences in carpet fiber characteristics, such as fiber type and fiber shape, often impact staining, soiling, and the required maintenance to keep up a carpet's appearance. But that's not the case when specifying a durable carpet fiber like Antron®.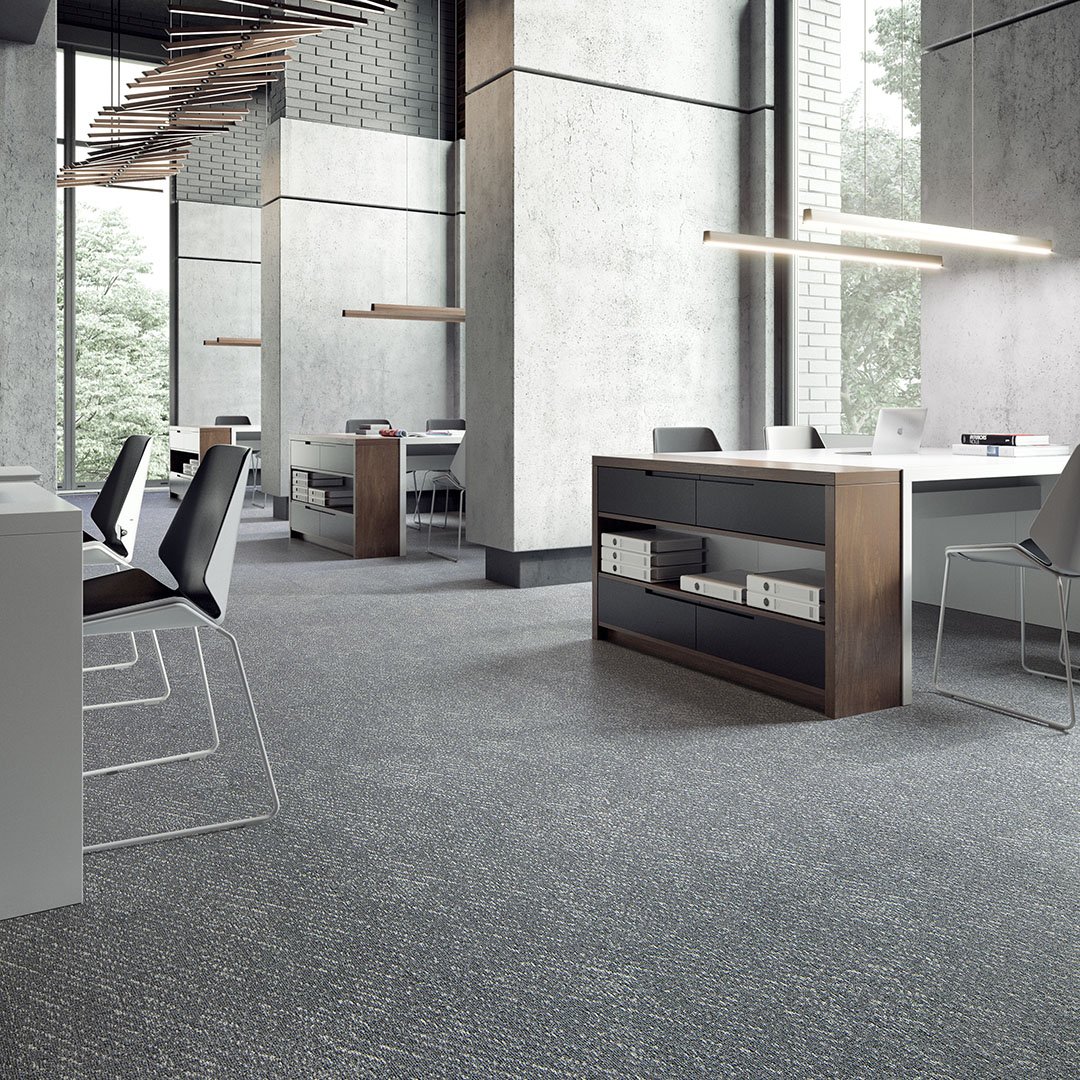 Origami Collection - Fan Fold, Elephant with Antron® Lumena™ fiber
How the TCO Model Works
The Antron® TCO calculator considers several key factors, excluding sanitizing costs, that impact the maintenance of your carpet, such as foot traffic and the cost of your cleaning program. This tool allows you to compare several carpet specifications you might be considering.
Utilizing a mathematical model established on testing data of Antron® nylon type 6,6 and competitive fibers, the tool calculates a predicted cost of ownership over time. The model is based on testing more than 500 carpets installed at a real-world commercial facility with heavy soiling and foot traffics and measured results over time to generate the TCO calculations.
By comparing aesthetics, construction, and fiber characteristics (type and shape) for two similar commercial carpets, the model can predict expected soil performance to generate the TCO calculations. Competitive tests confirm that both carpet fiber type and shape matter.
Related: Antron vs. ECONYL Carpet Fiber Comparison
A Closer Look: An Educational Facility's TCO
The TCO model is best explained by presenting a real scenario in an educational facility, as illustrated in the Infographic. Results show a total cost of ownership of carpets made with Antron® can be 250% less over the life of the carpet. The illustration compares two carpets of similar constructions1.
The first, constructed of Antron® Lumena™ nylon type 6,6 fiber made with a four-hole hollow filament, will initially cost more money ($35,000), but maintenance costs are significantly lower. The second, a competitive carpet made nylon type 6 trilobal shape, may initially cost less when purchased ($25,000) but will exponentially experience higher maintenance costs over the life of the carpet to maintain comparable performance to Antron® Lumena™ carpet over time.
By year 7, the competitive nylon type 6 carpet starts to fail – visible matting and crushing of carpet fiber, unsightly stains and an overall dingy appearance – meaning increased maintenance alone will not necessarily restore appearance and therefore require premature replacement. If not replaced, by year 10 there is approximately $148,750 invested in the competitive carpet with nylon 6 if not replaced in year 7, while the TCO for the carpet with Antron® Lumena™ nylon type 6,6 is $59,750.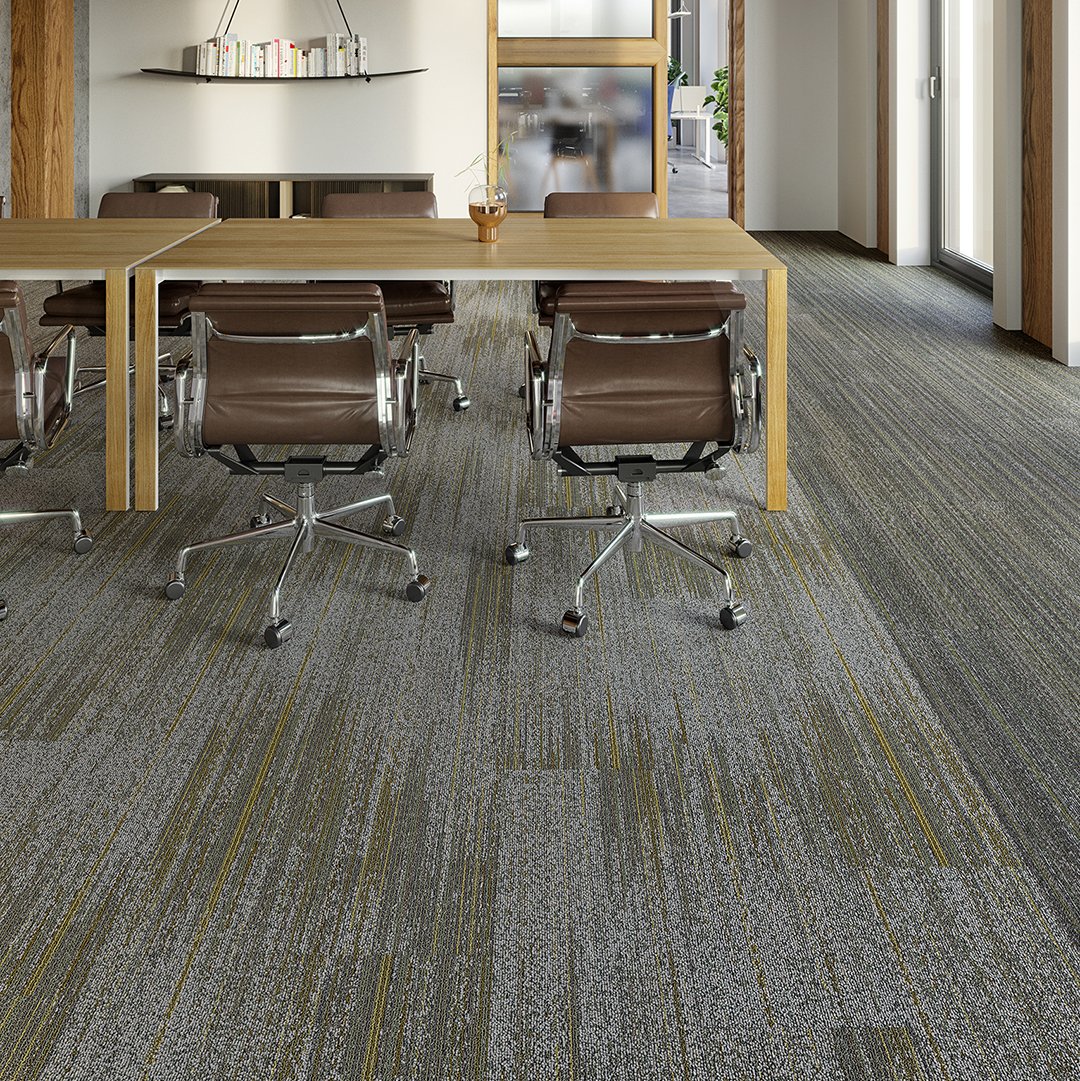 Heirloom Collection - Relic Circular; Memento, Wreath Antron® Lumena™
The Benefits of Specifying Carpet with Antron® Fiber
Once you can showcase the cost savings over time, there are several other benefits to specifying a carpet with Antron® fiber, specifically overall cleanability, required maintenance and replacement cycle.
Stain Resistance: With a lower permeability, Antron® type 6,6 nylon slows down the diffusion of stains, potentially allowing more time to clean up a spill before becoming a stain. Carpets made with Antron® fiber can have up to 10 times better stain resistance2.


Soil Resistance: There are fewer places for soil to accumulate and hide with the Antron® innovative four-hole hollow filament shape, which may lead to less effort in cleaning. Carpets of made with Antron® nylon can have 65 percent better soil resistance3.


Resistance to Matting & Crushing: Antron® nylon type 6,6 fiber has shorter hydrogen bonds and optimal polymer chain alignment that strengthen the structure and provide exceptional resistance to crushing and matting. Carpets made with Antron® fiber can have up to 2 times better texture retention than carpets of the leading competitive nylon.
Long-Run Sustainability: Antron® fibers are built responsibly and help create carpets that last longer to reduce environmental impact. Carpets made with Antron® nylon can last up to 75% longer4. This longevity drives real sustainability and supports long-term value.
Related: Specifying Commercial Carpet For Education
The Bottom Line
Carpet made with Antron® fiber can look better, longer, clean easier and may save you time, money and hassle in maintenance and replacement. To get a true cost for carpet, you must factor in life expectancy of the carpet, installation costs, maintenance costs over its life, costs for removal, disposal, and any lost revenues during renovations. As one school operations officer put it, "If you specify a carpet based solely on price, you cannot expect to have long-term durability."
1 Results based on testing of a representative sample of branded carpets of comparable construction, style and color.
2 than carpets of the leading competitive solution-dyed nylon
3 than carpets of the leading competitive nylon
4 than the majority of competitive nylon carpets