If you're considering new flooring for a retail space, you have come to the right place. Whether you need flooring for a small boutique or a large box store, this article will outline which type of flooring works best in various settings. From Luxury Vinyl Tile (LVT) to modular carpet, our recommendations have been made based on the product application and the function of the space.
Many factors were considered when making this list. After years of working in the industry, and countless conversations with retailers, we've gained a sense of what works where. Aesthetics are typically the first consideration when planning a room, so design options play a major role in deciding which flooring will achieve the visual goals of a space.
Cleanability and maintenance are also important issues. How much time and effort will it take to keep this section of the store clean? Are regular spills or debris expected? What is required to keep the floor functioning as intended? Will it require extra maintenance costs with tasks like waxing and buffing? What kind of traffic is expected in the space? Can the flooring support the traffic flow and furniture load without breaking down?
Safety is another concern. Is the texture in the floor suitable to prevent slips and falls? How about the acoustics desired in the space, and the overall feeling desired—the "vibe" if you will? Is comfort underfoot a priority? How complicated is installation, and does it work with the building requirements? These questions represent a sample of the factors considered when making the recommendations in this guide and when working with individual clients.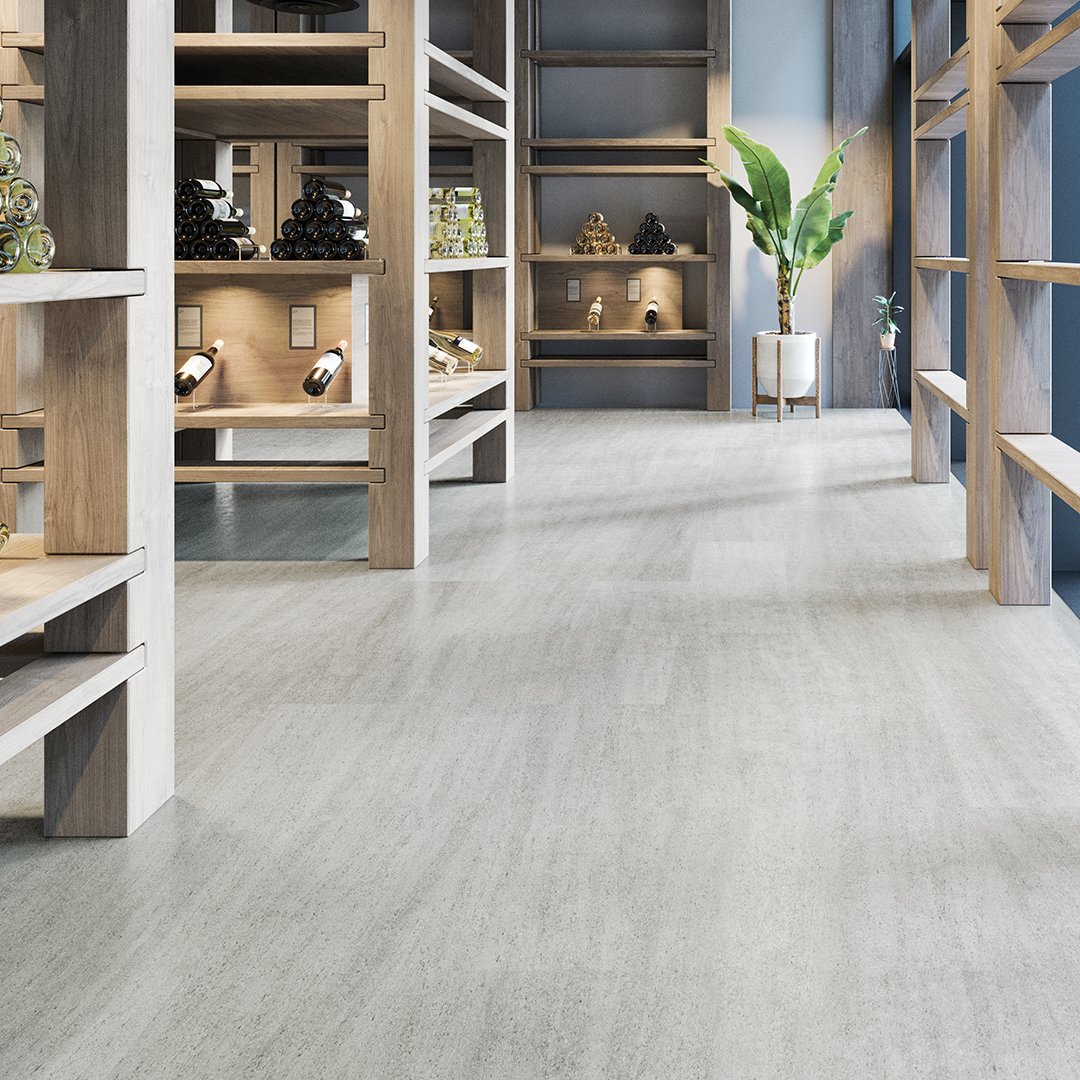 The Drift Collection - Stone Terra Diamond D215
To use this guide, find the type of space you're outfitting in the alphabetical list below. Then look at the corresponding flooring recommendation. Keep in mind, we do not recommend any Mannington Commercial products for commercial kitchens and food prep areas, and this list is only a guide and does not represent fixed rules. We work with retailers in creative ways according to their unique project goals.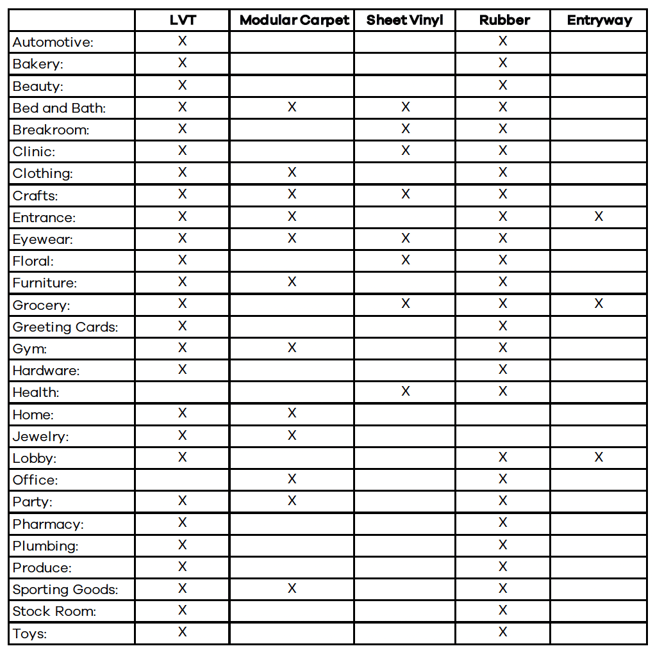 For more flooring recommendations see:
Keep in mind that many retail stores have different areas that serve different functions. For this reason, retailers often mix and match flooring types. For example, modular carpet can be used in the clothing section and then transition to LVT in home goods. With the help of Mannington Commercial's skilled design team, a beautiful composite of various flooring types can be made for each unique store.
Now let's look at a description of each type of flooring:
1. LVT
We recommend LVT, Luxury Vinyl Tile, for many retail areas like grocery, office, home, and hardware. LVT's practicality is through the roof. Not only is it exceptionally durable, but it can take on different looks like wood or stone. The aesthetic versatility is unmatched. You can mix and match patterns and colors to delineate different shopping spaces. The design opportunities are so flexible that our clients can even integrate their store logo and custom colors right into the floor.
Sometimes retailers consider using polished concrete in areas where we recommend LVT. When you compare the two, LVT can be similarly durable, and is much quicker to install. Not to mention it's four to five times less expensive! LVT is also more aesthetically flexible.
Or if there are heavy pallet jacks moved on the floor, we recommend products that feature high performing benefits like Quantum Guard Elite® Technology. This patent-pending technology provides the ultimate solution for all aspects of LVT performance with superior scratch resistance, advanced stain resistance, and easy no-polish maintenance significantly reduces overall life cycle cost and total cost of ownership. Mannington Commercial has engineered our LVT to hold up against the busiest of retail spaces all the while accommodating ambitious visual effects.
For more about LVT, check out The Specifiers Ultimate Guide to Luxury Vinyl Tile (LVT).
Heirloom Collection
2. Carpet
For sections of your store with apparel or furniture, we recommend carpet. It has a softer feel and provides superior acoustics. There are two basic types of carpet to choose from: modular and broadloom.
Modular carpet is made up of small to medium sized tiles, which makes it easier to install and super convenient to repair - you can just remove and replace the damaged piece of carpet. No cutting or blending needed. Our modular carpet has two backing options - solid or cushion backing, which provides options for durability, comfort under foot and enhanced acoustic properties.
For more on carpet backing systems, check out How to Choose a Commercial Carpet Backing System.
Broadloom, on the other hand, comes in twelve feet wide rolls and provides unique patterns and can be budget friendly. It is harder to selectively replace and does not have a solid backing. Some of our modular selections can be made to look like broadloom, so that look can still be achieved if desired.
3. Rubber
Rubber is relatively versatile when it comes to colors and textures. Different colored rubber tiles can be blended to create interesting effects. It also adds comfort underfoot and can enhance safety in spaces like health clinics or gyms. On the other hand, rubber is not as chemical or moisture resistant.
You might like: The Pros and Cons of Rubber Flooring
4. Entryway
Entryway (carpet or hard surface) tile is a key element to any retail installation and for the best performance of your other flooring types, it should be included in all entrances and exits. Entryways often require specific and customized entryway systems in order to adequately capture soil and debris from shoes and/or wheels as they enter the retail space. We typically design entryway systems separately from the rest of the retail space according to the expected weather and corresponding soil and debris load.
Whatever flooring material you choose, here's a final tip that applies to them all: schedule a test installation before you commit to flooring all your store. Mannington Commercial not only offers "mock-up" spaces for our retailers, but we highly recommend it! We want our clients to see and feel the flooring before they commit to the roll out--especially if the colors and designs are customized. We like our clients to try before they buy and feel confident in their choice. If you have more questions, or just want an experienced guide to help you through the process, contact one of our local representatives. We are here to help you.
---
Case Study: The Clubhouse, Hox Haus
See the results of what happened when Manchester-based architects and designers completed a major project - extending and remodeling a Grade-II listed, two-story Victorian brick building. (Hint: Amtico Signature LVT was used!)
Download the full case study. 👇