In 2020 the classroom became, like most other places, reimagined and reconsidered. For some people the bedroom became the classroom, the dining room table became a study hall, and the kitchen became a cafeteria!
Among the things we re-thought in 2020, the classroom was at the top of the list along with the modern workplace, but some things remain fundamental. Both children and adults need structure, and we do much better with a good foundation, like an ergonomic chair, desk and a quiet space to focus.
When we do return to the classroom one day, we want to return to a space conducive to our learning but where we can still be socially distant when needed. As designers, architects and end-users, we want to create that environment.
In this article, we've pulled together a list of top choices for classroom floors. Let's examine how the different types of flooring stack up.
It Starts With The Floor
Classrooms were complex multipurpose spaces before the Pandemic, and when we return they will be even more so. They're places for tackling a geometry lesson, creating art masterpieces, winning a reading marathon, testing chemical reactions or hanging out with best buddies.
They're the definition of multipurpose areas. So how do designers make them welcoming and comfortable as well as functional?
One way is through the flooring. That's right. Flooring sets the tone and provides the foundation for the fixtures and furnishings. Let's talk about the top choices for classroom floors: carpet, luxury vinyl tile (LVT), sheet and rubber.

Intrinsic Collection - Magnify, Security © Mark Herboth Photography LLC, Durham County Library
The Benefits of Each Flooring Type
1. Carpet
Carpet. Really? Yes, carpet isn't just for the family room. Commercial carpet comes in both modular and broadloom formats. Modular tile can be a fantastic way to separate areas with pops of color or can be used as entryway systems to help keep dirt off of the rest of the floors. Plus, if you need to replace a small section, modular tiles offer an economical solution.
Commercial broadloom carpet offers several advantages that make it viable for classrooms. Broadloom is manufactured in a large roll which is cut and glued to the floor. For education spaces, it's smart to use a moisture barrier backing, such as Integra® HP. Then the seams can be chemically welded together, which makes it more impermeable for better stain protection — a major consideration for schools. Those sealed seams and moisture barrier help prevent any stains from leaking to the subfloor or wicking up through the backing.
For whichever type of carpet you choose, stain resistance is a big deal in classrooms. Carpet can be protected by applying a topical solution to the fibers or by building stain protection into the fibers. Keep in mind that topicals can be effective, but they're temporary. For more permanent stain resistance, look closely at the carpet fiber.
Commercial carpet fibers are manufactured to be resistant to soiling and to retain their texture. Mannington Commercial offers nylon 6,6 resulting in a resilient fiber that's tougher to crush. Specifically, the Antron® 4-hole hollow filament provides structural strength to the fiber that prevents it folding over. The 4-hole hollow filament also is more soil resistant because the square shape provides no seams for dirt to settle and better releases soil to cleaning.
A Texture Appearance Retention Rating (TARR) measures how well a carpet will retain its texture. It's determined by subjecting carpet to simulated foot traffic then assessing how the texture changed. Mannington Commercial recommends a 3.5 TARR for all areas in an education facility.
On the more theoretical side, carpet is softer and quieter than hard surface flooring. Kids fall down. People drop breakable objects. A nap mat is even better for little ones when it's on top of carpet. And, carpet can make a space feel less intimidating, which can be a benefit in today's educational environment.
Related: Antron vs ECONLY Carpet Fiber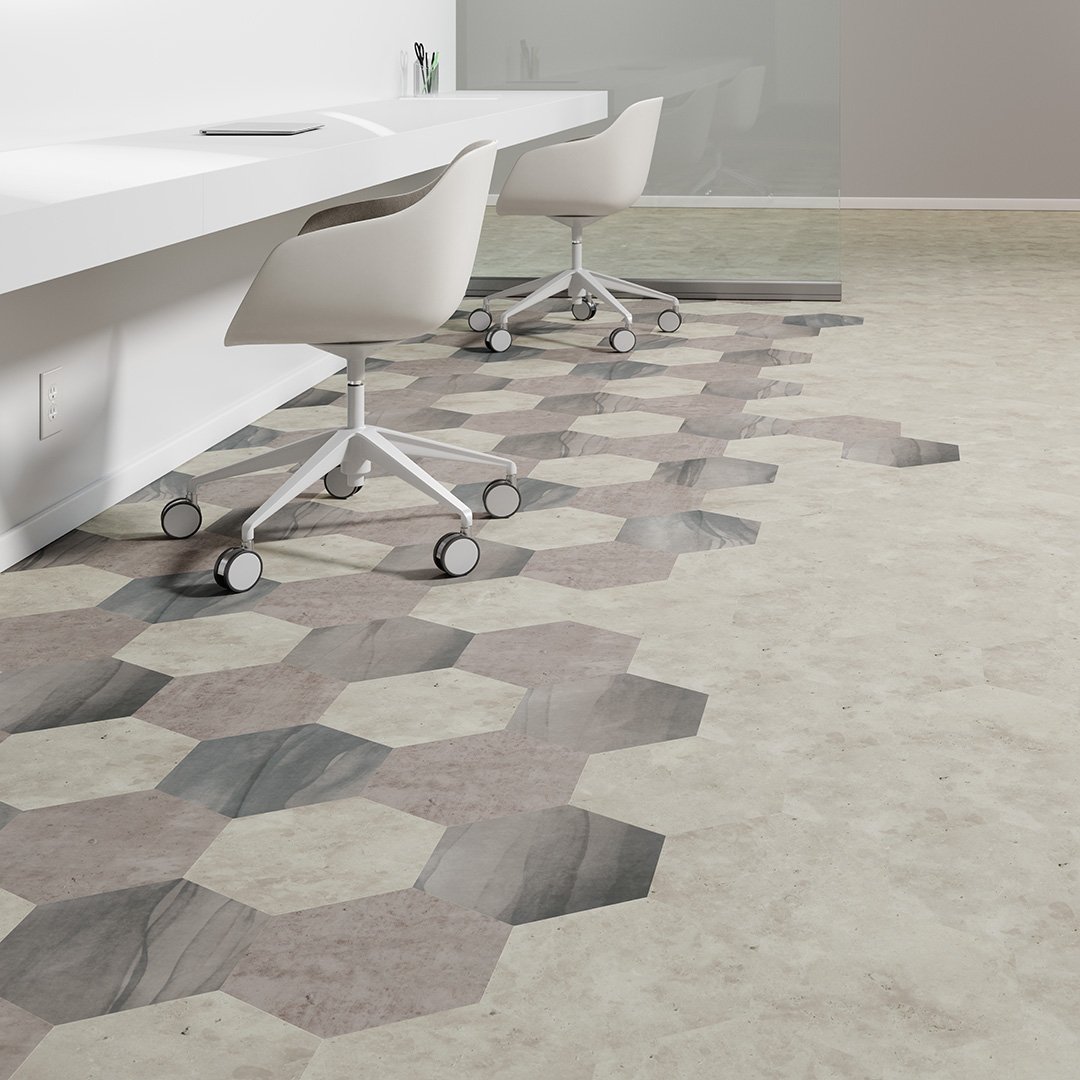 Amtico Signature Collection - Hexagon Laying Pattern
2. Luxury Vinyl Tile (LVT)
When carpet isn't quite right, LVT is another top choice for classrooms. A major plus? It's strong and able to withstand heavy foot traffic. It's easy to maintain, but it can scratch if chairs or other furniture is moved a lot. We recommend using chairs pads from Expanded Technologies in order to mitigate scratching the floor and to help keep the noise level down.
Most Mannington Commercial products feature Quantum Guard Elite® Technology for advanced scratch resistance, stain resistance and no-polish maintenance.
Different wear layer options ensure there's an optimal selection for the amount of foot traffic in the space since a classroom will be different from a building entry or a hallway.
Commercial LVT is typically glued down to a concrete subfloor using a recommended adhesive, but some constructions can be installed as a floating floor. Like modular carpet, LVT is also easily replaced if a repair needs to be made and doesn't require full floor replacement.
LVT often costs less than flooring materials such as stone and wood, but still giving you a similar look. Additionally, LVT offers a wide array of design options, including custom logos, special laying patterns and digitally printed designs or messages for just the right look in any space.
Related: How To Choose The Right LVT Flooring for Commercial Use
Related: What Is Wayfinding?

Googie Collection - Telejector & Phenomena, Mannington Assurance III
3. Sheet Vinyl
For some areas such as art rooms or science labs, homogeneous sheet vinyl can work well. It's a welded seam product so even with spills, moisture won't get beneath the surface. Sheet flooring is a good choice for any classroom with a sink or where spills are common since it's easily cleaned. It's also more scratch resistant and still soft enough that falls won't scrape knees and elbows.
4. Rubber
Rubber is a good choice for multiple education spaces, including classrooms. It's comfortable, durable, and quiet. Rubber sheet and rubber tile are sound absorbent which makes a big difference when there are a lot of voices or music in the room.
Slip resistance is a big deal since no school wants a student or teacher to slip and fall. Rubber is also the recommended choice for a stairway in education spaces for those same reasons.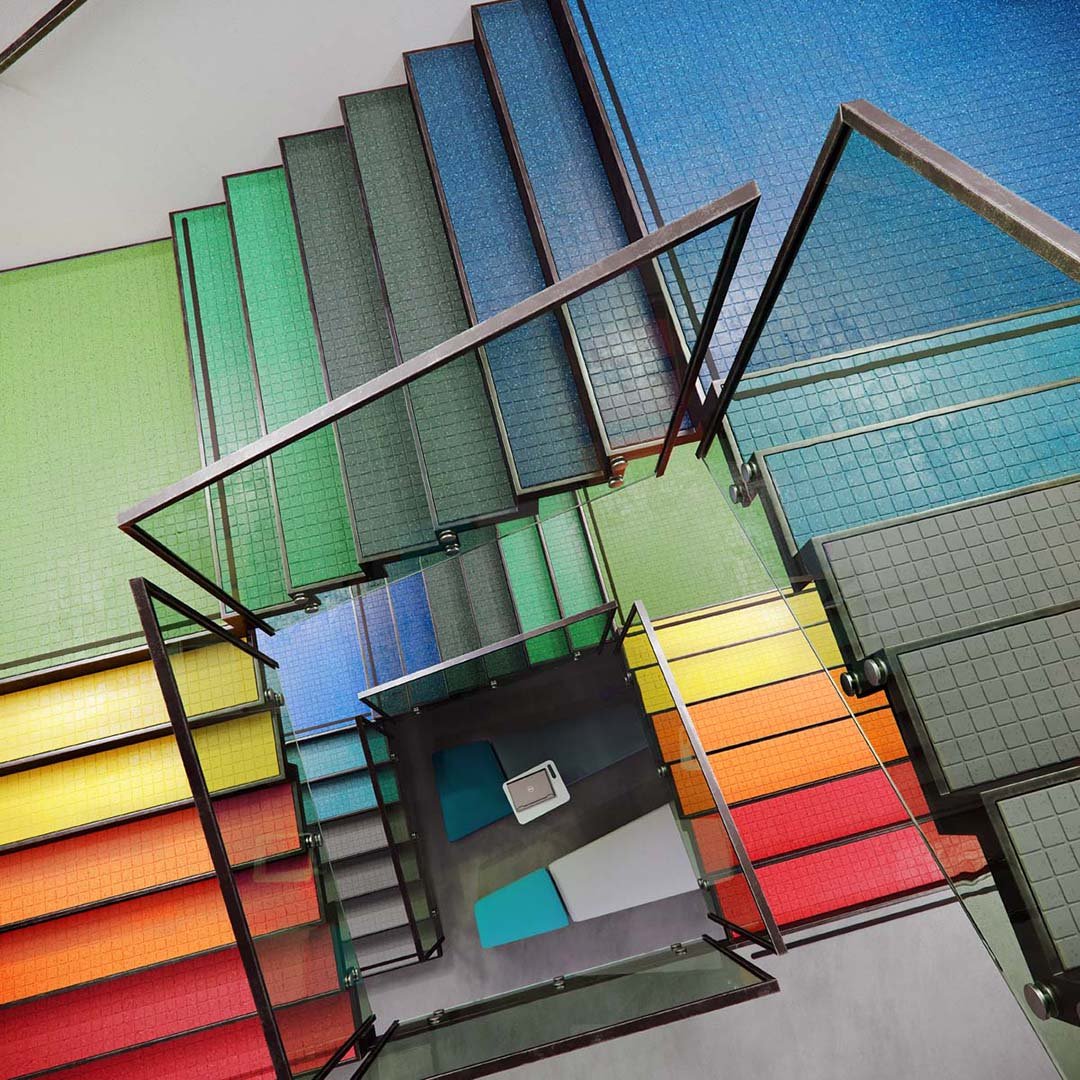 The Takeaway
After reading through this list, it's easy to see that a kindergarten classroom has different needs than a high school biology lab. Yet, both flooring in both spaces should be safe and durable to create the best learning environment.
Are you specifying for a classroom project? Contact your local Mannington Commercial representative to review viable options and performance factors to find the best fit for your project.
You Might Like: Why Starting With The Floor Supports Learning in Education Spaces
---
Are you interested in taking your school to the next level of design and performance?
The Ron Clark Academy Case Study is for you!
Click below for your free download. 👇