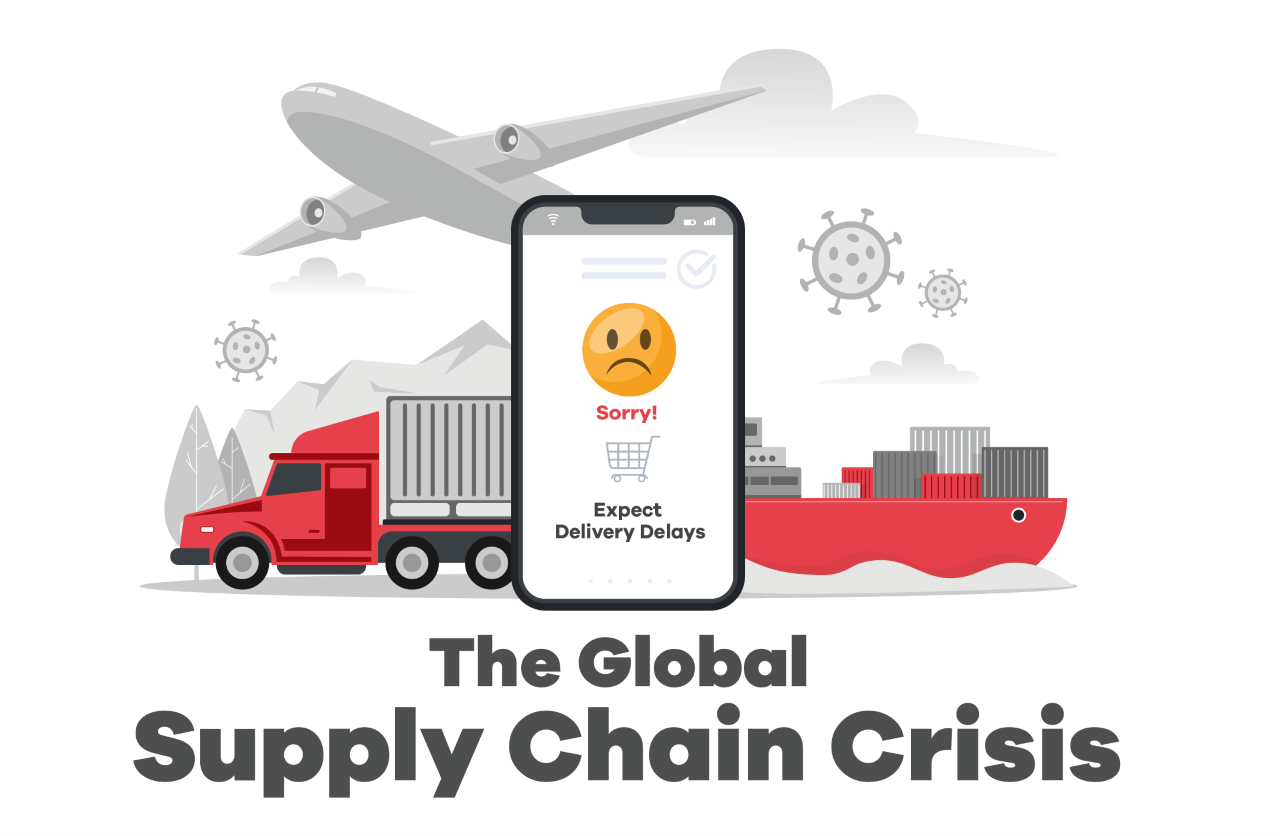 This past year has been a train wreck for global logistics. There's just no other way to put it. Every piece of the supply chain puzzle has been hit: labor, raw materials, and shipping. It doesn't matter if you're shipping via water, air, road, or rail, you name it, there's been a delay, a backup, a shortage.
This is impacting our industry but also every aspect of our lives outside of work. In a recent survey done by Oracle, "Almost half (45 percent) of people admit they never thought about how products were delivered prior to the COVID-19 pandemic, but now nearly everybody (91 percent) considers the supply chain when making a purchase."
This hits home for the design industry more than the average consumer. Early in 2021 ThinkLab released a Design Industry Benchmark Report stating that, "The average designer has 26x as much specification power as the average American has buying power. That number can be up to 111x for Interior Design Giants of Design specifiers."
To better understand the big picture, we interviewed people that have an up-close view of the situation and are currently working to try and ease the strain around the world. Some inside and outside our organization. Our experts ranged from a Global Logistics Consultant to Mannington's own Senior Director of Warehousing and Transportation. They often expressed that they have never seen anything like this. Words like "unbelievable" and "havoc" were used. Each person filled in new parts of the story to help explain the compounding and cascading issues that have contributed to the crisis. 
The Issues That Caused the Crisis: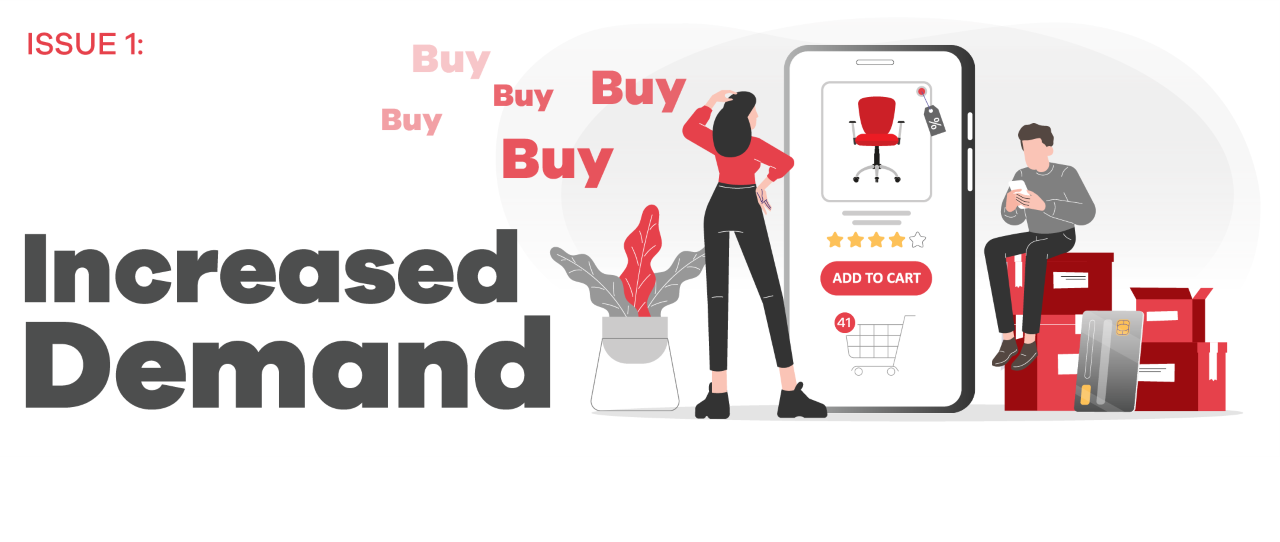 Issue 1: Increased Demand
Demand for shipped goods increased as a result of the pandemic. Starting in March 2020, people quarantining at home began redirecting money that would have been spent on travel and entertainment towards purchases like installing home offices, home entertainment like theater rooms, pools, updating kitchens, and shifted to having everything delivered from meals, household items and clothing.
Many people chose contactless shopping to avoid exposure to germs in the brick and mortar stores they were used to. Many of the items ordered were manufactured overseas, which put a huge strain on the shipping industry worldwide. The increased demand is ongoing and is enough to create kinks in the supply chain by itself. 
People are ordering everything from online retailers: Walmart's website, Target's website, etcetera. FedEx and UPS are completely overwhelmed. And now the volume that they see during a really busy Christmas is what they see during Spring Break, it's overwhelming. 

- Judson Rollins, Global Logistics Consultant
Spending more time at home has led to an increased desire for home improvements. Renovations and house hunting have been common, which puts additional strain on building supplies. Building supplies are currently expensive and some can be hard to obtain with really long lead times. Additionally, building supplies have been competing for precious shipping space with TVs, treadmills, Pelotons, and expensive toys for adults and children alike!
We all have friends that have waited six months plus for a sofa or a refrigerator for example, but when you need quantities for commercial projects the lead times can be even longer. On commercial projects materials finishes often selected even before the supply chain issues were so common which has resulted in designers having to reselect multiple times in order to find a product availing within the timeline.
Related: Amazon is starting Black Friday deals early. Like, now

Issue 2: Labor Shortages
Several compounding issues have led to labor shortages in shipping, and manufacturing. First off, more people have chosen to stay home to keep themselves safe during the pandemic. That is not a problem for employees who can easily work from home, but many essential jobs require you to be onsite like healthcare workers, grocery store associates, delivery drivers, manufacturing employees etc. Early in the pandemic we also saw many companies laying off employees due to the shutdown.
Before the vaccine for Covid-19 some in the vulnerable population with health concerns for example needed to stay in quarantine and government assistance helped with that. Either through rental assistance, pulling money from a 401K or the Federal Pandemic Unemployment Compensation Program (FPUC) gave qualifying people with unemployment benefits an extra $300 to $600 each week for most of 2020. Some essential workers made more money staying home and not working than they had when they were working. 
For those workers who were still physically going to work, there were shutdowns and/or quarantines when a worker contracted Covid-19 which would ultimately cause unplanned disruptions.
You have had Covid-19 driven worker shortages everywhere because port workers (the guys who physically load and unload the ships) have had Covid-19 outbreaks, and that has put various ports in and out of business. China just had another one last month that shut down one of their biggest ports for a month. - Judson Rollins, Global Logistics Consultant
As you can imagine, things can get backed up and slowed down when a laborer gets sick. But when they are sick with Covid-19, quarantines often must be put in place, which can bring operations to a halt. Labor shortages, port and factory shutdowns, and quarantines have slowed down the already backed up process of getting goods and services to people on time.
Related: The workers who keep global supply chains moving are warning of a 'system collapse'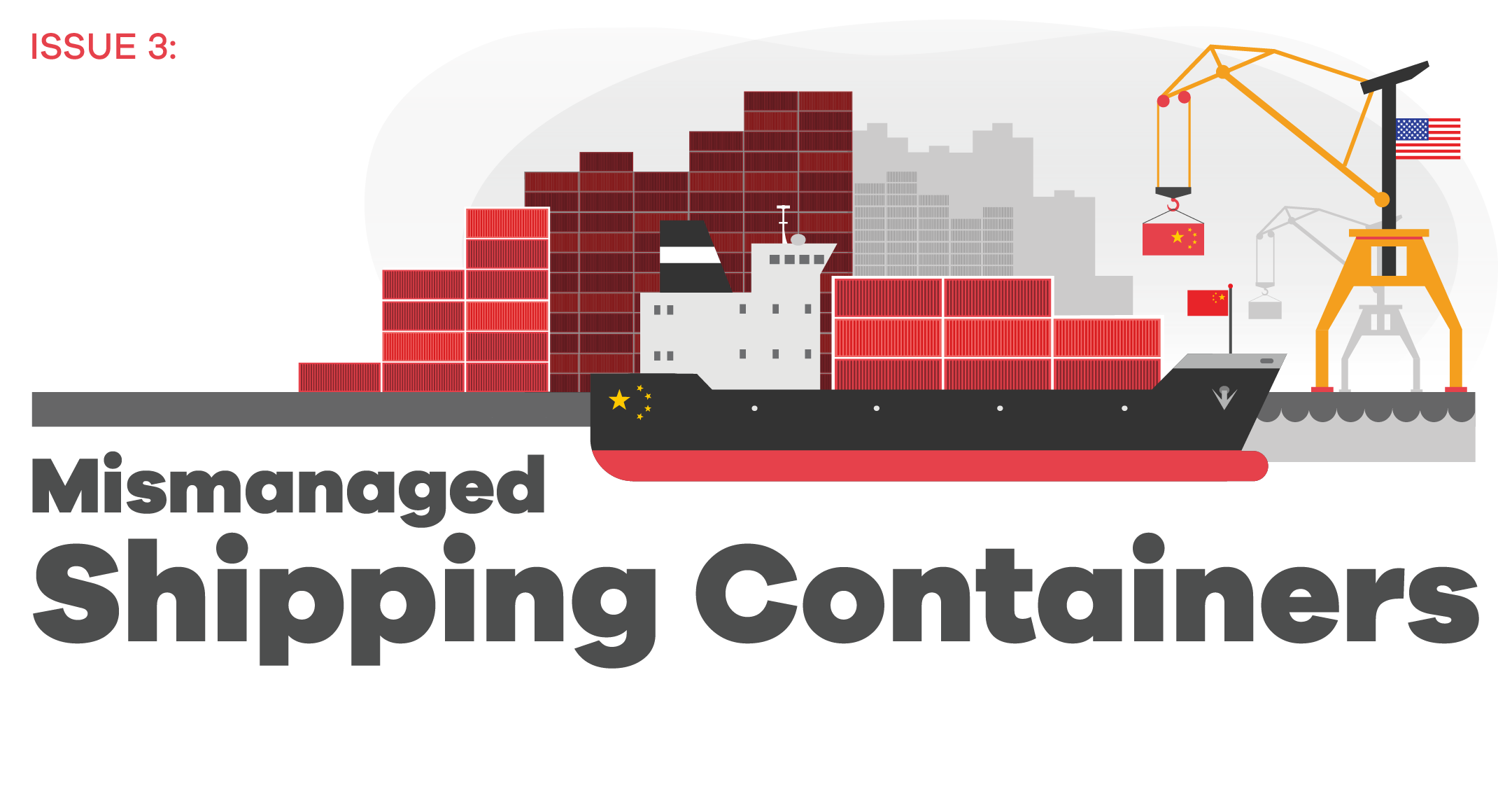 Issue 3: Limited Shipping Containers
Along with increased demand for shipping came shipping container issues. In general, more items are shipped from Asia to the U.S. than are shipped from the U.S. to Asia. When demand increased so rapidly at the start of the pandemic, many ships got hasty and left empty or half empty shipping containers at U.S. ports in an effort to get back to their ports with greater outbound demand. Empty containers are still piled up in U.S. ports, when they are needed in Asia to continue meeting the intense demand for products. 
Some of the Asian manufacturers of shipping containers got wind of this and instead of producing more containers, they began producing less in a lucrative move to drive the price of their leased containers up. These issues have led to a shortage of containers as well as increased cost to lease containers. 
Shippers do not want to pay to ship empty containers, so they continue to sit. Some ports have resorted to charging penalties for leaving empty containers. But it's still cheaper to pay the fines than to ship empty containers, so the containers remain stuck. Some ports like Newark, Rotterdam, and Singapore have completely run out of space and are refusing new containers. 
Many containers are stuck waiting in long port lines. In September of this year, there was an eight day wait time for container ships to enter the Los Angeles and Long Beach ports. Those are some of the busiest ports in the U.S, and they typically have no wait times. Ships are having to drift 40 miles down the coastline, because they have run out of shallow water where ships typically anchor. It's unprecedented, and it does not end there. 

Issue 4: Air Freight
As sea freight became limited by increased demand and diminished shipping capacity, more items shifted to air freight. But the problem with air freight is that passenger air travel has slowed down during the pandemic. Many people don't realize that 60% of the world's air cargo capacity travels in the lower decks of long-haul passenger airplanes. Some airlines are using their planes as temporary freighters, but not enough to make a dent in the issue. When fewer planes fly, capacity to ship via air decreases, and prices to ship via air increase. 
A few years ago, I went to Australia 14 times in 16 months, and there wasn't a single time that the flight wasn't full. I just saw a flight to Sydney with only 18 people on it. That plane could seat 300. Delta could afford to send those planes because they were carrying so much cargo. - Jim Perkins, Senior Director of Warehousing and Transportation Mannington Commercial
Air, road, and rail are trying to pick up the pieces left by backed up water freight lines. Planes are still flying, because of the increased needs in shipping, but air freight is not cheap. So, where possible, more shipping demands get passed to over-the-road transportation using vans, trucks, and tractor trailers. 

Issue 5: Over-the-Road Transportation
Similar strains are seen in the trucking industry—too much demand and too few truck drivers. Like we mentioned in the labor shortage section, truck drivers are essential workers whose physical presence is mandatory, and there has been a shortage of available truckers since the pandemic hit. One company in Texas, Sisu Energy, reportedly offered truck drivers $14,000 a week, because they were so desperate for drivers.  Additionally, US DOT updated truck driver rest requirements in 2019, which meant trucking companies needed more truckers to operate the same number of trips.
When we are able to get loads of resins that can go to our adhesive manufacturers, they can't get it, because the trucking is short, and the bucket supplier can't make the bucket. There is a layered, trickle-down effect to all of this. - Al Boulogne, Vice President, Commercial Carpet and Rubber Mannington Commercial
Now drivers have additional Covid related strains on their time. Take a driver who has to make ten stops today, but at every stop there are hoops to jump through like getting his temperature checked, filling out a form, sanitizing things, etcetera. It slows them down. So, truck drivers are limited at a time where there is more to deliver than ever before. That leads us to the last available option in shipping and transport: rail lines. 
Related: How a truck driver shortage in Europe could hit your wallet in the US

Issue 6: Rail Lines
Sure enough, some businesses who were dependent on the trucking industry to deliver their goods are now having to switch to rail, which has overwhelmed rail lines. As you can see by now, there is a domino effect that is complicating the whole logistics industry. Every piece of the supply chain is entangled which means every piece is impacted.
Who is to Blame?
Nobody dropped the ball. There is not a particular business or industry to blame. A lot of it is outside of our control. The butterfly effect. Every flap of the wings creates a ripple effecting every other thing. Whether you're in fast food, real estate, or flooring you've seen challenges. It's great to have high demand, but it's difficult not being able to service it well. Every package has to overcome hurdles to get delivered, and it may not be anyone's fault. This makes the problem more complicated to solve.
While Mannington has a hometown advantage, because we manufacture domestically and require much less global transport than our competitors, our lead times have still taken a hit. Sometimes our factories can't get the raw materials they need, we've had labor shortages, and transport delays. 
We have had carriers put us on quota. We've had carriers add surcharges for freight delivery in certain regions to tamp down volume going through their network. We've had to work harder at creating strategic relationships with carriers so we can assure our freight moves." - Jim Perkins, Senior Director of Warehousing and Transportation Mannington Commercial
At Mannington we are continuously recalibrating in order to compensate for material and shipping issues. We are doubling down on our relationships with suppliers and shippers, and we are getting guarantees wherever possible. When necessary, we look to new raw material suppliers and employ alternate shipping solutions. 
The situation is mind boggling and requires creative thinking, so we've created a Research and Development Team that is dedicated to solving material and shipping issues. When one material is delayed or not available, the team looks around at what else could work and finds alternatives, so we can keep our products moving. 
You Might Like: How Designers Can Navigate Supply Chain Issues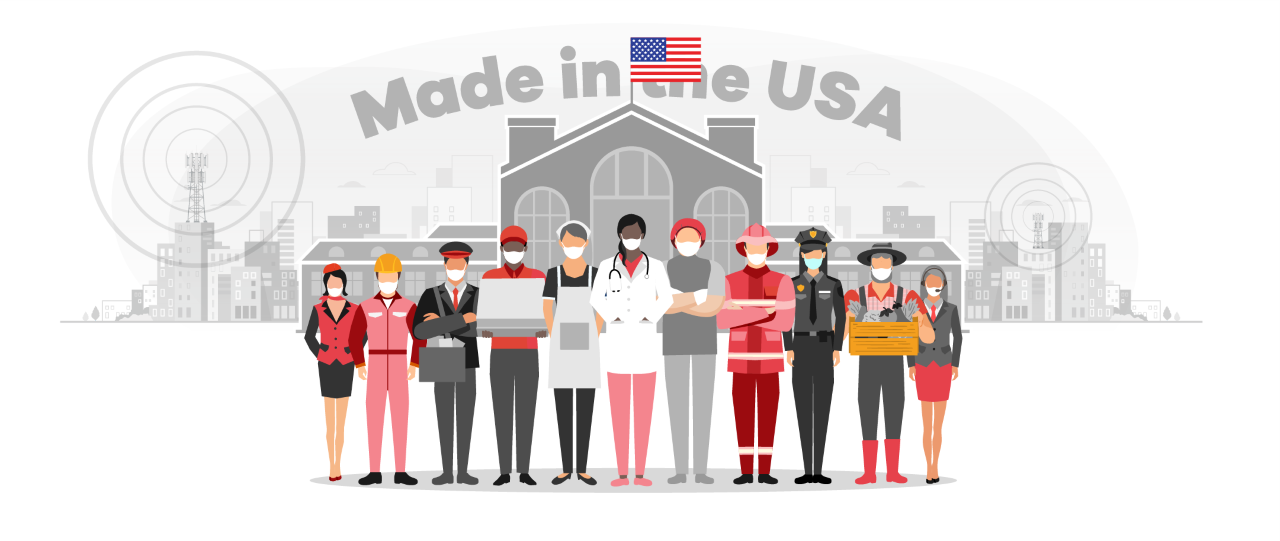 When Will It Get Back to Normal?
Everybody is trying to read the crystal ball. We are holding our breath waiting for things to get back to normal. But the general consensus is that it may be a while. There appears to be no quick reversal in sight. Here's what some of our interviewees predicted about getting back to normal:
The leading indicator toward resolution will be labor. When everyone goes back to work and the factory and shipping jobs are filled, the situation will start to resolve. Labor is at the starting point of getting back to normal. In Calhoun, Georgia we are seeing a slow and steady increase in applicants for jobs. When labor comes back, we will be able to increase raw material and product production, and also get laborers to help deliver the goods.

- Al Boulogne, Vice President, Commercial Carpet and Rubber at Mannington Commercial
The increased demand will stay, because people have changed their shopping habits to buying online instead of going to the store. And once labor comes back, it will take several years to sort out all of the delays and backlogs.

- Jim Perkins, Senior Director of Warehousing and Transportation Mannington Commercial
There's nothing in the short term that's going to alleviate the supply chain issues. We are waiting on a few things. Once long-haul passenger air travel is restored, you will start to see your cargo capacity come back. And there are new container ships that are coming online in the next two to three years that will greatly expanded capacity. They're called Panamax Class Container Ships. Panamax meaning Panama Canal and maximum, because they are the maximum size that's permitted in the Panama Canal. But we are probably 24 to 36 months away from seeing any significant easing of constraints in the global supply chain. - Judson Rollins, Global Logistics Consultant
Forbes recently published an article citing several possibilities for improvement in the global supply chain. Technological advancements like 5G enhanced communication and autonomous vehicles could speed things along. The article also mentions moving more of the supply chain in house, something Mannington has always done. Manufacturing and shipping in the USA helps to reduce the number of things that can go wrong. 
Understanding the compounding and complicated factors helps everyone involved to be patient. Supply chain slowdowns are not going to resolve overnight, but our experts are hopeful that it will resolve in the years to come.
What Can You Do?
If you are working on a design project, there are a few things that will help keep your job moving along. Remember, communication is key. The sooner we know you need something, the sooner we can put the steps in motion to get your product.
When we have more foresight, we have been able to service our customers very well. It's the last-minute rush orders that are trickier these days.

- Whitney Legate, Vice President of Commercial LVT at Mannington Commercial
Try and give more lead time on your project, so Mannington can meet and exceed your expectations. And keep in mind, delivery timelines have been extended across the board in most industries. Remember to factor that into your design and construction schedules, as well as your own client communication.
Be flexible where you can and know, you might have to reselect based on current availability. Communicate with your rep and they can help find alternatives.
When you think about supply chain holistically, you start to understand how lead times have been extended and everything has been impacted by Covid-19. Sometimes it's hard to give a lead time at all because the problems that could arise are unknown. When you understand the bigger picture, you can better plan for your project and advise your own clients. 
The plus side is that we are having these conversations, and our understanding about sourcing and delivery has increased. We don't take manufacturing and delivery for granted anymore. We have seen what can happen to the supply chain. As a result, we will be stronger and better able to maneuver in the future.
While we have never faced supply chain issues like this before we are doing everything we can do to protect our customers from the issues and absorb the delays and not pass them along. Unfortunately, each time we factor in one shortage we face another. It is reminiscent of the game "whack a mole" we played as kids.
We know we are impacting project timelines, selections and budgets and are seeking to improve how we communicate and how we manage supply to limit these impacts. We felt this information is important for the design Industry to understand the complexity of this issue since it could be around for the long haul.
You Might Like: How Designers Can Navigate Supply Chain Issues
---

Do you need flooring now?
We can show you what we have in stock.👇