If hybrid work is here to stay, and according to ThinkLab research it is (FYI), then we have to rethink well... everything! First, we have to think differently about the old sales rep model. It involves going into design firms, so in a hybrid world, that won't work the same way it did in 2019. Now sales reps will have to get very specific about in-person time with designers, but more importantly optimizing that in-person time.
Digital tools open up a new way to connect, but also to help designers self-serve so that when they do come in contact with a sales rep, their time is used in best way possible. What we need to do is help make designers lives easier.
As a leading manufacturer we want to be the best people in the flooring industry to do business with, and one of the ways we are working towards that goal is building out online design tools that help make it easier for designers and end-users to specify our products.
Let's look at some of the tools out there now: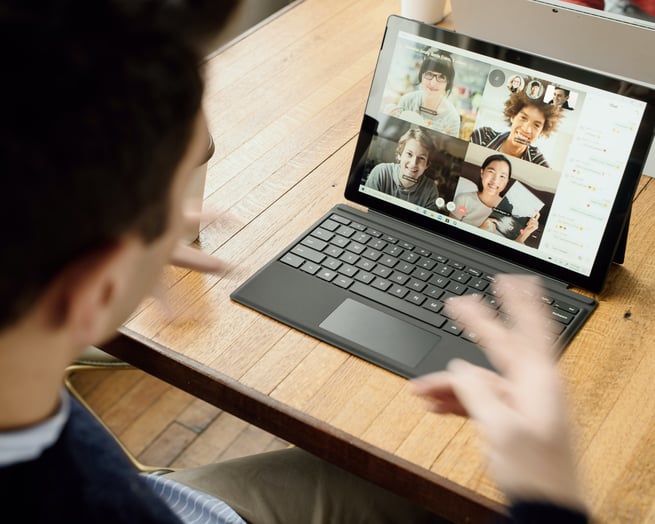 Inventory look up Tools
If you're a designer and/or someone who specifies materials for interiors then you have felt the strain of re-specifying and supply chain issues, which are also here to stay (ah!).
If you can't get your product for whatever the reason, you need a plan B, and we want to service designers and specifiers with the next best thing, and give them the tools to see alternatives across our categories available to ship. I'll repeat this one again, our Available Product Inventory tool lets you filter for specific requirements and see what we have on the shelves and ready to ship! The tool also shows you alternatives that are in stock across our product portfolio if you need a coordinating product.
Our very own, Amanda Darley, VP of Marketing talks on a recent episode of Design Nerds Anonymous Podcast about our product inventory tool and how it went from a beta test to the most used digital tool in our company right now. Check out the full episode here: Pioneering The Future of Product Specification.
Visualizers
Online visualization tools are not considered new in the interiors industry, but I think they serve a new purpose in this day and age. With our visualizer you can choose from several different room segments or even upload your own photo to see the flooring you selected in your space.
In addition to room scenes, you can also download a 10' x 10' overhead to see the flooring repeat. You also have the the option to download individual tile images for your CAD or 3D modeling programs.
When it comes to LVT, Amtico Signature offers distinct, custom cut designs using non-standard sizes and/or combinations cuts. In addition to the visualizer tool, we also have the Amtico Signature laying patterns tool so designers can explore the 24 patterns and download layout details.
Designers can use any product in the Amtico collection to experiment with laying patterns, color and product mix to create your Amtico pattern. As part of the Amtico Collection, Active Lines also offers unique layout options for striking shapes and pattern play. Our Amtico Active Lines design tool walks you through the step-by-step process of the digitally printed LVT options and provides visual assets to help continue your design process offline.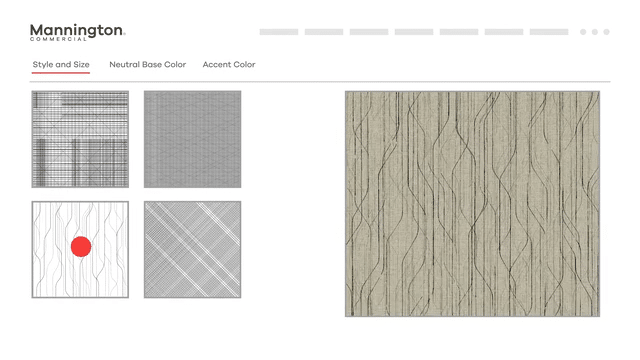 We also have a section of our website where you can create your own project boards. Project boards allow designers and end-users to Collect and curate from our broad portfolio of flooring products. You can mix and match selections and order samples with the click of a button.
Benefits of creating a project board:
Create your own board to gather ideas for your next project.
Save colorways, room scenes and more.
Share your ideas with your team members.
Order the colorways from your board.
Add one of our designer palettes to your board.


Educational Guides & Case Studies
In the virtual world that we now live in we need to get our hands on information fast and if you aren't able to connect with a rep at midnight when you are against a deadline and are needing to self-serve, then we have a guide for you. Have a question about LVT? The Specifiers Ultimate Guide to Luxury Vinyl Tile (LVT).
Looking for information on carpet backing? How to Choose a Commercial Carpet Backing System. What about a poured floor, how does that work? The Pros and Cons of A Liquid Linoleum Floor.
Maybe you need a bit of inspiration and want to see some real-world applications using our flooring products, take a look at the Durham County Main Library in North Carolina, or the Ron Clark Academy in Atlanta, GA. Want to peek inside a Colorado neonatal intensive care unit (NICU)? Check the UCHealth Poudre Valley Hospital.
Maybe you're worried about specifying our modular carpet tile? Sit down (virtually) with Sr. Project Manager, Chris Reed, from Tantillo Architecture and see why he choose our modular carpet tile for a school building, How To Use Carpet As a Backdrop For An Education Space.
Manufacturer's Design Solutions Programs
While this is not an online tool specifically, it's a tool that many designers don't know about that allows some of the leg work to be done for them. At Mannington Commercial we have a team ready to help you with floor layouts.
Our Design Solutions team offers a full-service floor design program called FloorMaps, in which we provide you with custom flooring layouts, from concept to installation plan, for one room or an entire facility, yes you read that right. Let us help you with this step of the process. This is also a great way to partner with your local rep as they oversee the process for you!
---
If you are a designer or person who specifies materials, we would love to hear from you. Let us know what digital tools you like, use, and or want to see! 👇