The Luxury Vinyl Tile (LVT) market continues to see new products launched every day. As products and preferences continue to evolve, there is an increasing demand for more rigid, Waterproof Core (WPC) also referred to as Expanded Polymer Core or Solid Polymer Core (SPC) - type products.
While most of these products are often designed for residential applications, many meet commercial specifications or performance demands. If you're an architect or designer, this means that there are even more options available for you to consider.
I have been with Mannington for just over 38 years. I have a BE in chemical engineering from Stevens Institute of Technology. I have held several positions in the Lab/R&D/R&E group over the years, with my current position being Corp. Prod & Stds Mgr. Prior to Mannington I made PVC resin under Tenneco Chemical and prior to that TPR compounds for Uniroyal Chemical. I actively participate in ASTM F6, F13, E60, NALFA, ISO TC219, DHA – Engineered Wood, and RFCI Technical committees.
In this article we're going to dive into the details, and look at the differences between Waterproof Core (WPC) or Solid Polymer Core (SPC) and how they are different from traditional LVT.
What Is Rigid Core LVT?
Rigid Core LVT, just like traditional LVT, is offered in a wide range of styles, colors, textures and formats. Rigid Core LVT and traditional LVT are typically cheaper than hardwood and ceramic tile.
So, what determines whether a rigid core product is rated for a commercial space? The ASTM (American Society for Testing and Materials), has established rigid core products meet the specifications outlined in ASTM F3261.
Products, either tile or plank form, within the ASTM F3261 specification need to meet the following:
Printed with clear transparent/translucent wear layer, Class I
Have either a smooth surface Type A, or embossed surface, Type B
Grades classify the total wear layer thickness, Grade 1, Commercial, with a minimum wear layer of 0.020" (0.5 mm) or Grade 2 covers products with a wear layer of less than 0.020" (0.5 mm)
Backing classes indicate if there is an attached underlay backing, Backing Class A no attached, underlay backing, Class B includes attached, underlay backing
Rigid core products have a few key elements that make them different from traditional LVT. Rigid core products are becoming well defined, based upon the ASTM F3261 criteria, along with their applications and experience in the marketplace.
Other core products are coming out trying to make a name for themselves, but have not been defined based on any proven specification criteria. In essence, buyer beware.
In 2017, here at Mannington Commercial, we launched two rigid core LVT product collections, City Park and Mannington Crown Collection. Both rigid core products are solid core construction featuring FloorArmor and are rated for commercial use.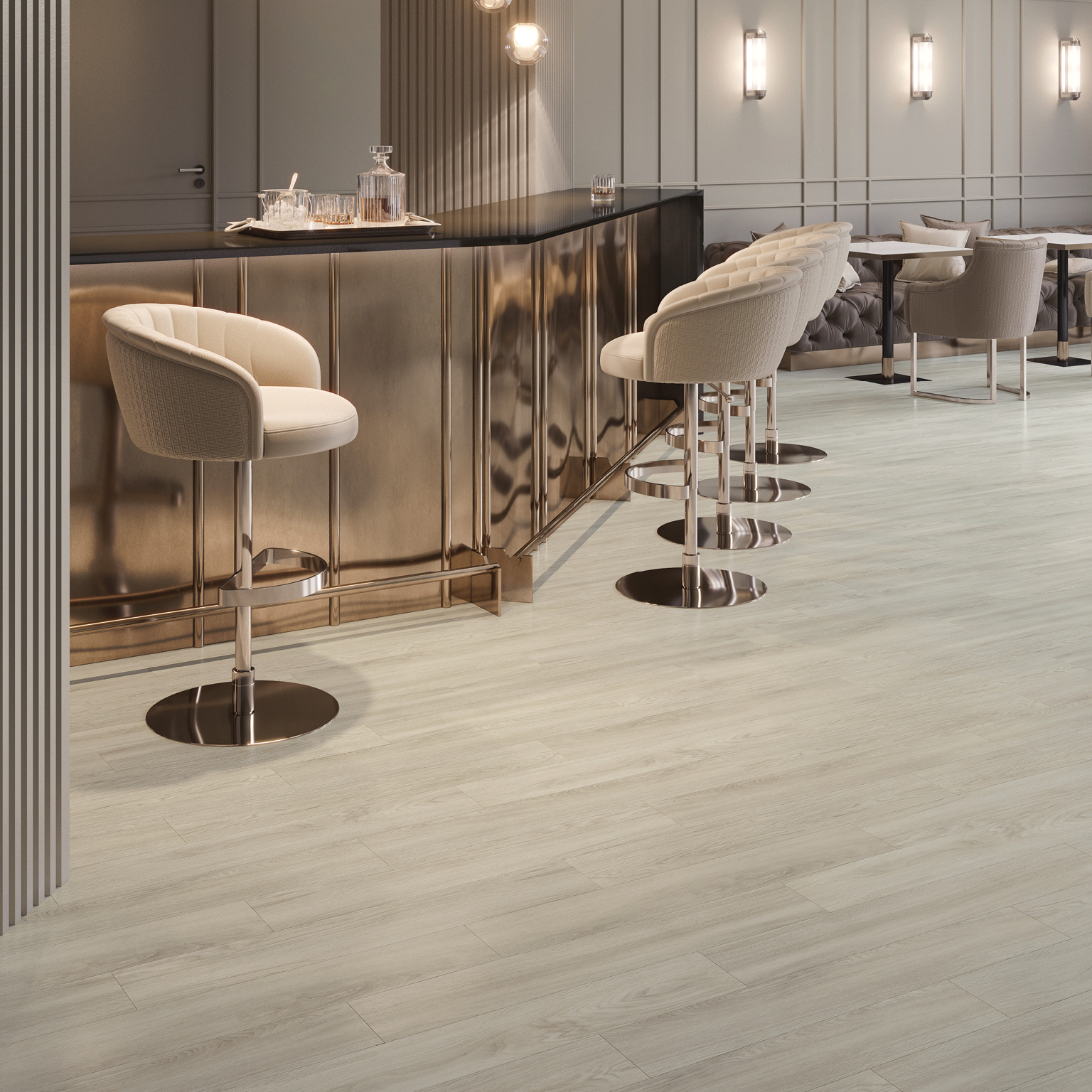 City Park: Windsor Oak - Ashen
How Is Rigid Core LVT Constructed?
Rigid Core LVT's construction is like traditional LVT except for the core layers. For definition purposes, we will categorize rigid products as "a resilient flooring with polymeric rigid core, a rigid floor covering, typically in a plank or tile format with a locking profile, having a multiple layer product structure."
With so many options of rigid core LVT in the marketplace, the total product thickness, pad, wear layer thickness and specialty top coat will change the products acoustic properties, sound absorption and durability performance.
Backing / Underlayment Foam Layer
The backing, or in some cases the underlayment foam layer, of the product contributes to the product thickness, noise reduction with acoustical properties and helps conform to and hide subfloor irregularities.
Rigid Core Layer
The rigid core layer provides thickness, stiffness, dimensional stability and other properties needed for the finished product. There are generally two rigid core layer types, SPC and WPC which we will discuss later.
Print Layer
The print layer provides color and design to the product.
Clear Wear Layer
The clear wear layer protects the products design aesthetics and provides added product durability.
Specialty Top Coat
This layer is typically a urethane compound and provides added protection against resistance to stains, scuffs & scratch.
WPC vs SPC, What Are the Differences?
Let's dive into how these two types of rigid core LVT products differ. In both constructions, the polymeric rigid core layer provides thickness, stiffness, dimensional stability and other properties needed for the finished resilient flooring.
Rigid WPC (Waterproof Core) products are rigid products that meet the general definition of resilient flooring with polymeric core. But these also specifically include an intentional cellular structure (foam structure) in the core layer to help improve properties such as thickness, reduced weight, improved acoustical properties, easier installation, etc. These products are also sometimes referred to as EPC (Expanded Polymer Core) products.
WPC products generally are thicker, are quieter underfoot and tend to absorb sound better than SPC products. However, WPC products do not have as good of indentation properties unlike SPC products which behave like traditional LVT where indentation will recover over time. WPC products have lower static load (PSI) limits.
Rigid "SPC" (Solid Polymer Core) products – are rigid products that meet the general definition of resilient flooring with polymeric core but also exhibit no significant porosity or intentional cellular structure in the polymeric core layer. SPC rigid core helps improve properties such as thickness, indentation resistance, easier installation.
SPC products are superior to WPC products when it comes to durability and stability. SPC products may not be thicker than WPC floors, however they are denser, which gives SPC floors better indentation resistance and offers better product stability.
If you are looking to use rigid core products in a commercial setting, an SPC product would be your best product choice.
Mannington Commercial's rigid core collections have a SPC core layer, FloorArmor® Core. The Floor Armor® core offers superior static load resistance, dimensional stability and smoke density performance, making these products specifically engineered for commercial environments.
Is Rigid Core LVT Installed Differently than Traditional LVT?
Rigid Core LVT and traditional LVT products can be used across many segments, however, these products are installed differently.
Rigid Core LVT products are installed as a floating floor or with a click system installation. This installation method does not use adhesives which eliminates adhesive cure time when compared to installations of traditional LVT. Anytime you are installing a click system, traditional or rigid, be mindful of your application. Click installation systems are typically not recommended in heavy commercial applications or where heavy rolling traffic occurs.
Glueless installation also makes for a cleaner environment with no adhesive VOCs and reduces floor prep time.
With Rigid Core LVT being a thicker product, this helps with hiding any subfloor irregularities, installs over most existing surfaces and avoids abatement requirements and moisture remediation.
You Might Like: The Specifiers Ultimate Guide to Luxury Vinyl Tile (LVT)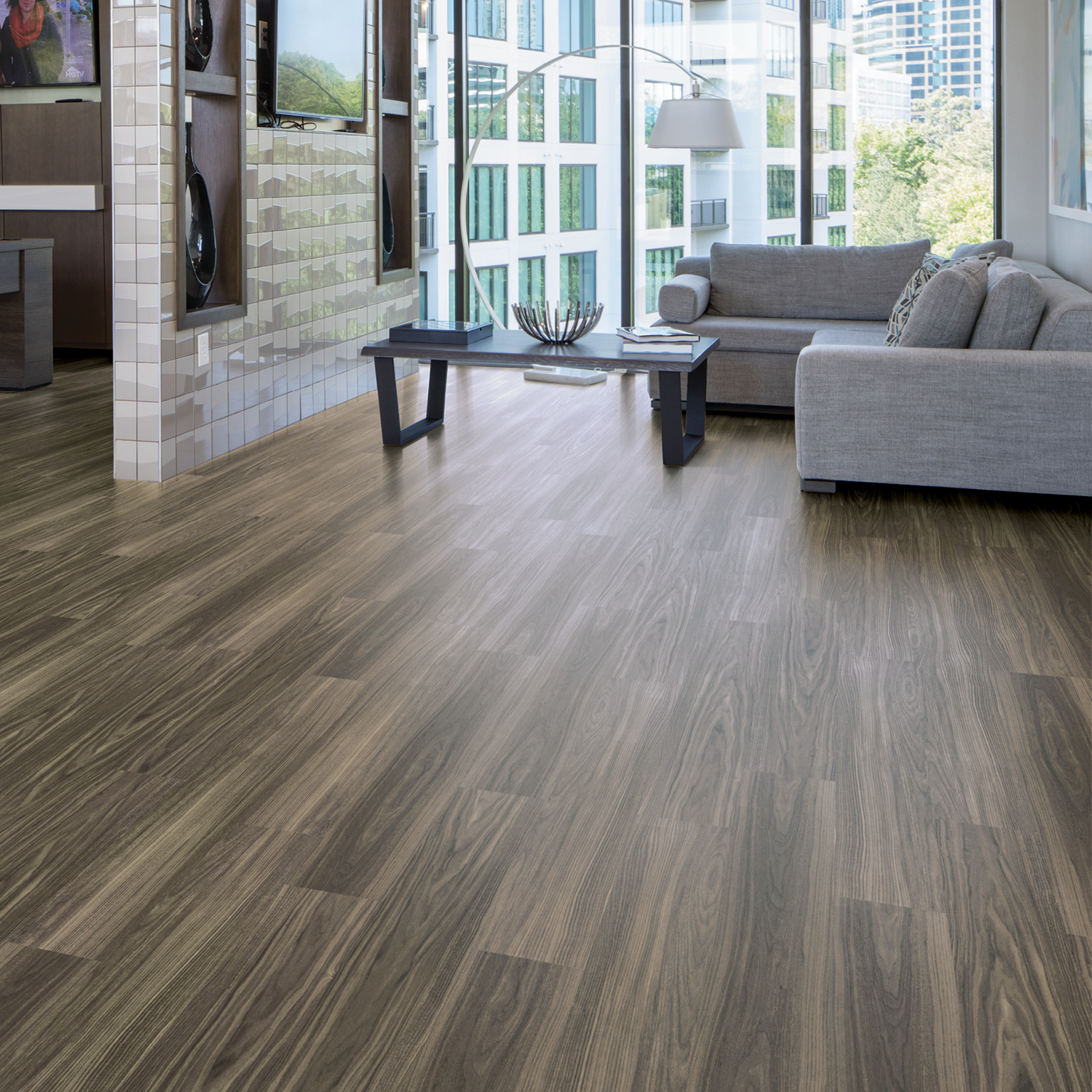 Mannington Crown: Dusky Walnut
Rigid Core LVT: An Alternative LVT Option
LVT is a popular choice in flooring for commercial applications across many different segments. If you are looking for a traditional LVT or need a durable, quick installation choice like rigid core LVT, both products offer beautiful design aesthetics, easy maintenance, durability and dimensional stability.
Learn about our LVT collections and choose the right commercial product for any flooring space by viewing our LVT recommendations.