Designing Casual Commercial Spaces
Where there was once a defined line between home and outside work, that boundary is now blurred as all aspects of our lives become more casual. Especially after the spring/summer of 2020 when many people got the chance to work from home and experience a professional life, that for some of us, became so casual that we even dared to wear pajamas on our Zoom calls.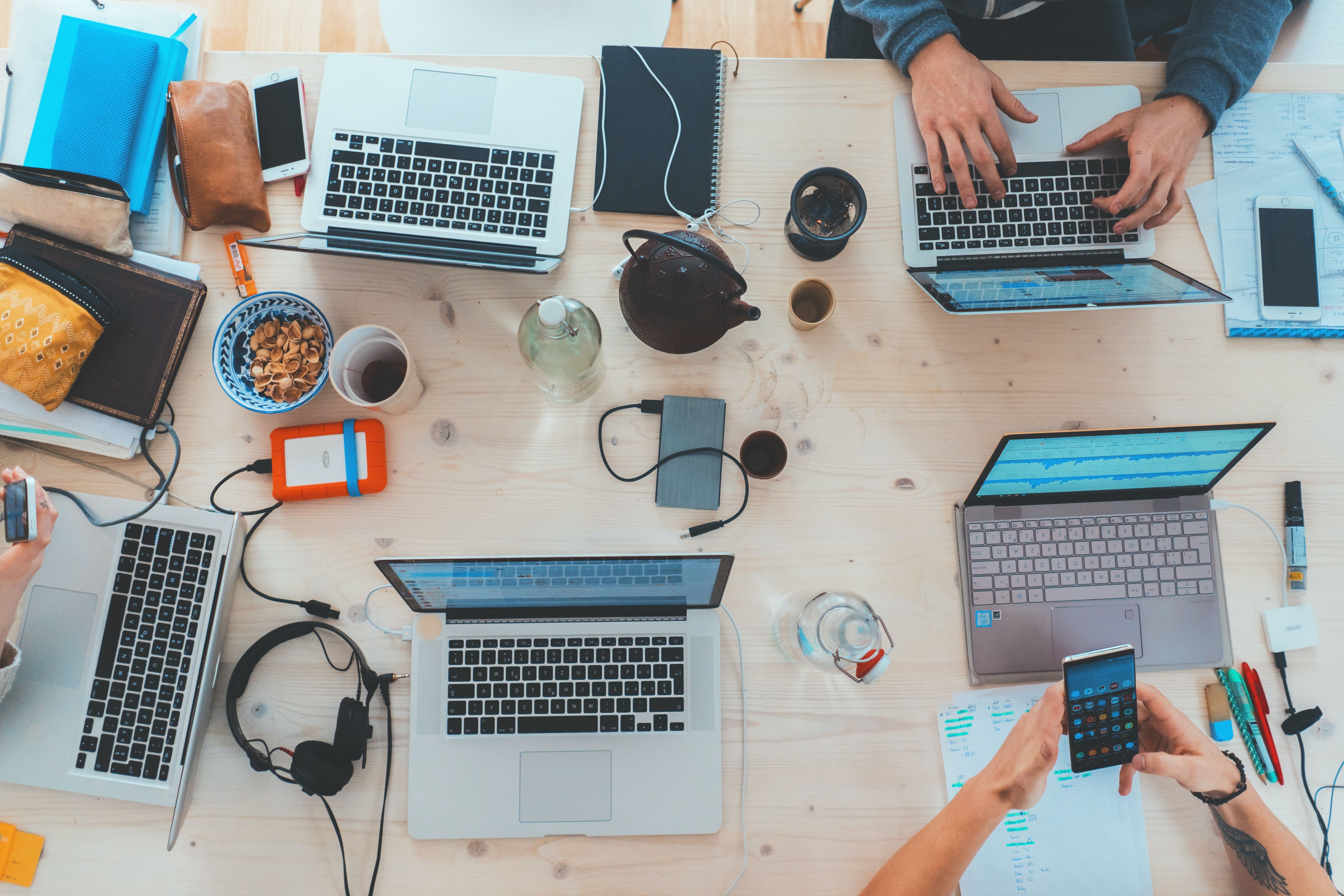 Photo by Marvin Meyer on Unsplash
Make no mistake, a less traditional aesthetic still requires advanced performance. Specifiers can help create spaces that are high functioning yet less formal to meet the changing needs of the occupants, as we retire our sweatpants and head out into the world again.
Casual workplace design doesn't equate to lax; a space can be highly functional without being either cold or nonchalant. Workplace, educational, healthcare and hospitality environments are inspirational and collaborative as the "casual aesthetic" becomes the norm instead of the outlier.
What's driving this change and blurring the lines between vertical markets? There's not one simple answer. It's a consequence of changes in the way people live, play and work.
Shifts in population and advances in technology have altered how we all communicate and interact at home and at work, which in turn affects the way designers influence and create our spaces.
In this article we're going to look at this concept of blurring spaces by challenging dated formal design principles in four different spaces:
Learning
Working
Healing
Traveling
How Generational Change Influences Design
The design shift applies across demographics and across generations. Steve Jobs and Mark Zuckerberg represent different generations of technologists but both opted to lead multi-million dollar companies in jeans instead of suits. In an experiment by Steelcase, a leading manufacturer of furniture for offices, hospitals, and classrooms, people over age 35 chose to work in a task chair at a desk while those under 35 opted to work in a lounge chair.
It's a matter of comfort. And, Gen Z, who is beginning to enter the workforce, has even less tolerance for traditions and formality than Millennials and Gen X. This next generation of workers is not used to sitting at a desk at all. For them, work isn't a noun, it's a verb. It's not a location; it's an activity, and they can work anywhere.
With Gen Z leading the way, people of all ages expect a world of interactive spaces. The average 15- to 18-year-old owns at least seven internet-ready devices and ranks high-speed wifi as the most important accommodation in a college facility. But they aren't the only tech-savvy people modern workplace design will need to please: people of all ages share their lives online, from vacations to daily video journals to telecommuting.
Untethered technology has completely changed the way we all live and work, compelling the design of our environments to be innovative, collaborative and supportive. Interior design now must move beyond traditional function to address a spectrum of needs ranging from stress reduction to social interaction and connectivity to escapism.
Evolving Design in Learning Environments in University & K-12
Education is the cornerstone of innovation. Providing an improved student experience is directly related to creating an optimal environment, which often looks quite different from what many of us grew up with.
Look at the students first – there are all kinds of statistics showing increased anxiety and depression among young adults in college making it all the more critical to create spaces where they can develop skills to mature emotionally while learning academically.
College is the first time many young people have the opportunity to interact with people who are different while learning more about equity and inclusion. It's a time to learn to appreciate diversity and value life experiences.
In a growing number of cases, that learning is happening online. Between increased enrollment in virtual classes and forced online learning with campus shutdowns, students are learning as much on laptops as they are in classrooms.
For those who attend a conventional college on campus, student centers are anything but traditional. It's no longer good enough to have a room with some couches and vending machines. Students expect areas that are safe and innovative. Some are intended for study, others for experimentation and interaction.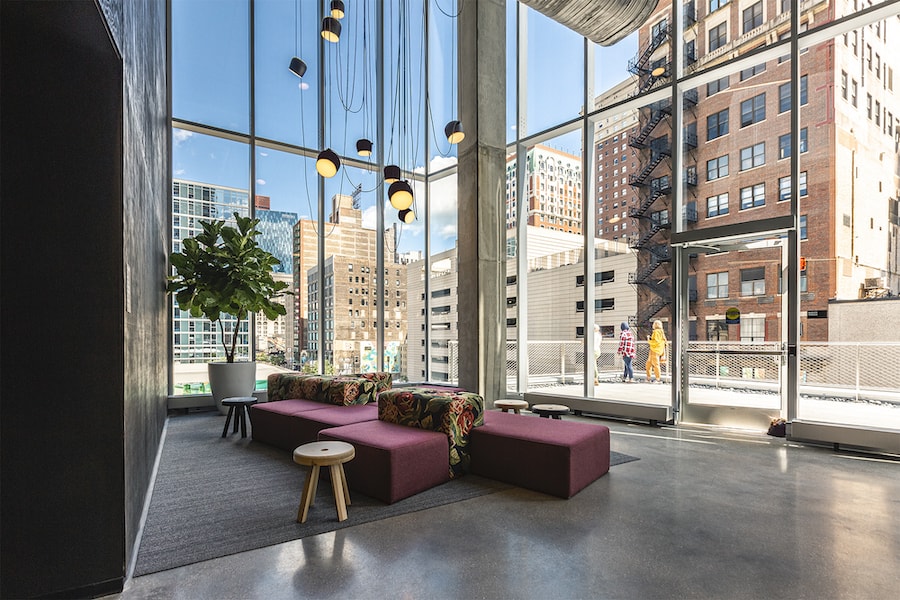 Columbia University Student Welcome Center
Examples of this can be seen at the student welcome center at Columbia University that includes dance studios, study areas, maker labs, a fitness center, dining facilities and outdoor terraces. "The Garage" at Northwestern University is 11,000 square feet of space for students to interact with a variety of technology disciplines and explore their creative ideas.
These spaces sound great, right? And they are. But creating them requires insight and skill.
The environments need to be flexible, easily rearranged and visually interesting. Students want to sit on the floors and lounge on couches. They want furniture that's both unique and sustainable. This generation cares about the environment and the impact of their purchases, making sourcing a factor for specifiers and designers as well.
As all educational facilities look to the future, there will be necessary changes to accommodate a post-COVID-19 reality. Lessons learned from mandatory online, in-home learning will be incorporated into updated campuses, making flexibility and connectivity more important than ever.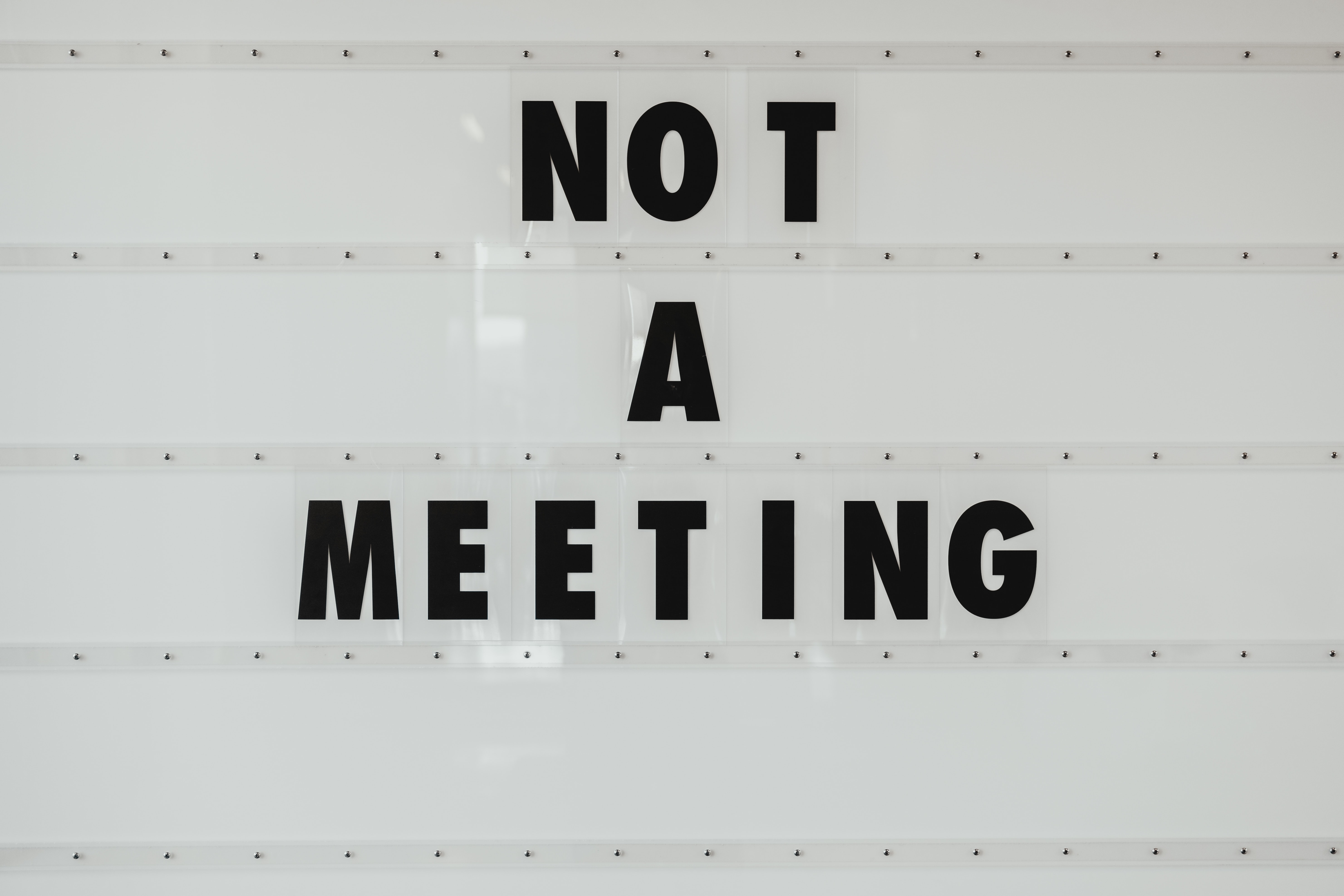 Photo by Bernard Hermant on Unsplash
The Future of Workspace Design
As a generation of students learns in cooperative, interactive environments and chooses to study anywhere at any time, their perception of the workplace is transformed as well. This new view of corporate formality and productivity has generated the need to re-examine how and where we all work.
Nearly 80 percent of executives agree that the future workforce will be structured in multidisciplinary teams working on projects rather than basic job functions.
Modern realities require new skills and modified ways of working. The T. Rowe Price Information Center in Maryland includes open spaces to easily work with mobile colleagues alongside break out spaces for smaller discussions, research sessions, product demos or technical reviews.
The workspace was shaped by the process instead of the process being shaped by the space. The company reports their product launch time improved by 35 percent as employees could transition more easily between activities.
When Microsoft renovated two major corporate buildings, the company chose to implement the neighborhood concept instead of stuffy, individual offices. Employees and executives can access a range of working environments designed to inspire and empower. Even the term "neighborhoods" implies a more casual space.
You've no doubt heard that the "open office" space concept can be counterproductive; which resulted in a backlash against it. This created an imperative to work with clients in developing layouts that will work for their teams and influence how the space is perceived.
Team areas with casual seating and vertical writable surfaces invite collaboration while conference rooms should have some form of privacy barriers. As for individual spaces, there are options other than closed door offices to provide a private space for both executives and regular employees to focus.
Privacy pods, wellness rooms, even a simple chair with a high back and sides can provide a more cloistered space. The key is to consider what people really need to be able to do their jobs, whether that's talking with clients or analyzing numbers or brainstorming product ideas.
In dealing with COVID-19, the entire concept of going into an office or even sharing a co-working space has changed, and it will continue to evolve as workers adjust to adapted realities. What hasn't changed is that people are always going to need a place to work, whether that's full-time or on occasion.
Quality design and innovative materials can help solve issues related to flexibility, multi-person use, and adaptability. It could be new floorplans, new surfaces, new fabrics, new access points or something that's yet to be conceived, but change is inevitable.
All that "new" can be tough for those who've been in the workforce for decades, but as Baby Boomers retire and Gen Xers and Millennials move from job to job, the totality of the workplace becomes even more important. The corporate environment is a major recruiting and retention tool – as much as the vacation policy and the benefit plan.
Employees want a curated work experience that emphasizes the needs of the individual to be inspired and productive. The office space is part of the brand, from the fun, funky Google headquarters to a quirky Capital One bank branch in Virginia that includes food trucks and coffee bars. It's the architecture, the furniture, the lighting, the amenities, the complete package can impact employee satisfaction.
Healthcare Design Focus Shifts to Wellness & Patient Experience
Just as how we learn and how we work is affecting our environments, how we access healthcare is changing as well. Specifiers and designers who work in the healthcare space are at the front lines of transformation – now more than any time since the early 20th century.
In response to a time of crisis, everything about healthcare access is evolving, almost more quickly than we can keep up.
From drive-thru testing to mandatory personal protective equipment (PPE) to stringent access, the entire industry is in constant change to keep up with necessary requirements.
Mobile technology means care isn't tied to a static location; doctors can monitor patients wherever they are and equipment is more streamlined and portable. As technology and related products evolve, more time and effort can go toward the aesthetics and other "soft" aspects of care.
Hospitals, doctors' offices and outpatient clinics increasingly have to compete for patients, making factors such as atmosphere and amenities more visible. According to Science Daily, details like a nice guest bed for a family member or natural light in the room can improve the patient's mood and help healing.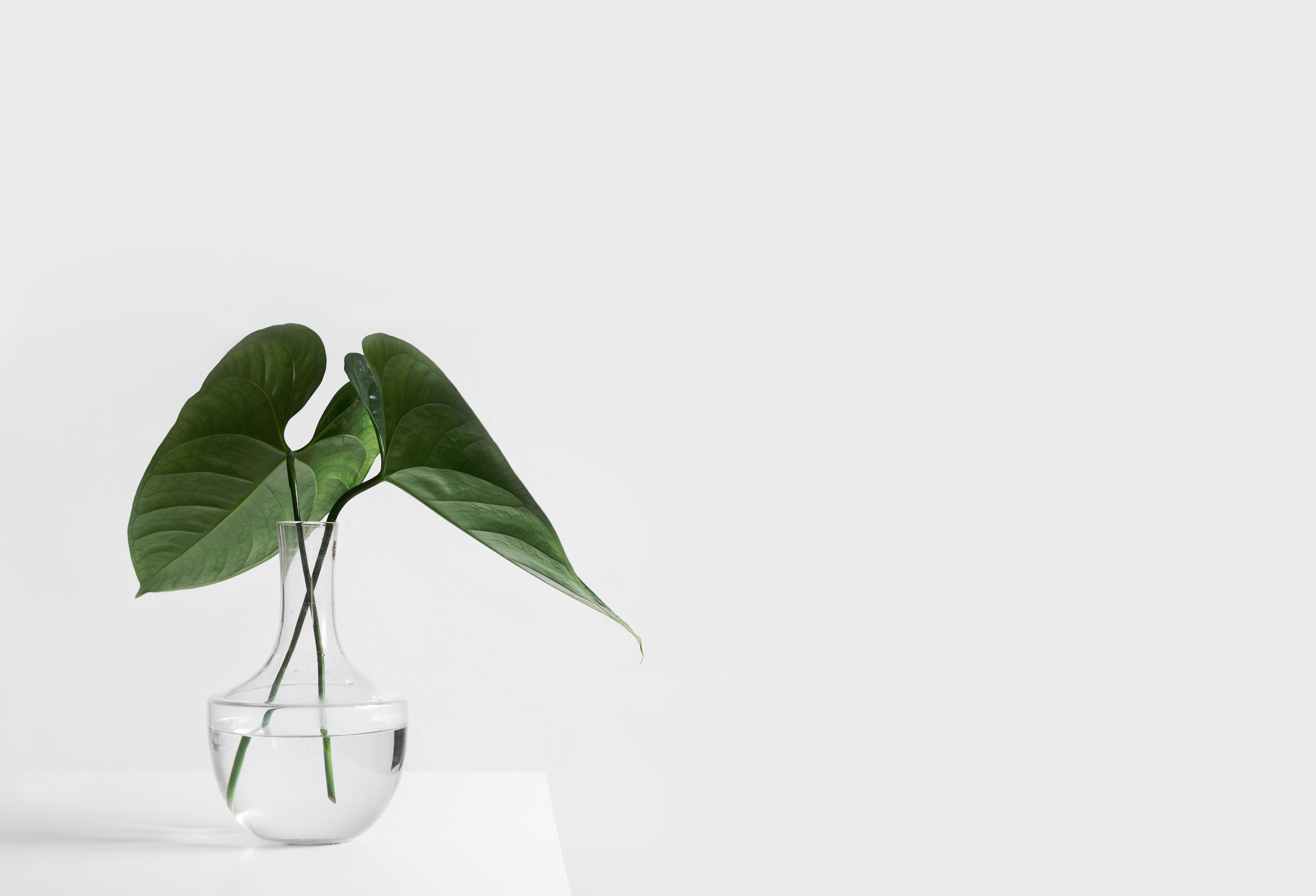 Photo by Sarah Dorweiler on Unsplash
Patients and their families are increasingly being viewed as guests with increased expectations beyond the actual medical care. According to a survey by Health Facilities Management Magazine, patients want wifi access, family/social spaces, specialty lighting and nature-based artwork. Even waiting rooms are being completely reimagined. That's a major shift toward transitioning a place that's often associated with anxiety to one of communication and empathy.
Instead of rigid rooms filled with lines of chairs and old magazines, waiting rooms can be welcoming spaces designed to create a more positive atmosphere. This is especially true for facilities that support families and young children. Just adding color and humor can make a big difference in perception. Including plants, natural elements and furniture that's more like home than a clinic can completely change the vibe of the space.
One of the fastest growing segments in healthcare is geriatrics, specifically senior care facilities.
The blurring of hospitality and senior living spaces is becoming more evident in these places. Designs cater to an aging, yet active group who want a more vibrant, tech-savvy, fun lifestyle. In some cases, the facility appears more like an upscale apartment complex than a healthcare facility with clinical elements largely hidden from view.
Informal Design Trends in Hospitality
Getting away means different things to everyone. Some dream of luxury while others yearn for simplicity. Whatever the consumer's goal, hospitality design is more influenced by residential trends than ever before. The obvious game-changer in the segment was the rise of residential rentals – staying in a home while traveling. The idea of making where you stay part of the experience instead of opting for a cookie cutter room is appealing to many.
As hotels take on more of the character of their surroundings, the idea of resimercial stays will make the accommodations a greater part of the travel experience instead of simply a place to sleep and store your stuff. The calls on designers to look beyond standardization to customization while still adhering to the product standards required by the industry.
So you've done the research and the sourcing and created an extraordinary property with tons of amenities. It's uber homey yet totally on trend. But, the next question is make or break – is it Instagramable? People want to share their experiences and demand visually stunning backdrops.
And, the space has to be tech-friendly and appeal to multiple generations. All in a space that's inviting and communal yet personal. A tall order all around, especially as people dip their toes back into travel with some degree of hesitation.
Monitoring how hotel lobbies evolve in the near future will be an interesting study. In some ways, they're the living room of our home away from home. A place to meet and entertain and relax away from where we sleep, especially for those who find themselves frequently on the road.
But don't be surprised to see subtle – and maybe obvious – changes as the hospitality world adapts to the new realities of post COVID-19 travel with creative furniture placement and materials.
Beyond "Resimercial" Design
In exploring each vertical market – education, corporate, healthcare and hospitality – we see the common themes of wellness, flexibility, quality design, tech-friendly ect.
Despite living in a stressful world, there are mechanisms and options available to help us slow down. By incorporating elements of informal style into our work, our education, our healthcare and our travel, we can attain a respite.
Integrating considered design into these aspects of our lives can help create more balance across the board, and ultimately more thoughtful lifestyles.