Case Study: 4th & Park Pinecrest
Designing a large-scale apartment or mixed-use space can have its challenges, but paying a premium and juggling multiple vendors shouldn't be one of them, especially if you're aiming to deliver a unique design while working at a smaller design team.
When the developers at Fairmount Properties came to us looking to design a luxury apartment complex, we knew we could save them time and money by providing a single-source model.
Through an interview process, we ultimately gained the trust of the customer. Based on multiple competitive samples provided by Fairmount Properties, the District Manager on the project worked all weekend to put together a full product portfolio that ensured we could meet the needs and exceed the expectations of the project. At Mannington Commercial, we like to do this for two reasons:
We can save you time -

by developing a coordinated product portfolio that meets all your needs and reduces conversations with multiple vendors.

We can save you money - up to 5-10% savings by not having to pay a premium at multiple vendors.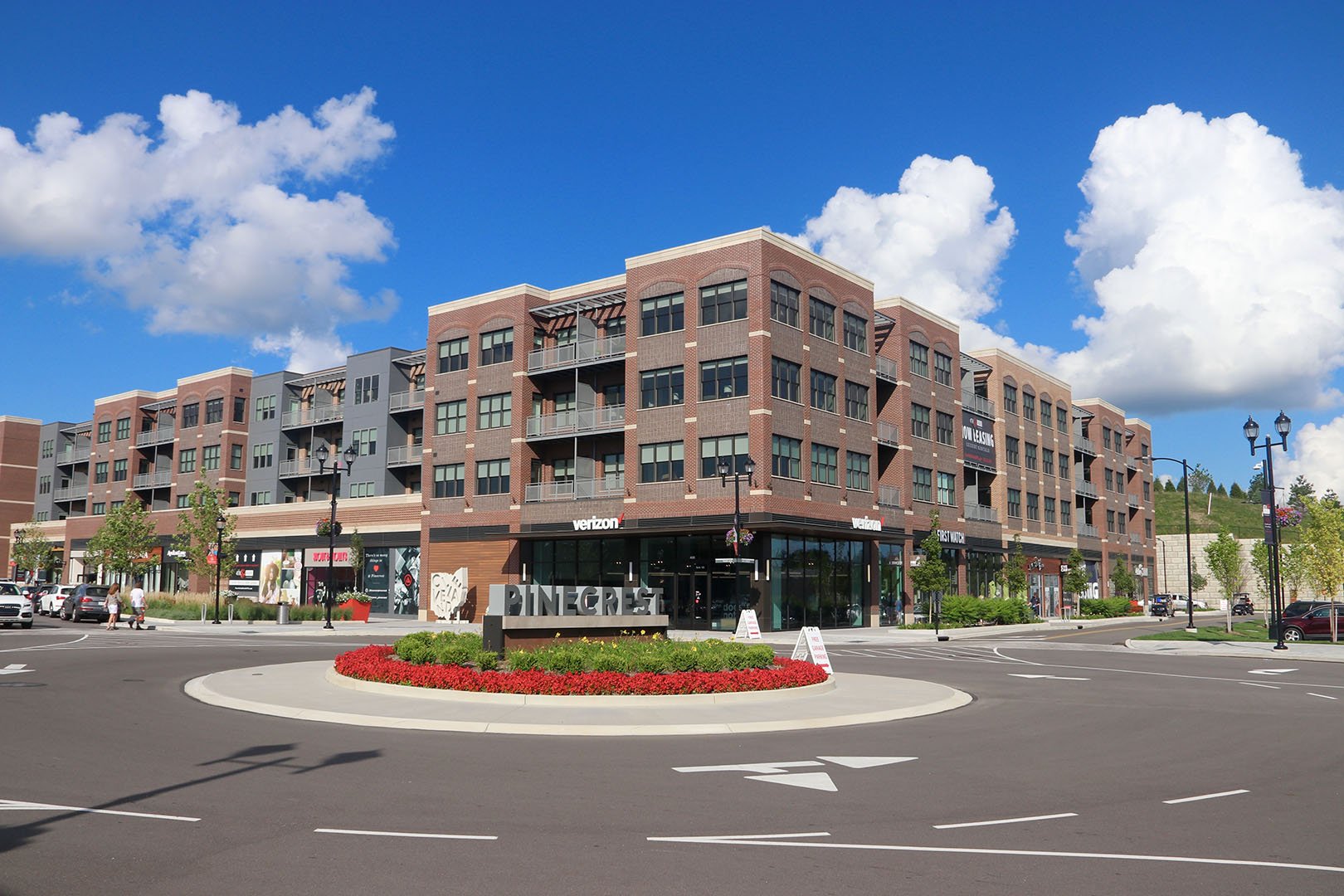 The Challenge
Cleveland-based Fairmount Properties is a small firm creating award-winning, $200-million-plus developments. With Pinecrest, a 58-acre mixed-use district in the Cleveland suburb of Orange Village, Fairmount knew they would be setting the bar even higher for themselves.
Pinecrest was designed to offer 400,000 square feet of upscale retail and chef-driven restaurants, 160,000 square feet of class-A office space, a boutique hotel, and 3 stories of luxury apartment homes known as 4th & Park. The 87 apartments were to include high-end 1, 2, and 3-bedroom units ranging from 900-1,700 square feet.
With a project of this scale, and for a firm of fewer than 20 people, the key to execution was an extraordinarily streamlined, efficient design process. "Because we are a small group, efficiencies are huge," says Brice Hamill, Vice President of Design and Planning at Fairmount.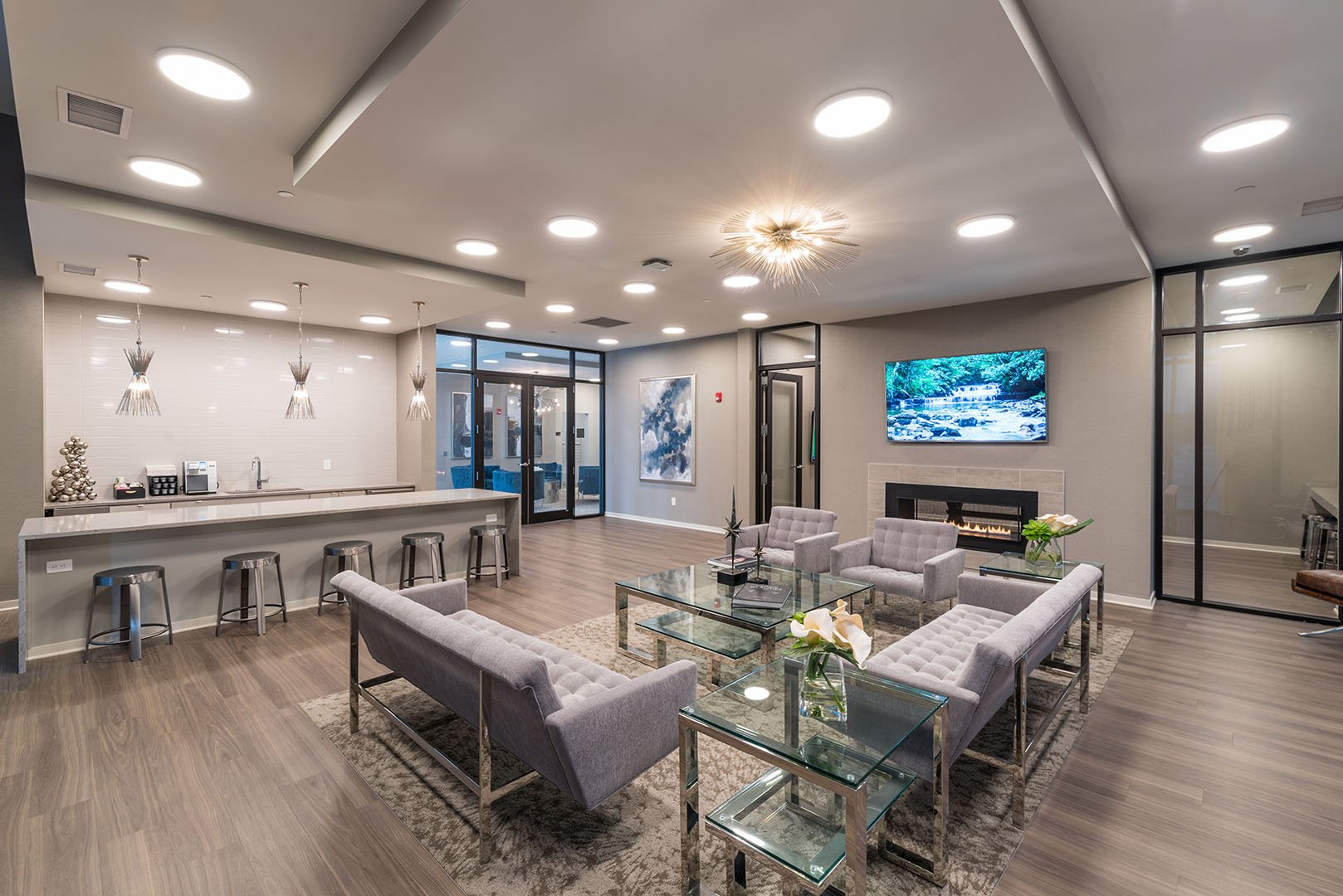 Spacia Collection - Dusky Walnut & Intrinsic Collection, Magnify - Fairness
Although their process was streamlined, their aim was to create anything but a cookie-cutter environment. As Hamill explains, "You always want to build something that feels authentic – because people want to go to authentic places."
For 4th & Park at Pinecrest, the apartment homes needed to deliver the luxury and authenticity that higher-income residents demand. The flooring had to be high-style with excellent performance, and all flooring types had to work together across public and private spaces.
To achieve the efficiency demands of Fairmount's process, as well as his design vision of stylish authenticity, Hamill needed a single flooring provider that could work with him seamlessly to meet the needs of every space in the residential building, quickly and efficiently.
The Solution
By using a single-source model with Mannington Commercial, Fairmount received high-quality flooring for every space and flexible, quick-turn service.
Says Hamill, "Before beginning this project, we did a lot of due diligence on vendors. If we were going to single-source, we needed to make sure we had a company that was large enough to deliver. I've followed Mannington Commercial for a while, and I knew they offered a great variety of products. So we called Mannington and proposed using them as our single-source flooring vendor."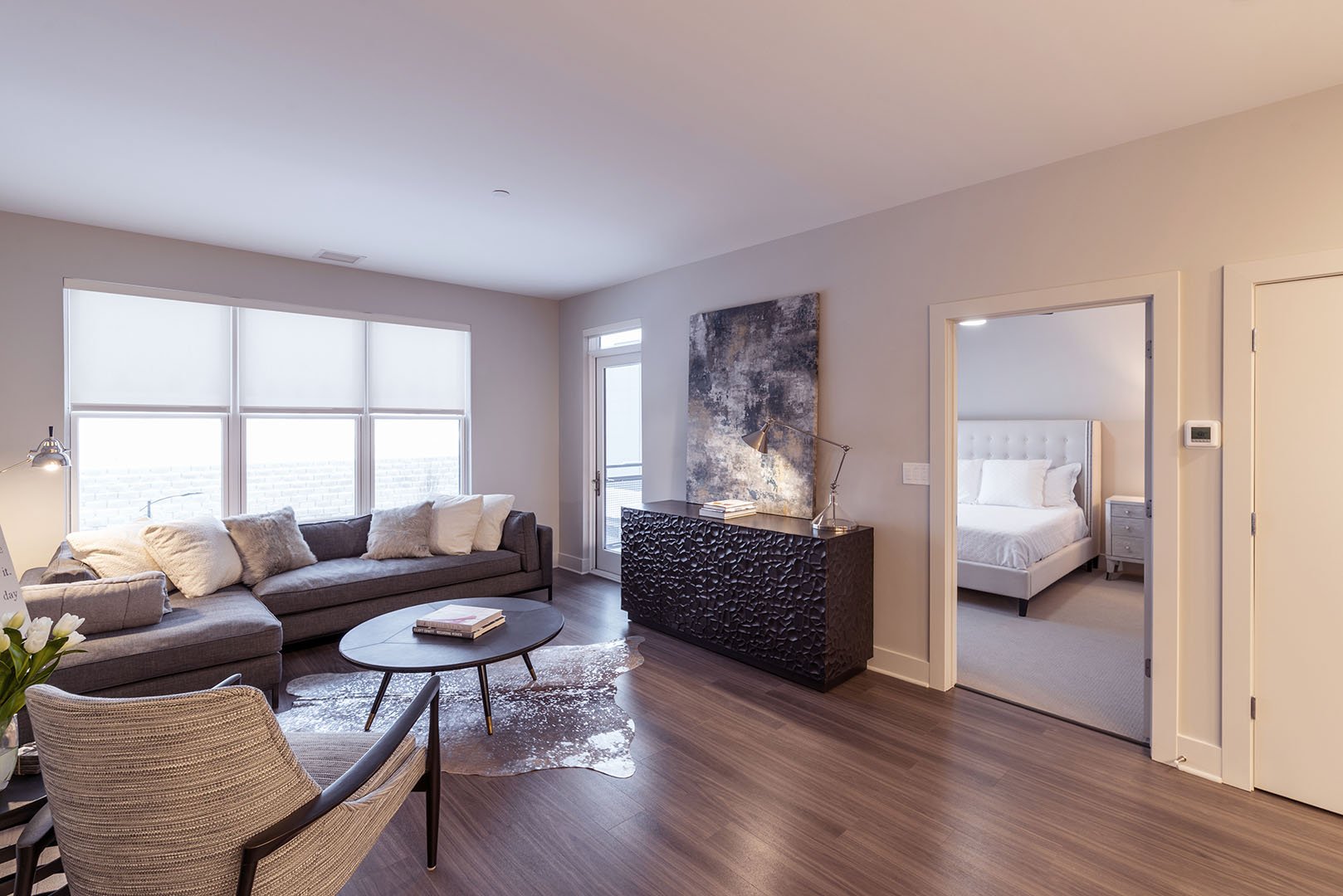 Spacia Collection - Dusky Walnut
Mannington Commercial worked directly with Fairmount to select flooring solutions for the entire apartment building. Bundling the products ensured seamless service and maximum value, with no compromises on quality.
Spacia Collection LVT was chosen for the public spaces as well as private living areas. The LVT's Quantum Guard® Elite construction provides incredible ease of care and durability for all types of traffic. Hamill shared the design strategy: "By using certain flooring in the community room and furnishing that space to be very sophisticated, and then you walk into your apartment and it's the same flooring, we reinforce that there's a continuous standard of high quality here."
Carpet styles were chosen for the leasing office, public areas, and bedrooms, infusing warmth and style while adding comfort. Selecting carpet with Antron® Type 6,6 Nylon, industry-leading in durability and cleanability, provides a lower lifecycle cost. "Mannington Commercial has fantastic carpet," explains Hamill. "For the bedrooms, we were even able to tailor the carpet specifically to our needs."
Overall, Hamill shares, "I needed flexibility and the ability to move quickly. With Mannington Commercial, I have the efficiency of being able to trust that I'm getting a good price, know that I'm getting great material, and know that it's going to show up on time. And our rep is phenomenal to work with – so the process was a joy."
Related: Antron vs. ECONYL Carpet Fiber Comparison
Related: How Does Your Carpet's Fiber Impact Total Cost of Ownership?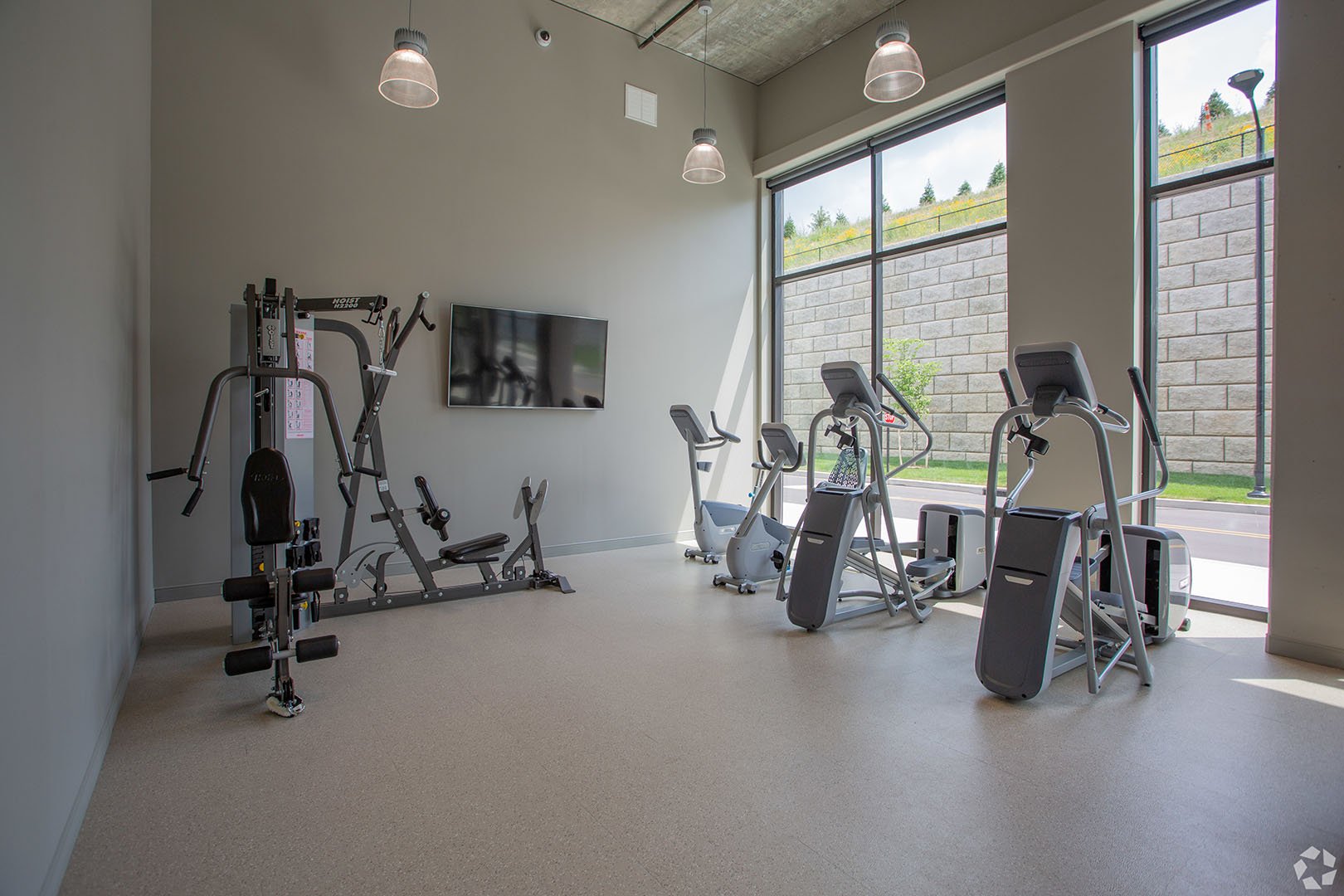 Color Anchor Collection, ColorSpec Rubber Tile
The End Result
In its opening year, 4th & Park was 100% leased. The Pinecrest property was entered in the 2019 ICSC North America Design and Development Awards and won Gold among the nation's new development mixed-use projects.
Fairmount Properties was able to achieve the aesthetic, performance, and streamlined process they needed to make 4th & Park a reality.
"We have a high-income clientele here," explains Hamill. "We wanted the residential building to be contemporary, but we also love detail. We love texture and character. The flooring has helped us create that authentic, sophisticated feel."
More than a year after opening, "We've had 120 people move in, had more projects and construction, and the flooring has worn very well – we haven't had to touch attic stock," notes Hamill. "It's because of the quality of the product, and the fact that Mannington Commercial worked closely with us to put the right kind of flooring in each space."
The ease of working with a trusted partner like Mannington Commercial made a true difference in bringing 4th & Park to fruition. As Hamill says, "I was able to tell my design and architecture team, 'Don't show me 50 options. These are the prices and products that Mannington Commercial and I put together. Choose from this, and go.' And that goes a long way."
The Takeaway
The number one benefit of using one flooring manufacturer's product portfolio is that we do the work for you, giving you time back in your day and money back in your pocket.
At Mannington Commercial, we pride ourselves on building lasting relationships and being easy to do business with. The single-source model allows us to really invest in our relationship with the client, but we also feel deeply invested in the project, and we work hard to see it succeed and live up to expectations.
---
If you're interested in talking to me or your local sales rep about a Multi-Family housing project download the case study or contact your local rep.