The coronavirus pandemic took its toll on restaurant goers. For the past few years many diners have been reluctant to eat at their favorite restaurants, but with ongoing vaccine options, former concerns are decreasing, and more and more people are returning to their favorite eateries.
As a restaurateur, you want your returning customers to feel safe and comfortable as they venture back to you. Old, scratched, and discolored floors may send the wrong message about your restaurant's cleanliness. It's a great time to update your flooring. A new, fresh floor will show that your restaurant is on top of sanitation and your customers can relax and enjoy dining with you again.
Flooring is arguably the largest interior design choice. It has a significant impact on the overall feel of a space. Furniture and paint make a big difference too, but they can be changed more easily and inexpensively than flooring. When you update your floors, you want to do it right. While each restaurant is different, there are many similarities, and this guide will give general recommendations for improving the functionality and aesthetics of your dining space.
Each restaurant is made up of zones. You have the bar, the kitchen, the dining room, and the restroom, to name a few. Different zones serve different functions and therefore have different flooring needs. This guide will take you through each space starting with the entrance and moving all the way back to the kitchen. In each zone, the functionality will be addressed along with the flooring recommendation.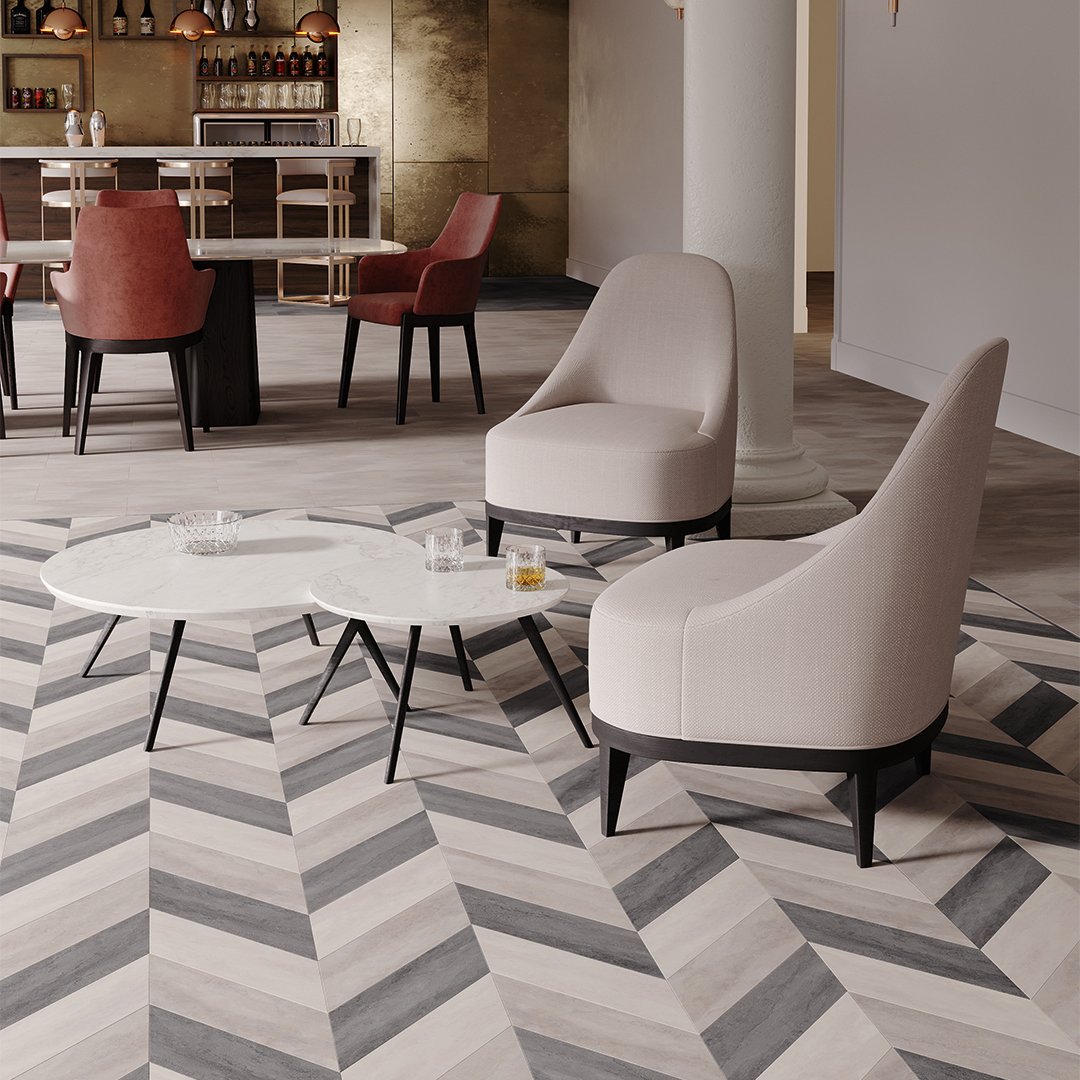 Factors to Consider When Choosing Flooring
Many factors were considered when making this list. After years of working in the industry, and countless conversations with restaurateurs, we've gained a sense of what works where. Aesthetics are an important consideration when designing a restaurant zone, so design options play a major role in deciding which flooring will achieve the visual goals of a space.
Functionality is another primary consideration. What sort of activities are planned for this section of the restaurant? What sort of traffic and spills are expected? It's important that the flooring can support the traffic and furniture load without breaking down.
Then there are cleanability and maintenance factors to consider. How much time and effort will it take to keep this section clean? What is required to keep the floor functioning as intended? Will it require extra maintenance costs with tasks like waxing and buffing? In some areas of the restaurant, spills may be common. What kinds of spills might be encountered? Perhaps a plumbing leak in the bathroom, or food spills in the dining area? The flooring should be prepared to hold up against the acidic tomato soup or red wine that are likely to be spilled, all the while keeping customers safe from slipping and falling on the floor. What if the spill contains chemicals that could break down certain flooring? In that case, it's important that the top layer withstand different potential chemical combinations. Is the texture in the floor suitable to prevent slips and falls? Flooring with more cushion and padding may be chosen to lessen the effect of falls in certain areas.
How about the acoustics and overall feeling desired in the space? Is comfort underfoot a priority? How complicated is installation, and does it work with the building requirements? These questions represent a sample of the factors considered when making the recommendations you will find below.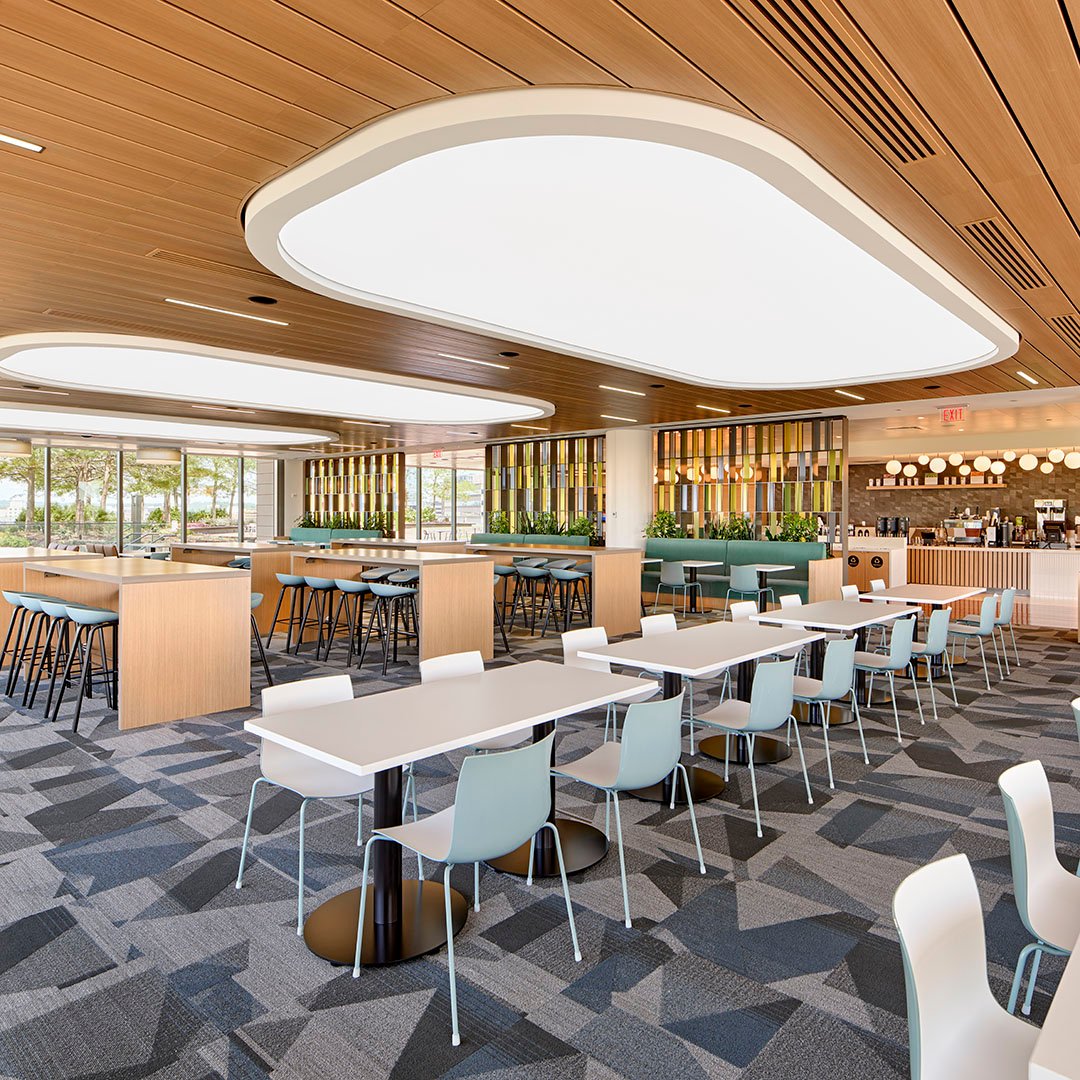 Room By Room Guide
To use this guide, simply follow the paragraphs that follow. They will lead you through the restaurant zone by zone explaining the functionality needed and corresponding flooring suited for each space.
Entryway
As your customer walks in, she notices the beautiful interior. Her shoes are wet from the rain outside, and she is reassured by the thick and textured carpet under her feet. She takes a moment to wipe the wetness and debris from her shoes on the large and thick entryway carpet. No slippery shoes to worry about today!
Entryway systems are of utmost importance. This smallish space is often taken for granted and is one of the most important spaces in the restaurant. A good entryway system does several important things.
First off, it ensures the safety of your customers by helping them wipe wetness and residue from their shoes, so they can walk with confidence into your dining space. It also ensures the longevity of your gorgeous new flooring by reducing the soil and debris load tracked into the rest of the restaurant.
Lastly, it helps keep the main spaces clean! When you capture the soil and debris from shoes or wheels as people enter the restaurant, you simultaneously reduce the amount of soil and debris that will be tracked through the rest of the restaurant. So, less cleaning is needed all the while keeping the space looking clean and tidy for guests. A win-win.
Entryway spaces are custom made for each restaurant. They vary based on the conditions just outside the restaurant entrance. If your restaurant is inside a mall for example, less entryway capture is needed.
If the front door of your restaurant opens to the outside and happens to be exposed to rain or snow, you need a robust entryway system to capture not only snow, sleet, and ice, but also the chemicals used to treat the sidewalks and streets. You don't want those harsh salts and chemicals harming the rest of your flooring. That's why you make sure and capture them with a customized entryway system.
Related: How To Maintain Commercial Flooring In Winter Weather
Our entryway systems are typically made of highly durable stain and moisture resistant carpet. For example, our Recourse II entryway system is made up of a pattern of carpeted tiles that trap dirt and moisture at the door. Their scraper fibers remove debris, while reinforced nylon removes moisture.
Our entryway systems offer an array of visual options. You can choose the colors, design, and flow of your entryway. It is practical and necessary, yes, but it looks gorgeous too. Our custom-made system will upgrade your lobby, and your customers will feel reassured with the order and planning put into the space.
Waiting Area
After our customer stomps the outdoor debris from her shoes, she moves to the waiting area of the restaurant where she and her dining companions talk to the hostess. This area is outfitted with modular carpet. She can easily talk with her friends and put her name in with the hostess, because the acoustics of the modular carpet cater to conversational tones and make the first impression of her dining experience feel intimate and cozy.
Modular carpet comes in a variety of colors, shapes, and sizes, so the design options are endless. Do you want a tile look? No problem. Do you prefer the seamless, broadloom look? Piece of cake. Do you want to incorporate your store's custom color scheme? We've got you.
As for functionality, our carpet is spill resistant. With ColorSafe and XGUARD technologies, our carpets are engineered to withstand various kinds of stains and spills without fading or compromising the integrity of the nylon fiber. And the carpet backing is solid, so you won't have moisture or odor issues when the carpet gets wet.
If repairs are necessary, our modular carpet is easy to repair. You can simply remove and replace a single damaged carpet tile instead of having to cut out the broadloom and try to blend in a new piece. Carpeting the waiting area also helps to extend the entryway system by continuing to capture soil and debris from shoes.
Related: How To Maintain Your Commercial Flooring All Year Round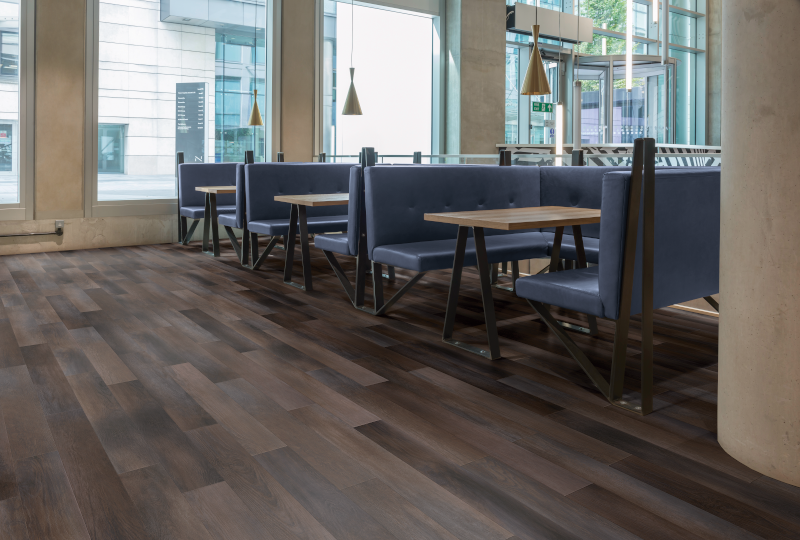 Amtico Signature Wood - Sanctuary Grain
Dining Room Bar, Breakroom, Stockroom and Restrooms
As our dining party hears their name called, they follow the cheerful hostess to their table. As they enter the dining room, the flooring transitions to a gorgeous wide format Luxury Vinyl Tile (LVT). The wide planks have been engineered to look like wood but decidedly more durable, cost effective, and practical.
We recommend LVT for most areas of the restaurant including the dining area, the bar, the breakroom, the stockroom because its practicality is through the roof. Not to mention it has a lot of aesthetic versatility. We typically do not recommend LVT in restrooms due to potential issues like the LVT bonding to sub floor over time or excessive water from sinks/toilets. Porcelain or ceramic tile would work best in restaurant restrooms.
When our diner gets up and goes to the restroom, perhaps she notices the LVT under her feet has changed to a color blended stone look, making that bathroom trip another testament to the thoughtful planning this restaurant took in curating her dining experience.
Our LVT is made to be durable, beautiful, and safe. When you check out the many different types of LVT we have to offer, you'll notice different types visuals (wood, stone, abstract) sizes, thicknesses and wear layers that can be specified depending on the desired aesthetic or performance characteristics desired. Or if there is heavy furniture moved on the floor, or especially high foot traffic, we recommend Quantum Guard Elite, Mannington Commercial's proprietary wear layer that can withstand heavy loads and reduce scratching.
Kitchen
After our dining party orders their dinner, the kitchen staff is busy at work preparing a gorgeous and delicious meal. They need a flooring under foot that will provide comfort and cushion during the long hours spent on their feet. The kitchen floor also needs superior safety features and durability that lasts. This flooring gets put through a lot!
Quarry tile is often specified for commercial kitchen flooring due to its cleanability, slip resistance and longevity. Downtime in a commercial kitchen to replace flooring can be costly and properly installed quarry tile can last for decades
Epoxy flooring is made with epoxy resins, colorant, and additives for texture and slip-resistance. One common additive is marble chips. Because it is applied as a liquid that hardens, epoxy flooring is seamless and highly sanitary. It is commonly used to refinish old kitchen floors to create a new, completely sealed surface. Epoxy can even be continued several inches up the kitchen walls to create a coved base, a seamless transition that sheds water away from the corners to facilitate cleaning.
Office
As our dining party finishes up their meal, the store manager approaches the table. How was everything for you this evening? she asks. The party responds that they are more than pleased and couldn't help but notice the gorgeous and thoughtful flooring throughout the space. As the manager heads back to the office, she is welcomed by the comfortable and cost-effective broadloom carpet under her feet. It was chosen to make this essential room of the restaurant cozy while remaining budget friendly and practical. Broadloom carpet is typically more cost effective than modular and shares many of the benefits. Its acoustics will help muffle the loud sounds of the booming restaurant outside.
There you have it. A fully renovated restaurant floor ready to welcome diners new and old. And here's the best part: you can try before you buy. At Mannington Commercial we not only offer "mock-up" spaces for our clients, but we highly recommend it! We want our clients to see and feel the flooring before they commit to the whole job--especially if the colors and designs are customized. We make sure our clients feel confident in their choice.
If you have questions, or just want an experienced guide to help you through the process, contact one of our local representatives. We look forward to helping you!
---
Case Study: The Clubhouse, Hox Haus
See the results of what happened when Manchester-based architects and designers completed a major project - extending and remodeling a Grade-II listed, two-story Victorian brick building. (Hint: Amtico Signature LVT was used!)
Download the full case study. 👇