If nearly eighteen percent of all U.S. employees are dis-engaged within their work environments, what percentage of students are similarly dissatisfied? There is overwhelming evidence that highly engaged students are also highly satisfied.
Designers, architects, and educators understand the importance of creating environments that motivate learning. In this article we will examine the role flooring plays when it comes to active learning in a functional environment.
Active learning is about restoring choice – encouraging students to engage, participate, and navigate their own journey. Cornerstones to enrich these sensory environments include using natural light, limiting acoustical distractions and creating inspirational spaces. Equally important, is encouraging students to get out of their seats to stretch and move, which fosters self-discovery and expression while keeping the brain stimulated.
During the pandemic we've uncovered the limitations of remote learning, and yet, there is still the promise of returning to the kind of energy and passion that active learning promotes. This sense of well-being is most often attributed to healing environments, although it's equally important within the nurturing environments of learning spaces. It is what space is designed to do.
You Might Like: The Designers Ultimate Guide to Specifying School Flooring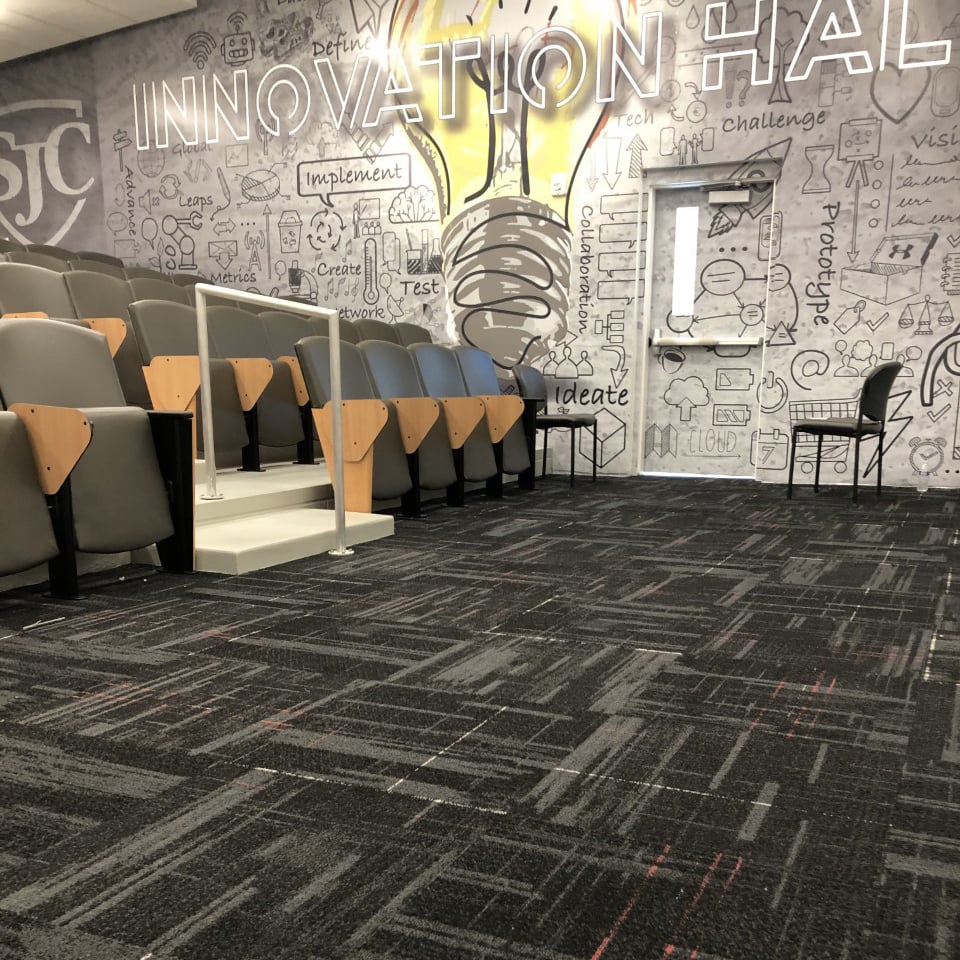 Connected Collection - Media, Blog
Eliminating Distractions To Improve Student Engagement
Research reveals that students are most satisfied if they are highly engaged, work within spaces that foster interaction and innovation, and feel inspired. At the same time, there are acoustical distractions within the built space that often compromise these goals. On school campuses, efforts to improve student engagement positively influence student experience and help define culture.
School leaders often insist on using the most suitable products to ensure that form, function and design work together to enhance an environment. A space is frequently defined by its floor, not unlike the canvas a painter uses to create art. The reality is that space shapes behavior, and behavior creates culture. You cannot address active student engagement without thinking about the classroom.
Consider that leading acute furniture specifications often require steel-on-steel frame and arms. Closed-cell urethane arm caps preserve the chairs integrity and provide some comfort. These high-performance characteristics are often required for furniture to be used in abusive conditions. Specifiers often ask, what high-performance characteristics are required for soft and hard surface flooring?
Choosing the Right Fiber Type
High-performance construction yields ease of maintenance for EVS staff, and it ensures long-term appearance retention. Soft surface product offerings don't require offensive chemistry that select hard surface products such as VCT require (strip, burnish, wax). Moreover, the low-tufted textile profile captures dry particulate that would otherwise be airborne on hard surface products.
Fiber selection remains one of the most important considerations in selecting carpet. Fiber has a significant impact on durability, maintenance, and cost. As the hardest of all synthetic fibers, nylon resists wear and abrasion and has good resilience, which means the tufted blanket recovers more readily and isn't as susceptible to indentation as other polymers.
There are, however, varying types of nylon fiber, and each has its different strengths. Unlike a traditional type 6 nylon fiber, the unique shape and low modification ratio of Antron® fiber repels dry particulate.
To calculate the modification ratio of a fiber shape, the size of the outer circle's circumference of the fiber is compared to the size of the inner circle's circumference. The larger the ratio, the greater likelihood that the fiber shapes can trap and hold soil and might experience premature crushing and matting. An MR of <2.2 is recommended for medium to high soil areas and an MR of <1.5 is recommended for high to very high soil areas.
Antron® type 6,6 bulk continuous filament performance nylon with four-hollow filament fiber shape provides for optimum soil release, resilience and limits abrasion. The four-hole hollow filament unique to Antron fiber is engineered with a denser molecular structure. Its shape diffuses light, which reduces the appearance of soil and makes the carpet look cleaner.
Moreover, Antron nylon is cationic, which repels the potential for acid-based stains, and is engineered to perform within the most abusive conditions.
Related: Antron vs. ECONYL Carpet Fiber Comparison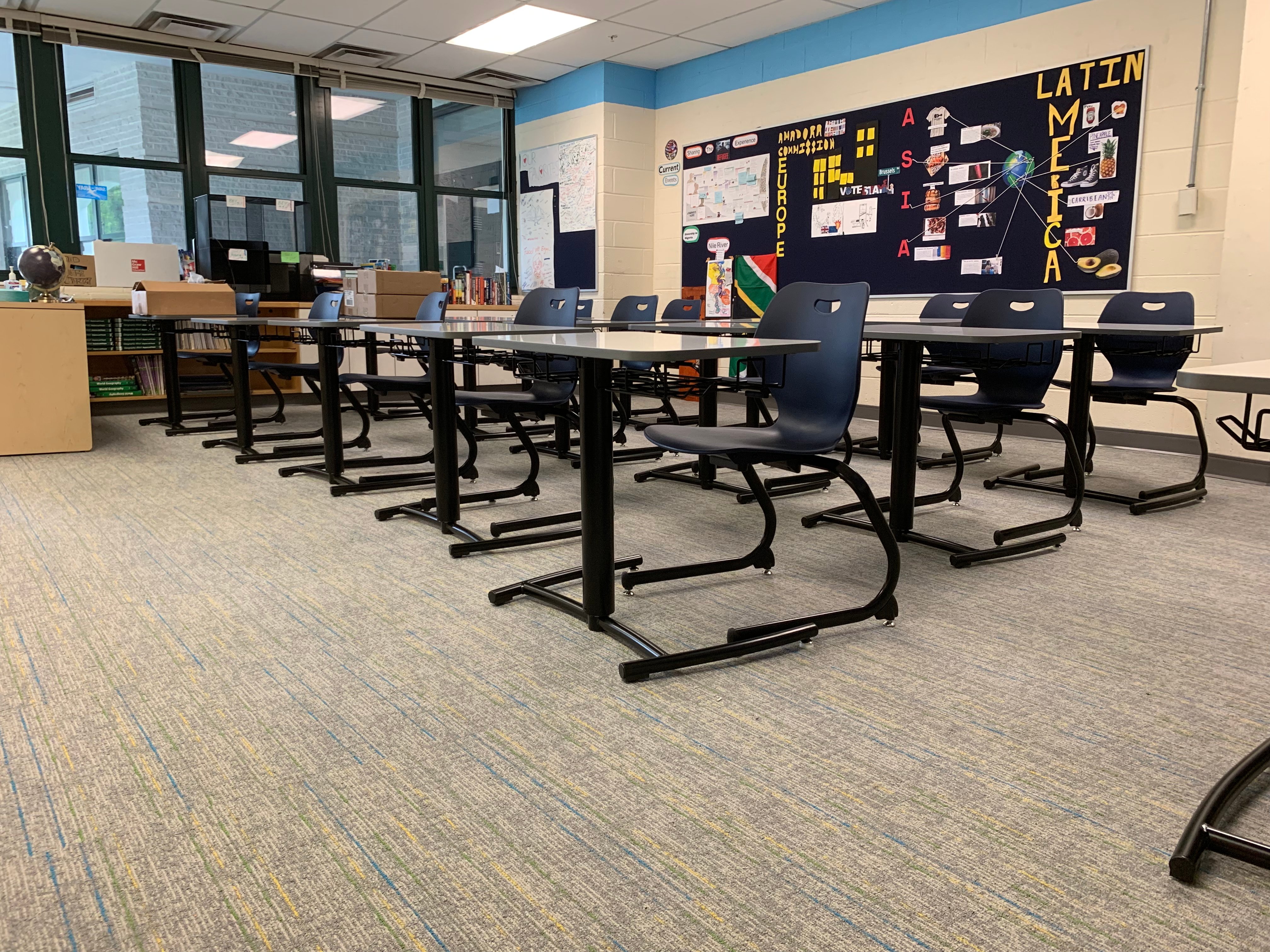 Glitch Art - Main Board, Audio Tag
Choosing A Carpet Backing System That Works For You
Mannington Commercial Infinity 2 MG Cushion Carpet Tile Backing is often celebrated as a remedy against high moisture in the concrete slab. For instance, in specific applications, Infinity 2 MG Cushion allows for no moisture testing required. The attached non-woven polyester fleece backing is constructed to let the tile breathe. Water vapor passes through the open cellular construction and seams.
Equally important, Infinity 2 MG Cushion Carpet Tile Backing provides for a notable sound absorption and acoustical remedy. Its Noise Reduction Coefficient (NRC) measurement is an industry leading .35 Rating. This is significant when compared with traditional carpet tile's NRC .15 Rating.
NRC is a standard rating for how well a material absorbs sound. NRC figures range from 0.00 (fully reflective) to 1.00 (fully absorptive). The NRC rating of materials is noted as a percentage. For example, an NRC of .75 means 75 percent of the sound energy that contacts that material is absorbed and not reflected back into a room. NRC is often used for rating acoustic products. All materials have acoustical impacts, and cushion carpet tile contributes to limiting acoustical challenges.
Indeed, there are a host of structural enhancements to alter acoustical climates. There are products that capture echo within a room, and there are products that block, reduce, and completely stop sound transmission.
Echo absorbing materials are often used to improve the sound quality inside a room. For instance, sound masking systems, which are speakers installed throughout the ceiling, provide for sound to be emitted directly into the space.
Acoustical panels, soundproofing insulation and composites, hanging baffles, acoustical ceiling tiles and furniture shaped absorbent objects are among a host of other effective remedies for acoustical problems.
Mannington Commercial Infinity 2 MG Cushion Modular Carpet Backing makes it easier for students and teachers to hear, communicate, and concentrate. Studies reveal that noise reduction increases the prospect of retaining the transfer of information, while limiting vocal strain for instructors.
Related: 3 Common Commercial Carpet Backing Types
Related: How to Choose a Commercial Carpet Backing System
Evaluating the most suitable products ensures that space is designed in a way that creates the best environment for active learning. These materials alone are often insufficient for achieving good acoustic conditions, although when coupled together provide for a significantly better absorption for spaces where acoustics are important.
For expert advice on creating learning spaces that go beyond basic functionality to environments that elicit and inspire engagement, contact your Mannington Commercial representative. Myriad product options are available to achieve both long-term performance and exceptional benefit.
---
Are you interested in learning more about how to improve an education space by specifying the correct flooring products?
Click below to download the St. John's College High School Case Study to see how they used performance-based specifications to choose the best flooring products for long-lasting floor that inspires learning!