Commercial flooring design derives inspiration from a wide array of sources. Art, nature, even technology. Pulling together an entire product collection means creating elements that complement and coordinate, lights and darks, warm and cool tones. When we're creating designs intended for workplace installations, we're creating an entire palette that speaks together as a whole.

Design Trends and Color
For the new Swell Collection, our designers looked to the wind and the sea for undulating lines and organic textures and the light and shadows of the water for rich colorways.
The Swell Collection incorporated many accents within it's range of neutrals, however when it came to the charcoal color family we decided to keep it classic, using white as the accent. Black, white and shades of grey are mainstays of workplace design. We all know them to be timeless but why is that?
The use of grey became prevalent during the time of the Bauhaus movement. Designers during this time were inspired by the industrial age and were looking to connect high art with craft. Form began to follow function, with designs focused on boiling things down to their simplest forms.
There was an emphasis on materials like metal, glass, wood and plastic being used in their natural forms and colors. The concepts and design ideologies that emerged between 1919 and 1933 have continued to influence commercial interiors today.
Workplace designers count on the simplicity of a neutral palette to be the foundation of a space, which allows for smaller moments of color pops in upholstery, art and accessories.
Back in 2018 we began to see color making a comeback with many companies using color first strategies in their marketing. Fashion, interiors and technology industries all began to incorporate more color into their designs and this is something we will continue to see more of as we move through the decade.
Apple just released their newest lines of colorful IMac desktops! We haven't seen this much color from them since the 1990's. This new line reflects a desire for color in our workspaces, but shows how inserting small does can make a big impact.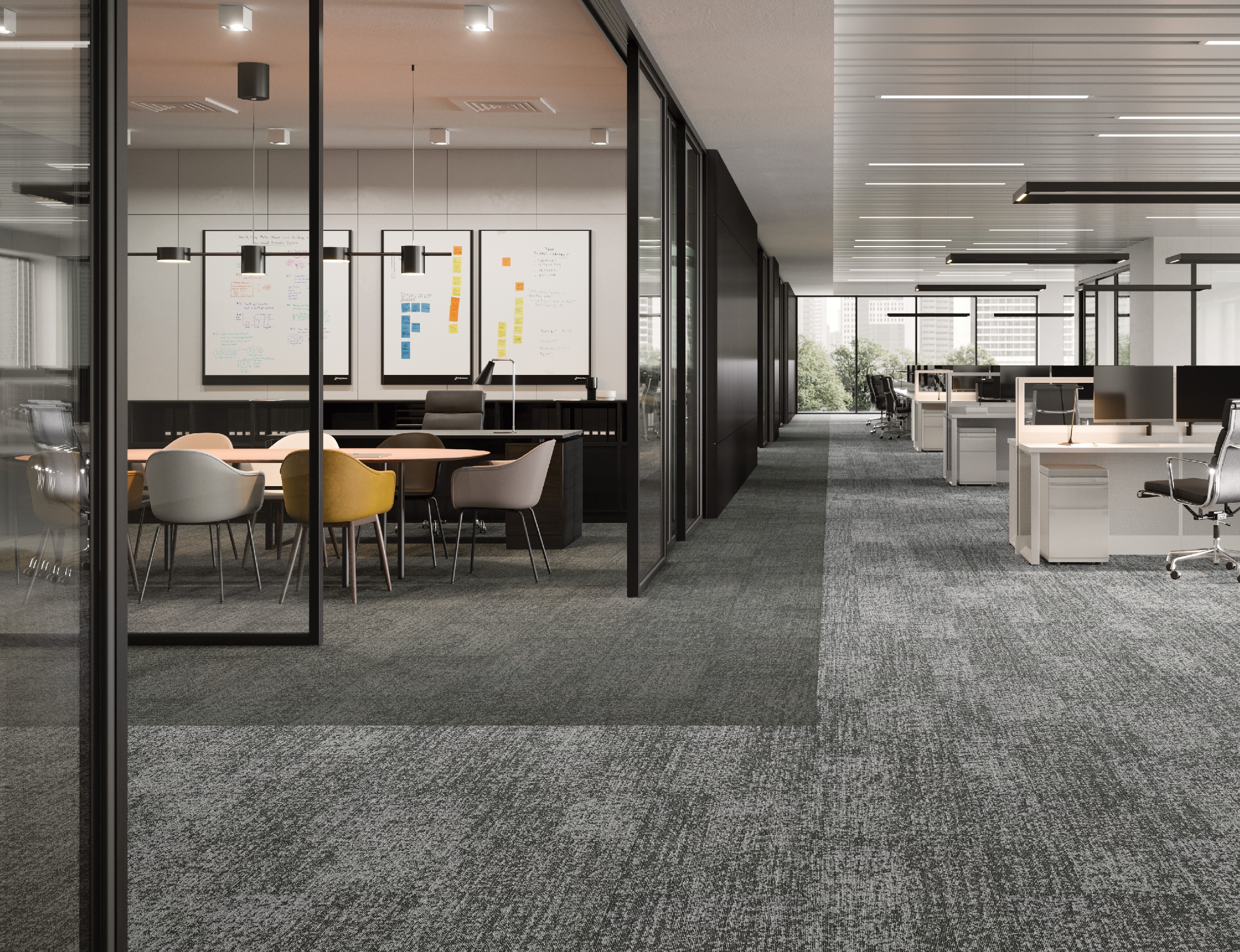 Swell Collection - Eventide, Hallow
Working With The Trends
When starting any of our collections, we research trends in the marketplace to help inform functional design – and in this case we were looking at workplace trends.
Flexibility was one topic that kept showing up in our research. We are starting to see areas of the country begin to open up again, and with that the conversations of how to transition back to the office have also started.
At this point I think we all have more questions than answers. Will employers embrace a hybrid model? How will that affect the build space? Will the idea of hoteling help to keep spaces clean of clutter allowing for proper sanitation to occur each night?
We believe we will see flexibility in spaces and working hours to accommodate new hybrid working models. When it comes to the built environment collaborative spaces will become increasingly important as the time in the office will be seen as time to connect with your peers. And those in the office will also need to connect to those working from home. We have all used video calls more often this last year than ever before, and I anticipate that we will see that incorporated into more spaces in the office as well.
Another emerging trend which overlaps with flexibility is the need to address mental health and wellbeing in the workplace. Flexibility within our work hours and spaces over this last year have given employees the ability to better prioritize their mental and physical well being.
Those commuting hours have been converted into time spent exercising, meditating or preparing wholesome meals. I know I have spent more time outdoors this past year than ever before. I'm curious to see how this begins to change how spaces are designed and how work time is allocated. Will there be an emphasis on creating outdoor work space for people moving forward? Will employees be encouraged to take their weekly check in calls outside to get some fresh air and exercise?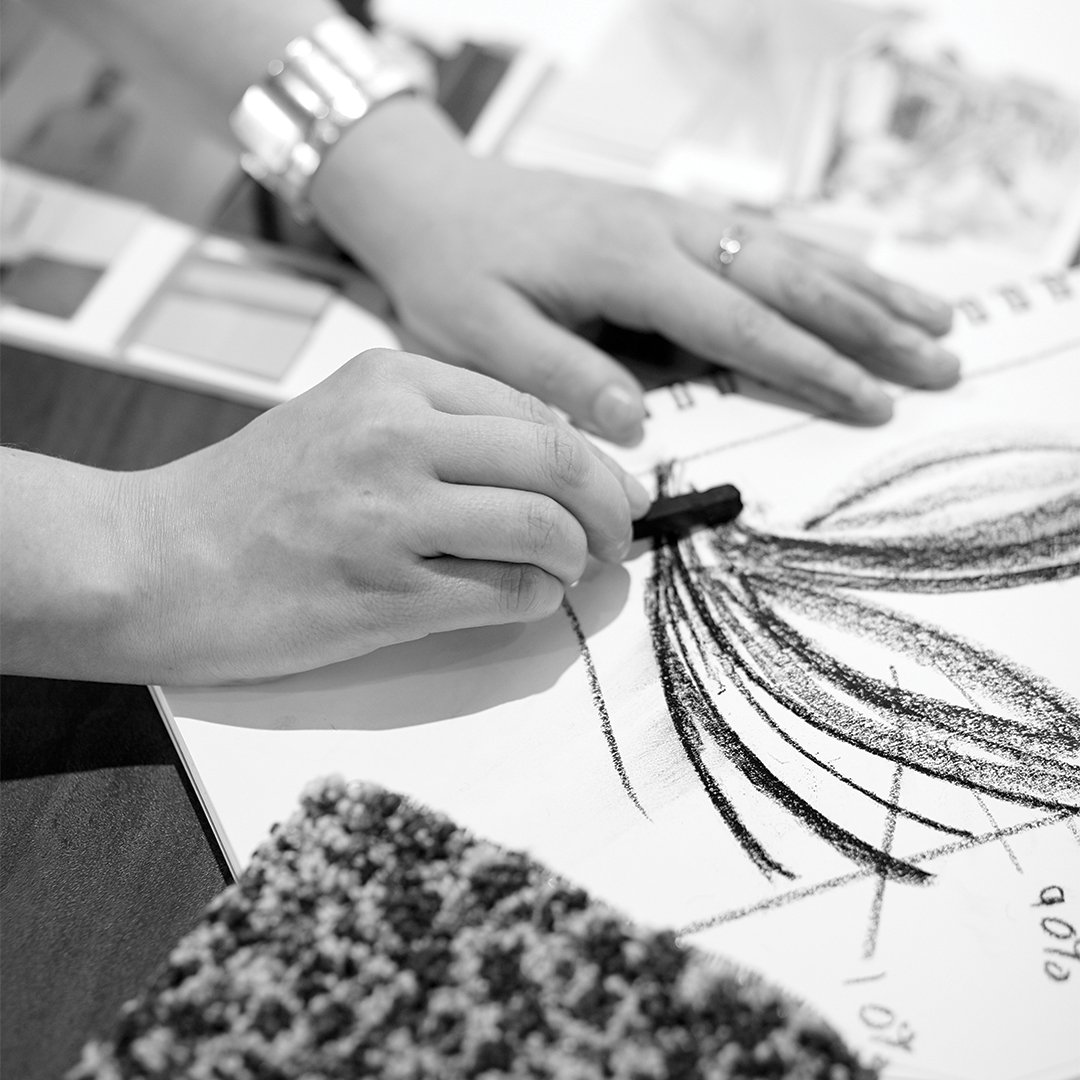 Creating Tactile Balance
And the last trend, which we have been tracking for a few years now, is the need for tactility in spaces. There's so much more technology than ever before both at the office and at home. We spend our days swiping on phones and screens, which leaves us wanting spaces that feel more tactile to balance all the sleek, shiny, sterile tech.
At Mannington we are very conscious to build tactility into our products, whether that is chunky physical texture or something more smooth to touch but has visual texture. The Portland Project is an example of a carpet collection that creates texture using clean carved lines.
While our newest collection Swell creates texture with a dappling of pattern that fades in and out. Even our LVT products which are physically smooth can provide visual texture. Our Mixed Monolith LVT product looks so much like scored concrete that people have to touch it. All that to say, there is a world of options for designers to incorporate into workplaces that create environments that are anything but sterile and boring.
Our Mannington designers build on inspiration from all over the world to find ideas that help bring work environments to life. If you'd like a consultation, reach out to your Mannington sales rep or visit our website.
---
Want to see more design trends? Download the first issue of our new design look book, you'll find ideas on how to use an array of flooring styles to craft your environments.