It's easy to walk through an office space and never consider the hands that selected the materials you're seeing, touching, and walking on. Or maybe you're like us and you do think think of these details! As a flooring manufacturer we are definitely interested in why a designer might choose one product over another. We're curious about what they are thinking about and looking for when it comes to product selection.
We had the opportunity to take a peek inside the process with Kenneth M. Bere, AIA Principal at Hellyer Lewis, INC. We asked him a few questions that gives us all insight into the design and material selection process.

The Portland Project Collection, Bob Graham, Jr. Photography LLC
What are things you as a designer are looking for when choosing carpet for an office space?
Durability of the fiber(s) used.

Durability of the backing used.

Profile of the individual carpet fiber.

Overall appearance.

Range of colors.

Ability of colors to cross multiple lines.

Ability for the carpet to be manufactured both as broadloom and carpet tile.

A good pile height.

Warranty.

Previous good experiences with the manufacturer.

Ability of manufacturer to replace defective product.

Carpet can be laid over a variety of substrates with accessory products and adhesives.




Related: 3 Common Commercial Carpet Backing Types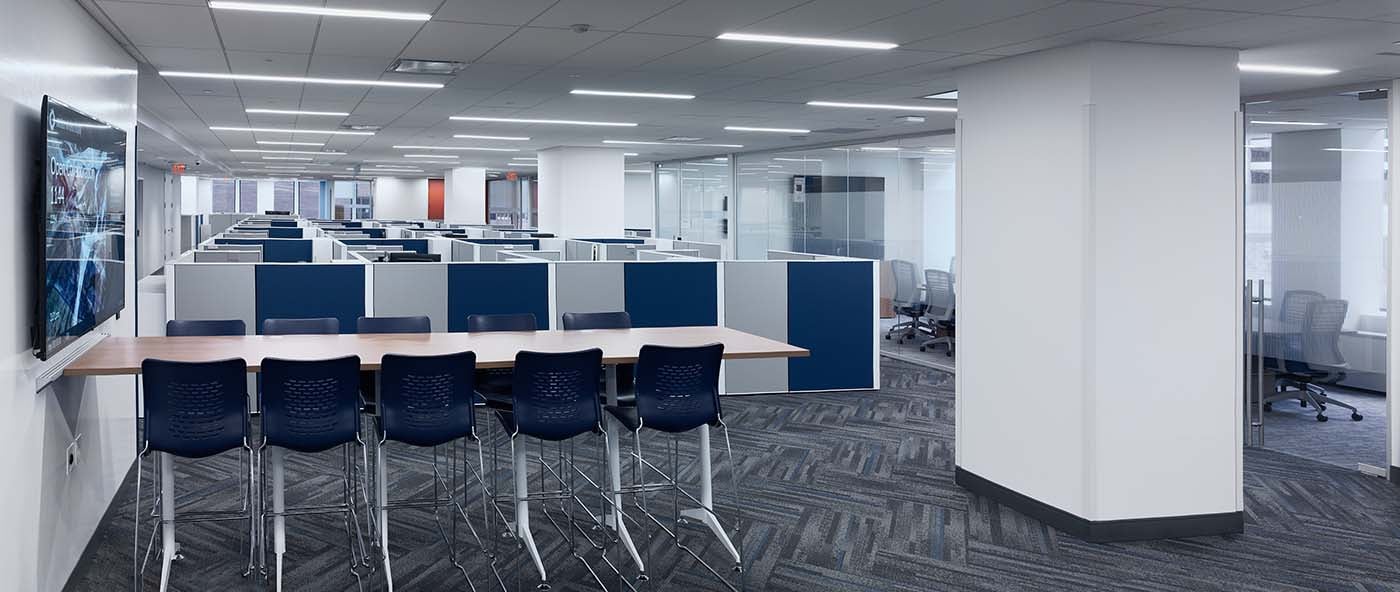 Blueprint Collection, Bob Graham, Jr. Photography LLC
What were the reasons you selected Mannington Carpet for this project?
In the past, Reliance Standard Life Insurance Company had good experiences with other flooring manufacturers, and we looked at both of them. We expanded the search to include other manufacturers, who produced carpeting that had the look we believed to be appropriate for the project.
Mannington Commercial fell into that category. When we presented a dozen different options of general open office area carpet tiles to senior management at RSLIC, they immediately latched onto the Mannington Commercial product. In subsequent design reviews with them, they continued to make the Mannington Commercial product their first choice. Once we settled the general open office carpet tile, we used other Mannington Commercial products for private offices, conference rooms and reception area rug.
Related: Design Trends and Color: How Workplace Carpet Comes to Life

Blueprint Collection, Bob Graham, Jr. Photography LLC
Do you have any advice for designers who are selecting flooring products for an office?
A designer needs to assess the programmatic requirements of each room or area of the project. Some areas will require durability foremost, while others will require appearance instead. Some spaces will require a resilient flooring over a carpet product. The carpeting for a short lease should be less expensive than carpeting within an owned facility.
Very dark floors will show light-colored debris. Very light floors will show dark-colored debris.
An intricate woven pattern will go along way to conceal spills and drips.
If drinks or foodstuffs fall on carpeting, have it cleaned up immediately. Nothing worse than old coffee spills getting set and dirt adhering to the spill.
Determine whether the carpet fibers need to be solution dyed vs. post-production dyed.
Confer with the IT Department of your client, to determine if static-resistive flooring would be beneficial or required. This might include large copier rooms, besides data centers and data rooms.
Where heavy deliveries will need to make a 90 degree turn, an interlocking resilient flooring may be needed to eliminate lifting of tiles or spot wear.
For commercial projects, use either heavy-duty or commercial-grade products solely.
If something is going to go awry, it will happen for either the president's office or the board room. If there is time, have the carpet installer unfurl broadlooms or inspect boxes of carpet tiles. I had one project where the carpeting was a special weave of both cut and loop piles. At one end of the roll, the pattern between the piles was rigid and geometric. At the other end of the roll, there were no loop piles whatsoever. In between, one saw the loops go on a diagonal and disappear altogether. How it left the mill in that condition is anyone's guess. Because of time constraints, the faulty carpeting had to be installed. It was replaced after the fact at the manufacturer's cost.

Never have any flooring span across an expansion joint. Never have hard flooring span across a control joint. Insist that the flooring installer contact the designer for further direction, when an unexpected joint becomes revealed in the course of the project.
---
Download the first issue of our design look book, you'll find ideas on how to use an array of flooring styles to craft your environments. 👇