Q&A: Al Boulogne and Dave Kitts
Sustainability might be top of mind for a designer when specifying commercial flooring, and you might be surprised to find out that there are some unique environmentally friendly options.
The one we're going to look at today is, Legato® liquid linoleum. This new flooring product offers stain and scratch resistance in a product that's poured in place so it's seamless. All those are beneficial qualities, so what qualifies it as being more sustainable?
I spoke with two experts to help explain. Al Boulogne is vice president of Commercial Rubber, Sheet Distribution and Dave Kitts is vice president of Environmental for Mannington Commercial. Combined, they have more than 50 years of experience in residential and commercial flooring. Together, we talk through the attributes and benefits of Legato.
Legato has a lot of sustainability factors so let's talk about its ingredients, the corresponding technical documentation, its installation, the low waste, etc. Let's start with the technical documents that we have procured for Legato and what this means.
KL:
Dave, give us a high-level overview of the EPD, the HPD, etc., and tell us why that's important?
Dave Kitts:
The Environmental Product Declaration or EPD is the result of a life cycle assessment that explores the environmental impacts of a product from its beginning in manufacturing to end of life. We have a documented third-party verified environmental product declaration, which is an example of a transparency document that's a favorite in the market.
We also have two different but comparable ingredient disclosure documents. One is a Health Product Declaration and the other is from the International Living Future Institute called a Declare Label. Legato happens to be what's referred to as Red List Free. Both of those documents share detailed ingredient information. And last, but not least, is a verification of good indoor air quality through what's called FloorScore, which meets a rigorous emissions standard.
KL:
Is sustainability a huge factor in our decision to carry the Legato product?
Al Bologne:
Yes. First we look at the portfolio of products that we offer on the Commercial Business and then consider other available options that would be meaningful and differentiated in some way from that existing portfolio.
Legato was presented to us by the original manufacturer that was selling the product in the U.S. We looked at it holistically, and evaluated whether it's something that, A, is unique to the market, B, is useful to the market and C, is something we would be proud to put into that portfolio. The product's sustainability features are definitely part of what attracted Mannington to Legato, as we are always looking to strengthen our portfolio with options for our customers.
KL:
Dave, do you have anything to add to that? I know you were probably happy to see a product that had so many possibilities.
DK:
I couldn't help but to be happy with that and delighted to be part of the process in vetting all this information and then translating it effectively to the market. I also got jazzed up about a different facet: Legato is unique in that it bypasses manufacturing factories.
If you think about it, flooring manufacturers buy raw materials in huge quantities and then heats and bends and compounds and mixes and turns them into a floor covering product which is then a cut and wrapped and shipped. Legato puts raw materials right at the job site so the installers are the "factory" who them put it down for a high-performing, beautiful floor.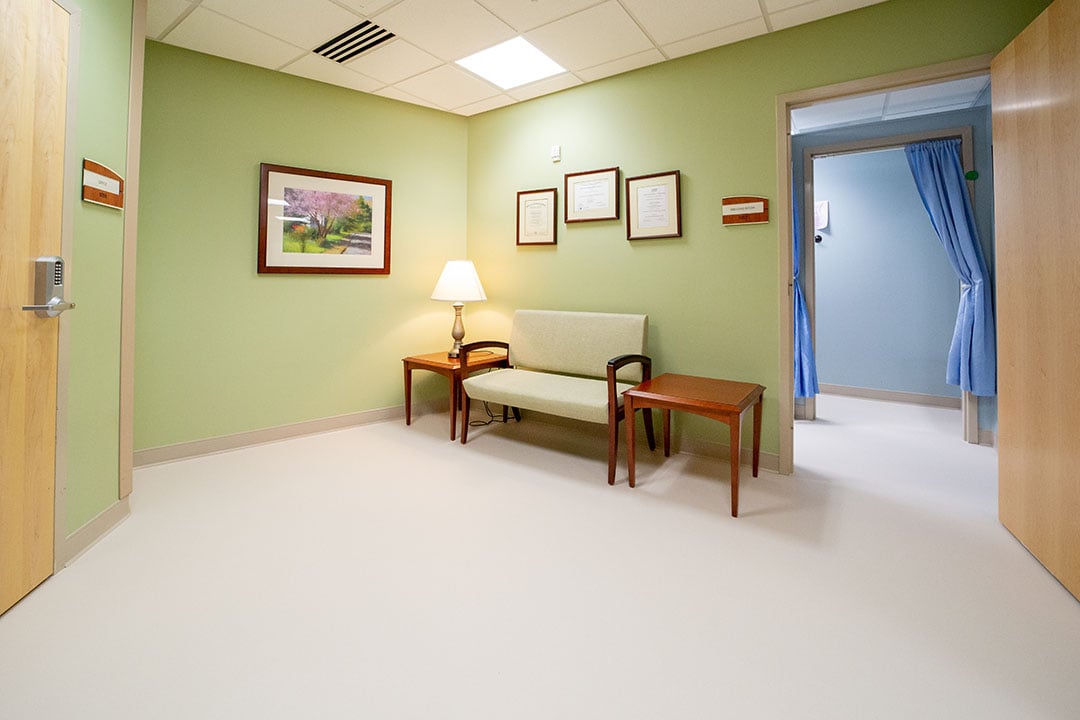 Legato - Kernersville Medical Center
KL:
That's an interesting perspective. It certainly bypasses a lot of energy and consumption of goods needed to make that product into something. And it has a lot of natural ingredients in it. Tell me how those contribute to its properties.
AB:
For the flooring itself, the product is constructed using natural materials including vegetable oil, cork, limestone and other natural pigments that are used for the color. Those are blended onsite, poured onsite, troweled onsite, and rolled onsite, to create that seamless, monolithic floor. The next day, you put the Quantum Guard™ elite wear layer on it, allow that set up and you have a fully functioning, heavy commercial product.
Because of the way it's installed, poured and "open" / flowing for about 20 minutes for each 75 square foot bucket, the product is self-leveling. It's smoothing itself out as you trowel and roll. Legato has resiliency once it sets up so it wants to stay in that form. Once the product is finished, if there are small scratches or micro abrasions on the surface of the floor – which all floors get in heavy commercial applications – it tends to rebound because of the properties of the product. So, you can have a micro scratch that occurs one day then the next day, it will self-heal.
You Might Like: The Pros and Cons of A Liquid Linoleum Floor
KL:
Do the natural ingredients also contribute to that or is that just a function of it being poured?
AB:
Yes, it has everything to do with the ingredients. Once the vegetable oil, cork, limestone and the pigments are all mixed together, it creates bonds that make the product want to stay in its original, installed and set form. The materials want to pull back together to the way they are set during install.
KL:
Is there a reason why we would choose vegetable oil and Cork?
AB:
Legato started from the concept of linoleum, and those were the legacy ingredients the product's creators started with but then created something that was more resilient and could be installed and mixed on site. In terms of what each piece of the puzzle contributes to the overall performance, I can tell you that cork was included in linoleum for multiple reasons. For starters, it's a readily available and renewable natural material.
Cork also features performance attributes like the ability to compress and rebound which makes it better under rolling loads and better for comfort underfoot. So those ingredients were their starting point for sheet linoleum. The difference comes from how they thought about them differently.
DK:
Linoleum has a long history of being touted as a greener floor or one with more natural ingredients. We applaud the originators of Legato for thinking beyond the typical linoleum factory and a sheet product to put these same ingredients together into what Legato is all about.
KL:
Legato is available in 54 colors. Let's talk about those natural pigments and how the color works.
AB:
When we take the pigments of the 54 base colors and mix those with the other ingredients, it creates a unique look per color. It is part of the complexity and beauty of the product. Not only do you get a different color depending on which pigment you select, but the way that pigment blends in with the product produces a different textural visual.
We rate those visuals in something that we call visible cork levels. Some of the pigments blend in throughout the construction; they saturate throughout the mixture and you get a lot of that cork that's in the mixture visible at the top of the product.
With others in the color bank, those pigments don't blend all the way through and settle up at the top so you may not have as much visible cork. It's not something we specifically control, because we are dealing with the way these natural ingredients blend.
The oils, the cork and the limestone determine that final visual. There are variances in the shading of the cork particles and the limestone particles and even the pigment within a single bucket. You can continue to mix and pour and make those products blend beautifully on the finished floor.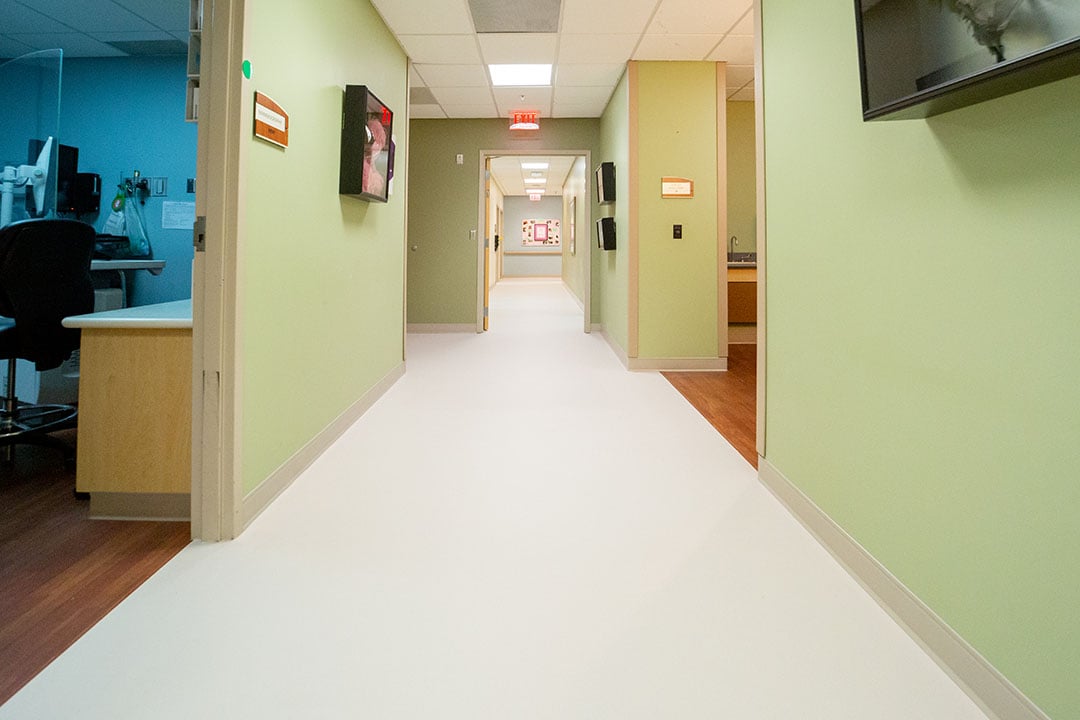 Legato - Kernersville Medical Center
KL:
Because you don't use adhesives and other things in installation, that contributes to sustainability, correct?
DK:
There's upside to a floor that requires no adhesive. It's one less ingredient and likely one less opportunity for concerns in terms of indoor air quality. Mannington is working, hands-on and along with professional flooring installers to make sure that this unique product is installed the right way. We want the entire experience for our customer to be flawless and that includes making sure the installation goes just right.
AB:
To tag on to the installation requirements, the lack of material waste is a big part of the attraction for Legato. There's really two parts of the flooring installation: there's the wear layer and there's the flooring. The flooring goes first, the wear layer goes second. There are three elements to the flooring: component A and component B that are made from cork and limestone and vegetable oil. When you mix those together, that creates the product to be poured, installed, troweled down and rolled. Then you pour the pigment into components A and B and mix them together.
When you mix those three components, one-to-one-to-one, you get 75 square feet of material. Once those components are combined, you've got about 20 minutes to trowel down the flooring. Once that 20 minutes is over, that bucket is finished, you can't go and put it back on the shelf and use it.
However, if you think you have 500 square feet of material left over at the end of the job, as long as those components have not been mixed together, they're perfectly fine to go take to the next job. The base A and B components are the same for every single color.
The only thing that changes is the pigment. That allows a lot of material use flexibility and limits the amount of excess material at the end of the job. Sheet products can have a lot of leftover material because the roll doesn't always perfectly fit the space.
DK:
Basically, all the ingredients in Legato go into all the floors everywhere except for the pigment, and that happens on the job. All the colors of other sheet products are sitting in warehouses at manufacturers and/or in the distribution channel somewhere, which is a lot of embodied material and energy sitting there ready to be used. The efficiency around a Legato mix is a major benefit.
Related: How To Install and Repair Legato Liquid Linoleum
AB:
Beyond the efficiency of the product components, the lower maintenance required for Quantum Guard Elite also figures into the overall picture. While it isn't a maintenance-free product, it's certainly lower maintenance. Most often the floor can be cleaned with warm water and a pH neutral cleaner, so it's easy to maintain and requires fewer harsh chemicals. Beyond the installation, cleanability definitely contributes to the life cycle impacts of the product.
KL:
Absolutely. Because when all those harsh chemicals are used, all that goes back into the environment. Along those lines, are there any environmental benefits when you uninstall/remove Legato?
AB:
There are some interesting aspects here. The product can be installed over itself a second time, so you don't have to rip it out to redo it. You can go with a pigmented urethane over top and change the color. And you can put one layer of other flooring types on top of Legato as well. When you do that, the first installation becomes almost like a sub-floor underlayment. If you pull up Legato, it's like any floor covering, it takes some work to remove it from the subfloor, but basically you peel it off the floor.
When the Legato is uninstalled properly, it can be recycled. If it's clean, we can take it back, re-grind it down and put it back into the product. We know the chemistry of the product is recyclable, so we'll be able to eventually have a recycled version in the field once the original floors age out years from now.
A progressive and more sustainable flooring option, Legato is VOC free, and contains no plasticizers, halogens, formaldehyde, chlorine, or heavy metals. Legato is comprised of natural ingredients, so you can feel good about what's in your flooring. For guidance on all the available options, contact your Mannington Commercial sales representative.
---
Want to keep reading more about Legato Liquid Linoleum Flooring?
We have a guide for you! Dive into the pro's and con's of a liquid linoleum floor, see how to install and repair Legato, weigh the top ten benefits and explore the frequently asked questions about this flooring product. Enjoy! 👇