The floor is the basis for creating an entire environment. That's a lot to ask of any surface, but when it's the right product for the space, it helps make the whole project come together.
I've been working in the flooring industry for three decades and have learned how important it is to not only select the right product but to ensure it is properly installed to ensure long-lasting performance.
Infection control, slip resistance, and sound dampening with seamless installation and Quantum Guard Elite® technology make Legato® Liquid Linoleum ideal for myriad environments including retail, government, education, healthcare. Because it is a poured / liquid floor, Legato requires different installation and repair processes than other hard surface flooring options.
Multiple Space Applications
It's almost easier to say where Legato shouldn't go than list all the places it's viable. With so many possibilities, let's start at the beginning. It's important for the customer to understand that all the benefits Legato offers are due in part to the way the product is installed and maintained. Seamlessly. No need for transitions. Natural materials. Red List free. All those attributes are worthwhile and make it a unique flooring product.
We work to educate the customer about the installation as part of the specification process to ensure the product is right for the job. In most cases, once they are aware of all the benefits of Legato, they're sold.
Installation Basics
Legato can work in either renovation or new construction as long as the subfloor preparation is done properly and the proper time for installation is allowed. Al Boulogne, Mannington Commercial's vice president of Commercial Sheet, Rubber and Poured Floors and Distribution, says that as with any flooring installation, the subfloor for Legato must be flat, dry, smooth and clean.
This makes working in new construction easier since you don't have to deal with tearing up the old floor, removing residual adhesives, potentially grinding to ensure a smooth surface, and dealing with moisture abatement to prep the surface. But, another benefit of Legato is its ability to self-level throughout the space which helps with the final look since as much as we try, there's no such thing as a perfect slab.
Once the surface is prepped, it takes at least three days for the installation process to be complete and allowed to fully cure and dry. This is different then traditional glue-down product and should be part of the planning.
Let's walk through the steps. First, after the sub-floor is prepared, two coats of roll-on primer are applied. Depending on the humidity, that can take up to a couple hours to dry.
The same day, parts A and B of the flooring are mixed with the color pigment. One installer trowels the material down while another installer follows to pin roll. It's critical for the flooring to dry and set up overnight.
The next day (day 2), two parts of Quantum Guard Elite coating are mixed and applied with a roller, which is done quickly, but again must be allowed to set up at least overnight before foot traffic is allowed on the floor. On day 3, the floor is inspected and foot traffic is allowed.
As with any flooring installation, allowing the proper time for each step is critical to ensure the highest quality installation. Time cannot be sped up and steps cannot be skipped.
All these steps require an installer that has experience working with the material.
Mannington Commercial will manage each installation through our ProSolutions group. That team will work with the local flooring contractor to manage the installation from start to finish. At least one of our trained technicians will be on each installation as an active participant. That process will include training the flooring contractor on handling the material through a mock-up install ahead of time if they have never worked with Legato in the past.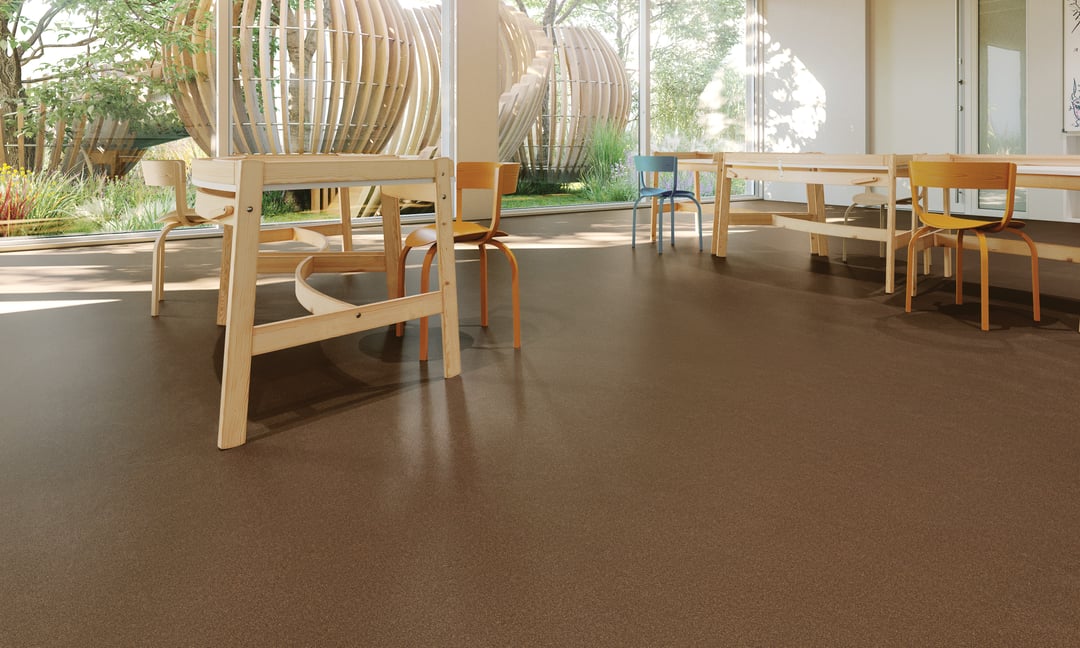 Easy Repairs
Once the floor is installed – and it's an amazing process to watch the product flow through the space – it's a durable surface. But, if something heavy drops and gouges the floor, it's easy to handle a repair. Mannington Commercial offers a repair kit that covers a small amount of flooring, approximately four-square feet.
Normally, the damaged area can be cut out and then the Legato repair material is poured back in. Once cured, the repair area is finished with Quantum Guard Elite. The repair kit bonds back to the original floor so there are no ugly seams. There's no possibility of a tile or plank that doesn't match the original dye lot. The finished repaired area is almost imperceptible to an untrained eye.
Sustainable Benefit
There's another important benefit of Legato that shouldn't be overlooked. Monolithic installation of liquid linoleum means less waste than sheet products. Here's an example. There's a 9-foot corridor that's 100-feet long. If you try to put a 12-foot wide sheet product there, you lose 3 feet on either end of that sheet for that 100 linear feet. That's 3 feet times 100 so at least 300 square feet of material is wasted. Even if you could use a 3-foot wide, 100-foot long piece of sheet somewhere else, you'd have to cut it up and have a lot of seams or simply waste the material.
Related: Best Flooring Choices for Operating Rooms
When you mix the components of Legato together, the resulting material covers about 75 square feet. After you trowel it down, you take your next bucket and do 75 square feet more. Because of the way Legato is mixed and installed, the most material you will ever waste is 74 square feet of material because you wouldn't mix the bucket unless you had something to cover. If you have more material onsite, as long as it's not mixed, it can go back on the shelf and be used for the next installation.
Choosing Wisely
Legato is revolutionary in its capacity to provide a seamless, durable surface in a broad range of colors. A Mannington Commercial sales rep can help determine if it's the right product for your space and guide you through finding a qualified installer.
You Might Like: The Pros and Cons of A Liquid Linoleum Floor
---
Want to keep reading more about Legato Liquid Linoleum Flooring?
We have a guide for you! Dive into the pro's and con's of a liquid linoleum floor, see how to install and repair Legato, weigh the top ten benefits and explore the frequently asked questions about this flooring product. Enjoy! 👇