As a designer you know choosing carpet for a commercial, education or healthcare space can be tricky. There are a lot of factors to consider, but it doesn't have to be overwhelming.
Industry associations, like the Carpet and Rug Institute (CRI), have created some guidelines to follow, but there are key factors regarding both the space you're working with and the products you're selecting that can help you specify the right carpet for the right space.
I've been in the flooring industry for 20 years, working for carpet mills, fiber manufacturers as well as chemical manufacturers. I've looked at carpet performance from every perspective and been involved in the entire production chain. Most importantly, I've been working with designers, helping them to get products that are going to last longer and look newer for the long term.
When it comes to flooring, Mannington has been around for over 100 years perfecting the craft.
In this article we will look at standard specification concepts and provide you the steps to take to specify commercial carpet.
Step 1: Set Your Flooring Budget
Many of the industry guidelines suggest starting with the facility, but let's take a step back.
I suggest you start with the budget. Knowing how much you have to work with impacts other decisions regarding the type of carpet, type of yarn and in some cases the installation. Ultimately, those choices affect the long-term maintenance as well.
Start with a realistic idea of how much you have to spend for flooring products and installation. Many times, I have seen a designer spend days reviewing samples of carpet only to find out that the carpets they were considering were out of their budget range and then they had to go back to the drawing board.
It's a common misconception that carpet is more expensive than vinyl tile flooring, but that's not necessarily the case.
Carpet is cost-effective for the full life cycle of a floor because of its simplistic maintenance which only requires regular vacuuming and occasional deep cleaning.
Additionally, depending on the specific carpet selected, it can be less expensive on the front end. You can actually find a number of highly-styled products at a lower up-front cost.
Step 2: Determine the purpose of the project
Once you've considered your budget, then considering the facility and its purpose is critical. Commercial carpet makes sense for a broad variety of facilities for multiple functional and aesthetic reasons. Functional considerations include: acoustics, affordability, durability, dust and allergen control, safety, flammability, ergonomics, static propensity and temperature control, among many other considerations.
A designer or specifier must initially identify what's expected of the area. Assessing the end use of the space helps classify the typical amount of foot and wheeled traffic, intensity of use, the type of traffic, and the normal number of users for the area.
Recommendations from CRI are based on whether the area will experience:
Moderate use – private offices, sleeping areas, worship areas, etc.
Heavy use – conference rooms, some corridors, entryways, open office areas, etc.
Severe use – public areas, lobbies, dining areas, classrooms, etc.
Extreme use – airports, train stations, bus depots, etc.
Depending on the facility's purpose, carpet can provide ergonomic benefits, including reducing foot and leg soreness for those standing for long periods (such as teachers or salespeople), or helping cushion falls in areas with the possibility of accidents (such as in healthcare or geriatric facilities).
Carpet also can provide an acoustic barrier by absorbing sound and reducing surfacing noise up to 70 percent. As one example, in a school this could make a big difference in the overall environment.
To support a passion for learning, William Paterson University's Dean of the Library wanted to create spaces as vibrant, creative and hard-working as the students. The library needed to be a place for students to engage with others while also an ideal place to study.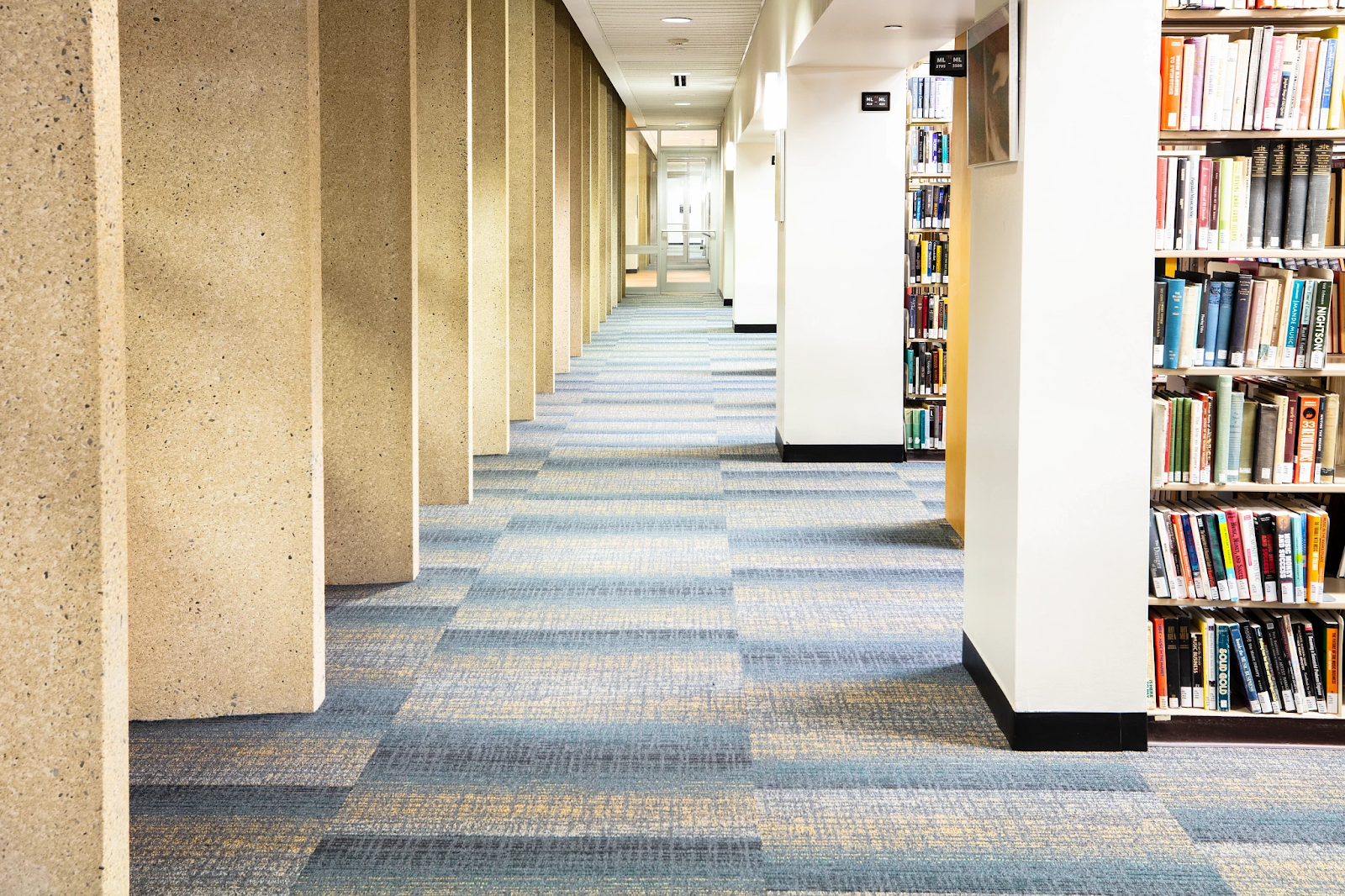 Cheng Library, William Paterson University
Design Local, Nashville, Custom Color
Step 3: Classify the TARR Rating Needed for Your Flooring
Understanding what will be required of the floor dictates the performance characteristics required.
The CRI created a classification system for intended use and minimum carpeting texture appearance retention ratings (TARR) for particular areas of use. This gives both buyers and specifiers an idea of how well a specific carpet will perform under the typical traffic of a designated application.
The CRI offers the following guidelines:
Moderate - ≥ 2.5 TARR
Heavy - ≥ 3.0 TARR
Severe - ≥ 3.5 TARR
Special - > 3.5 TARR
The higher the TARR, the longer the carpet will retain its original appearance. As an example, carpet with a 4.0 TARR will retain its appearance under normal conditions than one with a 3.0 TARR.
Mannington recommends reviewing the CRI guidelines when selecting a product to ensure optimum performance and longevity for your specific application. most commercial spaces.
Step 4: Define the Aesthetics
Each project has a look and feel that encompasses every detail, floor to ceiling. Carpet can play a key role in completing the vision as well as fulfilling the intended function. Aside from practicalities such as concealing stains and wear, the appearance contributes to the overall ambiance of the space, impacts lighting and can play a psychological role in how people view the area.
Color impacts performance as well as looks. A dark color can hide soil but might show dust, while a light color will show stains and dark spots. A completely dark or light color can also make tracks more visible. However, a medium color or a color blend can hide dirt and offer agreeable visual contrast. High contrast yarns can create undesirable optics such as a vertigo effect, especially in an area like a long corridor. This can be especially problematic in senior living areas.
Pattern is a consideration as well. Smaller scale is preferable for smaller spaces while larger areas can be an opportunity to incorporate bigger patterns. The style has to fit the location to avoid being visually overwhelming.
Mannington Commercial offers collections that coordinate to offer larger scale patterns for more open areas then coordinating smaller scale textures to go into areas such as private offices or workstations, for example. Patterns, tweeds and heathers offer a viable option for heavily used spaces to help hide soil.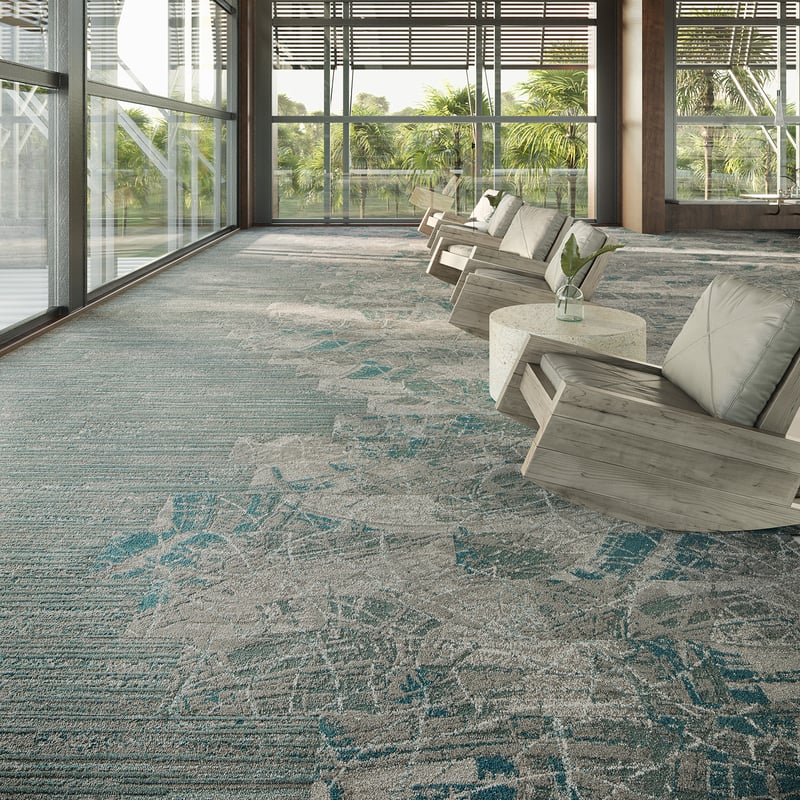 Spin Collection, Disc, SmoothJazz, Channel, SmoothJazz
The purpose of the facility is also a major consideration. A retail space has a different vibe from a corporate office just as a hotel lobby has a completely different feel than a school library. The right pattern that complements the furnishings works together to create the overall desired atmosphere. That atmosphere affects the psychological impact of a space – is the goal to create a quiet, serene mood or a busy, electric setting?
Step 5: Choose the Best Type of Construction
The type of construction along with the type of backing impacts how the product performs in the space as well as the comfort level. Make sure to consider the carpet backing, as this part of the carpet can have a tremendous impact on the overall performance of the carpet.
Backing systems of commercial carpet can be complex but consist of three basic elements: a primary backing, an applied bonding adhesive and a secondary backing or cushion. Backing systems can include moisture barriers to prevent spills from going through the product to the subfloor.
This can be important in some facilities but isn't always necessary and can be a cost consideration. For more in-depth information on carpet backing systems, check out our article on How to Choose a Commercial Carpet Backing System.
Part of determining the best type of construction for the project is understanding density rating. There are industry formulas but basically density is the amount of yarn in a given volume or area of carpet. Just because a carpet has more stitches doesn't mean it's more dense; the density rating is affected by various factors including the yarn size, stitches per inch and tuft height.
There's also the choice of non-patterned loop, patterned loop or tip shear. Patterned loop products will perform best in heavy trafficked areas such as corridors while tip-sheared products can add a dimension in small offices where the traffic is lighter.
Nylon is the preferred fiber for commercial carpet. There are two primary types of nylon – type 6,6 and Type 6 nylon. Both types of nylon have their place in commercial carpet. Type 6,6 nylon with its tighter, denser, more ordered polymer structure, retards stain penetration due to lower permeability than type 6 nylon. Lower permeability means that stains diffuse more slowly so there may be more time to clean up a spill before it becomes a stain. Type 6,6 is known for having better texture retention than Type 6, so it stays newer looking longer, while Type 6 has superior recyclability, which can be a value-add in program criteria.
Moreover, the CRI suggests that specifying performance attributes instead of construction details can be a best practice for specifiers who might not be intimately familiar with the latest carpet technology and materials. You may also want to consider such things as tuft bind, delamination resistance, colorfastness, crocking (rubbing off), electrostatic properties, moisture penetration, indoor air quality emissions requirements, program criteria such as green label, and safety/regulatory requirements such as flammability.
Step 6: Specify the Structure
Narrower rolls of six-foot-wide broadloom carpet can be a preferable product alternative in locations where a typical 12-foot-roll is difficult to maneuver. The drawback can be ensuring there aren't too many seams, but the product can work well in corridors and other narrow spaces.
Modular carpet, sometimes called carpet tiles, is another option that provides tremendous versatility and flexibility. Carpet tile has quickly become a very popular specification option. Today's collections offer an amazing array of looks suitable to a broad array of spaces for education, healthcare, hospitality, retail and workplace facilities.
Design options range from simple, single colors to intricate, multi-colored patterns. The range of sizes – 9" x 36", 12" X 48", 24" X 24" or 18" X 36" to name a few – makes installation relatively quick in most cases. Installation cost is usually quoted for the entirety of the space without being based on the size of the carpet tile which opens the door to more options. Long term, modular carpet can be a benefit since it's easier to change out worn or stained tiles than replace an entire room of broadloom.
Step 7: Know Your Maintenance Requirements
A maintenance program must be part of the project specification plan. It's vital to be able to ensure the right cleaning equipment, products and technicians will be available.
As consideration, maintaining carpet usually requires regular vacuuming and periodic deep cleaning so it can be simpler and less costly than maintaining a hard-surface floor in the long-term.
---
Use this guide to help you plan all of your commercial flooring cleaning and maintenance.
---
How Will You Specify Commercial Carpet in Your Next Project?
Specifying commercial carpet isn't simple, but it can be a manageable process that takes into account the most critical aspects of the project.
Designers, specifiers and facility managers all approach a project with a slightly different perspective, but all want the same result – a floor that looks great and performs great for a long time at a reasonable price. Following the steps outlined above can help narrow down options and get you on track for specifying the right carpet for your space.
That's an imminently attainable goal by following guidelines and considering viable product options to achieve the desired goal for the space.
For additional information, contact your Mannington Commercial sales representative.