When specifying carpet, you might be curious about yarn construction and possibly confused on which type is better. In this article, we will talk about what tufting is, the history of tufting, and how this craft has evolved over time and is still one of the best options available in the industry.
Mannington has been in the business of tufting carpet for decades. If you've ever been on a mill tour, you've seen our massive tufting machines located in Calhoun, GA, and our mini tufting machine in the Atlanta Design Center. Mannington has had a long history with manufacturing carpet.
We take everything into account when it comes to how our carpet, how it performs, how it looks, how it cleans, and how it lasts for years to come. All of this points back to tufting and if it hadn't been for it's humble origins, commercial carpet may not have existed.
What Is Tufting?
The term "tufting" comes from English, meaning roughly "decorated with tufts," and refers to a process of creating three-dimensional textile surfaces. The process originates from old European craftsmanship of embroidering rugs.
Tufting is defined as the act of a needle punching through a backing material in the form of a loop. Depending on loop heights, these loops can add texture, dimension, and, if cut, the "cut pile" can add a velvet like appearance to the tufted area.
With tufted carpeting, colors and patterns can be applied in various ways; by means of piece dying, spinneret dyeing or printing of the off-white carpets.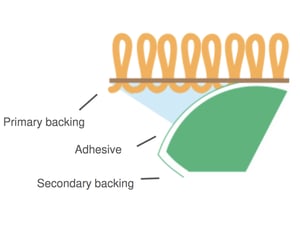 When it comes to carpet, broadloom and modular tiles both aid in placement location due to the needed size. In addition to size, carpet fiber is also used in determining location and end use.
The fiber within the carpet is a type of material from which the loops are made and is one of the major components in the tufting process. There are several different fiber types used in carpeting.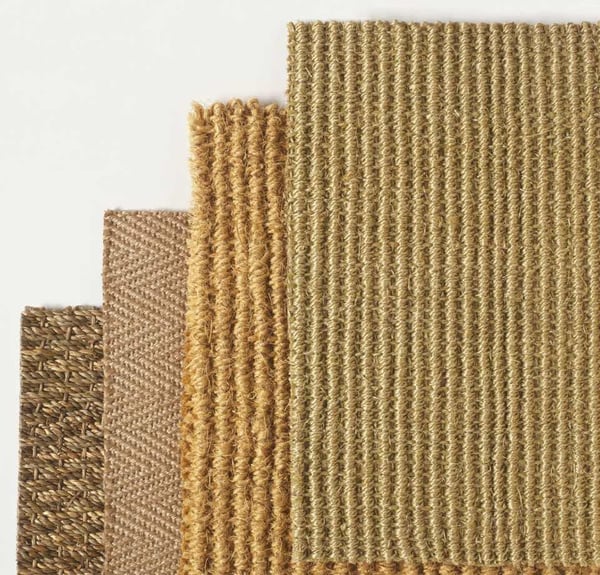 Natural Fibers
The Characteristics of Fiber
Each fiber has its own characteristics, including certain strengths and weaknesses specific to that fiber type. Understanding the traits of the fiber types will aid in understanding the carpet's performance and overall aesthetic. All carpet fibers can be classified into one of two categories; natural fibers and synthetic fibers.
Synthetic Fibers
Synthetic materials are those not found in nature. They are machine-made from various chemical compounds. Synthetic fibers represent many of the carpet fibers sold today. The primary fiber types used in manufactured tufted products are nylon, polyester and polypropylene.
Natural Fibers
Natural fibers are materials that grow in nature that are harvested and processed into fibers. While natural fibers make up a relatively small percentage of commercial carpet in today's market, they still have a place in the carpet industry.
There are many natural materials but only several that are commonly used in carpet. Wool is by far the most common natural fiber in carpeting and is virtually the only natural fiber used in broadloom.
The Spruce lists other natural fibers that are more often made into area rugs, including sisal, cotton, seagrass, jute, silk, and coir. Most of those fibers are either too weak or too rough to be made into broadloom.
Since we now know what tufting is, the function, and the main component of tufting, let's explore the overall history of tufting. How did it come to be?
The Beginning of Commercial Carpet Tufting
Carpet construction began in 1895, when a woman by the name of Catherine Evans was inspired by a family heirloom and made her first handmade tufted bedspread. Five years later, she sold a similar spread for $2.50.
The Floorbiz goes on to tell how Miss Evans moved to Dalton, Georgia, and as the popularity of the bedspread grew, she began receiving orders for her work. Using quilting designs, she showed helpers how to stamp the pattern on the fabric and make the tufting stitches. From this beginning, Evans Manufacturing Company was established in 1917, and was operated by the founder until 1963 when the business was sold.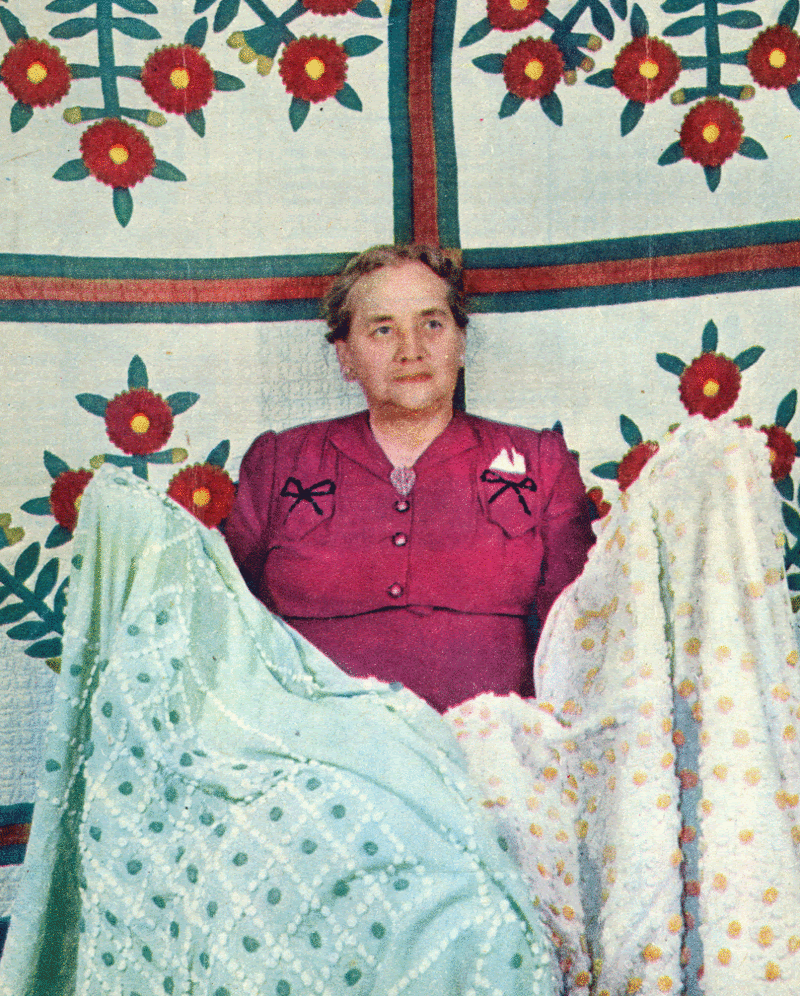 Catherine Evans with handmade tufted bedspread
By the late 1920s and early '30s, the carpet construction mechanization took the craft from the home to the factories, and the tufted textile industry was successfully on its way.
The first tufting machine was a Singer 31-15, normally used for sewing heavy textiles, such as tents and work clothes, but converted especially for tufting. About 1940, wide tufting machines were built.
Forerunners of today's giant carpet tufting machines, the early counterparts were used to turn out continuous rolls of tufted fabric or cotton rugs. Dozens of people claim credit for developing the first practical machine, says Floorbiz, and patents were issued to various inventors, but it is impossible to name any one inventor.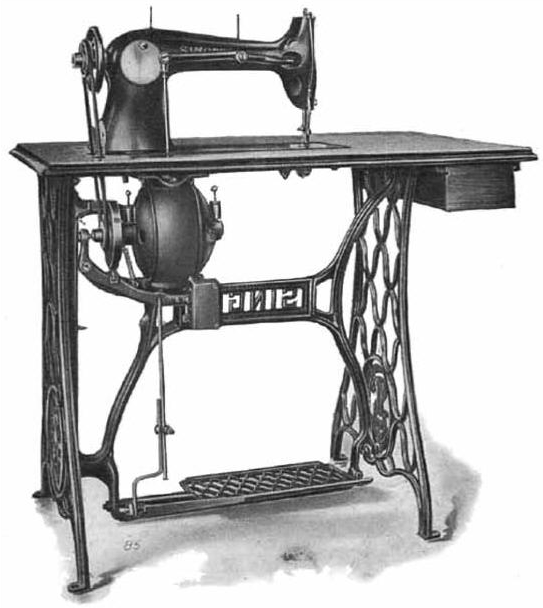 Until 1954 only cotton was used for tufting carpet. The Textile Network goes on to point out that Rayon, wool, nylon and acrylics followed and became the fibers of the modern age of carpet. With the advent of man-made fibers and the huge multi-needle tufting machine, there have been dramatic changes in the carpet industry.
A wide range of styles, patterns and colors is available at prices affordable in most budgets. Over 500 million yards of carpeting are tufted every year, and 65% of that is tufted in the Dalton, Georgia, area.
The first 12-foot-wide tufted carpet was manufactured in the 1950s. During the remainder of the decade, improvements to the tufting machines and the product continued. Foremost among the inventions in this decade were pattern attachment devices.
These devices permitted machines to produce multiple pile heights and geometric and other patterns in the same piece of carpet, something that previously was possible only in woven carpet.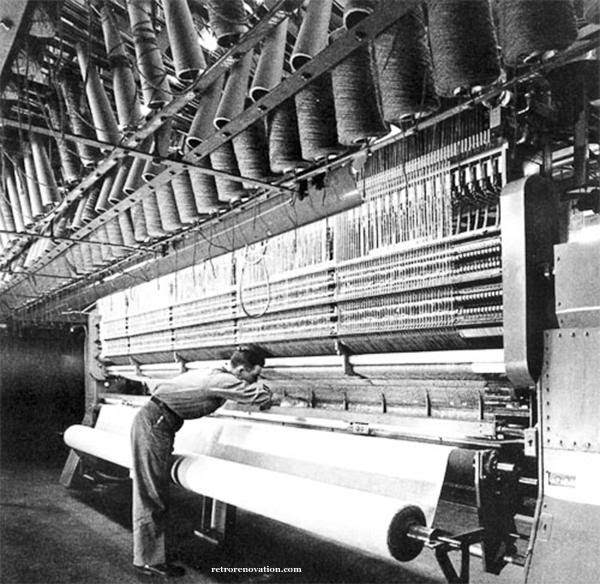 With these more intricate patterns and increasingly closer gauges, tufted carpets began to compete successfully against woven carpets. By 1965 more than 85 percent of broadloom carpeting sold in the United States was tufted. Today, with minor modifications, loop and cut-pile carpets can be manufactured on the same machine, and pattern attachments are computerized.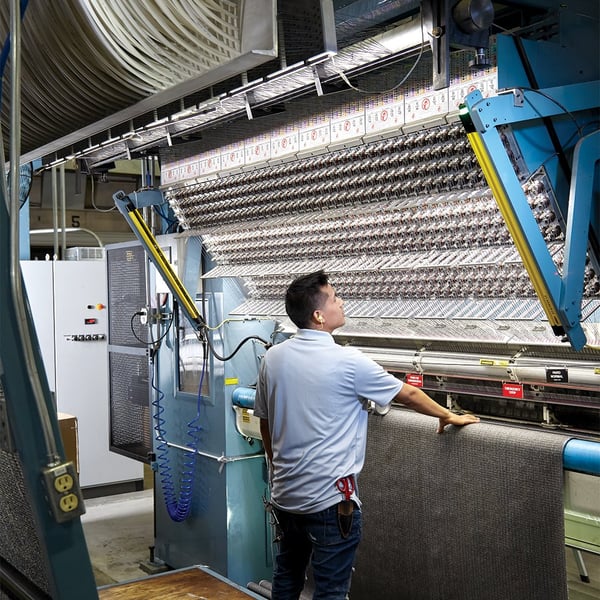 From a Tufted Blanket to Covering the World's Floors
By exploring what tufting is, where it comes from, and the progression and advancements made to this craft, a clearer picture can be painted to understand just how carpet is made.
In addition to carpet, today's industry has broadened with the production and distribution of other flooring surfaces such as; tile, wood, and vinyl. Even with these additions, carpet is still the single most popular choice in America.
From a $2.50 tufted small-town bedspread to a global essential, carpet has found its way in commercial, healthcare, and residential settings, giving a sense of comfort, warmth, and identity; just as that tufted bedspread in 1895 did.