COVID-19 and the very real possibility that we will face future pandemics weighs heavily on our minds as it does with people all over the world. How can we navigate this reality where we must balance keeping all our employees, customers, vendors and families safe and healthy while also providing important goods and services - and jobs to our employees? We are not alone in this dilemma, and many smart people and organizations are focused on this issue.
As the President of Mannington Commercial, these questions have been forefront in my mind as we have navigated the unknown of 2020. How can we put thoughtful processes in place to keep everyone safe, especially as we have employees working in the plant producing product for our customers, we have some workers in the office, field reps and now a whole host of employees working from home?
As I have considered these questions with others on our leadership team, we have come up with a lot of questions, always evaluating new data as it's released.
We are still discovering what will work best for all those in our organization, but we have learned some things that I wanted to share with you. In evaluating how to move forward in the workspace in our new post-COVID environment, there are tools and processes that I want to share to assist with creating a plan to go forward in the process of making our workplaces safe.
There are the immediate changes that will occur, but also on-going approaches to challenges that impact where the workplace is located, how it is shared, and the importance of reinforcing human connection.
In this article, we will discuss operational programming for now and the future as it relates to workplace environments. We'll help you think through what questions to ask in order to create a safe and productive workspace now and in the future.
For designers, there are countless opportunities for innovation and creative solutions that are needed in today's world. We know the design community includes the critical thinking capacity that inspires design as a means forward and has the power to positively change the world we live in – now and in the future.
What Is Operational Programming?
Operational Programming is evaluating every piece and process that happens within a space. It's a way of identifying where all the departments and people come together to evaluate how they process through their jobs and how that impacts others who are also within that space.
It really has to do with making a plan for how people use the space, implementing the plan, maintaining the plan, but also revising the plan as needs and data inform your plan.
We all know that things are not easy right now, and things are changing around us. Being able to make and implement a plan is important; however, being able to continually evaluate and revise the plan is critical to success.
How to create an Operational Plan
In a pre-COVID workspace, designers were not designing spaces with the CDC recommended guidelines of staying 6 feet away on the off chance that we would encounter a worldwide pandemic. Given how things have rapidly changed, creating an operational plan is beneficial to ensure the safety of employees and put a strategy in place for the future.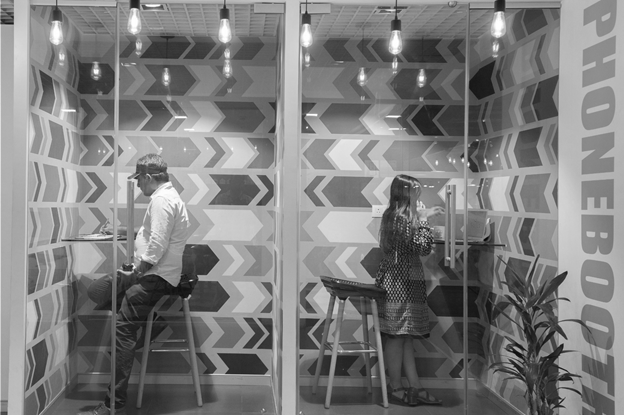 Photo by Smartworks Coworking on Unsplash
The first step in thinking about operational programming is that leadership policy and procedures need to be put in place. When we look at an image like the above, we think, "Wow, this is the exception to the rule," right?
If we had a common workspace, the rule was that you had phone booth spaces used in a completely different way than we thought of phone booths in the past, but it was the idea that you needed a private moment or a private space. Now we are finding that everything from open office space to bench seating – everything we've been doing in the work environment has to be re-evaluated. So, as we are reopening, we must make sure we are asking the right questions.
As leadership policy and procedures are developed and put into place, you want to take measures and approaches to make everyone feel safe. This means everyone who is involved in the maintenance of the building, everyone who is working in the building, and everyone who may be visiting the building or making deliveries into the building wants to feel safe.
Ask staff what they need. For example, right now there are employees who have children who are not able to go back to school, so they might need to work from home or work different hours to accomplish the same goals.
Establishing communication plans could not be more important during times of universal change. How do we communicate if there is a problem or if something needs to shift in terms of a deadline or other information? Information needs to be able to be communicated to the entire company and/or the specific staff that needs that information.
Verify with legal counsel to fully vet the risk. This is something we often don't consider, but what if someone comes into our building or workspace and either has COVID-19 or catches COVID-19? Make sure to vet the risk with legal counsel.
And don't forget to verify with your insurance company the risk to protect the company, the workers and all those who come into the space.
Ask the Right Questions
For testing options for employees, including frequency and reporting, how do you want that to work?
For wearing masks and PPE, you must determine what is needed based on your ability to social distance and who is responsible for providing and purchasing PPE of any kind.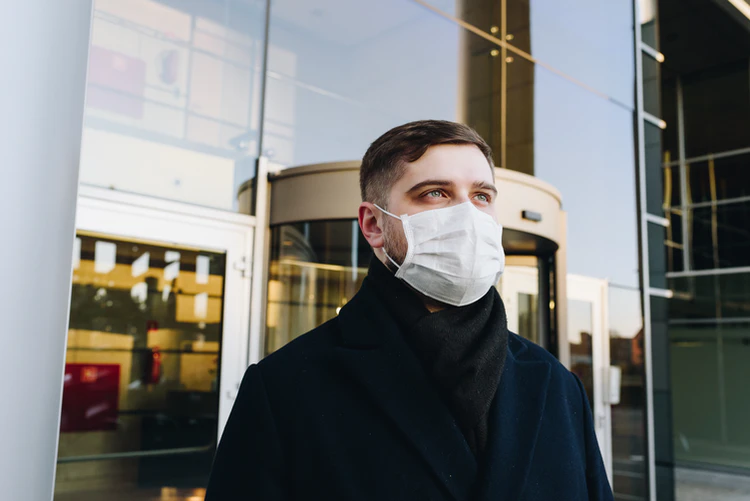 Photo by Anastasiia Chepinska on Unsplash
For scheduling and teleworking, including reporting and accountability of staff, how is that going to be done? What is the process? How do you make sure the scheduling is completed in a timely manner so that all expectations can be noted?
Uncertainty is difficult in times like these, but a plan in place with clear policies and procedures, can help with uncertainty.
For the number of employees returning, how many will return at one time? How will that impact your square footage and need for space?
Establish and implement a policy on cleaning and disinfecting for the environmental services group, the staff and visitors. What will your policy be? Remember that even if the environmental services group is contracted, it still needs to be reviewed because they are part of your team.
Even though we may have done things differently in the past, now everyone who comes into our space or in contact with our employees needs to be considered in our team planning.
This is how you would work on a sustainability model when you are working on a building or a sustainability certification, and it is a good model to follow in this situation. It is critical to make a plan and communicate it so everyone is clear on whose responsibility each person owns to ensure everyone on your team is safe.
Education and programming really are ongoing, but it needs to happen before you bring everyone back to work so they know what to expect when they get there. Communication is key here.
We also have to ask the right questions about the use of shared spaces and ask the right people those questions.
How are spaces going to be shared? Spaces that were considered collaborative spaces are now considered differently, so if you want people to collaborate, how do you do that safely? And what is going to be the policy for that? It might be a remote process such as a Zoom call that is still done even though people are within the same workspace.
You want to understand all those components and ask all those questions at intersections of change, including coming into a building, leaving a building and moving through the building.
Asking those right questions and understanding who is involved can help you create an Operational Programming plan. Some of these questions are:
Do we have all the right stakeholders involved?
What's going to happen in the space, and how are we going to use it?
When is each operation going to happen and at what time of day?
Where are things going to be stored?
Where are things going to be located so people know where to go and what to do upon entry and exit.
Why is this important? Of course, right now we know this is important because we are trying to slow the spread of COVID-19, but if we do this process for X number of months and then there is a vaccine, what then?
Unfortunately, it is extremely likely this will not be the last time we face this type of issue, so answering these questions and creating that plan creates preparedness for the future should we need it again.
At each functional/operational decision point, we want to ask these questions and plan for re-opening or plan with new designs. We need to evaluate each decision point from home to work and back, and any stops in-between.
Entrance and Exits are Important
Start at the beginning of your employee's day and follow through to the end. So how do you get to work? How do your employees get to work? That is certainly one of the questions. If you are using public transportation, how is public transportation being utilized? Is it the woman who drives a bus, and she wipes down the bus in between every stop and each shift changeover? Is it like in New York where they are – for the first time ever – cleaning and disinfecting cars?
These types of considerations are important when thinking about whether you are going to work in a private car or public transportation. This is something to consider about each employee that is working for you. What about your employee cars? Do you allow carpooling? How do you handle that?
When you are asking the right questions about the entry process, you need to consider when someone arrives at the office, what do they need at that point? Do you have a space for testing? What type of test will it be? And this is not just for COVID-19, which is the immediate need, but also in the future if there is an influenza outbreak or other infectious disease outbreak, we will see the carryover from what the healthcare industry is doing with regard to these outbreaks into the workplace.
If you need masks, gloves and/or sanitizer, how are those items available? I've seen office buildings that has masks, gloves and sanitizer on a small table as you come in the entrance. Who maintains that area and supplies? Who ensures they are used?
We must consider how those items are available and presented, from an aesthetics perspective as well as from a security perspective. This might start as a station that is out in the open and then moved or stored elsewhere as the needs shift. It is something that we will mostly likely need more than once.
Another set of questions is related to circulation pathways. Questions such as how do you separate, what do you want to separate and who has the right of way? How is this communicated through signage or floor stickers?
Determining Workspace-specific Needs
Determine dedicated workspace versus shared workspace. What are the needs of each workstation? Will each staff member have their own computer or laptop that they bring and take with them? Will they use a cell phone or a desk phone?
A desk phone is a high touchpoint surface, meaning that hands come into contact with it frequently. Whenever there is a high touch surface, it is a surface you want to clean and disinfect on a regular basis to eliminate the pathogen spread – that is an indirect method of transmission for COVID-19. What equipment is going to be shared and what storage space access is needed?
Right sizing has a different meaning than it did years ago when we tried to maximize shared workspaces for right sizing of an office or workplace. You really need to think about all these questions to determine the right size space you need for your workers in light of these questions.
Personal storage provides another set of questions. Where do workers put their lunch and personal belongings? Do you assign open or closed cabinets, refrigerator space or a lockable drawer? These are questions to ask and answer for each staff member.
Determine service and amenity space. Where are the bathrooms? Who is sharing them? How many people on a floor are sharing them? Who is responsible for cleaning and disinfecting them according to CDC guidelines?
In some places, we are seeing every third urinal in a men's room is available to be used, but the others are closed off for social distancing. This is something that needs to be considered now for how you navigate in the current circumstances but potentially something to consider in new designs moving forward.
Where are our shared break spaces? This COVID-19 issue is stressful for everyone, so we need some rest and break areas. We know that outdoor areas are safer, so are there outdoor places each staff member can access easily? Can some of their work be performed outside? Where are your food service or food storage areas going to be located?
When we are evaluating and putting policies and procedures into place for all the intersections throughout the day, answering those questions gives us a roadmap for the end of the day routine. We need to ask how do you exit? What do you need to exit? Who cleans and disinfects a shared workspace?
What is everyone responsible for to keep everyone safe? The communication and training around these expectations has to be very clear, as well as what products you are using for cleaning and disinfecting. You must be very careful with employees bringing in products from home, such as a bleach wipe because they destroy and degrade surfaces. While they might be effective at disinfection, the strength of the chemicals might not be necessary to kill the COVID-19 virus or whatever infectious disease you are working to slow the spread of at the time.
Operational Planning Is Everyone's Responsibility
Navigating an ever-changing workspace landscape is an ongoing challenge, but one that gives us a unique opportunity to make better processes for our future. It is something that leaders and team members throughout the organization are all responsible for since we have a shared need to protect each other. But it also is a chance to bring our human needs to the forefront.
Personally, we have seen amazing productivity from our teams that are working from home. We are doing things remotely that we never considered even a possibility, and while we will always love being in a space together, we are taking our time and creating the protocols to ensure we can come back safely. I hope that in this article you understand and can see the importance of an operational program process for safe re-opening, and it prompts you to ask questions about how we can move forward in the safest way possible.