First you have to find the right hard-surface flooring. Second you make sure it's installed to perform properly, and last but not least, the floor has to be maintained and cleaned on a regular basis.
If you're a facilities manager or maintenance personnel you know just how true this is and you know the work it takes to maintain your flooring investment.
After working in the cleaning industry for almost 35 years, I've learned a thing or two about hard-surface flooring. My experience in cleaning, training, selling and consulting has taught me how to help people create the right procedures to help you maintain your industrial/commercial flooring.
In this article we will provide guidance and insights on products and procedures that can be used to help clean and sustain your commercial floor: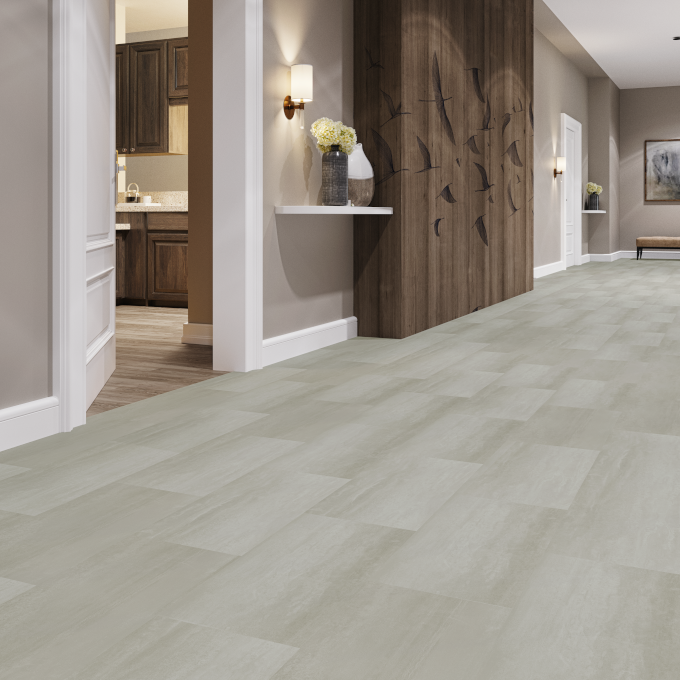 The Drift Collection, Stone - Motus Lurex & Wood - Monterey Cypress Natural
Understanding The Difference Between Commercial and Residential Flooring
It's logical that people tend to go with what they know, which is usually the products and techniques they use to clean at home. This is especially true in facilities such as dental offices, chiropractic offices, medical office buildings, small physician practices, dermatology offices, etc. that are 2-3,000 sq. ft.
With a relatively small occupancy it's not always justifiable to buy any big pieces of automatic cleaning equipment so they tend to use the same things they use at home. These companies usually have a smaller staff - between three and 20 people - so they typically don't hire professional cleaning services. They would likely assign someone on staff with cleaning duties.
The problem is, residential and commercial flooring are different. Residential flooring materials are designed for residential foot traffic and residential use, so the flooring products are typically not as heavy duty or as durable.
Even if they have factory applied coatings, they aren't as strong as those used on commercial products. The other key factor is foot traffic. There's no comparison between a home with and an office with a staff of 20 who sees 30 to 50 clients every day. They are completely different spaces that require different cleaning products.
For example, many people use a product such as a Swiffer(R) at home. The wet version is designed to soak up liquid and dirt with a pad. As you squirt or dispense solution onto the floor, the SAP-infused pulp core in that pad soaks up that moisture as well as the dirt and leaves the surface fairly dry.
However, when you try to use that particular product on a commercial surface that's probably embossed or textured, it won't be as effective. These residential mops are not designed to reach into that embossing and pull out dirt. All they do is glide over the surface, so they're actually just pushing water and dirt into the embossing and leaving it behind.
Swiffer Wet Mop Vs. Contec Premira
Recently, we were called into a two-story dermatology facility with 12 exam rooms. One of those rooms had a significant film left on the floor. We learned they'd been using a Swiffer WetJet with a small chemical dispenser.
To demonstrate that the floor could easily be cleaned, we took a Contec(R) Premira(R) pad, moistened it with water, laid it on the floor, put the WetJet on it without dispensing any solution and mopped the floor with that frame. The floor dried, and you could see the exact line where we cleaned and where we didn't. The cleaned area looked shinier, it looked brilliant, and the hazy film was removed from that floor.
While the Swiffer wet and dry mop pads appear to be similar to the Contec Premira microfiber laundry-free mop pad, they are very different in terms of performance and intended use. The Swiffer system is designed for household use whereas Contec Premira microfiber pad is an industrial grade product designed for commercial applications.
The Swiffer wet mops are smaller than Premira (5" x 11.5" vs. 5" x 19") which equates to less square foot coverage before fully soil-loading the mop. As Contec mops are designed for industrial use, they are larger and have seven times the square foot coverage compared with the Swiffer. As discussed, the Swiffer wet mops are designed for residential use and not effective on embossed surfaces, where dirt is trapped in crevasses.
Additionally, the Swiffer is not the appropriate tool if you are trying to sanitize or disinfect a floor, since the mop soaks up the cleaner, not allowing it to sit to achieve dwell times. There is minimal, if any microfiber on the Swiffer mop.
Contec Premira is a single-use, microfiber mop pad that can be used wet or dry and is designed to scrub and trap dirt and debris. The textile doesn't interfere with any cleaning chemistry (it doesn't quat bind) and is extremely effective at cleaning embossed and uneven surfaces.
Designed for sanitizing and disinfecting, Premira pads leave a consistent layer of chemistry on the floor, allowing appropriate time for proper disinfection of surfaces.
The Swiffer hardware is also designed for light-duty, residential applications and not intended for continuous use in a commercial setting. Contec's Zero Gravity mop hardware is an ergonomically-designed, industrial grade system with multiple attachments that allows operators to efficiently and effectively clean surfaces. Contec's micro-hook attachment process is also fast and effective at holding the mop pad on the frame.
Corrective Cleaning for Commercial Floors
Once you've retained the right equipment and created an efficient process, it's possible you'll need to do a corrective cleaning. After all, the floor didn't get dirty in just a few days. There are a few ways to approach the situation.
The first option is to use the Contec laundry-free microfiber pad with water and start cleaning the facility on a daily basis. Over a short time -- usually within a week of using the new process -- the embedded soil will be removed and you're back to the baseline. Some facilities won't want to wait and will hire a cleaning contractor to do a deep scrub, usually overnight or a weekend, to get the floor back to a good place. Then they can start maintaining with the new cleaning process.
With a new procedure in place and everyone on board with what's necessary for success, where do you find the right products for the job? It could take a bit more effort than just picking up supplies at the grocery store, but it's a worthwhile endeavor and not complicated. Start by going to the Contec website to find out how to buy the products in your area. You can even reach out to your local Mannington Commercial sales rep to help guide you to the right resources in your area.
There's no reason that facilities without a professional cleaning company can't maintain their commercial flooring for long-term performance. With heavier foot traffic than you'd ever get in a home, it's imperative to understand that retail products designed for household use simply won't be sufficient. Commercial products are designed for commercial settings. When the right products are used, you can achieve your desired expectations for the facility.
---
Want to learn more best practices around cleaning and maintaining your commercial flooring? Use this guide to help you plan all your floor cleaning and maintenance. 👇